This chicken cheeseburger with beet mayonnaise is simply perfection! It has it all! Amazing flavor, beautiful color & a perfect taste! What else could you ask for?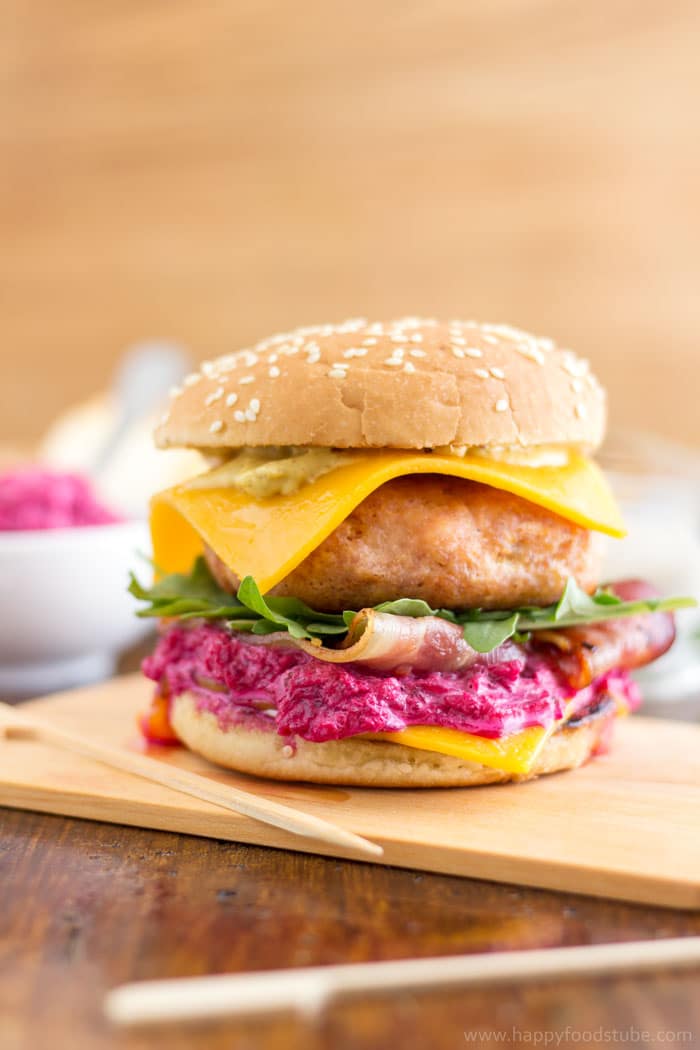 Guys! You must definitely try to make this chicken cheeseburger! Homemade chicken patties with lots of delicious toppings including crispy bacon, juicy beet mayonnaise or double portion of cheese make them visually as well as flavor-wise irresistible! And somehow I dare to say this is the best chicken cheeseburger recipe out there!
Just look at those colors! I mean don't you want to taste this yumminess? Because I still do and even though I am after lunch my mouth is watering just by thinking about this chicken cheeseburger with beet mayo!
Now when I mentioned beet mayonnaise I hope I did not scare you off! Beet mayonnaise goes really well with this cheeseburger and you must put it in! It tastes absolutely divine! Believe me, you won't be disappointed!
Beet mayonnaise is simply finely grated cooked beetroot with mayonnaise and crushed garlic. It makes an ordinary dish extraordinary thank to its color and taste!
How to make Chicken Cheeseburgers with Beet Mayonnaise
Homemade chicken burgers: When it comes to burger patties, I used ground chicken but feel free to use any meat you like. I added one egg and some breadcrumbs to the mix alongside with minced onion.
Season it with salt and pepper. Have a look at the meat packaging to see the amount of salt already added to it. I always think less is more so I prefer adding more salt at the end rather than overdoing it. When it comes to black pepper I add just a bit – maybe ½ teaspoon.
Feel free to grill them or cook in the oven. I don't pan-fry them but you could do this before placing them in the oven.
The toppings: Bacon is a must! I am a huge bacon fan and always find everything tastes better with a few pieces of bacon in it!
Extra mayonnaise that I spread over the bun is totally optional as well as the mustard. However, I suggest you go for the mustard.
When it comes to cheese I like cheddar cheese so that was what I used. I also melted one slice in the microwave for a few secs. Melted cheese tastes always better, right?
Arugula was a must for me! I did not feel like putting any other greens there. If you don't like it, substitute it with anything you like or simply omit it.
So guys? What do you think? Would you go for this chicken cheese burger recipe if you had a chance? Like I've mentioned before I would always choose chicken wings over a burger but this one here – well, it kind of is hard to say no to!
P.S. I had a hard time coming up with the right name for this burger. I mean there were sooo many possibilities! Chicken bacon cheeseburger – because bacon is one of the yummy ingredients.
But then I think: maybe chicken cheese burger will sound better. But I have the delicious beet mayo in it too – so I want that in my title too!
Then I am thinking to myself: will I scare people off with the beet mayonnaise part? So I really couldn't decide. At last I went for the chicken cheeseburger with beet mayonnaise title because I felt like that was the right way to go.
Now tell, me would you make it with beet mayonnaise or you would straightaway omit this topping? I hope you will give it a try and let me know what you think! Because the best thing about cooking/eating is experiencing new flavors, right?
Other recipes you might enjoy:
Chicken Cheeseburger with Beet Mayonnaise
This chicken cheeseburger with beet mayonnaise is simply perfection. It has it all. Amazing flavor, beautiful color & a perfect taste! What else could you ask for?
Servings:
4
Large Burgers
Ingredients
For the burgers:
0.9

pound

Ground Chicken

(400 grams)

1

Egg

⅓

cup

Bread Crumbs

Salt & Pepper

to Taste

½

Onion

, minced
For the Beet Mayo:
2

Cooked Beets

1

tablespoon

Mayonnaise

1-2

Garlic Cloves
The Toppings:
4

Buns

of your choice

8

Cheddar Cheese

8

Bacon

Arugula

4

tablespoons

Mayonnaise

(Optional)

4

tablespoons

Mustard

(Optional)
Instructions
The burgers:
In a bowl, mix all the ingredients. With your hands form the mixture into 4 balls (or more if you prefer smaller portions. You could get 6 small burgers out of this). Place them on a baking tray lined with baking paper/tin foil and press down to form patties. Bake for 25 minutes at 350°F/180°C.
The beet mayonnaise:
Thinly grate the beets and remove the juices. Peel garlic and crush it using garlic press. In a bowl, mix grated beets, crushed garlic and mayonnaise.
The toppings:
Grill the buns for the extra crispiness. Fry the bacon and set aside.
Burger assembling:
Bun + Mayonnaise + Cheese Slice (I melted it a bit in the microwave) + Beet Mayonnaise + 2 Bacon Slices + A handful of arugula leaves + Burger + Cheese Slice & cover with a bun (that has been spread with mustard).

Enjoy while still warm!
Nutrition Facts
Chicken Cheeseburger with Beet Mayonnaise
Amount per Serving
% Daily Value*
* Percent Daily Values are based on a 2000 calorie diet.
** As an Amazon Associate I earn from qualifying purchases.
LEAVE A COMMENT
RELATED POSTS