If you haven't tried Vietnamese sandwich banh mi yet then here is your chance. French-style baguette is packed with fresh and pickled vegetables, cilantro and cold cuts of your choice!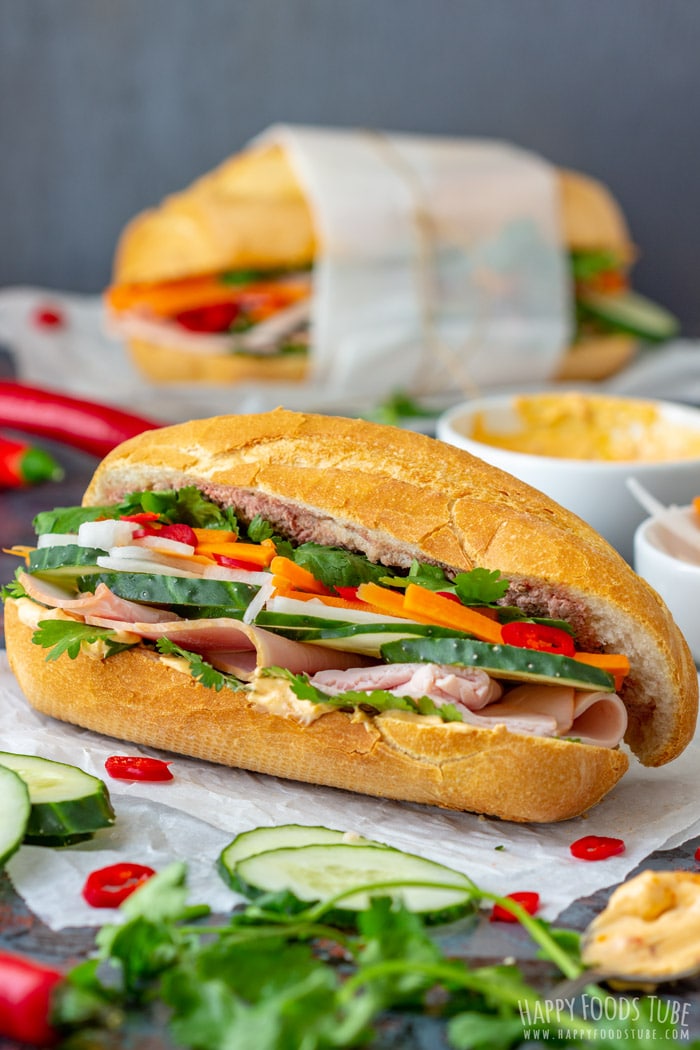 When you try it, you will fall in love with this Vietnamese street food classic! It is the perfect street food when you are on the go and starving. Good size, filling, bursting with flavors and packed with tasty fillings!
Guys, do you like street food or you prefer restaurant food? I am definitely a street-food lover! Hungarian Langos is one of my favorite street foods, alongside with Italian Calzone Pizza and Churros (and Spanish Churros are so easy to make).
Anyways, back to this easy banh mi sandwich recipe. Now I know that banh mi means basically a "sandwich" so for some of you the title might sound strange. However, not everyone knows this so I figured it would clarify things right from the beginning.
My version of a Vietnamese sandwich banh mi is very quick to make because I am not cooking any meats. I am using cold cuts and quickly pickling the veggies. The whole banh mi sandwich is ready in 5-7 minutes tops!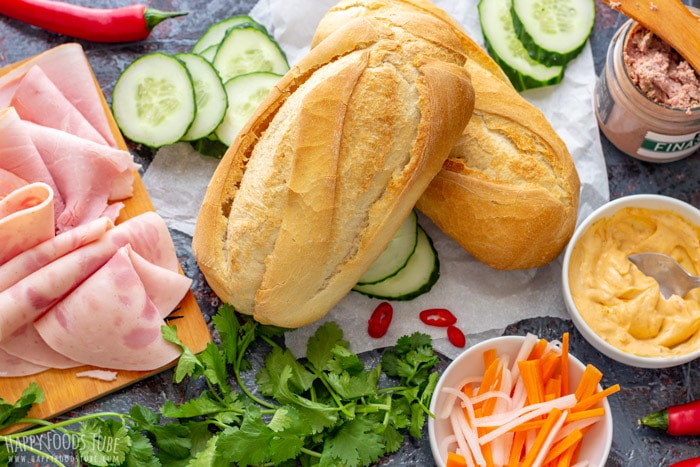 What goes in a banh mi sandwich?
Now every Vietnamese street vendor will make this delicious baguette slightly different. But there is one thing certain for sure – a banh mi wouldn't be a real banh me without fresh veggies, pickled veggies and cilantro. And of course that crispy French baguette.
As for the protein – roasted pork belly and cold cut meats are probably the most common items. But there are places where you get also fried fish or fried eggs.
If you want to see how an authentic Vietnamese sandwich banh mi is prepared on the street, I recommend watching this video: the complete guide to banh mi.
What is in banh mi seasoning?
There is no special seasoning used to make this sandwich. Mayonnaise, pate and some chilies (or chili sauce) as well as all the fillings turn banh mi into a delicious baguette bursting with flavors!
Now when I was making my version of Vietnamese sandwich banh mi I wanted to add some extra spiciness to the mayo so I mixed it with red curry paste.
What is the pate in banh mi?
If I am not mistaken, traditionally it's pork pate. However, if you prefer other pate flavors, go ahead and use what you like! Just don't omit it!
I used herb chicken pate for my Vietnamese sandwich banh mi and we loved it!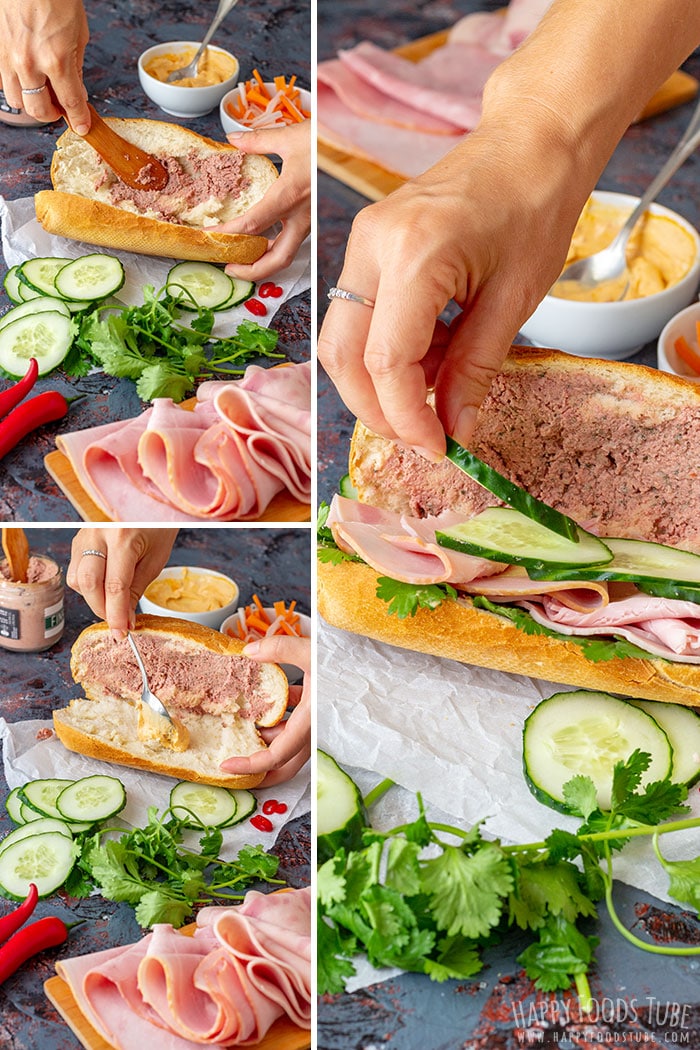 How to make Vietnamese sandwich banh mi with cold cuts and pickled veggies
Let's get some things straight. This is not a recipe that works without any meat. I mean you can do it but the stars of the baguette here are the pate as well as the meats. In this case, the cold cuts.
We start with the pickled vegetables. To make them you only need 5 minutes (or less). I am using white wine vinegar only – just to make them softer and slightly acidic. This works perfectly. All you have to do is thinly cut the carrots and daikon into matchsticks, place them into a bowl and pour the vinegar over. Let sit while you do the prep.
So once you have gathered your ingredients, cut the baguette length-wise and spread a generous amount of pate on one side of the baguette. For the other side use a mix of mayo and curry paste (it's delicious).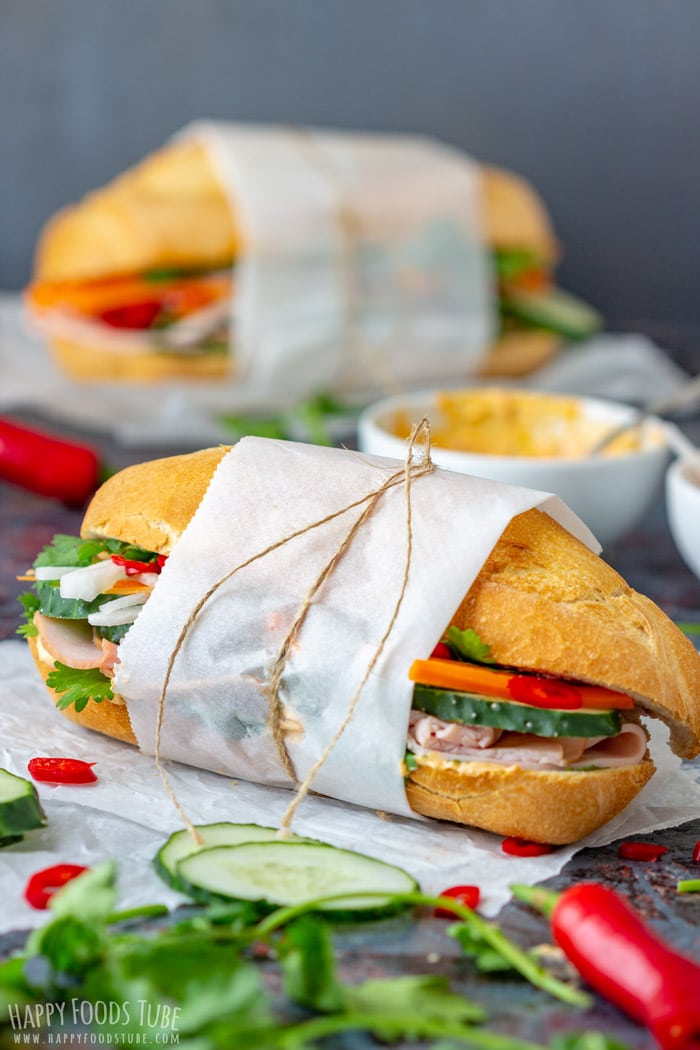 Now start building your cold cut banh mi sandwich. It does not really matter what the order is. I prefer alternating veggies with meats. So cilantro (a must), fresh cucumber slices, some cold cuts slices, pickled veggies, more cold cuts (if that's what you prefer) and a few slices of chili pepper (jalapeno or any of your choice).
Making this cold cut and pate banh mi takes about 5-7 minutes and at the end of it you are rewarded with that tasty looking baguette that is bursting with flavors!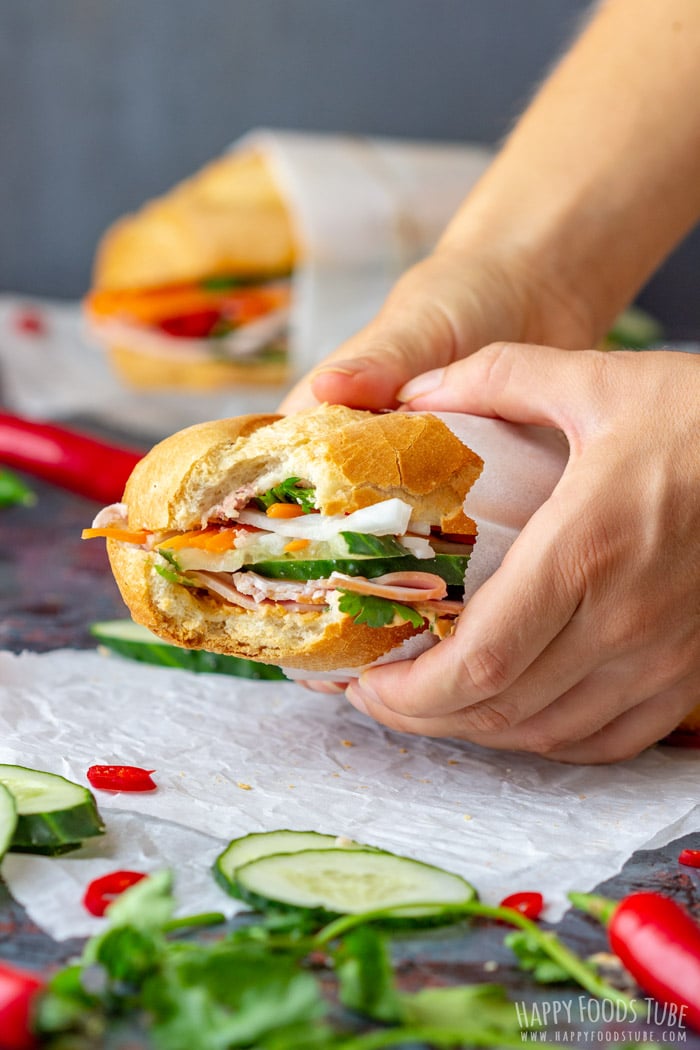 Good to know:
Baguettes were introduced to Vietnam by the French long time ago.
Filled banh mi sandwiches originated in Saigon, Vietnam.
Cilantro, cucumber and pickled vegetables are a must when making banh mi.
Daikon is similar to radishes so feel free to use either of those.
Roasted pork belly is another delicious filling that is widely used to fill these sandwiches. But I'd say pulled pork would also work well here.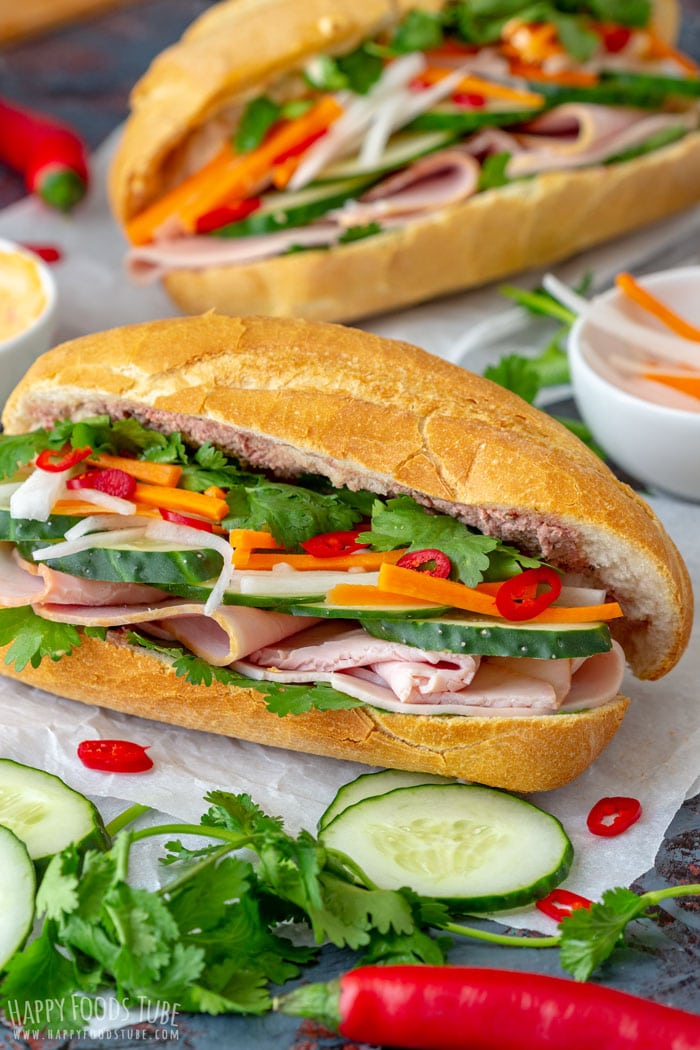 Vietnamese Sandwich Banh Mi
If you haven't tried Vietnamese sandwich banh mi yet then here is your chance. French-style baguette is packed with fresh and pickled vegetables, cilantro and cold cuts of your choice!
Ingredients
2

French Baguette

type Rolls (4.5 ounce/130 grams each)
For the Spicy Mayonnaise:
Bahn Mi Fillings:
2

tablespoons

Pate

of your choice

1

Cucumber

(200 grams)

Fresh Cilantro

to taste

8

slices

Cold Cuts

of your choice

1

small

Chili Pepper

or Jalapeno to taste
Instructions
Wash and peel carrot and daikon. Cut into matchsticks and place into a bowl. Pour the vinegar over and set aside until ready to use.

Mix mayonnaise with red curry paste.

Cut open the baguettes – lengthwise. Spread one side with pate and the other side with the mayo mixture.

Divide all the fillings in between the two baguettes. Before adding the pickled vegetables, drain the vinegar.
Notes
Each baguette was about 6-inch/15-cm long and weight 4.5 ounce/130 grams each.
If you don't have white wine vinegar, use rice vinegar instead. You can also skip the quick pickling and add fresh veggies. If you do, I suggest slicing them thin with a potato slicer.
Daikon can be substituted with radish.
The baguettes can be also heated up in the oven prior to filling.
Cilantro – if you don't like this herb, use parsley instead.
Optional: Drizzle the baguette with soy sauce. It gives an extra flavor and saltiness to this Vietnamese sandwich.
Pork pate is traditionally used. You can use any pate you like.
You can add more mayo or curry paste.
Nutrition Facts
Vietnamese Sandwich Banh Mi
Amount per Serving
% Daily Value*
* Percent Daily Values are based on a 2000 calorie diet.
** As an Amazon Associate I earn from qualifying purchases.
LEAVE A COMMENT
RELATED POSTS