Planning on baking gingerbread cookies? Why not make gingerbread ice cream as well? It's a perfect Christmas treat with pieces of gingerbread cookies inside!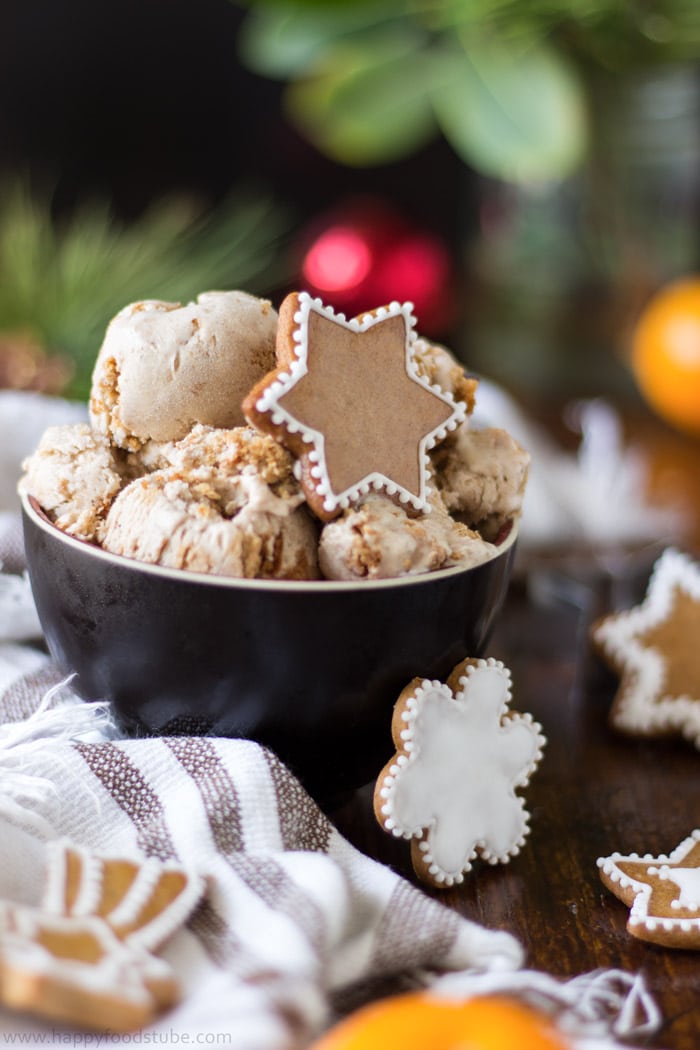 So guys, I am already in a Christmas mood since like 1st December. What about you? What do you do to get into this festive mood? I think that the best way to get into the Holiday mood is by listening to Christmas songs, baking Christmas Cookies and drinking Mulled Wine? What do you think? Is it the same for you?
Now because I am a bit obsessed with gingerbread cookies and because gingerbread cookies are the most popular Holiday season cookies (or at least where I come from) I somehow love adding a bit of the gingerbread magic wherever it is possible.
You might have seen my recipe for Gingerbread French Toast. If not, check it out, it is delicious! If you are looking for a Gingerbread Dough Recipe, check out this one. I use this recipe all the time!
Like I've mentioned I like adding the gingerbread magic to literally anything so when I saw a recipe for a gingerbread ice cream I had to try it! This recipe is from a Slovakian magazine called F.O.O.D. It's from last year's issue and I literally waited almost a year to try it! It didn't feel right making this in the summer!
So I followed the recipe to the dot. Well almost! Taste-wise we loved it. However, their portions must have been pretty small as there was no way 4 people would enjoy it so I increased the amounts. While making it I realized there were too many cookies stated in the recipe so I changed the amounts.
I didn't want to end up with gingerbread cookies with ice cream instead of gingerbread ice cream with cookies! However, if you think that the more cookies the better, then by all means go ahead and add more! You gotta experiment to see what works for you!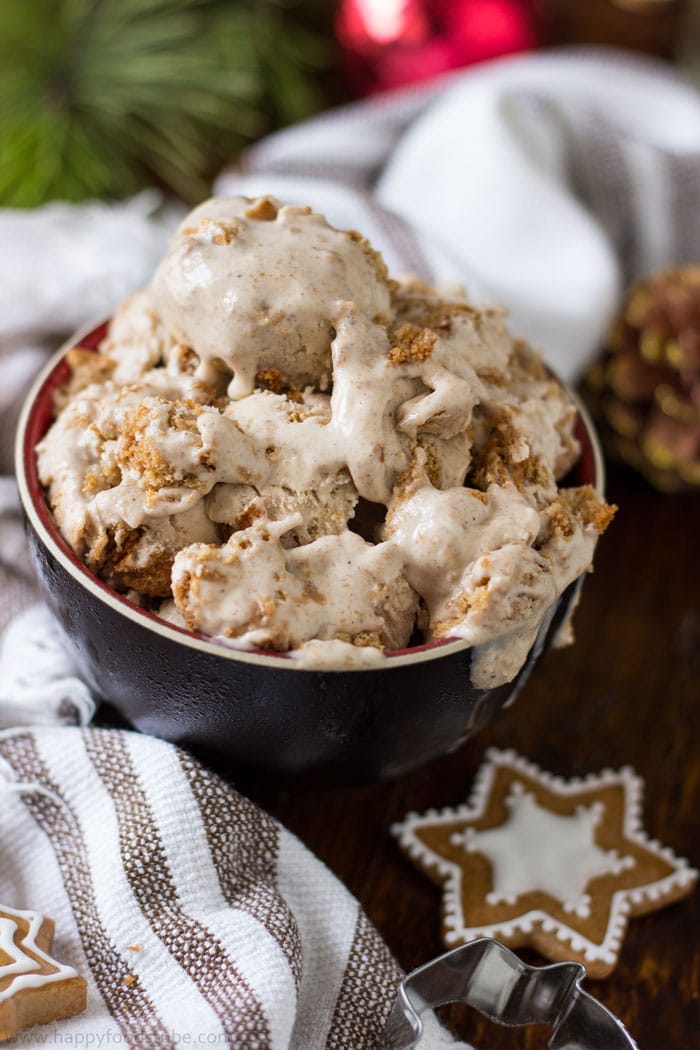 How to make homemade gingerbread ice cream
The whole ice cream preparation is pretty straight forward. It takes no more than 15 minutes before putting it in the ice cream maker (or the freezer).
You will need 2 bowls though. One is for creaming the egg yolks with sugar and the other one is for whipping the cream. After the mixed spice has been stirred into the yolk mixture, pour it in the whipped cream and fold in.
I also crumbled a few gingerbread cookies and added these to the ice cream mix. Now make sure you leave some for later. What we are after are larger visible cookie chunks in the ice cream. These will be added before the ice cream is too firm. You will have to keep an eye on it.
Transfer the ice cream mixture in a plastic container and throw it in your freezer to set completely. I usually leave it set overnight.
Before serving: The ice cream will be pretty hard so take it out 10-15 minutes before serving to let it thaw a bit.
Guys, this is a simple gingerbread ice cream recipe that anyone can do. If you love ice cream no matter what the season then give it a try! It tastes divine!
Gingerbread Ice Cream
Planning on baking gingerbread cookies? Why not make gingerbread ice cream as well? It's a perfect Christmas treat with pieces of gingerbread cookies inside!
Ingredients
1¾

cup

Whipping Cream

(400 ml)

10

tablespoons

Icing Sugar

8

Gingerbread Cookies

4

Egg Yolks

2

teaspoons

Mixed Spice
Instructions
Beat the egg yolks with icing sugar until smooth (2-3 minutes). Stir in mixed spice until well combined.

In a separate mixing bowl, whip the cream. Fold in the egg yolk mixture.

Crumble 2 gingerbread cookies and throw them in the bowl. Mix again.
No churn option:
Pour the mixture in a plastic container, crumble the rest of the cookies and stir them in. Transfer in the freezer and let it set for several hours (for best results overnight). Take the ice cream out and mix to break any ice crystals. Do this at least 3-4 times every hour.
Ice cream machine:
Follow the instructions on your ice cream machine. After 30-40 minutes when the ice cream is harder but not too hard, turn the machine off. Transfer the ice cream in a plastic container. Add the rest of the cookies, crumbled. Stir them roughly in. Place in the freezer for a few hours.

Serve with some extra gingerbread cookies, if desired!
Nutrition Facts
Gingerbread Ice Cream
Amount per Serving
% Daily Value*
* Percent Daily Values are based on a 2000 calorie diet.
** As an Amazon Associate I earn from qualifying purchases.
LEAVE A COMMENT
RELATED POSTS