Easy recipe for bacon wrapped pork tenderloin. Simple preparation, a few ingredients and minimal clean-up! Follow the recipe for the juiciest pork tenderloin!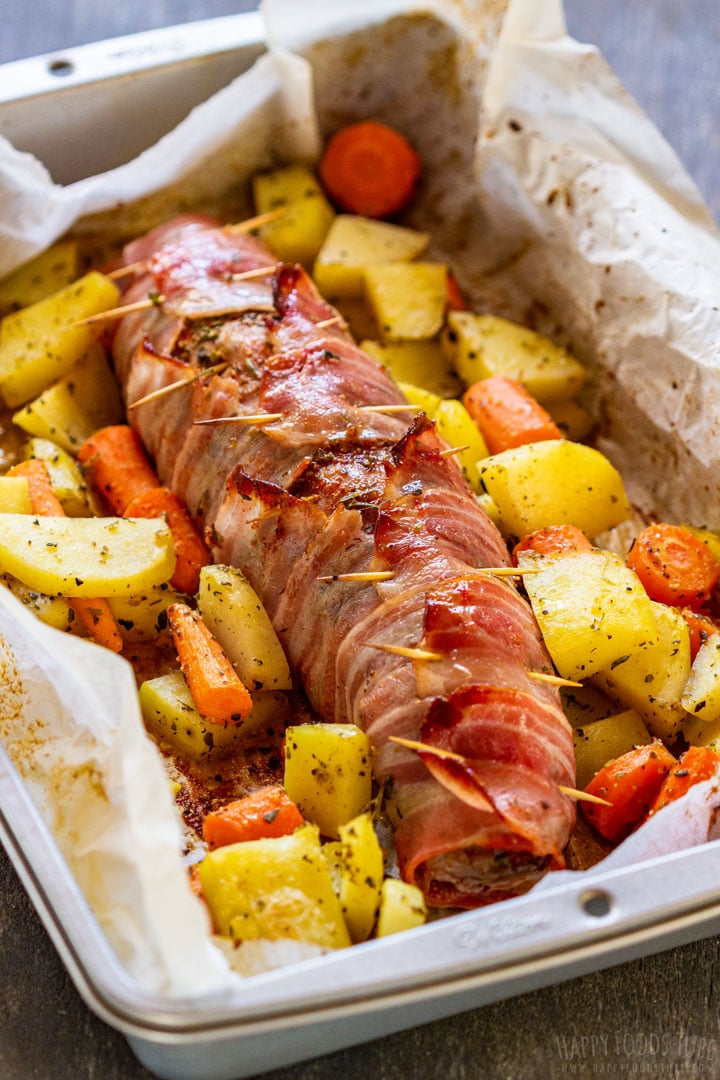 The post includes serving suggestions as well as lots of tips and useful information for first time cooks.
Ingredients needed for pork tenderloin wrapped in bacon
Pork tenderloin – if you can, buy one that has the white membrane already trimmed off. Sometimes getting rid of it can be challenging.
If you can't find such, then try to buy a slightly heavier piece (slightly more than 1 pound/450 grams). This way, you should still be able to end up with a pound of tenderloin for roasting.
Bacon – remember that the level of saltiness varies from brand to brand. Try to get one that is not extra salty (the easiest way is to check their package information and pick the one with a lower sodium level). If not possible, you might need to use less salt for seasoning, when making baking pork tenderloin for the first time.
The quantity will depend on how wide the slices are. Also, the longer strips the better.
Seasoning – I like using a simple seasoning mix of salt, onion flakes, paprika, black pepper, and thyme. You can either sprinkle this over your pork tenderloin (this will yield lighter flavor) or spread it onto a sheet of baking parchment and roll pork tenderloin in it (this will ensure a ton of flavor).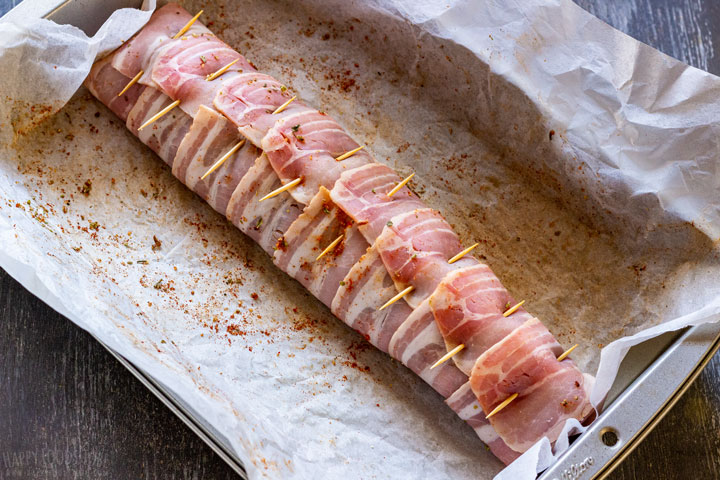 How to make bacon wrapped pork tenderloin
The prep is simple: Season the tenderloin with seasoning, wrap in bacon, secure with toothpicks, and roast until ready to your liking (recipe card at the bottom of this post has detailed instructions).
Let it rest for 10 minutes, slice and serve with a side of your choice.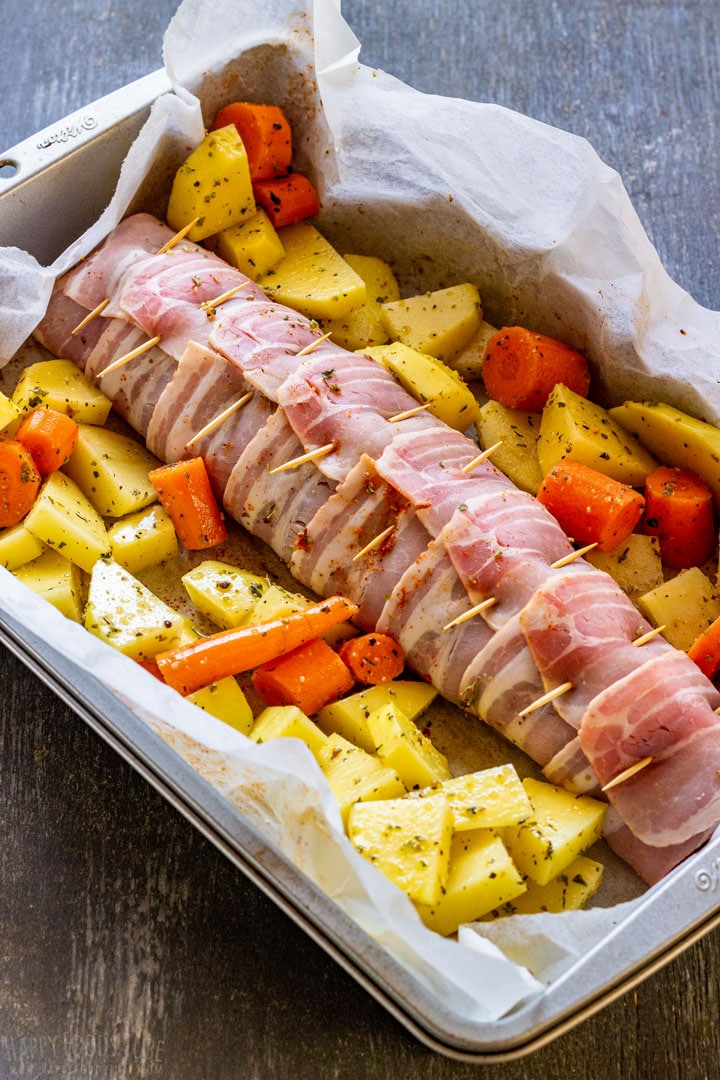 Possible variation
If you don't have toothpicks or your bacon is rather short, wrap the tenderloin as good as you can and place it onto a baking tray "seam" side down.
Is searing pork tenderloin necessary?
Searing helps keep the juices inside which prevents tenderloin from turning dry.
However, in this tenderloin recipe, you don't need to sear it at all! This is because the bacon will keep it from drying out and if the recipe is followed, you will end up with perfectly juicy pork tenderloin.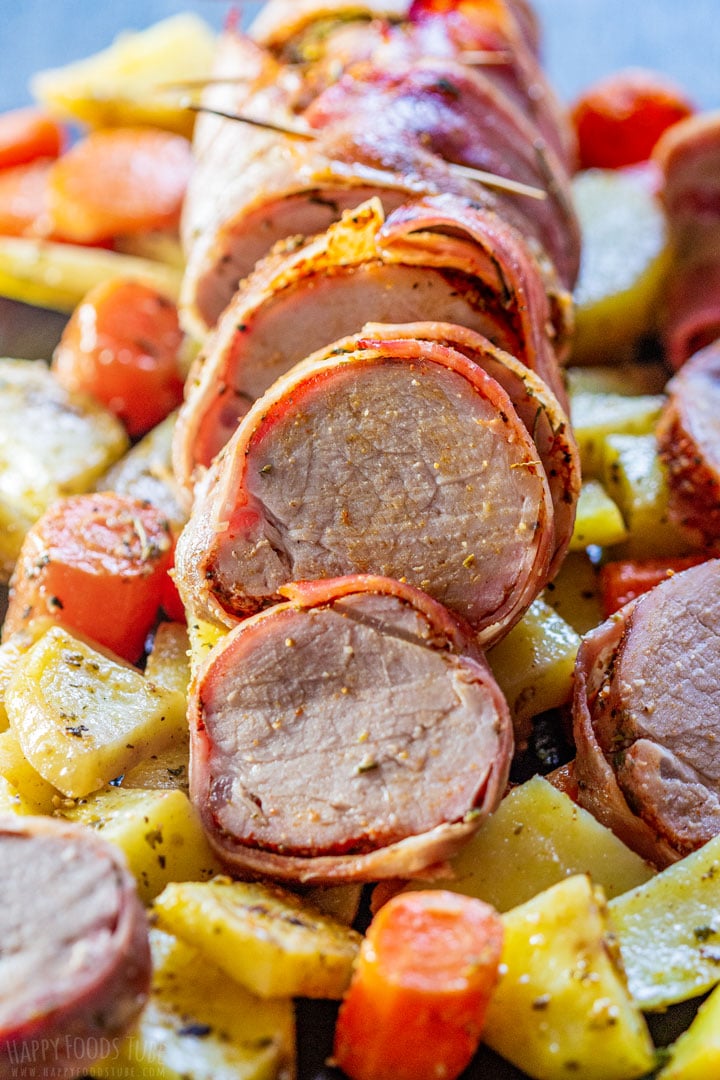 What are good sides to serve with roasted pork tenderloin?
There are many great options to choose from but if you are stuck and need some inspiration, here are some ideas for you: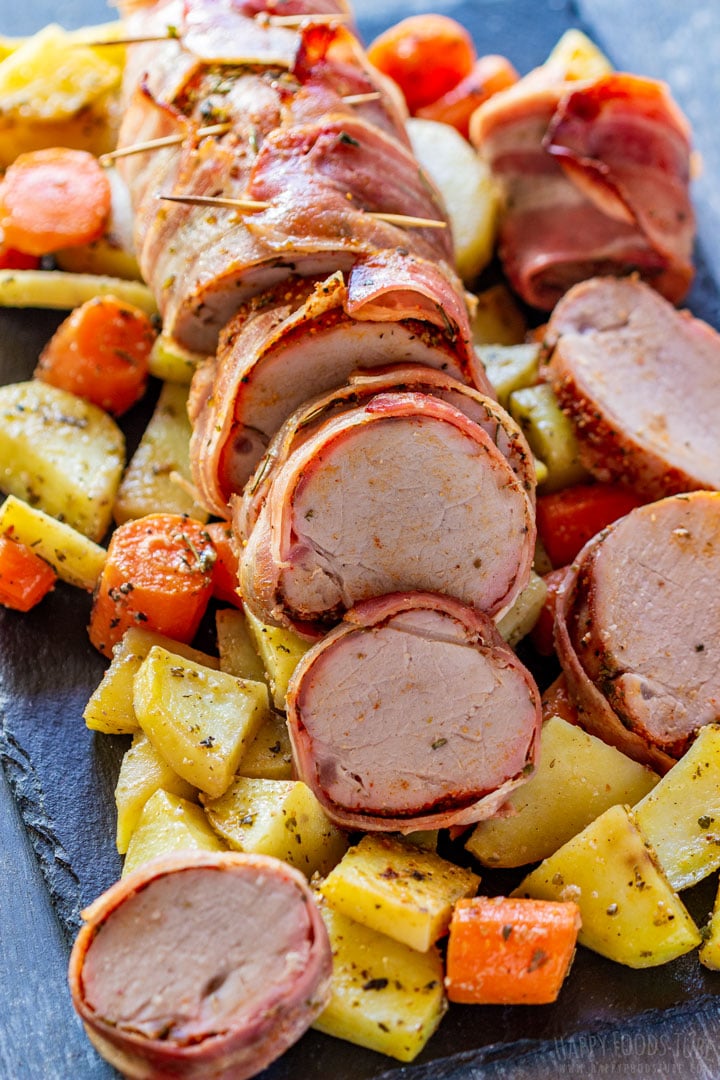 Tips for making bacon wrapped pork tenderloin
To make sure pork tenderloin is cooked, use a food thermometer. This is quite important as each oven works differently. Some heat more than others and for this reason, it is not possible to set one temperature for everyone.
I have tested this recipe in 2 different ovens and got different results. In general, this bacon-wrapped pork tenderloin will need somewhere between 25-35 minutes in the oven. Like I have already mentioned, using the thermometer allows you to avoid over or undercooking it. Once it reads 145 Fahrenheit (64 Celsius) in the thickest part, take it out and let it rest.
Resting is important and should not be skipped!
This pork tenderloin wrapped in bacon should feed 4 people.
You can roast vegetables in the same tray/sheet pan as the tenderloin, but you might want to throw the veggies in the oven ahead of time to make sure they will be cooked through. Alternatively, you can leave them in 10 minutes longer (while the meat is resting).
More dinner recipes you might like to try:
Bacon Wrapped Pork Tenderloin
Easy recipe for bacon wrapped pork tenderloin. Simple preparation, a few ingredients and minimal clean-up! Follow the recipe for the juiciest pork tenderloin!
Ingredients
¾

teaspoon

salt

, see note 1

¼

teaspoon

black pepper

2

teaspoons

onion flakes

, see note 2

2

teaspoons

paprika

2

teaspoons

dried thyme

, see note 3

1

pound

pork tenderloin

(450 grams), see note 4

10-12

slices

bacon

, see note 5
Instructions
Preheat oven to 350° Fahrenheit (180° Celsius).

Line a baking tray with baking parchment.

Combine together the seasoning (salt, pepper, onion flakes, paprika and thyme – you can do this on the parchment paper or in a small bowl). Spread the seasoning evenly across the parchment paper and roll pork tenderloin in, making sure it is evenly coated. Place the tenderloin on a plate and set aside.

Arrange bacon slices next to each other on the baking parchment, making sure, they are slightly overlapping. Place the tenderloin on top (in the middle).

Now, lift a slice on both ends and wrap towards the center and secure on top (see photos). Repeat until the whole tenderloin is wrapped and secured with toothpicks.

Transfer the tenderloin in the oven and bake until its internal temperature reaches 145° Fahrenheit (64° Celsius), 25-35 minutes (see note 7).

Take it out from the oven and let it rest for 10 minutes before slicing (and removing toothpicks).

Serve with any side you like.
Notes
If you feel that your bacon is very salty or if you are trying to keep sodium intake low, you can reduce the salt to ½ teaspoon.
Garlic or onion powder are good substitutions.
Thyme can be substituted with oregano or marjoram.
If your tenderloin has the membrane on, please remove it with a sharp knife. You can use a slightly larger tenderloin as well. The seasoning should be enough for up to 1.2-pounds.
The number of bacon slices may vary. This will depend on their size so I suggest buying more rather than less. Mine were about 1.5-inch (4-centimeters) wide.
The seasoning is plenty for a 1-1.2-pound tenderloin (450-540 grams).
Cooking time will vary. This will depend on your oven as well as the thickness of the tenderloin. It can vary between 25-35 minutes. For the best result, I highly recommend using a food thermometer. Once the temperature reaches 145 Fahrenheit (64 Celsius) you can take it out.
More cooking tips and serving suggestion ideas can be found in the full post above this recipe card.
Nutrition Facts
Bacon Wrapped Pork Tenderloin
Amount Per Serving
Calories 379
Calories from Fat 234
% Daily Value*
Fat 26g40%
Cholesterol 110mg37%
Sodium 861mg37%
Potassium 623mg18%
Carbohydrates 4g1%
Protein 31g62%
Vitamin A 535IU11%
Vitamin C 2mg2%
Calcium 28mg3%
Iron 2mg11%
* Percent Daily Values are based on a 2000 calorie diet.
** As an Amazon Associate I earn from qualifying purchases.
LEAVE A COMMENT