Soft and moist these blueberry persimmon muffins are perfect for breakfast, brunch or as a snack. Whole blueberries & hazelnut streusel make them extra delicious!
Guys, if you can buy persimmons in your corner of the world, I highly recommend making these blueberry persimmon muffins.
Because the dough needs chilling the prep can be done the night before baking. The following day all you have to do is bake them. The preparation is easy and if you don't count the chilling in barely takes 15 minutes.
To make these persimmon muffins I used my auntie's recipe for banana muffins. I had no bananas at home so I used persimmons instead and the recipe worked really well. They are soft, light with whole blueberries inside and hazelnut streusel topping. I personally like the hazelnut topping that gives these blueberry persimmon muffins some crunchiness and extra texture.
What do you do with a persimmon?
Persimmon is a sweet fruit that is mostly eaten raw but you can also use it in baking (check the blueberry persimmon muffin recipe below), smoothies (Persimmon Banana Smoothie) or make no bake sweet treats (No Bake Persimmon Desserts). In some countries you can also buy dried persimmons or you can try drying them yourself.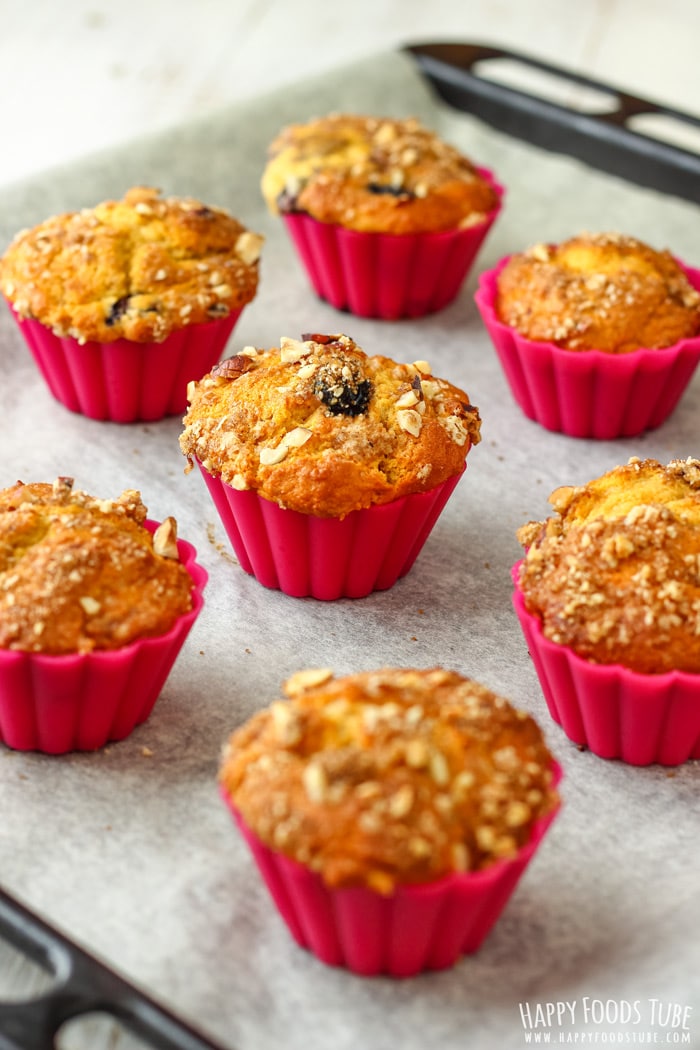 What is important to know about persimmons is the fact that there are 2 main types: The astringent and non-astringent persimmon.
The main difference between these two types is their taste. When you buy the astringent variety and eat it before it is perfectly ripe – you will not be happy with your "food experience". It will leave bitter, dry and weird feeling in your mouth. That sort of feeling or sensation you never want to experience again. And that is why it is important to know the difference:
Astringent persimmon – acorn shape, needs to be completely ripe before eating, when unripe this variety is hard to touch, ripe one is very soft to touch (almost bursting inside).
Non-astringent persimmon – tomato/donut shape, can be eaten when unripe (it will taste sweet). Fuyu is the non-astringent persimmon variety – these persimmons don't need to be fully ripe to be enjoyed.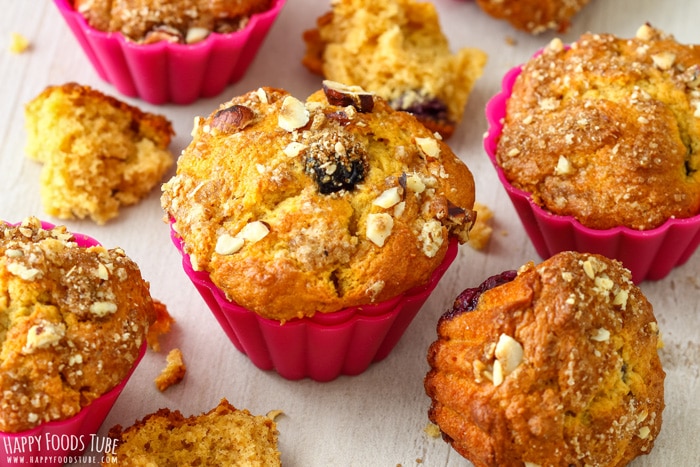 Is persimmon good for you?
Definitely! Persimmon is an excellent source of fiber, antioxidants and potassium. If you exercise, try eating this fruit before your workout. It will boost your energy level. It's also good for your eyes and heart and contains good level of Vitamin A, C and K.
If you are still not sure what persimmon to buy, check out this quick video: How to eat a persimmon and know if it's ripe. I found it quite helpful.
Ingredient Substitutions
Yes. If you don't have persimmons, use 1 large or 2 small bananas. The streusel topping can be omitted completely but you will lose an extra flavor and texture.
Greek yogurt can be substituted with sour cream or crème fraiche.
Want to see how to make Blueberry Persimmon Muffins? Watch the video!
Blueberry Persimmon Muffins
Soft and moist these blueberry persimmon muffins are perfect for breakfast, brunch or as a snack. Whole blueberries & hazelnut streusel make them extra delicious!
Servings:
12
– 15 Muffins
Ingredients
¾

cup

Cane Sugar

(100 grams)

1

stick

Unsalted Butter

(110 grams)

2

Eggs

1¼

cup

All-Purpose Flour

(200 grams)

1

tablespoon

Baking Powder

2

tablespoons

Greek Yogurt

1

cup

Pureed Persimmon

(from 1½ persimmons)

½

cup

Blueberries
For the streusel topping:
Instructions
In a large bowl, beat the sugar and soften butter until fluffy. Add the eggs, one at a time. Beat well after each addition.

Stir in sifted flour and baking powder. Add yogurt, pureed persimmon and whisk until well combined.

Chill in the fridge for 30 minutes.

Meanwhile: Using your hands or fork to make the streusel topping. Combine diced cold butter, flour, sugar and hazelnuts in a food processor and pulse until you get a crumb like texture (you can also do this by hand or use a fork).

Take the batter out from the fridge, scoop into muffin tray/muffin cups and top with streusel topping.

Bake in a preheated oven at 370°F/190°C for 20-25 minutes or until done.
Notes
This recipe can be prepped ahead: make the batter in the evening and bake in the morning.
Cane sugar can be substituted with brown sugar.
Sour cream or crème fraiche can be used instead of Greek yogurt.
Two small mashed bananas are a great substitution for persimmons.
The streusel topping keeps well in the fridge so you can make it ahead.
Nutrition Facts
Blueberry Persimmon Muffins
Amount per Serving
% Daily Value*
* Percent Daily Values are based on a 2000 calorie diet.
** As an Amazon Associate I earn from qualifying purchases.
LEAVE A COMMENT
RELATED POSTS