A super simple recipe for instant pot creamy split pea soup made with Thai red curry paste for an extra spicy kick. Also perfect for meal prep and it's freezer-friendly!
Feel free to customize it to your liking. Possible add-ons and toppings as well as extra tips are part of this post.
Cooking in a pressure cooker is hassle-free and easy. We use it a lot in our home and the food is always delicious so I hope you try too!
Note: This is a vegetarian yellow split pea soup. It contains Thai red curry paste that is usually made with fish stock. To be sure it is vegan, check the ingredient list or make your own paste.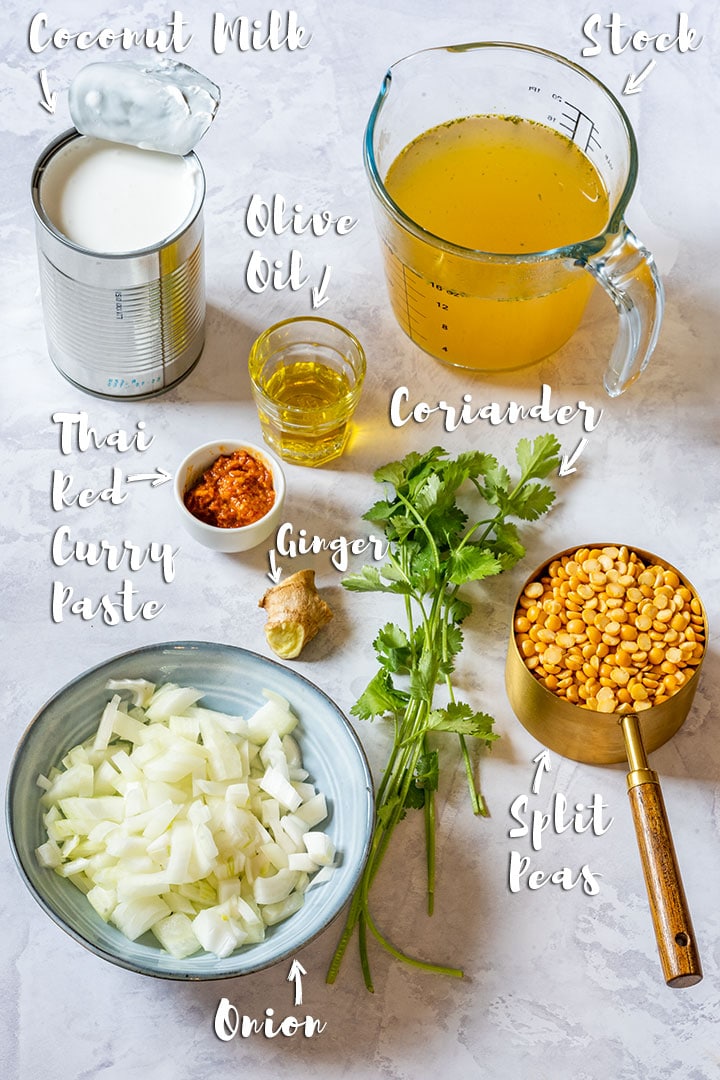 Ingredients that you need:
Olive oil – this is my preferred cooking oil, but you can use alternatives if you want to.
Onion – either white or yellow
Split peas – I used the yellow kind
Ginger – use fresh for best results
Thai red curry paste – a must in this recipe. You don't need much but then again, it depends on everyone's taste.
Vegetable stock – you can substitute with any other stock from turkey, chicken, stock cubes, bouillon….
Coconut milk – not the coconut milk drink!
Fresh cilantro
As you can see, this pressure cooker creamy split pea soup needs only 9 ingredients, and some are pretty customizable. The whole batch can be doubled if you want.
Tools needed:
Instant pot – if you don't have a pressure cooker, you can make it on a stovetop instead.
Wooden spoon – for mixing
Chopping board + knife – for the onion, peeling the ginger, and for chopping the herbs.
Fine grater – for the ginger
Immersion mixer – to blend everything until you get nice creamy yellow split pea soup.
Optional add-ons & topping ideas
We absolutely love the thin vermicelli noodles (or that kind). You can serve them on side in case some of your diners don't want to add them to the soup.
As a topping, use anything you like from croutons, a drizzle of olive oil, finely chopped fresh parsley or chives or cilantro, seeds of any kind. If I have homemade everything bagel seasoning on hand, I make sure to use it too! It is so good.
As a side, garlic bread or any fresh baguette or artisan bread is perfect. Dinner rolls will also work great.
A dollop of sour cream or yogurt (for non-vegans) – this also makes this split pea soup milder if you feel it is too spicy from the Thai curry paste.
Pro tips for making creamy split pea soup
This creamy split pea soup may appear thin but note that it thickens a lot as it cools down. If you were to add some more split pea to it, it might turn out extremely thick. Now if it does, you can thin it with more coconut milk or vegetable broth. You can do the same when reheating it.
It is perfect for a meal prep as it will last for several days in your fridge when stored properly (preferably in an airtight container) but it also freezes well! To freeze, fill a Ziploc bag and lay it flat on a baking sheet or tray and flash freeze or pour into a freezer-friendly container (always leave some space so it can expand in both the bag and container). That way, it will last for months but we like to eat it withing 3 months.
More instant pot soup recipes for you to try:
Instant Pot Creamy Split Pea Soup
A super simple recipe for instant pot creamy split pea soup made with Thai red curry paste for an extra spicy kick. Also perfect for a meal prep and it's freezer-friendly!
Servings:
4
portions, see note 6
Ingredients
1

tablespoon

olive oil

, see note 1

1

medium

onion

, finely minced (about 2/3 cup)

½

thumb

fresh ginger

, finely grated, see note 2

½

teaspoon

Thai red curry paste

, see note 3

1

cup

yellow split peas

(about 210 grams)

4

cups

vegetable stock

(1-liter), see note 4

1

can

coconut milk

(14-ounce/400 milliliters)

1

tablespoon

fresh coriander

, finely chopped , see note 5
Instructions
Turn on the Instant Pot and press "SAUTE".

Add oil and onion and saute until the onion is translucent, about 4 minutes.

Add ginger and saute for a minute before adding the paste. Mix everything well with a wooden spoon. Add the rest of the ingredients: yellow split pea, stock, coconut milk and coriander. Turn off the "SAUTE" function.

Cover the pot with a lid and lock it into its position. Turn the steam release valve to "SEALING" and press "PRESSURE COOK" or "MANUAL" (old models). Set the timer to 4 minutes (also make sure the pressure is set to high).

When the time is up, wait until the pin drops itself before opening the lid.

With an immersion blender, blend until smooth. Taste. Add more cilantro/parsley or seasoning if you like or just sprinkle some on top before serving (see note 7).

Enjoy!
Notes
If you don't have olive oil, use what you have on hand – sunflower, vegetable, even sesame will work but it will change the soups flavor a bit.
Make sure to use fresh ginger for the best result.
Use as much/as little as you like. I've noticed that once I added a full teaspoon and it was just perfect while another time it was too spicy. So, I suggest starting with less and tasting it after it has been done. You can still add more at the end.
Vegetable stock can be substituted with chicken or turkey stock or bouillon or stock cubes.
Add more if you like or substitute with fresh parsley!
You should get at least 6 cups of soup out of this recipe. This can feed up to 6 people if serving 1 cup per person.
I don't use any salt as it is not needed when using regular stock. However, they vary from brand to brand and so does the amount of sodium they contain. For that reason, you might need to use salt or if you decide to use a low sodium stock.
This creamy split pea soup is perfect for a meal-prep. It also freezes well!
The soup will thicken a lot as it cools but when re-heated it turns thinner again.
The recipe was developed for a 6-quart/6-liter instant pot.
The overall cooking time does not include the time the pot needs to come to pressure (about 10 minutes), nor the time it needs to release the pressure (about 15 minutes).
More tips, topping ideas, and other useful information for beginner cooks can be found above this recipe card.
Nutrition Facts
Instant Pot Creamy Split Pea Soup
Amount per Serving
% Daily Value*
* Percent Daily Values are based on a 2000 calorie diet.
** As an Amazon Associate I earn from qualifying purchases.
LEAVE A COMMENT