This everything bagel seasoning recipe is made from scratch with 5 ingredients only. It's a simple blend that elevates every food you use it on. Ready in a minute!
Why make everything bagel seasoning?
Perfect gift idea that only takes minutes to put together.
Customizable recipe – adjust the ingredient quantities to your liking. Experiment with the ratios to find out what you like the best!
Adds a ton of flavor to any food – see below a list of possible uses.
What is in everything bagel seasoning?
Sesame seeds
Salt flakes
Poppy seeds
Onion flakes
Garlic flakes
How to use everything bagel seasoning?
Eggs – for boiled, sunny side up, scrambled eggs, omelette.
Sprinkle some over your avocado toast or open sandwich.
Soups – we have been using this sesame seasoning blend a lot as a topping for all kinds of creamy soups (i.e. broccoli soup, potato and leek soup). Drizzle some olive oil over and serve with crusty bread and you are in for a treat!
Grilled Cheese.
Dressing or vinaigrette.
Add some of it to breadcrumbs when breading your chicken.
Cheese ball.
Homemade dinner rolls.
These are a few ways to use sesame bagel seasoning, but the options are limitless and it truly depends on one's taste. Let us know how you use this simple sesame seasoning?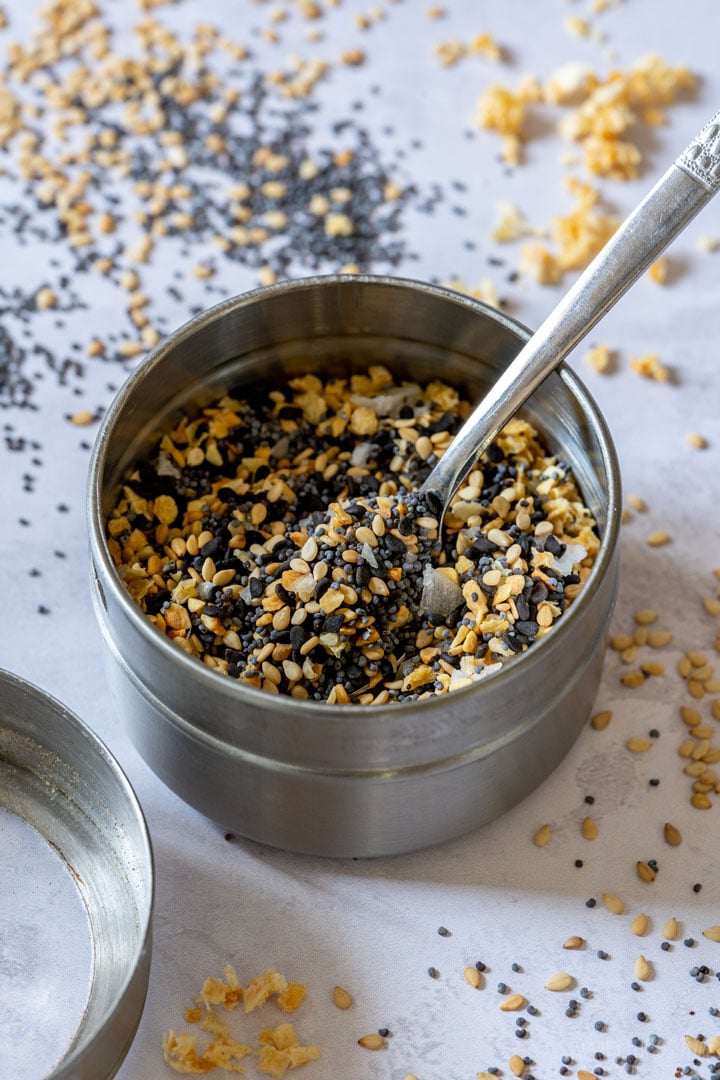 Pro tips:
Garlic nor onion salt should not be used – they would make this seasoning very salty. That being said, it is an option and if you don't mind experimenting, you could try.
For best results use sea salt flakes. Alternatively, a coarse salt can also be used, but you will need to use slightly less.
Reduce/control sodium intake: You could also omit salt completely from the seasoning blend and use it only in your foods. It's perfect for those who are on a low-sodium diet.
Black sesame seeds might be hard to source for some. I recommend checking Amazon, Indian, Asian or health food stores. You can try substituting them with white sesame seeds instead.
Add chia seeds as an add-on or instead of poppy seeds!
Storage:
Homemade everything bagel seasoning should be stored in an airtight spice jar or container (ziploc bag will also work) in a dry and dark place like a cupboard or pantry.
If you live in a humid area, the flakes (especially onion) will soften and stick together. Simply shake the jar or mix with a spoon before using it.
It's also better to make it in smaller rather than large quantities to keep everything bagel seasoning as "fresh" as possible as poppy seeds can go rancid if stored improperly or if old.
Making homemade seasoning blends from scratch is simple and only takes minutes. If you would like to mix up more seasonings at home but need some inspiration, here are a few recipe ideas for you:
Poultry Seasoning – amazing blend not only for turkey, chicken and duck, but also lamb or pork.
Fish Seasoning – We love using this on any white fish.
Italian Seasoning – The perfect mixture of herbs for chicken or anything you like.
Fajita Seasoning – This is just the perfect mixture so we don't buy the store-bought blend anymore.
Everything Bagel Seasoning
This everything bagel seasoning recipe is made from scratch with 5 ingredients only. It's a simple blend that elevates every food you use it on.
Servings:
5
tablespoons, see note 3
Ingredients
1

tablespoon

poppy seeds

1

tablespoon

white sesame seeds

1

tablespoon

black sesame seeds

2

teaspoons

dried onion flakes

2

teaspoons

dried garlic flakes

, see note 1

1

teaspoon

sea salt flakes

, see note 2
Instructions
Mix all the ingredients in a bowl

Store in a spice jar or airtight container (or ziploc bag) in a dry dark place.
Notes
If you don't have garlic flakes, you can use dried garlic – if it is not complete powder, but use only a little (perhaps ½ teaspoon or 1 teaspoon), or omit completely.
If on a low-sodium diet, feel free to omit the salt completely.
This recipe yields about 5 tablespoons of everything bagel seasoning. This is a little over 1 ounce (30 grams).
More useful tips detailed information can be found in the post above this recipe card.
Nutrition Facts
Everything Bagel Seasoning
Amount per Serving
% Daily Value*
* Percent Daily Values are based on a 2000 calorie diet.
** As an Amazon Associate I earn from qualifying purchases.
LEAVE A COMMENT