Making caramel liqueur from scratch is easier than you think! Simply follow this recipe and enjoy it with your family and friends this Holiday season.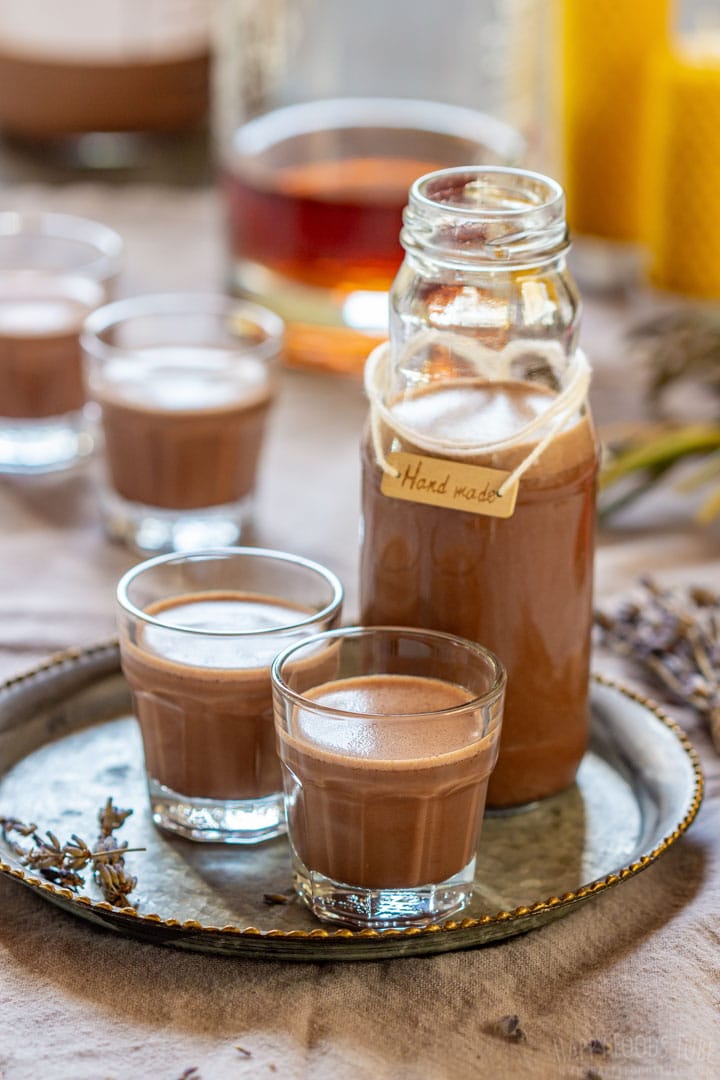 All you need are 3 ingredients. Another great thing about this homemade liqueur is the fact that you can easily customize it to your liking by experimenting with the quantities of ingredients.
This caramel liqueur recipe calls for sweetened condensed milk that has to be boiled so it turns into caramel. Obviously, the boiling process takes some time so if you feel like you would like to cut some corners, you can:
Use store-bought caramel from a can (not the syrup kind)
Substitute with dulce de leche
Or, if you like making everything from scratch, use homemade caramel!
Ingredients you will need:
Unsweetened condensed milk
Rum
Cocoa
Tools you will need:
Blender – for a mess-free blending but a bowl and electric whisk will also work (just messier so use a large bowl)
Measuring cups – to measure out everything
Wooden spoon – to pre-mix the ingredients (only when using an electric whisk)
This is a simple homemade liqueur made with caramel. If you would like to try making your own version of Baileys, try my homemade Irish cream recipe.
I also have a recipe for coquito – a Puerto Rican drink, similar to eggnog.
How to make caramel liqueur
Use either a blender or hand mixer to blend everything together. If you have a powerful mixer, make sure to use the lowest setting otherwise you can have cocoa and rum all over your kitchen counter.
When using the mixer, I also recommend hand-mixing the ingredients first – either with a spatula or wooden spoon.
If using sweetened condensed milk, then boil. It first so it turns into caramel. There are various methods how to do it. Some use the oven, others instant pot. I use the stovetop method and boil it for 2.5-3 hours.
Then, it is just a matter of blending all 3 ingredients together until smooth.
Note: Make sure to pour this ready-made caramel liquor into sterilized glass bottles (or jars)!
Edible gift idea
Pour it into nice bottles, wrap some fancy ribbon around, print out some cute festive tags and gift it to your friends.
It also makes a great hostess gift.
Frequently asked questions:
Can I adjust the quantities of the ingredients?
Yes, you can. Use more cocoa or less rum, if you like.
How long does homemade caramel liqueur last?
It will keep for several weeks. When stored properly in the fridge in a bottle, it should last up to 2 months.
How many calories does this homemade liquor have?
A 1 ounce (30 milliliters) of this beverage contains 154 calories (a large shot glass).
Dietary information
Alcohol – YES
Eggs – NO
Dairy – YES
Gluten – NO
Nuts – NO
Useful Tips:
This easy liqueur recipe can be doubled, tripled,…
It is quite strong so I recommend serving it in shot glasses or pour it over ice which will dilute it slightly (unless you drink it fast that is).
You can pour it over pancakes, French Toast, ice cream, add it to your coffee or hot chocolate!
More edible Christmas gift ideas you might like:
Caramel Liqueur
Making caramel liqueur from scratch is easier than you think! Simply follow this recipe and enjoy it with your family and friends this Holiday season.
Servings:
2
cups of liqueur (about 12 shots)
Ingredients
1

can

sweetened condensed milk

(14-ounce/400-milliliters), see note 1

2

tablespoons

unsweetened cocoa powder

, see note 2

1

cup

dark rum

, see note 3
Instructions
Remove paper "label" from condensed milk can and place it in a deep pot. Cover it with water until completely submerged and there is plenty of water (at least 2-inches/5-centimeters over).

Bring to a boil, reduce the heat and simmer for 2.5 hours, making sure the can is submerged under water at all times. When done, take the can out and let it cool overnight.

The next day, open the can and pour the caramel into a blender, add cocoa and rum. Close with a lid and blend until smooth. When using an electric whisk and bowl, combine the caramel with cocoa first (with a spatula), then pour in the rum in and mix slowly until smooth, using the lowest setting on your electric mixer.

Pour into sterilized bottles or jars, close and keep in the fridge.
Notes
Save time by using store-bought caramel or dulce de leche. If you decide to buy one of those, simply start from step 3 and you will be done in 5 minutes!
Make sure to use unsweetened cocoa powder, not hot chocolate drink powder. Dutch cocoa will also work.
For a lighter version, use less rum.
This should store up to 2 months when stored properly in the fridge.
The nutritional information is based on 1 ounce/ 30 milliliters (a shot glass) and you should get about 15-16 shots. When serving this over ice in whiskey glasses, count with about 6 portions.
Nutrition Facts
Caramel Liqueur
Amount per Serving
% Daily Value*
* Percent Daily Values are based on a 2000 calorie diet.
** As an Amazon Associate I earn from qualifying purchases.
LEAVE A COMMENT