Looking for healthy and filling recipes? Try this protein-rich buckwheat salad. It's packed with nutrients and can be enjoyed for breakfast, quick lunch or as a side. Also naturally gluten-free and vegan!
5 reasons to make buckwheat salad
Easy recipe.
Healthy option.
Protein rich – if you are looking for high-in-protein but meat-free meals, this buckwheat salad is a great choice.
Perfect for meal prep – cook buckwheat ahead and store it in the fridge for later use!
Versatile recipe – the amounts of the ingredients can be adjusted to your liking.
If you are not a vegan, serve it with boiled egg to increase the protein. Or bring it to a whole new level by pan-roasting cherry tomatoes and sprinkling some Feta cheese over.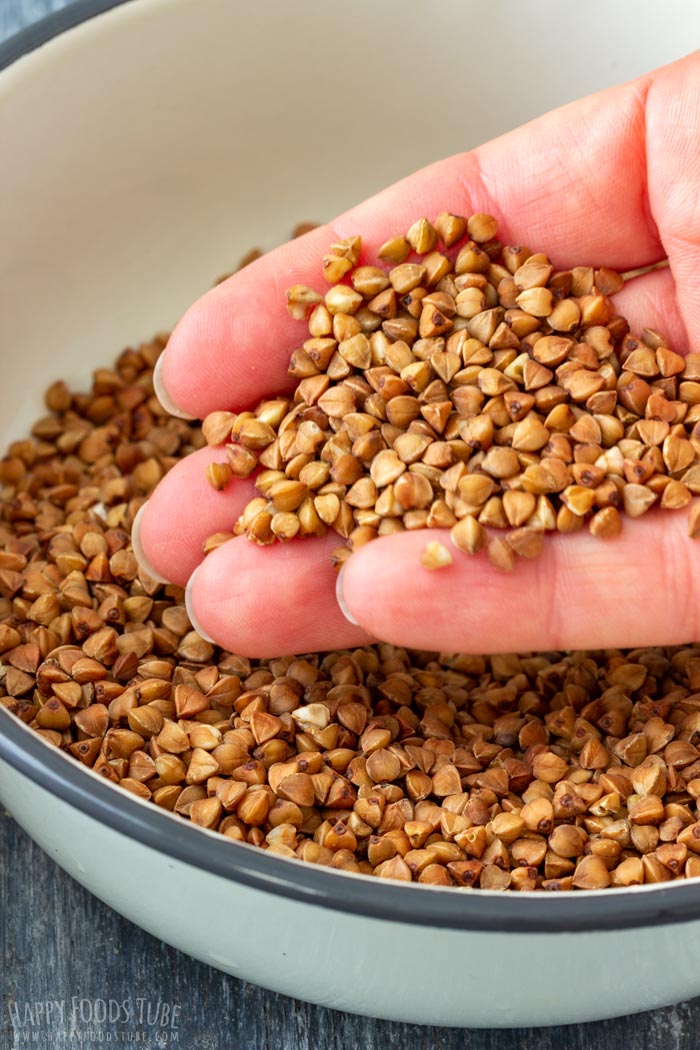 Does buckwheat taste good?
Not many people like buckwheat on its own. I personally would not eat buckwheat on its own either. It's boring and has little taste. But no one wants to eat it plain, right?
Just pair it with fresh (or roasted) vegetables and season well and you will be surprised how different it tastes. You can also turn in into Sweet Potato Buckwheat Burgers in case you are looking for more advanced recipes than this simple buckwheat salad.
What are the benefits of eating buckwheat?
Like I have already mentioned buckwheat is high in protein, it's also an excellent source of minerals, antioxidants and fiber.
Is buckwheat easily absorbed?
Because of its low glycemic index, buckwheat is digested and absorbed way slower. This is a good thing as the blood sugar and insulin are increased slowly. Buckwheat also makes us feel full for longer.
Can you eat raw buckwheat?
Apparently, you can. I have tried it myself and I can honestly tell you I did not like it so I would not recommend doing it. Simply cook it, season it well and you can enjoy it in salads (start with this buckwheat salad or experiment with other flavors) or as a side.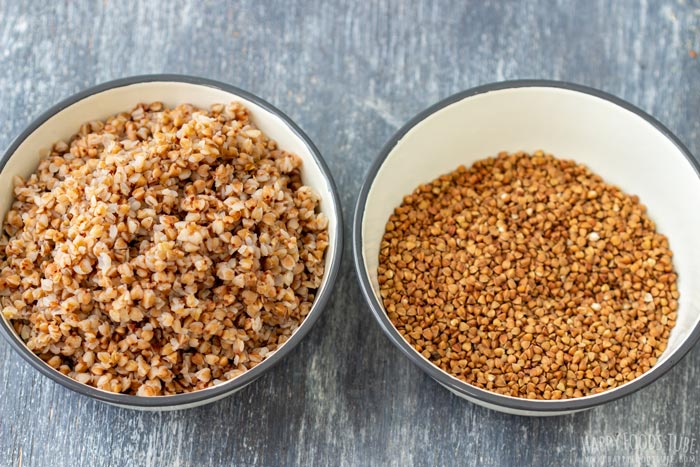 Buckwheat facts
It's not a grain
It is related to rhubarb, sorrel and knotweed.
There are two types of buckwheat: raw & roasted.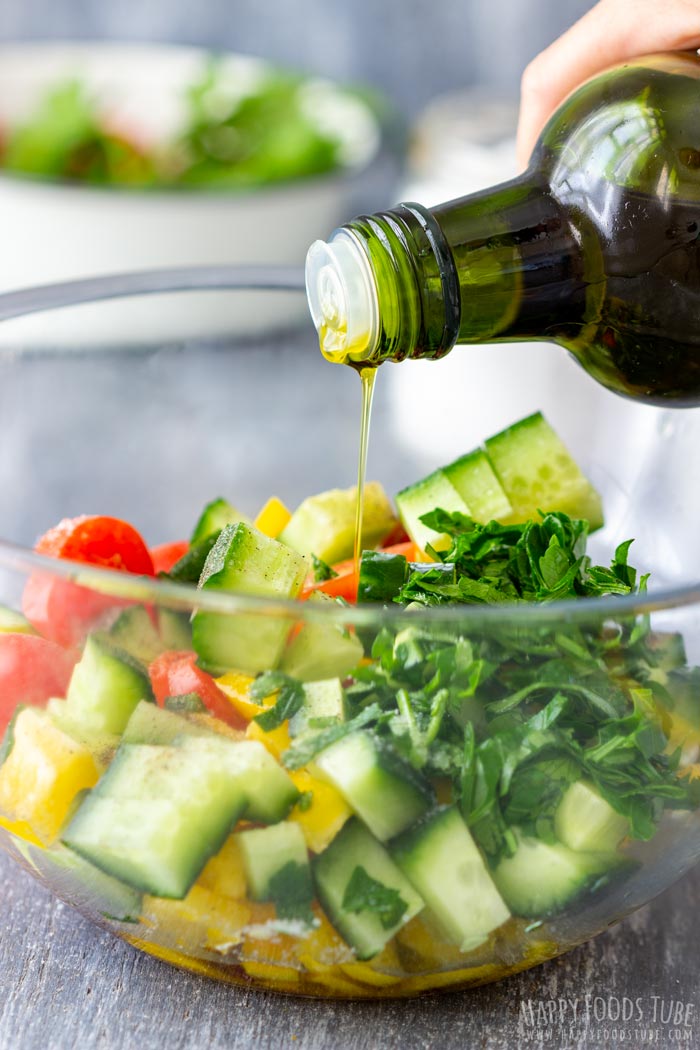 Tips for making buckwheat salad
Prepare the groats in advance and store them in an air-tight container in your fridge to save time
I like using cherry tomatoes for their sweet taste, but you can use any variety you have on hand/you prefer. Just make sure they are ripe to achieve the best flavors.
Fresh flat leaf parsley adds an extra flavor to this salad so I recommend using it. I don't recommend using dried parsley instead. However, fresh cilantro is a great alternative.
Try adding fresh arugula leaves to this salad!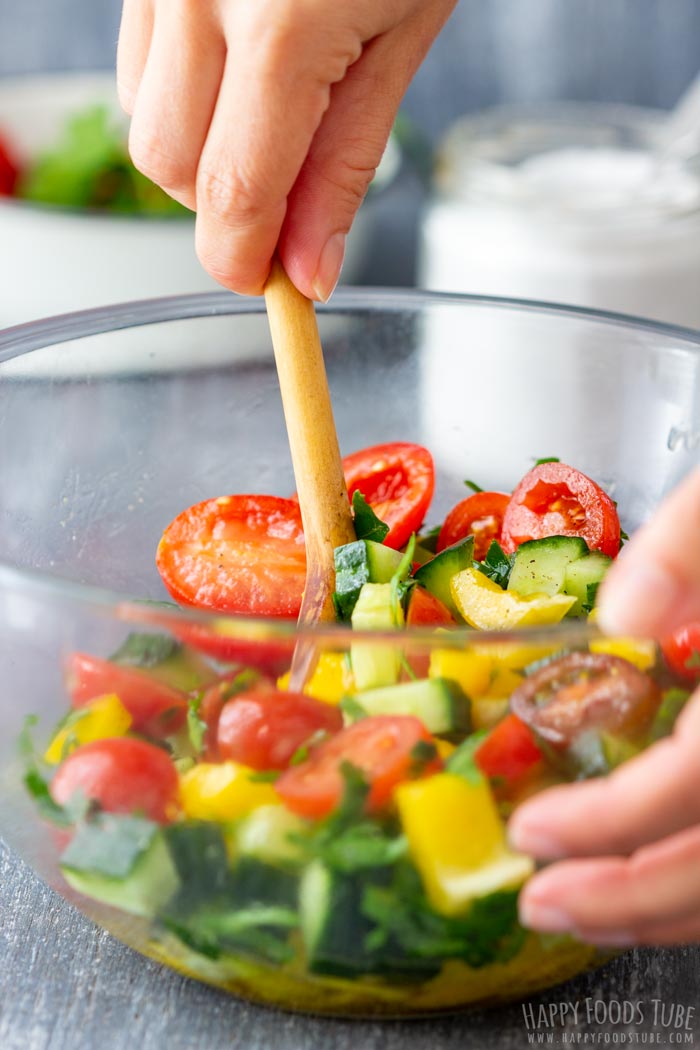 More salad ideas for you: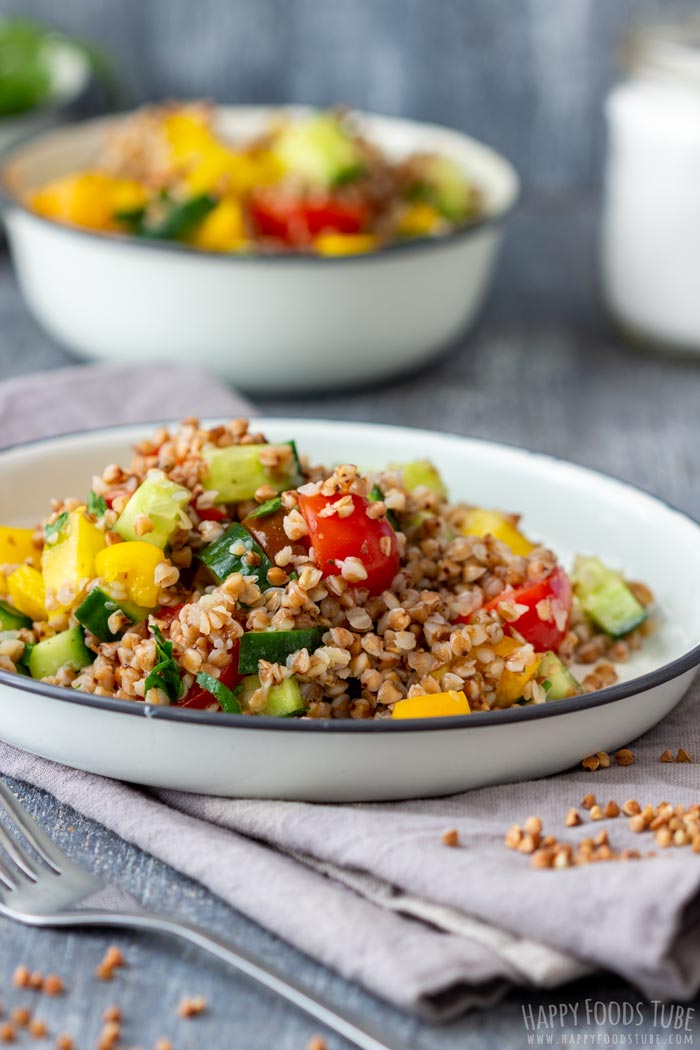 Buckwheat Salad
Looking for healthy and filling recipes? Try this protein-rich buckwheat salad. It's packed with nutrients and can be enjoyed for breakfast, quick lunch or as a side. Also naturally gluten-free and vegan!
Servings:
2
Portions (Lunch) or 4 (Side)
Ingredients
¾

cup

Buckwheat

, uncooked (150 grams)

1.5

cup

Water

(370 ml)

1

teaspoon

Salt

+ extra for Seasoning

½

English Cucumber

1

Large

Yellow Pepper

1.5

cup

Cherry Tomatoes

(200 grams)

4-5

Sprigs

Fresh Flat Leaf Parsley

1

tablespoon

extra virgin olive oil

A generous Pinch of

black pepper
Instructions
Rinse the buckwheat groats and place them in a small sauce pan. Add the water, salt and bring it to a boil. Reduce the heat to low-medium and simmer for a further 10-15 minutes. If you like the buckwheat to be really tender, it might take longer (see note 4). If the buckwheat does not absorb all the water, drain it.

Meanwhile: Wash and cut the vegetables into bite–size chunks. Transfer them into a bowl and season with salt and pepper. Pour over a table spoon of olive oil and sprinkle with finely chopped parsley (add as much as you like). Mix well.

When the buckwheat is ready, taste it, add more salt (if needed) and mix it with chopped veggies.

Serve warm or cold!
Notes
You can use any kind of sweet peppers you like: Italian, mini peppers, sweet Banana peppers, ….
This is a pretty versatile recipe and the amounts of ingredients can be easily adjusted to your liking.
Those who don't follow vegan diet can add Feta cheese or boiled egg.
Cooking buckwheat – This is the way I cook buckwheat but sometimes different brands have slightly different buckwheat so the time may vary. If not sure, I suggest following the package instructions.
Enjoy this salad for breakfast, lunch or as a side.
Nutrition Facts
Buckwheat Salad
Amount per Serving
% Daily Value*
* Percent Daily Values are based on a 2000 calorie diet.
** As an Amazon Associate I earn from qualifying purchases.
LEAVE A COMMENT
RELATED POSTS