Instant Pot Baked Apples are the perfect Instant Pot dessert. 3 minutes active cooking time is all it takes to make these tender and rich in flavor baked apples!
Guys, today I have for you a simple Instant Pot baked apples recipe. This recipe is very easy and more importantly, it's quick! Would you believe they only need 3 minutes to cook in your electric pressure cooker? Isn't it great?
If you own an Instant Pot, then I highly recommend trying these recipes:
How to make Instant Pot baked apples
Before I was going to make these Instant Pot baked apples I knew I wanted to add some extras that would make them a bit different from the classic version. So I included hazelnuts, dates and ladyfingers in the stuffing!
Some of you probably think that it's a weird ingredient to put in baked apples but we liked it. You see, sugar melts, butter melts and all you are left with are raisins. That is why I went for the extra ingredients and different textures.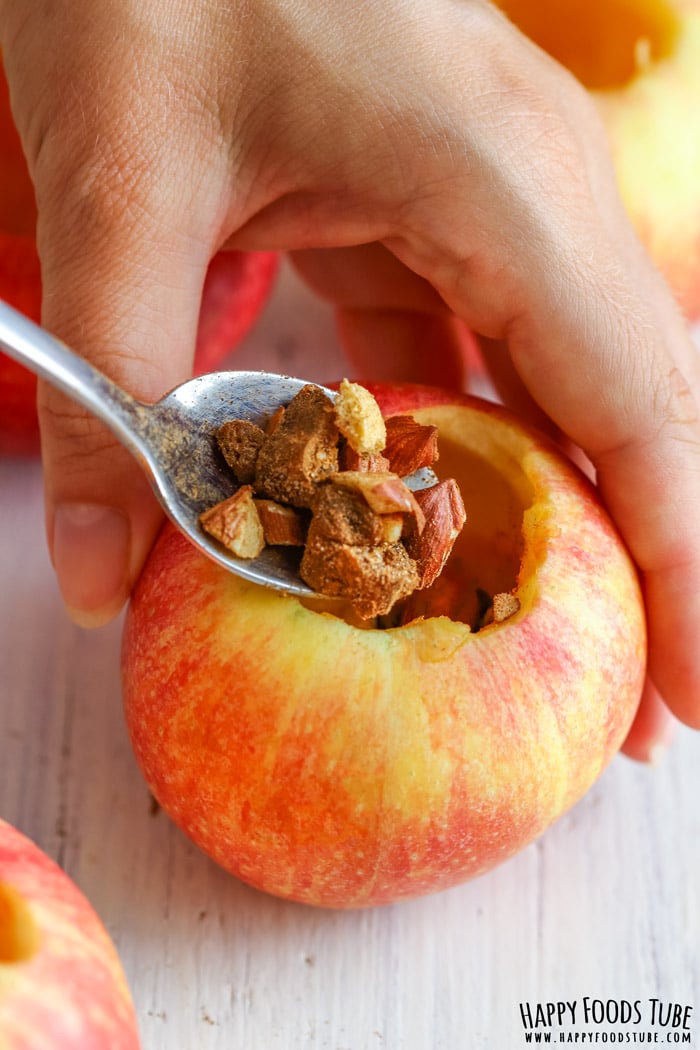 I also made pressure cooker baked apples with leftover cookies (Crush 1-2 cookies into raisin-size pieces and mix them with the rest of the ingredients).
However, if you don't feel like using ladyfingers or cookies, just omit them completely.
The filling mixture should be enough to fill 6-8 medium apples. This will also depend on the size of the cavity you make in each apple. By the way, a melon baller is the best tool to make the cavities!
Also if I have some filling left I add 2-3 teaspoons to the Instant Pot. This will make your butter sauce taste even better, richer!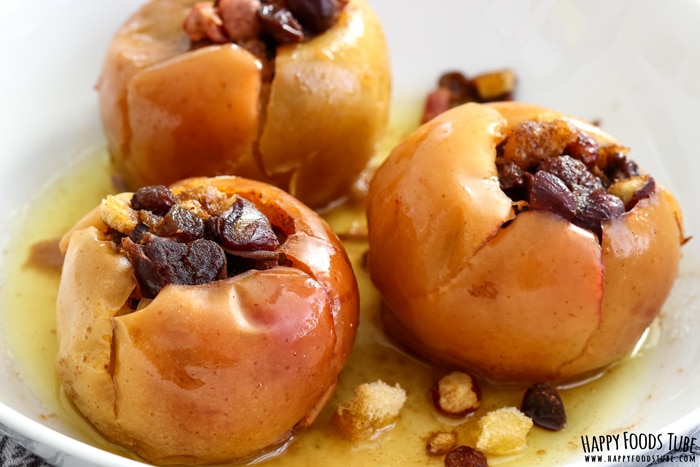 Good to know before making Instant Pot baked apples:
Cooking the apples in you pressure cooker only takes 3 minutes. But bear in mind that your Instant Pot will need some time to build up and release the pressure. In a 6 quart/6 liter Instant Pot count with extra 6-8 minutes.
Releasing the pressure – quick release will stop the apples from cooking. Natural pressure release means that your apples will still be cooking until the pressure drops naturally (count with a further 3-5 minutes after active cooking time). I suggest you wait the extra time.
Wire rack is not necessary to make these Instant Pot baked apples. I simply place them on the bottom of the inner pot and that's it. Just pour the water in (avoid pouring it over the apples) and throw in the butter and you are good to go!
Apple variety – I used honeycrisp apples but feel free to use any variety you like or can get your hands on.
Apple size – this recipe works perfectly with small to medium apples. You can also use large apples but I recommend increasing the cooking time to 5-6 minutes.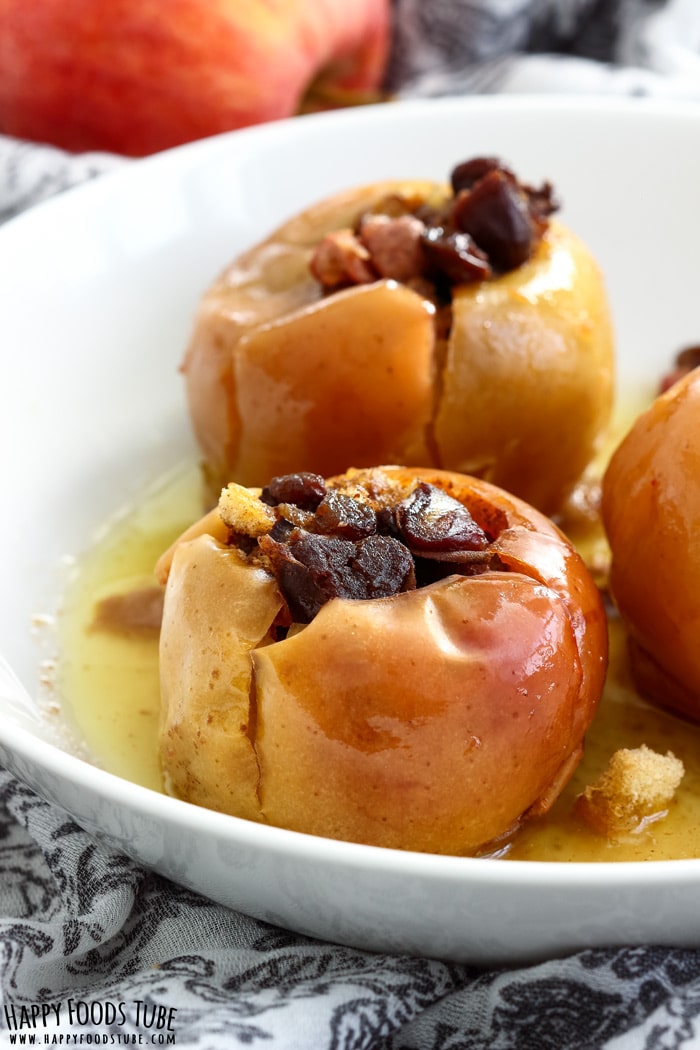 So guys, if you try these Instant Pot Baked Apples, let me know what you think!
I have a few more Easy Instant Pot Recipes on the blog so if you are looking for some inspiration, just check them out!
This post first appeared on I Wash You Dry blog where I am a contributor.
Want to see how to make Instant Pot Baked Apples? Watch the video!
Instant Pot Baked Apples
Instant Pot Baked Apples are the perfect Instant Pot dessert. 3 minutes active cooking time is all it takes to make these tender and rich in flavor baked apples!
Instructions
Rinse the apples and cut out holes in each one of them. I use a knife and a melon baller.

In a bowl mix together raisins, chopped hazelnuts, chopped dates, cinnamon, brown sugar, half of the butter and crushed ladyfingers/cookies/Graham crackers (these are completely optional).

Stuff each apple with the cinnamon stuffing. Put a tiny piece of butter on top of each apple and place them in your Instant Pot.

Pour water inside and throw the rest of the butter in. If you have some leftover filling, add 2-3 teaspoons in as well (optional).

Cover with the lid and lock. Turn the steam release (venting knob) to "sealed" position.

Press "Manual" and set the timer to 3 minutes. Press the "Pressure" button and change the pressure to low.

When the cooking cycle is finished, let the pressure release naturally to get extra tender apples. You can also quick release the pressure which will stop overcooking your apples.
Notes
This recipe was made in a 6-quart/6-liter Instant Pot.
You can fit 6-8 small-medium apples in a 6-quart/6-liter Instant Pot.
The stuffing/filling ingredients can be changed/increased/omitted depending on your taste.
The cooking time does not include the extra time needed to pressurize the pot as well as naturally release the steam (count with extra 6-8 minutes).
This recipe works best with small or medium apples.
The texture of apples depends on their sweetness – the sweeter the apples the mushier they turn. Also if you add extra sugar in your liquid, this can cause that the apples turn harder but might keep their shape better.
Nutrition Facts
Instant Pot Baked Apples
Amount Per Serving
Calories 339
Calories from Fat 171
% Daily Value*
Fat 19g29%
Cholesterol 41mg14%
Carbohydrates 44g15%
Protein 2g4%
Vitamin A 570IU11%
Vitamin C 9.2mg11%
Calcium 45mg5%
Iron 0.9mg5%
* Percent Daily Values are based on a 2000 calorie diet.
** Happy Foods Tube is a participant in the Amazon Services LLC Associates Program, an affiliate advertising program designed to provide a means for sites to earn advertising fees by advertising and links to Amazon.com.
LEAVE A COMMENT
RELATED POSTS