This nutrient rich mango kale smoothie boosts your immune system thank to antioxidants and vitamins. Only 6 ingredients and 3 minutes is all it takes to make it!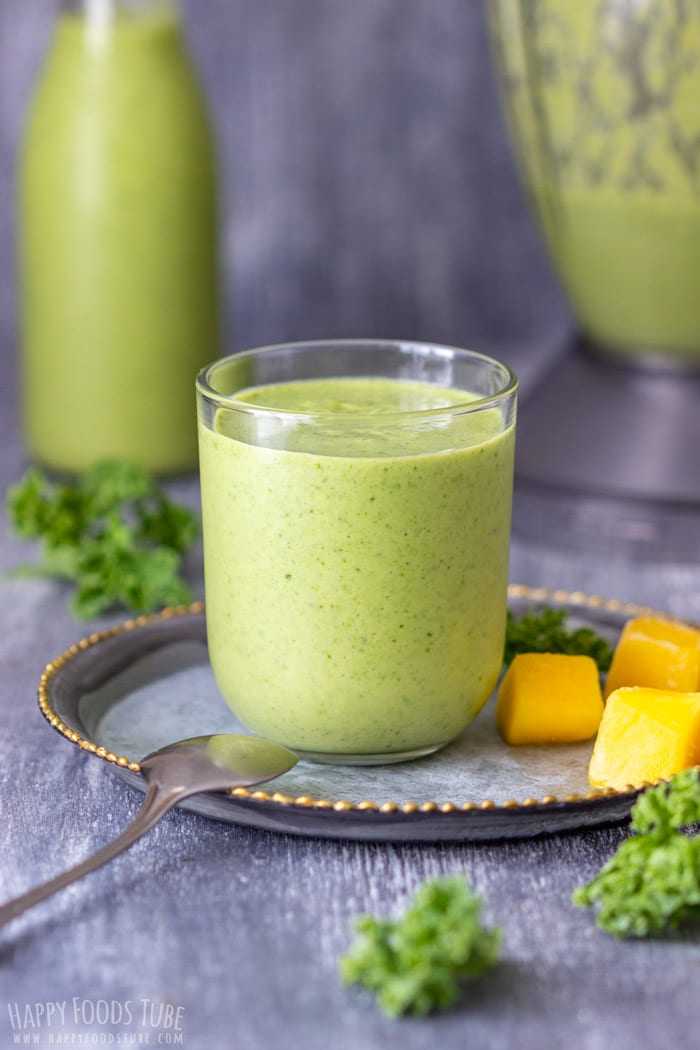 Adding smoothies to your diet is a great way to consume more fruits and vegetables. You can make them to your liking by using the ingredients you like.
It also allows you to experiment with flavors. If you are not sure about using your less favorite fruit, why not increase the amount of the favorite one?
Vegans: This mango kale smoothie contains honey and Greek yogurt but if you are looking for vegan super green smoothie, I have one for you: Spinach Cucumber Smoothie and Spinach Kale Smoothie.
Other options: Energy Boosting Smoothie and Apricot Mango Smoothie.
They are also dairy-free and so is Raspberry Almond Smoothie.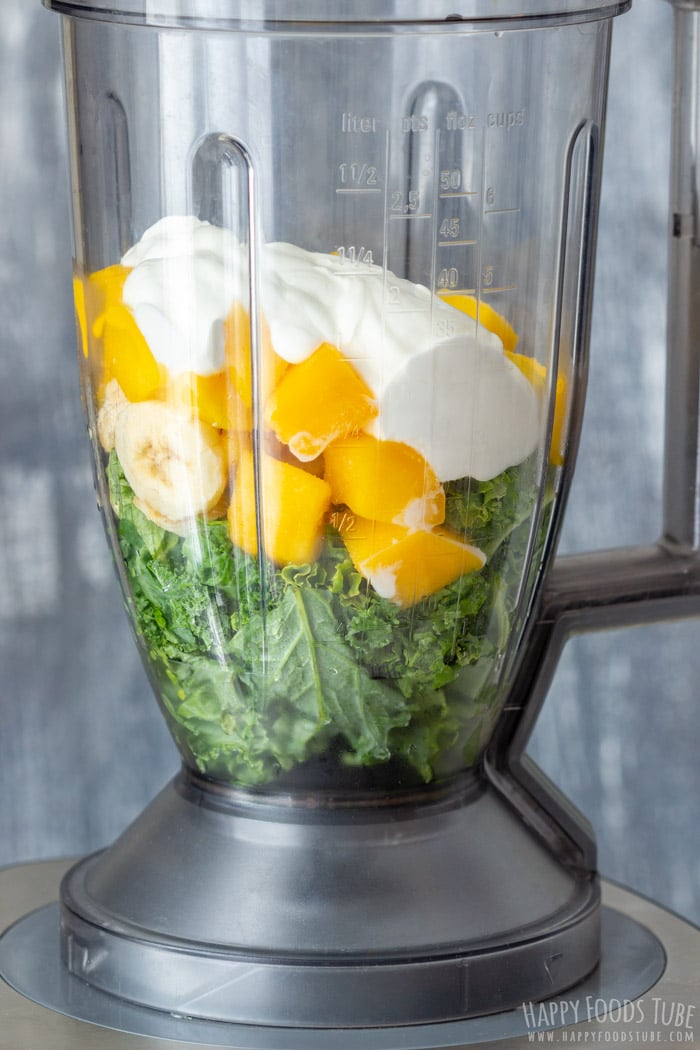 How to make mango kale smoothie
Making smoothies at home is very easy. First gather all the ingredients. Then take out your blender. If you are using a NutriBullet you will probably need to do this in batches as you might not be able to fit all the ingredients in at once.
The kale I usually buy in our local supermarket is already washed and cut into smaller pieces. If you buy whole kale leaves, just make sure to rinse them and remove the hard stems first.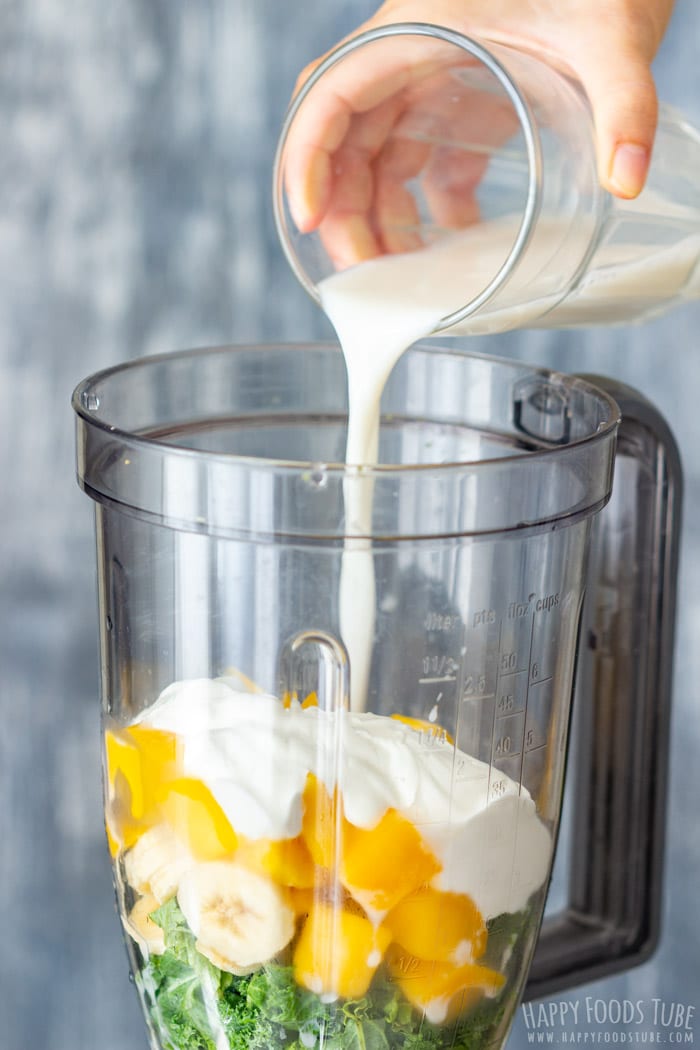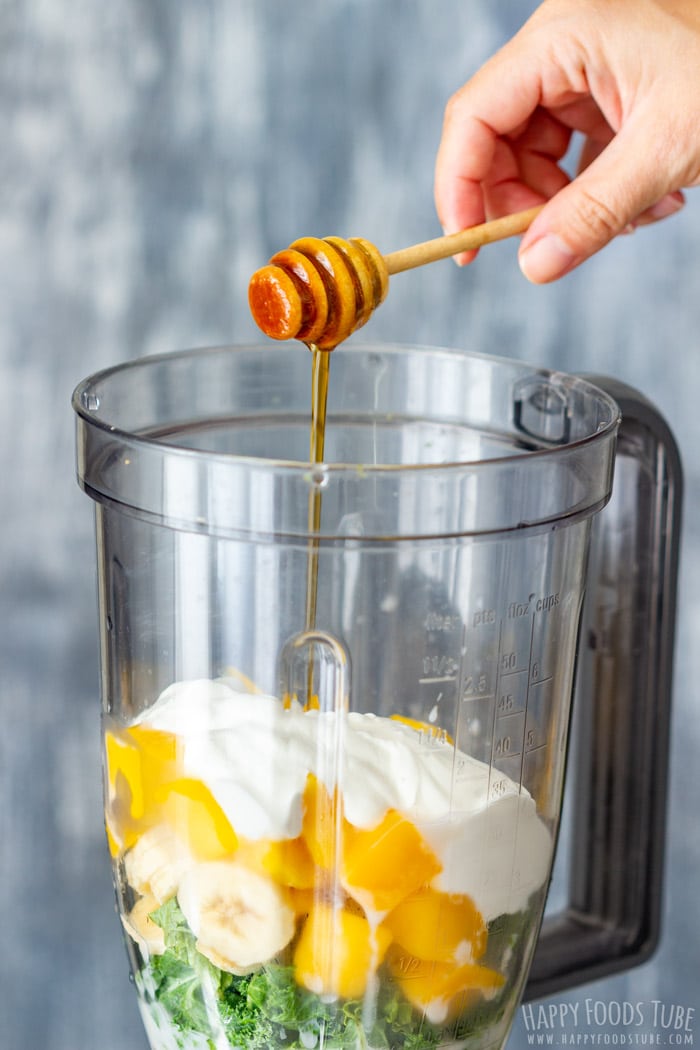 Then all it takes is throw everything in the blender and blend until smooth.
Note: Check if your blender is powerful enough to process frozen produce. If not, let the mango thaw a bit.
Mango kale smoothie ingredients
Fresh kale leaves, ripe banana, frozen mango pieces, milk of your choice, Greek yogurt and honey.
Mango kale smoothie benefits
This smoothie is packed with nutrients and antioxidants. Mango boosts your immune system and improves digestion. The health benefits of kale are worth mentioning as well. It is rich in antioxidants, Vitamin C and K and also high in Beta-carotene. Bananas help moderate blood sugar levels. They also contain good levels of potassium and manganese.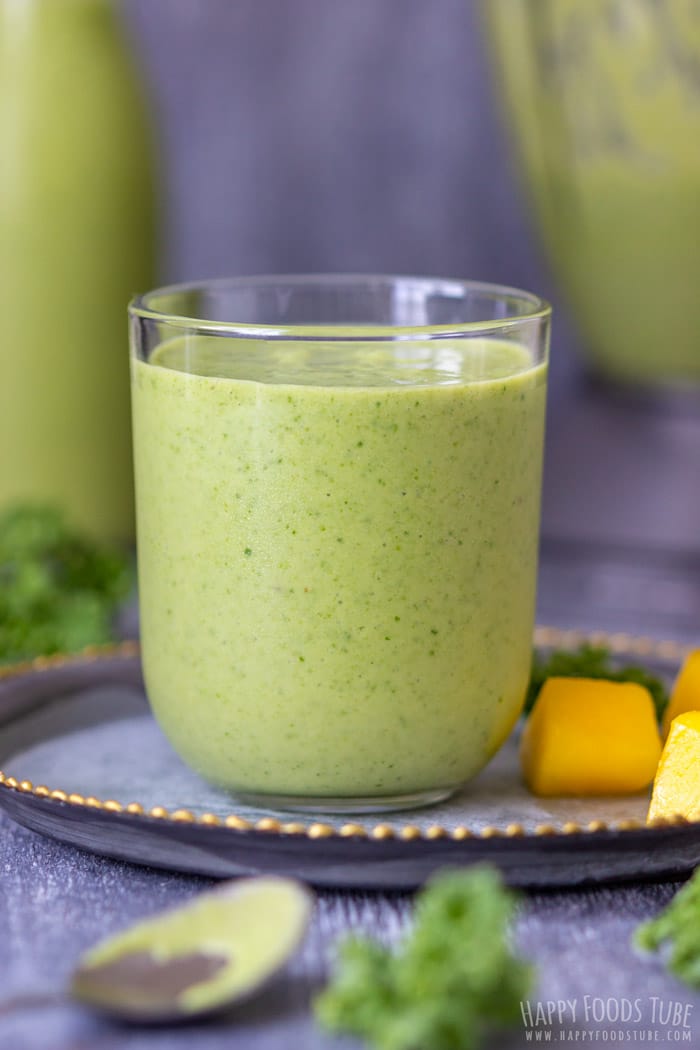 Ingredient substitutions:
Greek yogurt can be substituted with natural yogurt.
Almond milk – I use either this or cow's milk. Other milk alternatives will also work just fine.
Honey is my favorite sweetener but you can use whatever it is you prefer. Maple syrup is also a delicious option.
Frozen mango pieces – Our local supermarket sells them and I love buying them. They are perfect for smoothies and I know that they will always taste delicious. You can also use fresh mango but make sure it is ripe. I recommend tasting it first. If you like its taste, you are good to go. Don't be tempted using under-ripe or slightly gone-off fruit. It will not be worth it!
Don't be afraid about using kale in this mango kale smoothie recipe. If you follow the ingredient ratios, you will end up with a tasty smoothie with well-balanced flavors.
Mango Kale Smoothie
This nutrient rich mango kale smoothie boosts your immune system thank to antioxidants and vitamins. Only 6 ingredients and 3 minutes is all it takes to make it!
Ingredients
2

cups

kale leaves

, chopped (lightly packed), stems removed (60 grams)

1

banana

, medium, cut into chunks

1

cup

mango pieces

, frozen (130 grams)

1

cup

milk

(250 ml)

½

cup

greek yogurt

(125 ml)

2

tablespoons

honey
Instructions
Place all the ingredients into a blender and blend until smooth.

Pour into glasses and serve.
Notes
Milk can be substituted with any milk of your choice (almond, soy milk, coconut, …).
If you don't have Greek yogurt, use natural yogurt – unsweetened.
To sweeten this smoothie maple syrup or other sweetener alternatives can be used. If the smoothie is not sweet enough for you, feel free to add more.
You can use either frozen or fresh bananas/mangoes.
This recipe yields 4 cups (1 liter) of smoothie. If this is your only breakfast, count with 2 cups per person.
Nutrition Facts
Mango Kale Smoothie
Amount per Serving
% Daily Value*
* Percent Daily Values are based on a 2000 calorie diet.
** As an Amazon Associate I earn from qualifying purchases.
LEAVE A COMMENT
RELATED POSTS