This is an easy recipe for refreshing mango yogurt popsicles. Easy and quick prep & simple ingredients! Dipped in melted chocolate this frozen treat is perfect for summer!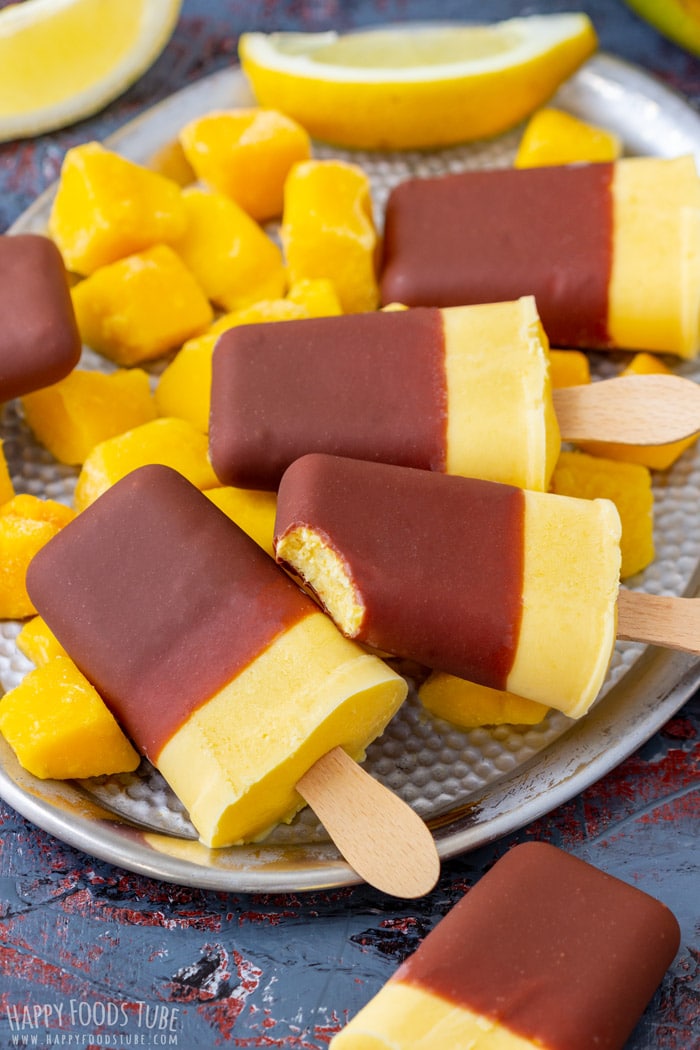 Summer is approaching fast and the warmer it gets the more we tend to prefer frozen desserts to the baked ones.
And because I've been craving something refreshing I decided to make mango yogurt popsicles. We love them because they are easy to make and taste delicious especially with the chocolate glaze.
If you are a fan of frozen desserts, you might also like
All those desserts are easy to prepare and you don't need any ice cream machine to make them.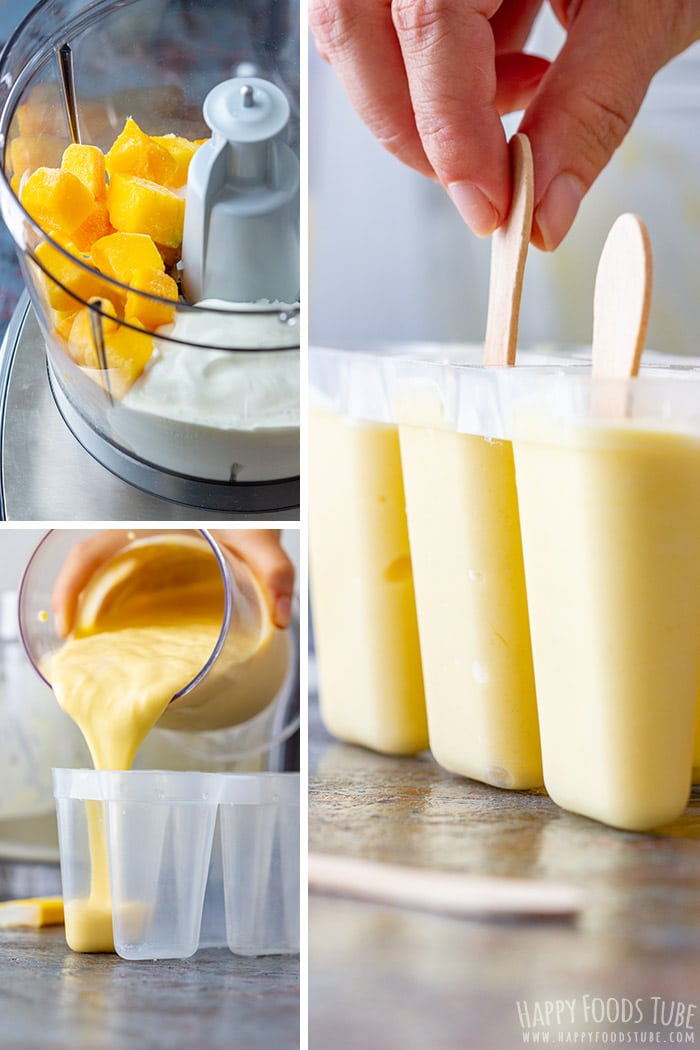 How to make mango popsicles with yogurt
Divide the prep into two stages. Stage one is making the mango popsicles and stage two involves dipping the frozen popsicles into melted chocolate.
For the mango yogurt popsicles just combine Greek yogurt, sugar, lemon and slightly thawed mango pieces in a food processor until creamy. Once done, you pour this mixture in popsicle molds, insert sticks and freeze.
This will take several hours (count with 4+. I recommend freezing them overnight).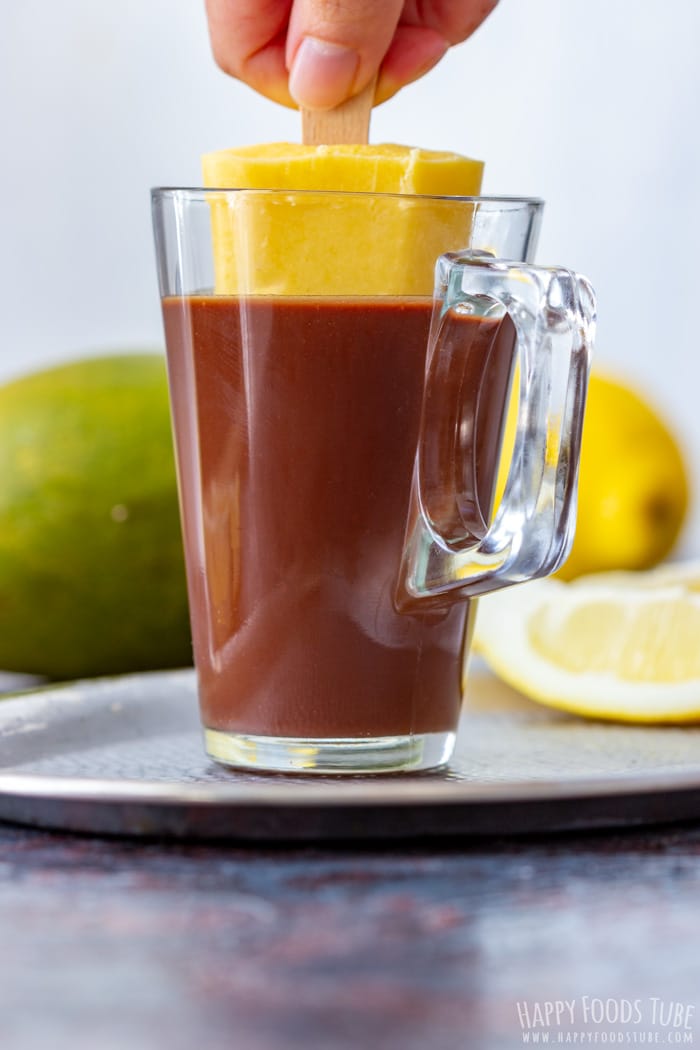 Remove the pops from the molds and dip each one in melted chocolate. Wait a few seconds until the chocolate has set and them pop it in the freezer (not in the mold anymore – just place them loose onto a sheet of baking parchment.
At this stage they will only need a few minutes in the freezer so they can be served shortly afterwards.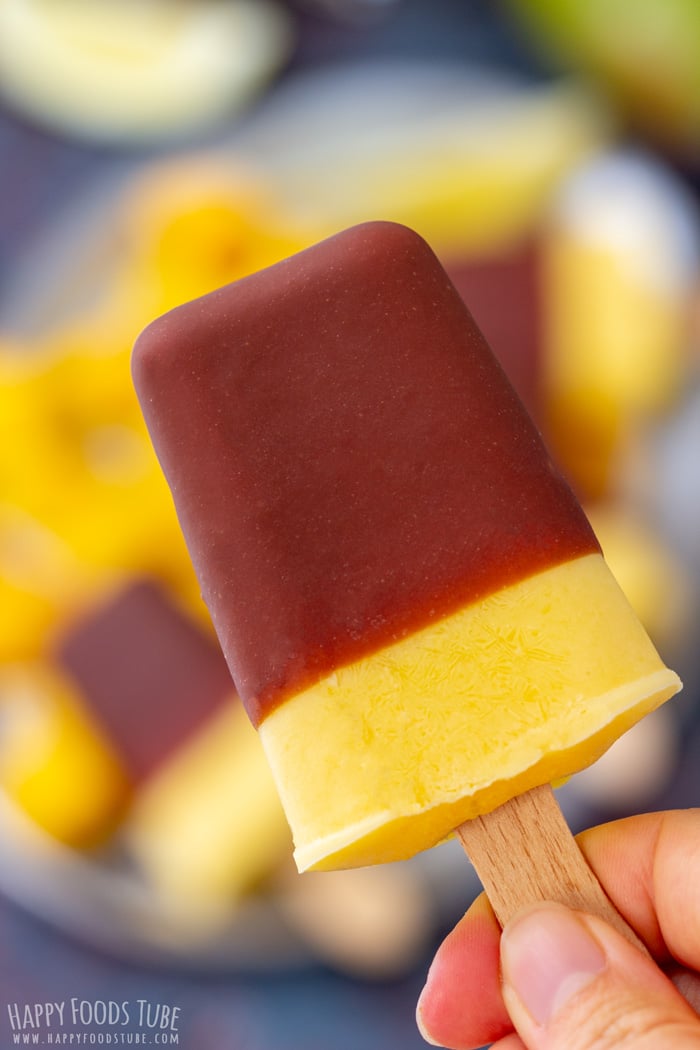 Useful tips for making mango yogurt popsicles
If you don't have a popsicle mold, simply re-use yogurt containers or have a read through some more ideas on how to make popsicles without a mold.
Getting the popsicles out of their molds can be sometimes tricky. The easiest way to do if (for me) is insert a knife between the mold and the ice cream and push it carefully down. You can also move the knife slightly to sides. What you are after is making the popsicle loose. Now take it out and repeat the same thing on the opposite side of the mold.
Then simply pull the popsicle out. It comes out very easily and it's pretty easy to do.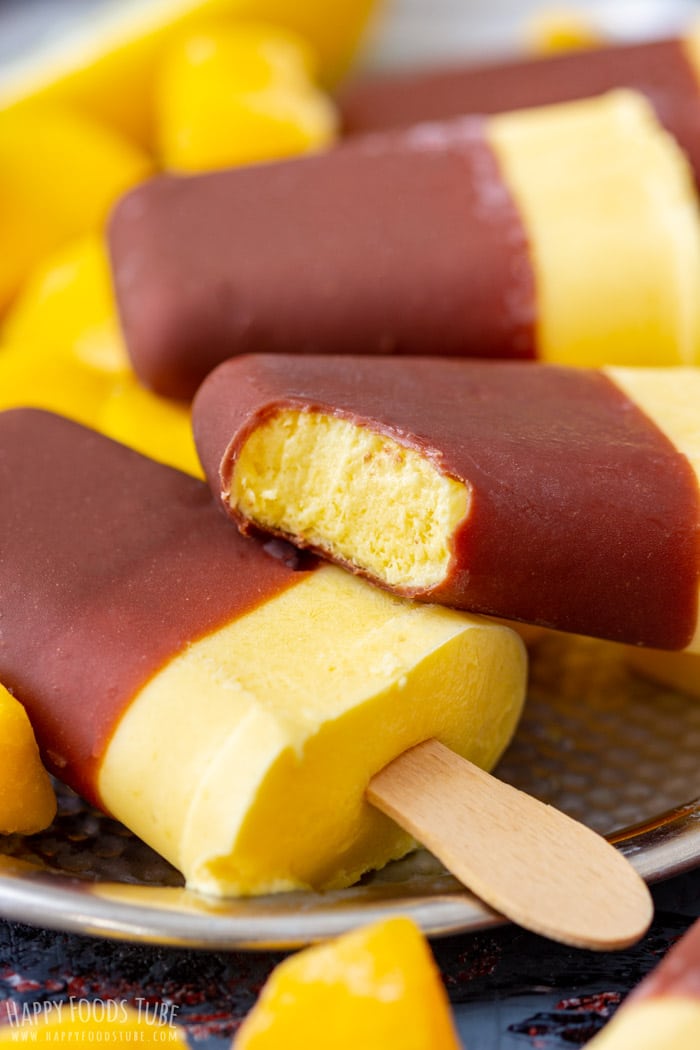 Chocolate layer – this can be easily omitted. Also you can do a double dip (for thicker layer).
To save time you can turn these into 3 ingredient mango yogurt popsicles by omitting the chocolate glaze and lemon.
If you want to serve this as ice cream, you don't need to freeze the mixture overnight. Several hours will be enough – maybe check after 2 hours to see if the consistency is to your liking. If not, leave it in the freezer longer. If yes, take it out and serve.
Mango Yogurt Popsicles
This is an easy recipe for refreshing mango yogurt popsicles. Easy and quick prep & simple ingredients! Dipped in melted chocolate this frozen treat is perfect for summer!
Servings:
7
Popsicles (18 ounces/540ml)
Ingredients
For the Chocolate Glaze:
5

ounces

Milk Chocolate

(150 grams)

1

stick

Unsalted Butter

(110 grams)
Instructions
In a food processor combine the yogurt with sugar, lemon juice and mango pieces and process until smooth.

Pour the mixture in a popsicle mold, insert the sticks and freeze until hard (best overnight).

Take the frozen popsicles out, let them sit at room temperature for a few minutes before taking them out of the mold. Place a sheet of parchment paper in the freezer and place the popsicles onto it.

Chop the chocolate into tiny pieces and place it into a bowl. Add diced butter. Melt this over a double boiler. Pour the melted chocolate into a heat-proof glass/mug and dip each popsicle in. Take it out and let the excess chocolate drip back in the glass before placing it in the freezer again. Repeat with the rest of the popsicles.

The popsicles will only need about 2 minutes for the chocolate to set completely.
Notes
The more mango you add the more flavorful the frozen yogurt gets.
Lemon can be omitted.
These popsicles are also delicious without the chocolate glaze.
The number of popsicles you get out of this recipe depends on the size of your popsicle molds.
Nutrition Facts
Mango Yogurt Popsicles
Amount per Serving
% Daily Value*
* Percent Daily Values are based on a 2000 calorie diet.
** As an Amazon Associate I earn from qualifying purchases.
LEAVE A COMMENT
RELATED POSTS