A good source of protein, these kefir pancakes are a great way to start a day. Make them ahead, freeze and reheat for a quick breakfast meal. They are not only refined sugar free but also nutritious!
Kefir is a dairy fermented drink. It is a very healthy probiotic drink with a ton of health benefits. Plus, if you are looking for a protein-rich product that is good for you, this is it!
Any leftovers can be used in cooking or baking. Baking with kefir is like baking with Greek yogurt. It makes everything taste better. So why not use it more often?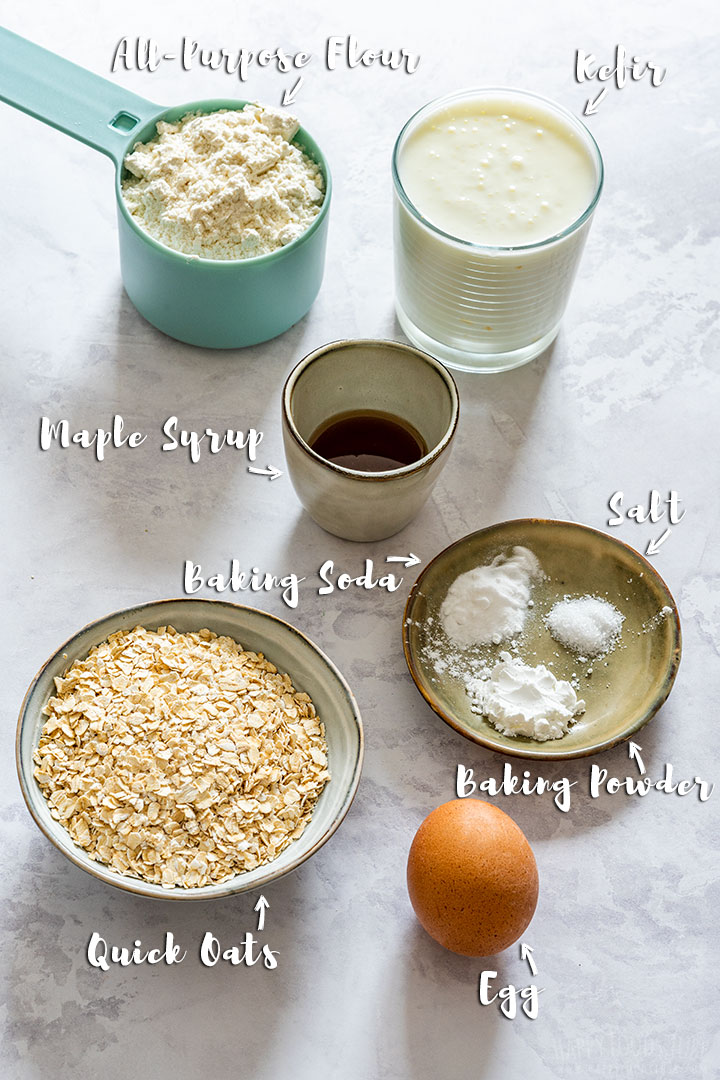 How to make pancakes with kefir?
Tools you will need:
Measuring cups & spoons
Hand blender & beaker (or a bowl)
Griddle or skillet/frying pan
Flat spatula
Ingredients:
Quick oats
Kefir
All-purpose flour
Maple syrup
Baking powder
Baking soda
Salt
Egg
Oil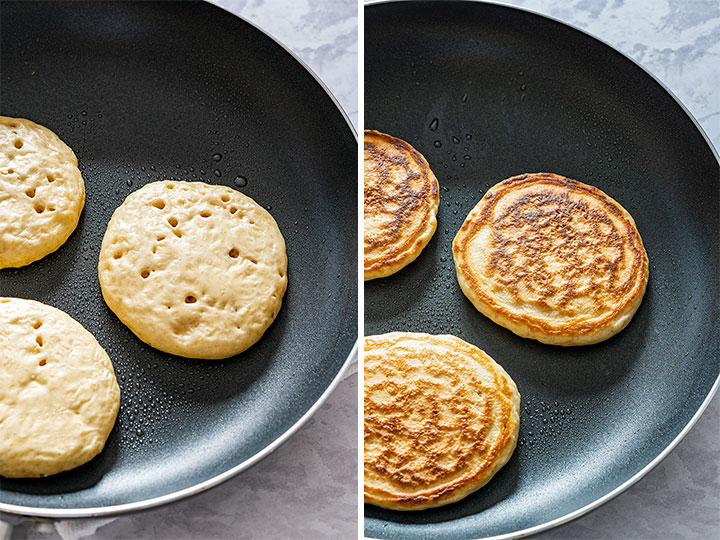 Quick overview:
All you need to do is blend all the ingredients together. I like to mix the soda and baking powder with flour first so they are evenly distributed before mixing with the rest of the ingredients.
For this kefir pancakes recipe, you will need a beaker or a bowl where you can blend everything. If you were to double the recipe, you would need to use a bowl as the beaker you got with your blender would be too small.
If you blend too long, you will get a smoother batter but might also turn out more liquidy. If this is the case, add a tablespoon of all-purpose flour (or 2) until thicker.
If too thick (this may also happen if you blend it less) you can try and cook one pancake and if not happy, stir in some more kefir (or milk).
You will get 8 pancakes when using a ¼ measuring cup to measure out the quantity of your batter. I don't have a griddle so I use a large frying pan/skillet where I can fit 3-4 at the same time. It's a non-stick and I find it the easiest to work with.
Dietary information:
What do these kefir pancakes contain?
Nuts: No
Gluten: Yes
Dairy: Yes
Eggs: Yes
Refined sugar: No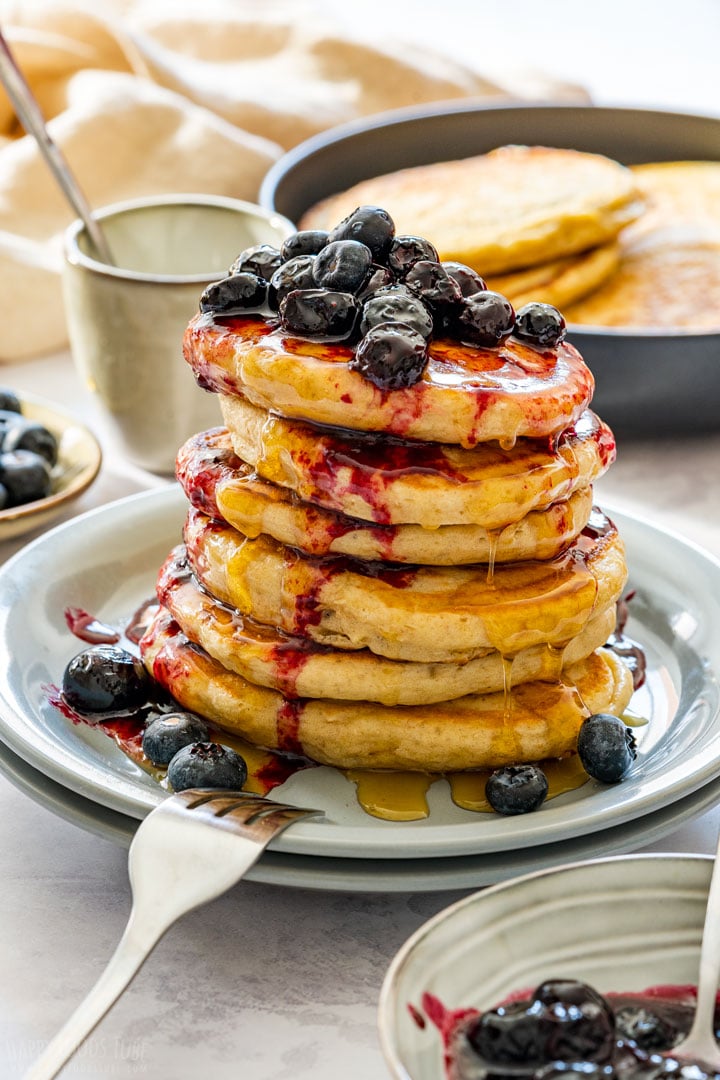 Serving suggestions:
I like to serve these with a drizzle of maple syrup and lemon juice and berries.
They are also nice with ricotta mixed with honey and berries
Or if I am making these for a special occasion, I make a simple cinnamon sauce. The same sauce I used for brioche bread pudding. Use only a little cornstarch to thicken it about 1 teaspoon and bring it to a boil, then simmer for a minute. 2 teaspoons will make the sauce extra thick.
You can also top them with chopped nuts for an extra protein!
Rich blueberry sauce made with fresh blueberries (like on the photos) is so good too!
Use homemade gingerbread syrup and enjoy them during the festive season!
Frequently asked questions:
When to flip pancakes over?
If using a non-stick frying pan/skillet, shake it a bit to see if they are stuck. If they are not, it is more likely a sign they are ready to be flipped. When using a griddle, try to move them. If they go easy, they should be ready on the bottom.
Another sign is that bubbles start forming on the surface of the pancake. And that is when you can flip them over.
How long should I cook pancakes for?
The length can vary, depending on their thickness as well as the heat you cook them on and what vessel you use for cooking.
In general, count with 2 minutes per side.
I don't have kefir. What else can I use instead?
Buttermilk is a good substitution. Unsweetened Greek yogurt (plain) or natural yogurt (plain) will also work. You will need to thin them a bit with milk though to get a liquid consistency that is still quite thick.
Can I freeze pancakes?
Yes, you can. Either place them on a baking sheet/tray leaving spacing between them and flash-freeze for 30 minutes. Then, transfer into a ziploc bag and keep in the freezer for up to a month.
Another option is to stack 3 or 4 on top of each other and have a piece of baking parchment paper in between them so they don't stick to one another. Then, place in ziploc bags and keep in your freezer until you are ready to enjoy them.
Make sure the pancakes are cooled down completely before you freeze them!
Do you like trying new recipes? I have a few not-so-traditional pancake recipes for you to try.
Kefir Pancakes
A good source of protein, these kefir pancakes are a great way to start a day. Make them ahead, freeze and reheat for a quick breakfast meal. They are not only refined sugar free but also nutritious!
Instructions
To an immersion blender cup (see note 5), add flour, baking powder, baking soda, salt and oats. Give it a mix with a spoon or fork. Add the rest of the ingredients and blend for a few seconds or until all the ingredients are well combined (see note 6).

Cook on a griddle or large skillet/frying pan until you see holes forming on the surface of the pancakes. Turn them over and cook until they are cooked through and golden brown (about 2 further minutes).

Serve with anything you like!
Notes
Kefir can be substituted with buttermilk or unsweetened Greek yogurt diluted with some milk.
You can use another type of syrup to sweeten these kefir pancakes. Also, you can easily add more if you prefer them sweeter. I personally prefer using less sweetener as I like to add a lot of flavored syrup or berry sauce on top that adds enough sweetness.
I like using olive oil in a spray bottle. That way I use only a little per batch. You can use anything you like though.
Cooking time can vary. This will depend on the heat of your stove (I recommend medium-high and adjust if browning too fast) as well as the size of your pancakes.
The immersion blender cup has to hold at least 3.5-4 cups of liquid/750 ml to 1 liter. If you don't have such a size, use a mixing bowl instead).
If you blend longer, you might end up with a thinner batter. This is not a problem. It is simply because the blending turns the oats into a finer texture. You can try and cook 1 pancake and see how it holds its shape. If too thin, add more flour to the batter. And, if the batter is way too thick, you can either blend for longer or add a splash of kefir/milk.
Meal prep: Double the batch, cook them, cool them down, and flash-freeze on a baking sheet or tray. Then, put in a ziploc bag and freeze for later. The best way to reheat it is on the stovetop. Heat a skillet, add thawed pancakes and add a splash of water. Cover with a lid and "steam" for about half a minute or until soft and warmed through.
Nutrition Facts
Kefir Pancakes
Amount per Serving
% Daily Value*
* Percent Daily Values are based on a 2000 calorie diet.
** As an Amazon Associate I earn from qualifying purchases.
LEAVE A COMMENT