Love gingerbread flavor? Then you will fall in love with this homemade gingerbread syrup. It is all you need to flavor your pancakes, coffee, tea or crepes!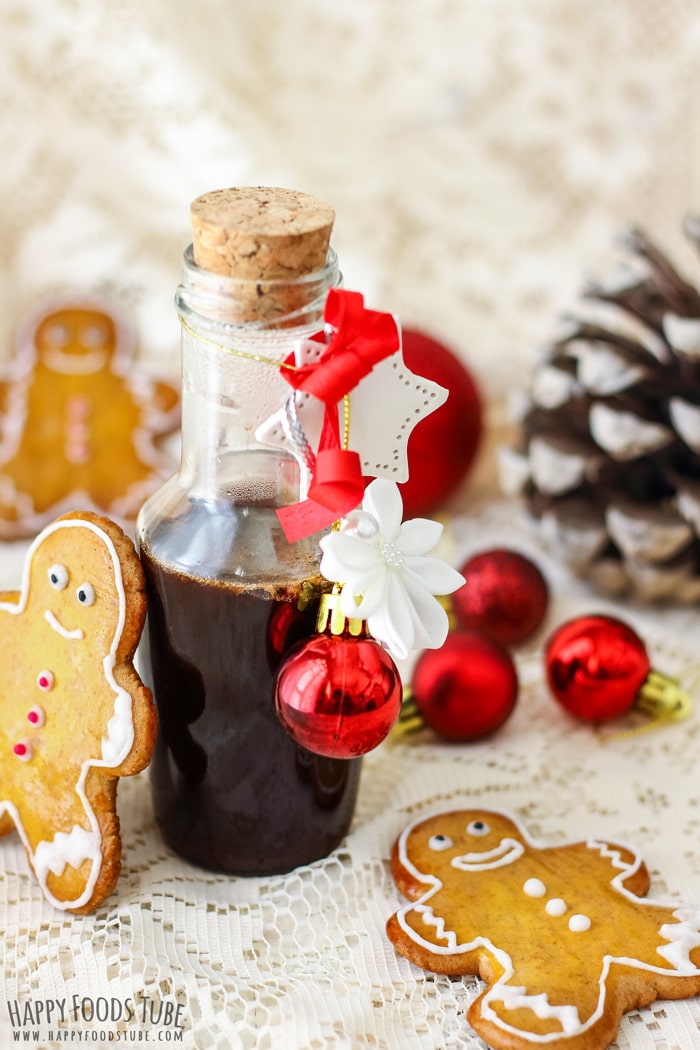 Guys, I am super excited to share with you this gingerbread syrup recipe today. You know why? Well, because it tastes and smells like Christmas!
When I think about Christmas, first I think of are Christmas Cookies and any gingerbread flavored goodies (like Gingerbread Ice Cream, Gingerbread Hot Chocolate or Gingerbread French Toast).
Then I start thinking about homemade edible Christmas gifts. I don't know about you but I love them! I love making them as well as getting them!
Now when I feel extra creative I check out some gift wrapping ideas on the Internet and try to make my own as well.
I hope you don't feel like it's way too early to be thinking/talking about the best holidays of the year because to me it is not!
We need to prepare and get organized so if you are planning on making DIY Christmas Gifts, this homemade gingerbread syrup should be on your list.
Uses for gingerbread syrup:
Pour it over pancakes, crepes, French toast
Add it into your hot chocolate, tea or coffee
Serve it with ice cream to get into festive mood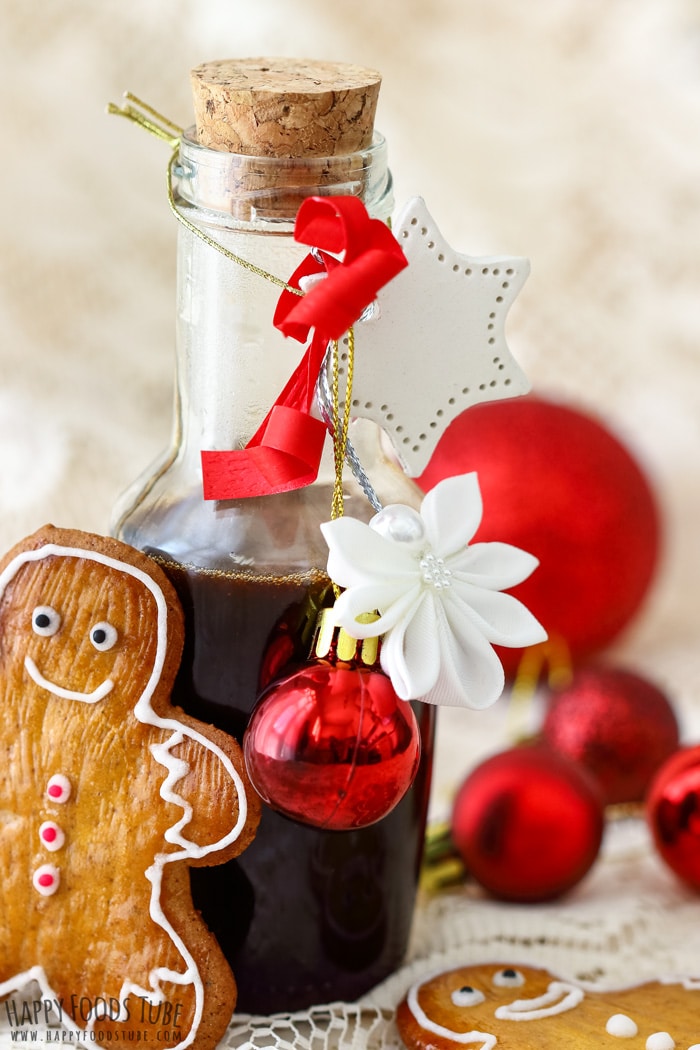 Gingerbread syrup ingredients:
Cinnamon Sticks
Allspice Berries
Ginger
Brown Sugar
Cloves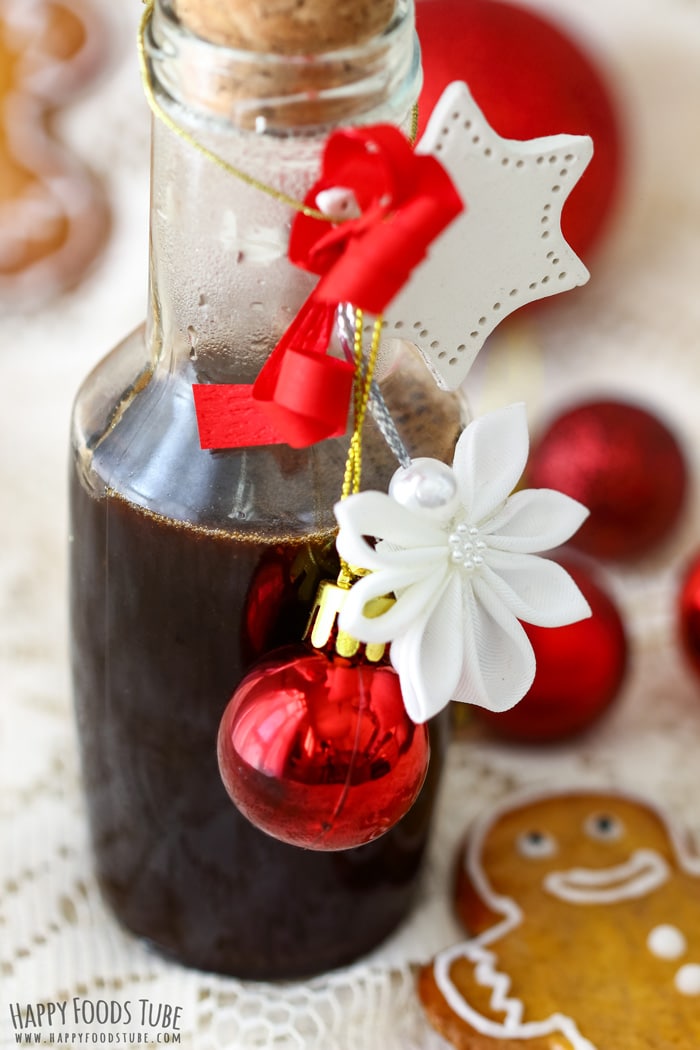 It's important that the sugar is brown to get the brown color. It does not matter what type of brown sugar you use – it is entirely up to you.
While you could get away with omitting allspice berries or cloves, omitting ginger is not a good idea. It gives the syrup its ginger-bread flavor. Also use fresh ginger, not ground ginger.
Are you wondering how to make gingerbread syrup? Well, you might be surprised but it's easier than you think. I have the perfect recipe here and after a few trials and errors I would say this one is it!
Bring water and sugar to a boil and add all the ingredients. I usually stir the sugar around until it's dissolved. Cinnamon, allspice and cloves go in whole. When it comes to ginger – you will need to peel it and slice thinly. Simmer this for about 20 minutes or until the syrup is infused with all those spices.
To check if your gingerbread syrup is ready, simply taste it. If you are happy with its flavor, then you are done. By the way, its consistency will be similar to maple syrup.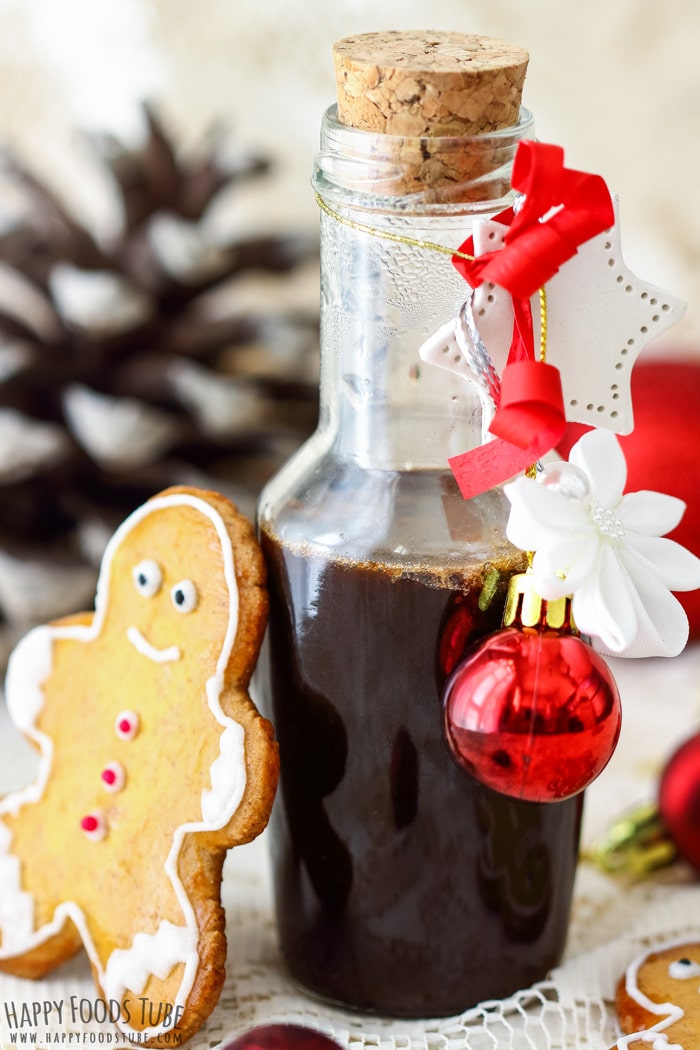 How to store gingerbread syrup?
Keep it in the fridge. This Christmas syrup will keep for up to 2 weeks, when stored properly.
If you decide to give this as a gift then make sure you sterilize your jars/bottles as well as lids before pouring the syrup in.
Homemade Gingerbread Syrup
Love gingerbread flavor? Then you will fall in love with this homemade gingerbread syrup. It is all you need to flavor your pancakes, coffee, tea or crepes!
Ingredients
2

cups

Water

2

cups

brown Sugar

8

Allspice Berries

1

Fresh Ginger

(inch long, about 40 grams)
Instructions
In a wide sauce pan (medium size), bring to a boil sugar and water. Stir occasionally to help the sugar melt. Once boiling, reduce the heat and add the spices and ginger that you have peeled and sliced.

Simmer for 20 minutes or until the syrup is infused with spices (taste with a spoon to see if you like it. Leave for longer, if needed).

Strain the spices and ginger and pour into a sterilized bottle.
Notes
Gingerbread syrup should have similar consistency like maple syrup.
Store in a clean jar/bottle sealed with a lid in the fridge. If stored properly, it can last up to 2 weeks.
Sterilize jars/bottles if you want to give this as a gift.
This recipe should yield about 2 cups of syrup. However, the longer you leave it simmer the more water evaporates so you might get less.
Nutrition Facts
Homemade Gingerbread Syrup
Amount per Serving
% Daily Value*
* Percent Daily Values are based on a 2000 calorie diet.
** As an Amazon Associate I earn from qualifying purchases.
LEAVE A COMMENT
RELATED POSTS