Tomato gazpacho soup is a Spanish summer classic. Full of fresh vegetables, this refreshing appetizer can be served in a bowl or glass.
Guys, if you end up with a ton of ripe tomatoes that need to be used asap give this soup a go! It's easy, quick and there is no cooking involved.
Did you know?
Gazpacho Andaluz a.k.a. tomato gazpacho soup is a Spanish soup made of raw, blended vegetables. This soup originated in Andalucia (one of the most beautiful areas in Spain) and is very popular during the hot summer months.
Speaking of Spain and Spanish cuisine – have you ever tried Ajoblanco (another traditional cold soup) or Calimocho (a refreshing summer drink made with coke and wine)?
And if you ever decide to host a Spanish party, you should definitely include homemade gazpacho soup on your menu (why not serve it in shot glasses) as well as Homemade Churros and Paella Valenciana.
Now if you are wondering what is a traditional gazpacho and how to serve it then read on:
What are the ingredients in gazpacho soup?
The ingredients are simple and easily available in summer. The main ingredients for tomato gazpacho soup are tomatoes, cucumbers, onion, garlic, pepper, bread, vinegar, olive oil and seasoning.
Is gazpacho soup served hot or cold?
Definitely cold! It needs to be chilled well before serving.
How do you serve gazpacho soup?
Now you can serve it in a bowl like you would do with a warm soup. In Spain, you would find many places serving it in glasses.
To impress your guests you can finely chop some pepper and cucumber and sprinkle these over and/or drizzle olive oil over.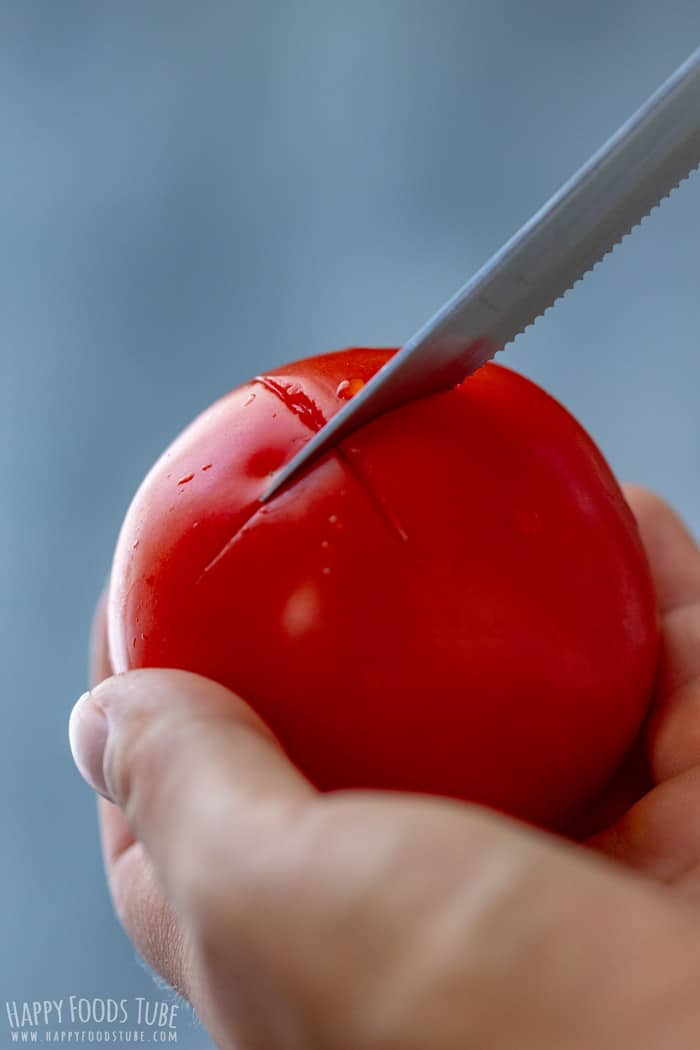 How to make gazpacho soup
All the ingredients are combined in a blender and processed until smooth, then seasoned to taste and chilled.
Now I like to peel the skins of tomatoes when I make homemade tomato gazpacho soup, but you don't have to do it at all. Especially when your powerful blender (or an immersion blender/food processor) is able to process them easily.
Peeling them might be tricky but this post how to peel tomatoes shows you 2 different ways if you need a hand with that. I personally use the second method – blanching.
Now to make homemade gazpacho soup extra smooth, you can run it through a sieve. I never do it though.
Tips for making homemade tomato gazpacho soup
The amounts of each ingredient can be easily adjusted to your liking. There are only fresh ingredients used and every time this soup might taste differently. This will depend on the ripeness of the vegetables and also on how strong the onion and garlic is.
I recommend using as much seasoning as you like. To make this cold tomato soup I used about ¼ teaspoon of salt and a pinch of salt.
This traditional Spanish soup has to be served chilled. Now if you don't have time for chilling, you can serve it over ice but make sure to pour the soup in right before serving. You don't want the ice to dilute it too much. Also make sure to use large ice cubes. Small ones melt very quickly.
Tomato Gazpacho Soup
Tomato gazpacho soup is a Spanish summer classic. Full of fresh vegetables, this refreshing appetizer can be served in a bowl or glass.
Servings:
4
(about 1 quart/1 liter)
Ingredients
2.2

pounds

Ripe Tomatoes

(1kg)

1

Cucumber

(7oz/200g)

1

Small Onion

1

Green Italian Pepper

(2.5oz/70g)

2

Small Slices of

Sourdough Bread

2

tbsp

Apple Vinegar

2

tbsp

extra virgin olive oil

¼

tsp

Salt

1

Garlic Clove

¼

cup

Water

A Pinch of

black pepper
Instructions
Optional: Bring a pot of water to the boil. Using a knife make an X on each tomato and place them all in the boiling water until you see their skin starts coming off. Take out the tomatoes and let them cool down (you can place them in ice cold water). Once they are cooled down, remove the skin and dice them. If you want to keep the tomato skin on, then start from step 2.

Cut the vegetables and bread into chunks and place them in a blender. Process all the ingredients until smooth (about 1- 1½ minutes). Taste and add more salt/vinegar/olive oil, if needed.

Serve chilled in a glass or a bowl with a drizzle of olive oil and finely chopped veggies (optional).
Notes
Use any ripe tomatoes as long as they are large. Any small tomatoes (such as cherry tomatoes) would be difficult to peel and you would end up with more waste than the usable parts.
I used garden cucumber but you can also use English cucumber.
Bread – I used Spanish bread but you can use French baguette instead.
If you don't have extra virgin olive oil, use normal olive oil. Do not substitute with sunflower or vegetable oil.
The overall preparation time does not include the chilling time. If in a hurry, you can add large ice cubes to the soup just before serving. Just bear in mind that they will dilute the soup (hence its taste) if not eaten right away. If you prefer chilling in the fridge then count with at least 1 hour. You can also prepare it ahead and chill in the fridge overnight.
Nutrition Facts
Tomato Gazpacho Soup
Amount per Serving
% Daily Value*
* Percent Daily Values are based on a 2000 calorie diet.
** As an Amazon Associate I earn from qualifying purchases.
LEAVE A COMMENT
RELATED POSTS