Roasted vegetable couscous with chorizo. If you are looking for fast weekday meals ready under 30 minutes, then this is it. Plus it's easy and tasty!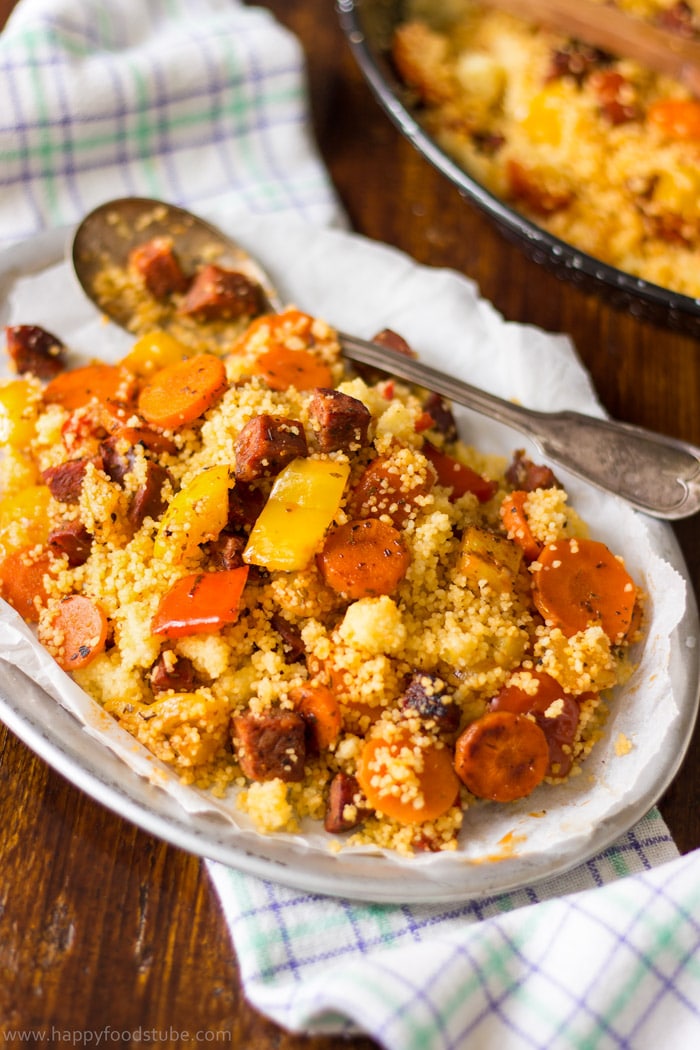 Guys, do you like tasty quick meals? Yes? Well, then I've got you covered! Pan roasted peppers with chorizo chunks combined with couscous! Doesn't it sound delicious?
I created this roasted vegetable couscous recipe when we only had a few ingredients in our fridge. It wasn't even meant to go up on the blog. But we liked it so why not share it with you, right?
Off-topic:
So do you remember when I told you about the weather forecast for this week? It was supposed to be snowing here. Now those who don't know – I live in Spain! So just a quick update on the weather: Yesterday morning the temperatures dropped below zero. Yes. In the south-east of the country! Now that's not all! The morning started with hailstones, continued with snow and the afternoon was all about rain, rain and more rain.
I couldn't believe what I was seeing. It is pretty weird seeing snow down here. And it's pretty tough because most of the houses here are not ready for such temperatures. Now imagine being in the house without insulation and without central heating. And with one gas heater only. Well, that's how we "roll" here. Normally, we are ok when in living room (which is something like our HQ) but the kitchen is like a fridge. Literally! Yesterday I did not want to go in and heat up our food let alone wash the dishes. It was a bit too much.
So that was me complaining about the weather situation here. Do any of you have similar experience? I hope you don't. It's better not to have such experience.
So while I was looking out the window and shaking my head I wrote this post. Well, a part of it. I am quite new to couscous but I really like it.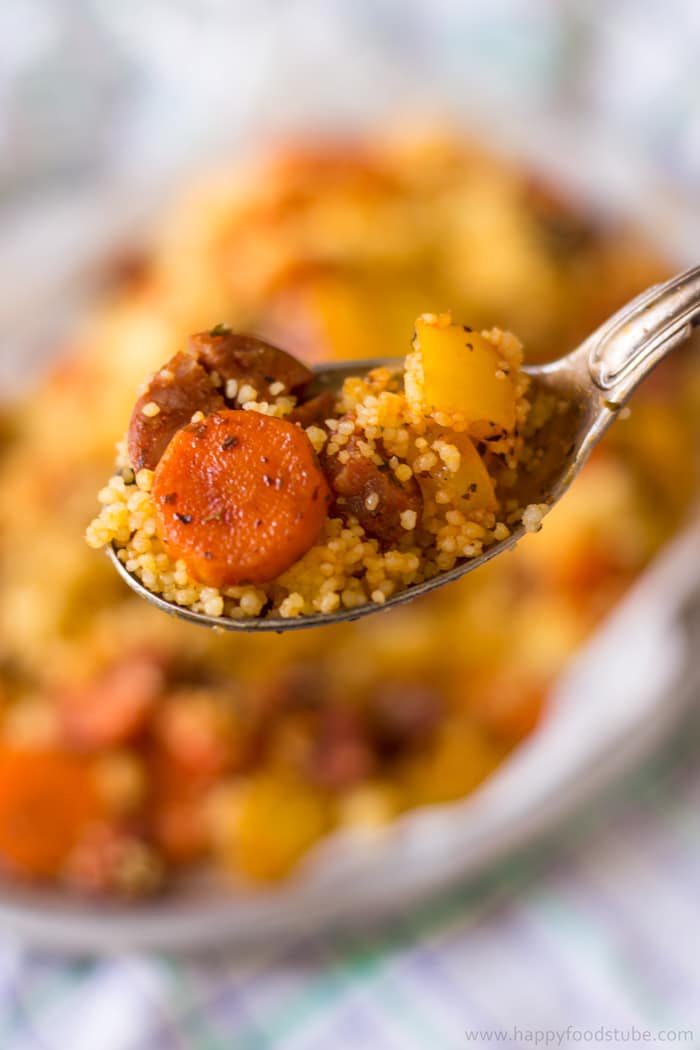 Roasted vegetable couscous recipe breakdown:
It's so easy to make and fast! It only takes 3 minutes for the couscous to absorb the water and you are done! It can't get easier than this! Can it?
What I do is I add a bit of salt and extra virgin olive oil to the water and once this has been absorbed I also stir in a knob of butter. It has creamier taste which I prefer. However, if you don't wanna add extra fat to your meal, simply skip this step.
As for the veggies: I am using bell peppers and carrots. Try using different color peppers to achieve a colorful dish. I used red and yellow pepper but the best visual combination here is green and yellow (I know, I know it's not that important). The roasting time will vary and will depend on how you like your veggies. Some people like them soft, some crunchy. I like them crunchy. What I do is I try one or two to see if I like the crunchiness. If I am happy, then I am done. If not, I roast them a bit longer.
Chorizo. Well, I am a huge fan of chorizo. I like its taste when it's fried and I like adding some fried chorizo slices in salads, soups or pasta sauces.
The combination of chorizo, roasted vegetables and couscous is simply perfect and I like making this dish. It's an easy dinner for two, three or four! I hope you will give it a try and if you do, please let me know! Send me a photo! I wanna see it!
Something for chorizo lovers:
If you love chorizo, then you should try these Twice Baked Potatoes or this Grilled Corn with Chorizo Salad. They taste amazing!
Roasted Vegetable Couscous with Chorizo
Roasted vegetable couscous with chorizo. If you are looking for fast weekday meals ready under 30 minutes, then this is it. Plus it's easy and tasty!
Ingredients
14

ounces

Couscous

(400 grams)

4

ounces

Chorizo

(110 grams)

1

Yellow Bell Pepper

1

Green Bell Pepper

3-4

Carrots

(Medium)

1

tablespoon

Dry Oregano

A Pinch of Black Pepper

1

ounce

Butter

(30 grams)

Salt

to Taste

2

tablespoons

Extra Virgin Olive Oil
Instructions
In a frying pan, heat the oil. Throw in diced peppers and sliced carrots. Roast for 5 minutes. Now add oregano and chorizo, cut into smaller pieces. Give it a stir and roast until the vegetables are soft but still have some crunch to them. Season with salt & pepper to your liking.

Meanwhile: Make couscous by following the packet instructions. This will only take about 6 minutes. Once ready, taste and season with black pepper and salt. Stir in the butter.

When the veggies are ready, mix with couscous and serve!

Enjoy!
Notes
I like when the vegetables are not too soft but if you prefer them soft, roast them a bit longer. The couscous taste delicious when butter is added, but this can be omitted.
Nutrition Facts
Roasted Vegetable Couscous with Chorizo
Amount per Serving
% Daily Value*
* Percent Daily Values are based on a 2000 calorie diet.
** As an Amazon Associate I earn from qualifying purchases.
LEAVE A COMMENT
RELATED POSTS