Who wouldn't like hot chocolate? One of the best hot drinks not only for cold winter days! Do you agree?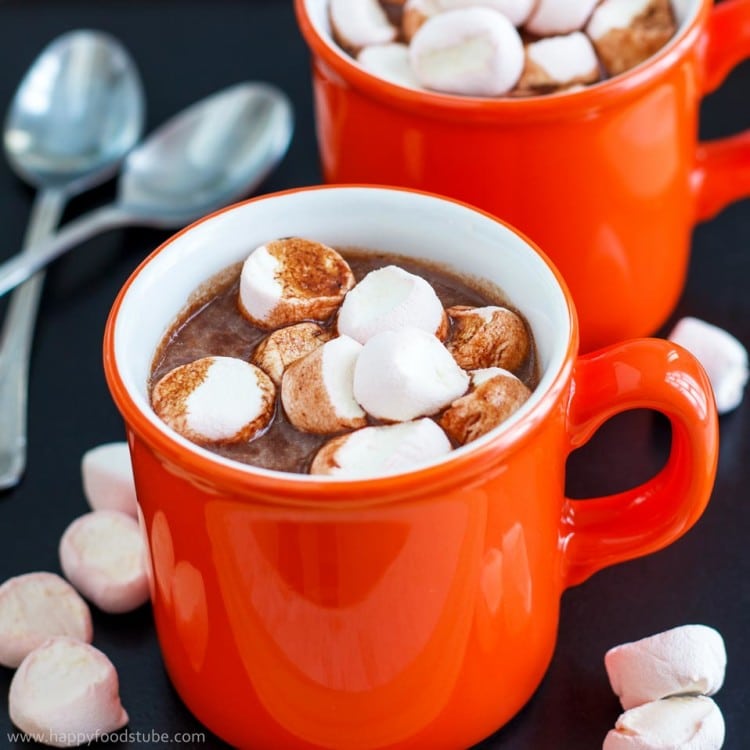 I can drink hot chocolate any time of the year! Wherever we travel I make sure to taste hot chocolate, if it's on the menu that is. There are so many ways to make this delicious beverage that there is no right or wrong as long as it tastes good!

The options are endless: made with milk, water, cocoa powder, dark chocolate, sugar, honey, added marshmallows, sprinkles, extra chocolate drizzle, whipped cream, alcohol… You could easily make a different one for every day of the year, if you wanted! But I guess, yes, that might be a bit too much of hot chocolate!
For me, milk is a must – I wouldn't make it with water. I also like to combine cocoa powder with dark chocolate and then add some sweetness to it in a form of sugar or honey. Then I add some extras depending on what I have at home or what I feel like drinking.
Cinnamon is the number one extra because it smells incredible. Then because it is winter and the evenings are quite cold I add some rum in it. Just a little bit. Just for the taste. So that's about it! An easy-peasy recipe for homemade hot chocolate!
Related Posts:
Print
Hot Chocolate Spiked with Rum
Who wouldn't like hot chocolate? One of the best hot drinks not only for cold winter days.
Instructions
Pour the milk into a sauce pan and bring to the boil.

Reduce the heat, add the chocolate and cinnamon. Stir constantly until the chocolate is melted. Add cocoa powder, sugar and rum. Simmer for a further minute or two before turning of the heat.

Pour into mugs and top with marshmallows/whipped cream/chocolate sauce or anything you like!
Happy Cooking with Happy Foods Tube!
Notes
If using honey instead of sugar, add this at the end – after the cooking so it doesn't lose all the nutrients.
Nutrition Facts
Hot Chocolate Spiked with Rum
Amount Per Serving
Calories 469
Calories from Fat 261
% Daily Value*
Fat 29g45%
Cholesterol 26mg9%
Sodium 118mg5%
Potassium 717mg20%
Carbohydrates 40g13%
Protein 12g24%
Vitamin A 405IU8%
Calcium 332mg33%
Iron 6.3mg35%
* Percent Daily Values are based on a 2000 calorie diet.
** Happy Foods Tube is a participant in the Amazon Services LLC Associates Program, an affiliate advertising program designed to provide a means for sites to earn advertising fees by advertising and links to Amazon.com.
LEAVE A COMMENT
Browse more Recipes or visit our
channel to see the videos.