Oven roasted beet soup is a healthy soup with earthy, sweet flavor & a hint of coconut. Another simple recipe with lots of flavors is a must-try this fall!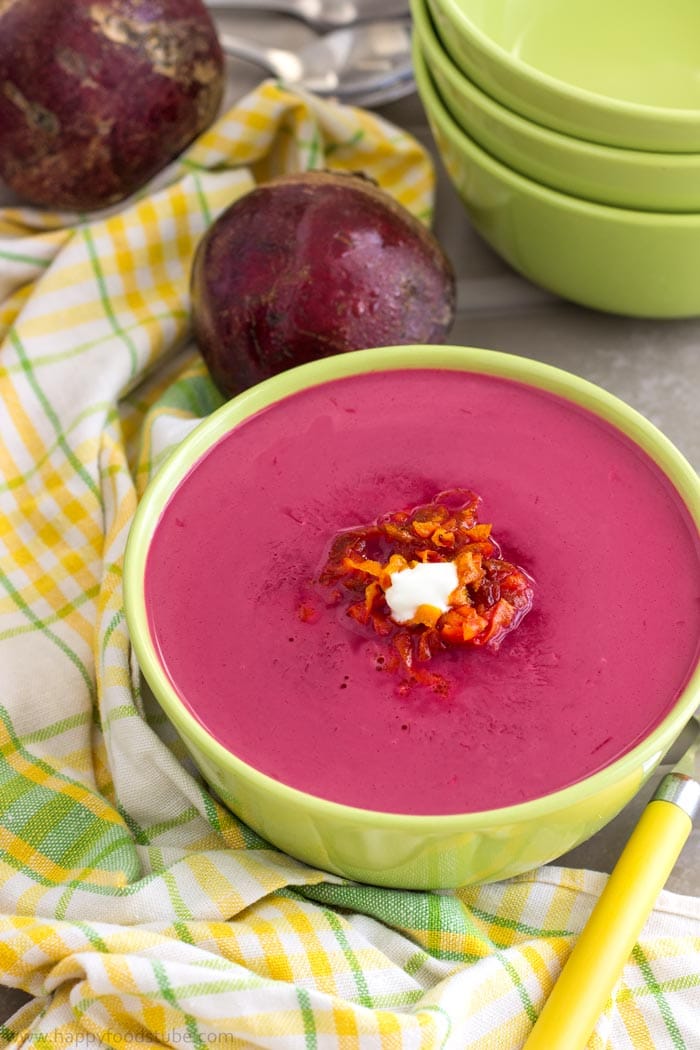 Now what do you think about beets? Do you like them? I have a confession to make. I could not stand beets as a kid. Beets and parsley to be perfectly honest! There were a few other foods I didn't like but I would eat them when they were placed in front of me. However, beets… Maybe it was because we would only eat them pickled and that tasted just… not right for me!

But guess what? I love them now! There are so many amazing recipes with beets whether they are cooked, baked or raw that I believe everyone can find their favorite one. They are amazing in juices and those who exercise on regular basis beetroot juice improves athletic performance and also helps reduce muscle soreness after work-out. It's a perfect after-work out juice!
But let's talk about oven roasted beet soup a bit more:
One day I came across THIS beetroot soup recipe. Creamy beetroot soup with coconut milk and roasted beets. I was hooked. I had to try it right away. So I did. I have to say that the thickness of this beetroot soup is not like on their picture though! I know I changed a few ingredients but those would not be the reason for the soup going so thin. However, I like thinner soups so that was not a problem. And what is more important I loved its taste! Earthy, coconut-y and sweet! The combination of flavors is amazing and so is the color!
It simply is delicious! For those who prefer thicker, creamier soups I recommend reducing the amount of stock by half! You will still get good 4 portions out of it!
This healthy beet soup recipe is also easy to make:
Roast the beets in the oven for 20 – 30 minutes.
Throw them in a sauce pan with sautéed onion and celery, pour over vegetable stock.
Bring to Boil. Reduce the heat. Simmer 10 minutes. Let it cool 5-10 minutes.
Puree it.
Coconut milk + lemon juice (freshly squeezed) = zesty sweet perfection!
If you like to garnish your soup with some fancy looking stuff – go for deep fried carrot slices – yummy yummy things are those, by the way! You might spoon over some yogurt or coconut milk.
And guess what else? It is a vegetarian beet soup recipe also! So if you are a vegetarian, give it a try and let me know what you think!
Related Posts:
Easy Creamy Zucchini Soup
Creamy Broccoli and Celery Soup
Homemade Creamy Tomato Soup
Print
Oven Roasted Beet Soup with Coconut
Oven roasted beet soup is a healthy soup with earthy, sweet flavor & a hint of coconut. Another simple recipe with lots of flavors is a must-try this fall.
Ingredients
1.1

lb

Beets

(500g)

2

Celery Stalks

1

Onion

4

cups

Vegetable Stock

for a thinner soup (1 Liter)

3

tablespoons

Extra Virgin Olive Oil

Salt & Pepper to Taste

1

can

Coconut Milk

(400ml/13.5fl oz)

1

Lemon

(Small)
Instructions
Preheat the oven to 200C/400F.

Wash and peel the beets. Cut them into chunks and place on a baking tray lined with baking paper (or tin foil). Drizzle with olive oil and season with salt and pepper.

Place the tray in the oven and bake for 30 minutes. 15 mins into baking stir the beets around.

Meanwhile: Wash and dice celery. Peel and dice the onion. In a larger pot heat the oil and throw in diced celery & onion. Saute for 15 minutes.

Take the beets out of the oven and throw them in the pot. Pour in the vegetable stock, cover and bring to a boil. Reduce the heat and simmer for about 5 minutes.

Turn off the heat and let the soup cool down for 5-10 minutes before pureeing it.

Finally, pour in the coconut milk and stir well.

Add lemon juice from 1/2 of the lemon and taste it. If you like its taste you are done. If not add more lemon (or seasoning).

Serve warm.
Happy Cooking with Happy Foods Tube!
Notes
There shouldn't be any need for extra seasoning (once you have seasoned the beets)! The stock, lemon, coconut milk and beets gave the soup a nice flavor.
TIP: If you are after creamier consistency, reduce the amount of stock to 500 ml!
Nutrition Facts
Oven Roasted Beet Soup with Coconut
Amount Per Serving
Calories 251
Calories from Fat 189
% Daily Value*
Fat 21g32%
Sodium 712mg31%
Potassium 503mg14%
Carbohydrates 15g5%
Protein 3g6%
Vitamin A 420IU8%
Vitamin C 16.1mg20%
Calcium 40mg4%
Iron 3mg17%
* Percent Daily Values are based on a 2000 calorie diet.
** Happy Foods Tube is a participant in the Amazon Services LLC Associates Program, an affiliate advertising program designed to provide a means for sites to earn advertising fees by advertising and links to Amazon.com.
LEAVE A COMMENT
Browse more Soup Recipes or visit our
channel to see the videos.