Oven roasted beet soup is a flavorful meal without cream, which makes it also suitable for vegans. It's a healthy soup with earthy, sweet flavor and a hint of coconut.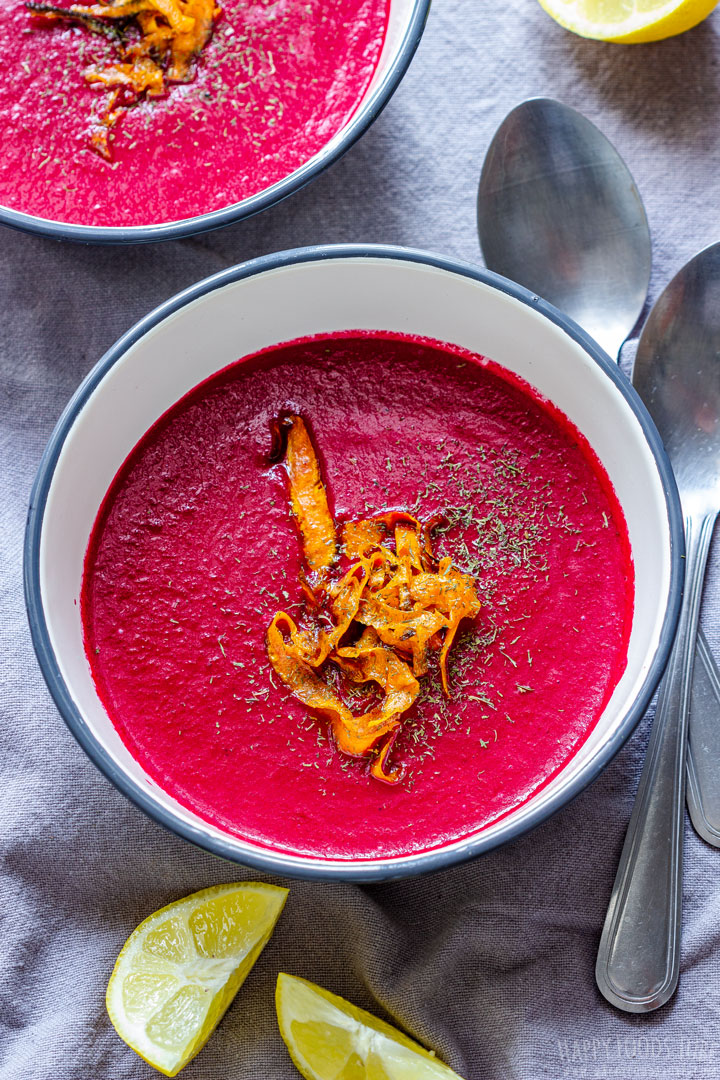 Today I have for you this tasty beet soup made with roasted beets. It's an easy vegetable soup recipe with coconut milk.
If you like to garnish your roasted beet soup with some fancy looking stuff – go for pan-fried carrot shavings, like I did. Use a veggie peeler to shave the carrots and fry them with some oil. They are so tasty!
Now this beetroot soup is also suitable for vegans. It's naturally gluten-free, dairy-free and very healthy.
How to make oven roasted beets soup
First you need to roast the beets in the oven. They will take about 30 minutes, depending on their size, so the smaller the better. I like to drizzle them with olive oil and season with salt and pepper.
Meanwhile, I prep the rest of the veggies and saute them in a pot for about 15 minutes. I find that celery takes a very long time to cook, so I finely dice it to speed up the cooking process. Then, add stock and cook until the beets are roasted. Take them out of the oven and transfer them to the pot. Cook for a further 5 minutes.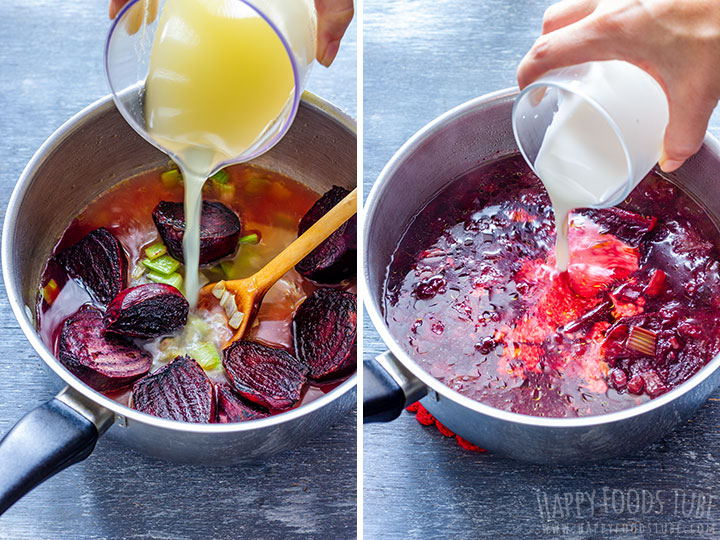 When ready, puree the soup until smooth, add coconut milk and cook for a further 5 minutes. At this stage you will see how thick the soup is, so you can thin it with some more stock or water, if you like and your beet soup is ready.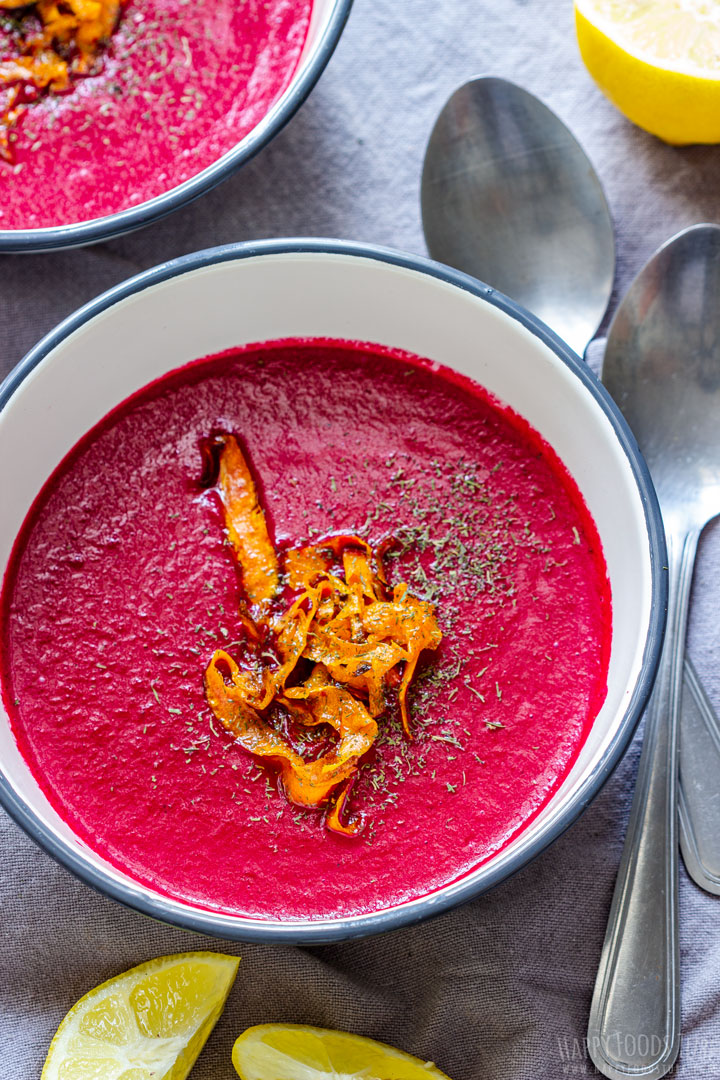 Tips for making the best oven roasted beet soup
Old beets take longer to cook, so try to use fresh ones. If not sure, cut them into smaller pieces. That way they will cook quicker. If you feel they are still hard, cook them for longer.
Vegetable broth can be substituted with chicken or turkey stock (if you are not vegan or vegetarian).
Sometimes people confuse coconut milk with coconut beverage which is very thin and used mostly for breakfast (poured over cereals or oats). This is not the product you want to use! Also make sure not to use cream of coconut which is a sweetened product used for cocktails or desserts. It contains a ton of sugar and is not suitable for this beet soup recipe.
This oven roasted beet soup does not require a ton of seasoning. In fact, it might only need a pinch of salt and pepper. I personally season the beets before baking and most of the time this tasty soup does not need anything else. The rest of the ingredients used are flavorful enough, so there is no need for any extras.
The fresher the beets the tastier the soup!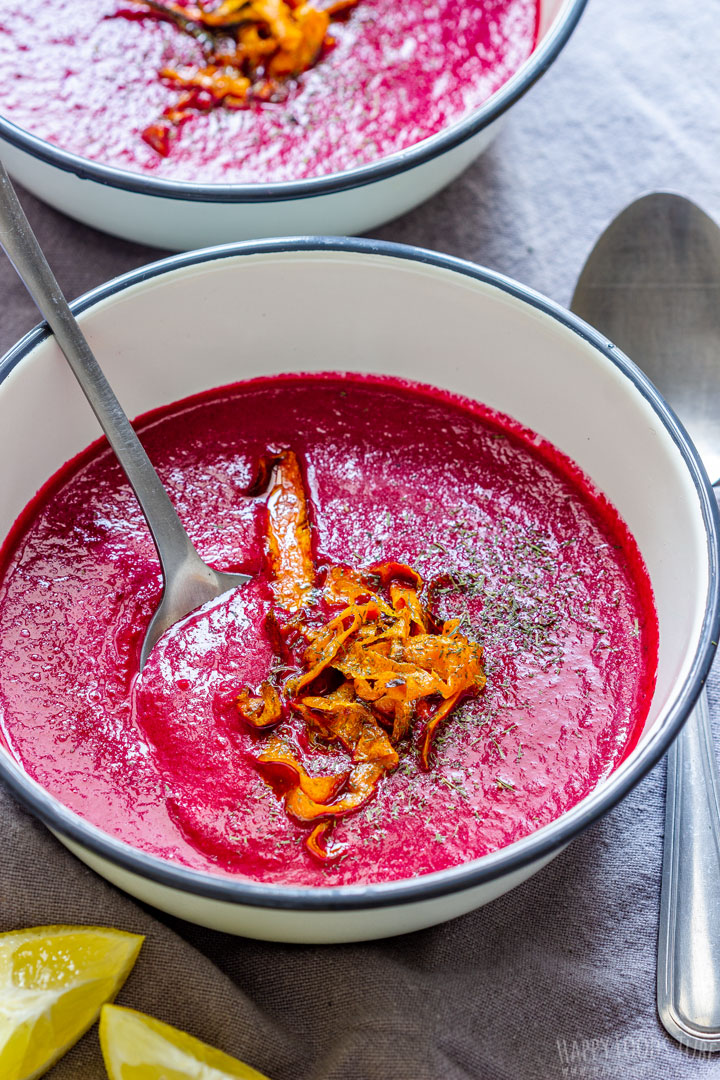 By the way, I have more beet recipes on my blog, if you like this root vegetable and looking for ways to use it in cooking.
Beet recipes
This root veggie can be used in baking (try Dark Chocolate Beet Brownies and let me know what you think!), cooking (our favorite way is turning them into Borscht Soup) but they can also be enjoyed in salads or as a snack (if you haven't tried Roasted Beet Hummus, then I highly recommend doing so).
In summer, we love drinking refreshing juices (like Watermelon & Beet Juice) out of fresh beets, especially after exercises as they help reduce muscle pain. But it's important to pair it with other veggies or fruits, especially those you like in order to balance their earthy flavor.
Oven Roasted Beet Soup
Oven roasted beet soup is a flavorful meal without cream, which makes it also suitable for vegans.
Ingredients
1

pound

Beets

(450 grams)

3

tablespoons

olive oil

Salt

, to taste

black pepper

, to taste

1

medium

Onion

, see note 1

2

large

Celery Stalks

, see note 2

2

cups

Low Sodium Vegetable Broth

, see note 3

1

can

Coconut Milk

, see note 4

½

small

Lemon

, juice only
Instructions
Preheat the oven to 350° Fahrenheit (180° Celsius).

Peel the beets and cut them into quarters (or whole walnut-size chunks). Transfer them onto a baking sheet lined with baking parchment. Drizzle with about a tablespoon of olive oil, and season with salt and pepper. Bake for 30 minutes or until soft.

Meanwhile, finely mince the onion and finely dice the celery. Add these to a medium pot (a 3-quart/3-liter will do) and saute this for about 15 minutes, stirring from time to time. Add stock and simmer.

When the beets are ready, add them to the pot and cook for 5 minutes.

Puree the soup and add coconut milk. At this stage, check if you like its thickness. If too thick, thin it with more vegetable stock. Bring it to a boil and simmer for about a minute before turning off the heat.

Drizzle with lemon juice or serve a lemon wedge alongside the soup (see note 5).

Enjoy!
Notes
1 whole medium onion = 1 cup minced.
2 large celery stalks = 1 cup diced, celery can be substituted with ½ – 1 cup of chopped leek.
If you are not vegan/vegetarian, you can substituted vegetable broth with chicken stock or turkey stock.
Make sure to use coconut milk (not coconut milk drink or coconut milk beverage). You can use either full fat or light coconut milk. Do not use cream of coconut as this product is sweetened and not suitable for this soup! Note that light coconut milk is thinner than the classic coconut milk, so you might need to use less water, if you prefer a thicker consistency of this soup. Also, it will need more seasoning.
This soup requires only a little seasoning as the stock, beets and coconut milk will add enough flavor to the soup. However, every one of us has a different taste, so add more salt, if needed. When using regular stock, you should not need salt at all.
You'll find more tips and serving suggestions in the post above this recipe card.
Nutrition Facts
Oven Roasted Beet Soup
Amount per Serving
% Daily Value*
* Percent Daily Values are based on a 2000 calorie diet.
** As an Amazon Associate I earn from qualifying purchases.
LEAVE A COMMENT
RELATED POSTS