Looking for a recipe for protein-rich dip? Try this oven roasted beet hummus! It's easy to make, nutritious and so versatile. Serve it as a dip or spread.
This roasted beet hummus recipe is perfect for those looking for nutritious snacks/spreads/dips or anyone who likes trying new things.
Roasting beets in the oven makes them sweeter and reduces the "earthy" flavor that some of you might not be that fond of.
Here are some more snacks that are good for you:
How to make roasted beet hummus
The very first thing to do when making roasted beetroot hummus is roasting the beets. Start with preheating the oven to 400°F/200°C.
Meanwhile, wash and peel the beets. I highly recommend using gloves if you don't want to end up with purple fingers.
Cut each beet into chunks and transfer onto a baking tray. I always line my tray with baking parchment which saves me cleaning the tray every time I bake something.
It will take about 40 minutes to bake them. When ready, let them cool down before combining with the rest of the ingredients in a food processor.
What I love about this roasted beet hummus recipe is the fact that you can adjust the ingredients to your liking. I don't usually measure how much lemon juice, olive oil or water I put there. You can add less or more than in the recipe – again, this will depend on your personal preference.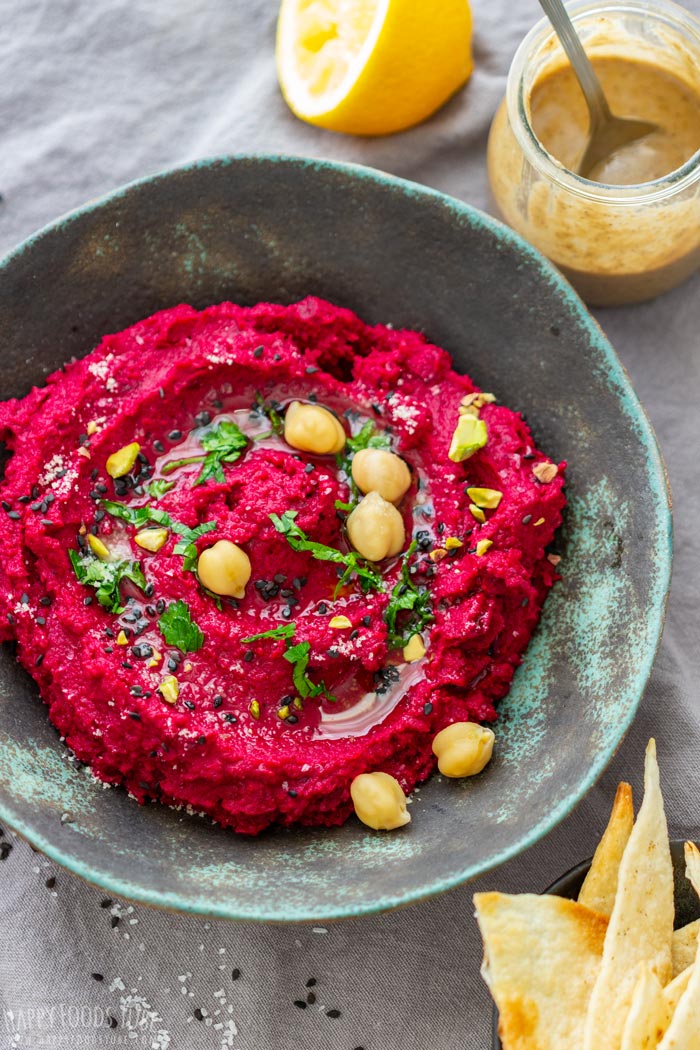 What vegetables are good with hummus?
Carrots
Bell Peppers
Celery Sticks
Broccoli
Cucumber
Tomatoes
or try some of these …
Have you ever tried spreading it on bagel, toasted French baguette or add it to your power bowl? The options are limitless, and what you choose only depends on what you like.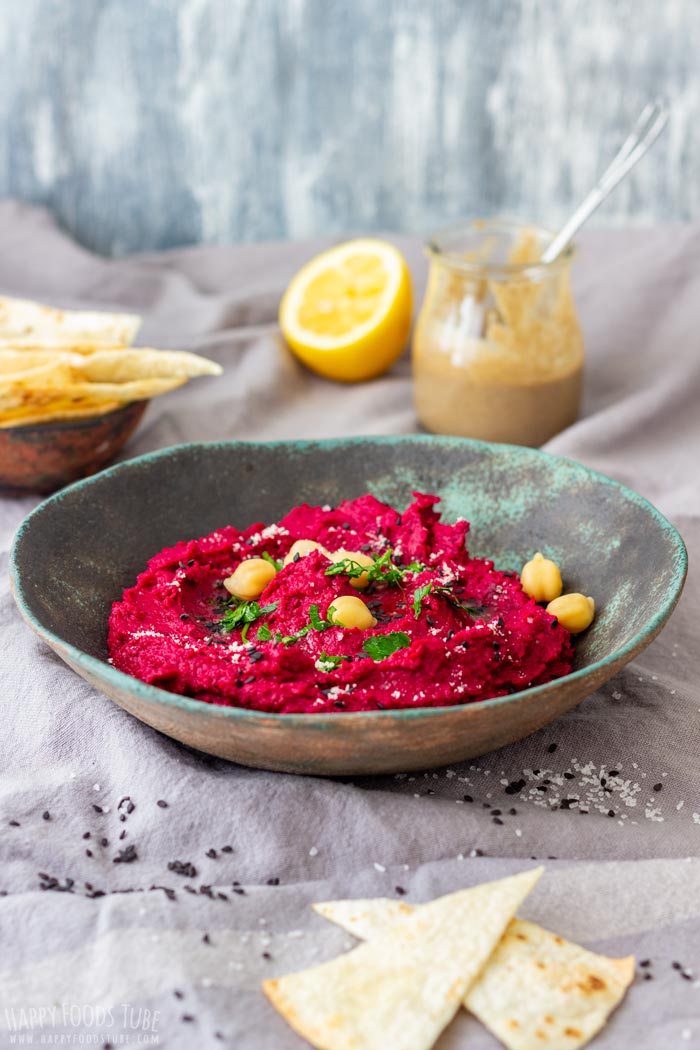 Tips for making roasted beet hummus
Like I have already mentioned, this is a very versatile recipe. You can adjust the ingredients to your liking. Some might like more lemon, others more olive oil or creamier, less tahini, etc. The key to making the best hummus is in your taste. If you like it, then it's the best for you so don't be afraid to experiment with flavors.
I recommend using extra virgin olive oil. If you have cooking olive oil, you can use it as a substitute. Please do not use vegetable no sunflower oil.
Juice from fresh lemon is the best choice! If you don't have lemon, try lime instead.
You can serve this roasted beet hummus as is or top it with anything you like – sesame seeds, chia seeds, nuts, parsley, coriander, more olive oil ….
This recipe yields quite a lot of hummus. If you have a small food processor (like me), you might need to make it in 2 batches or simply half the recipe.
What can I use instead of tahini?
Many people say that hummus must have tahini in it. In my opinion, tahini (a.k.a. toasted sesame seed paste) can be easily omitted so if you don't have it, don't worry about it. Your roasted beet hummus (or any other hummus) will taste delicious.
If you still would like to use a substitution for this paste, try using sesame oil or nut butter of your choice (cashew, almond, …).
Roasted Beet Hummus
Looking for a recipe for protein-rich dip? Try this oven roasted beet hummus! It's easy to make, nutritious and so versatile. Serve it as a dip or spread.
Ingredients
Instructions
Wash the beets thoroughly and peel their skin off. Cut into chunks and place them onto a baking tray lined with baking paper. Drizzle with little olive oil. Bake in a preheated oven at 400°F/200°C for about 40 minutes or until cooked through. Let cool down.

In a food processor combine the rest of the ingredients altogether with cooled beets. Process until smooth (see note 2).

Serve as a dip or spread.
Notes
If the hummus is thick and you find it hard to process, add more water.
The ingredients in this recipe can be easily adjusted to your liking. You can add more/less olive oil, tahini, lemon juice, garlic ….
This recipe can be easily doubled or halved.
You will get at least 1½ cup of hummus which is about 12oz/330g.
This hummus keeps well in the fridge (for up to 5 days). Store it in an air-tight container/jar.
Nutrition Facts
Roasted Beet Hummus
Amount per Serving
% Daily Value*
* Percent Daily Values are based on a 2000 calorie diet.
** As an Amazon Associate I earn from qualifying purchases.
LEAVE A COMMENT
RELATED POSTS