Try watermelon beet juice this summer! It's refreshing and full of nutrients. Naturally sweet and hydrating this ruby colored homemade juice is perfect for hot summer days!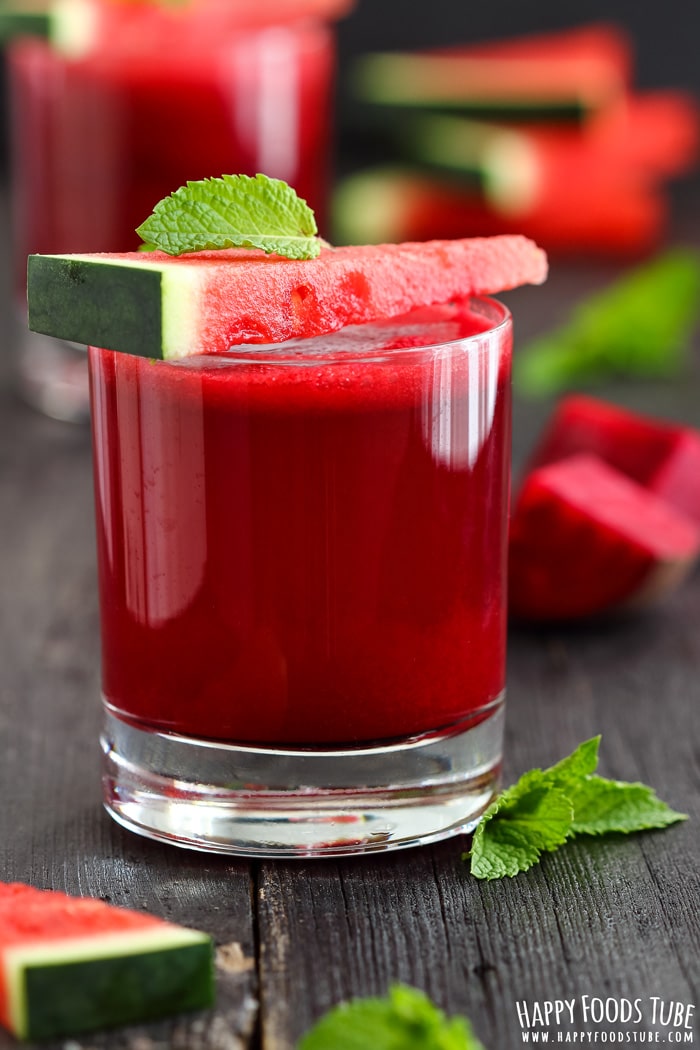 Guys, I hope you will give this watermelon beet juice a go before the summer is over!
If you follow my blog you know I love juicing. Nothing tastes better than freshly made juices. They are so refreshing and nutritious! I also love the fact that I can add whatever ingredients (see fruits and veggies) I have on hand and create something fresh and tasty!
Something like this watermelon beet juice, Glowing Skin Green Juice or Beetroot and Orange Juice.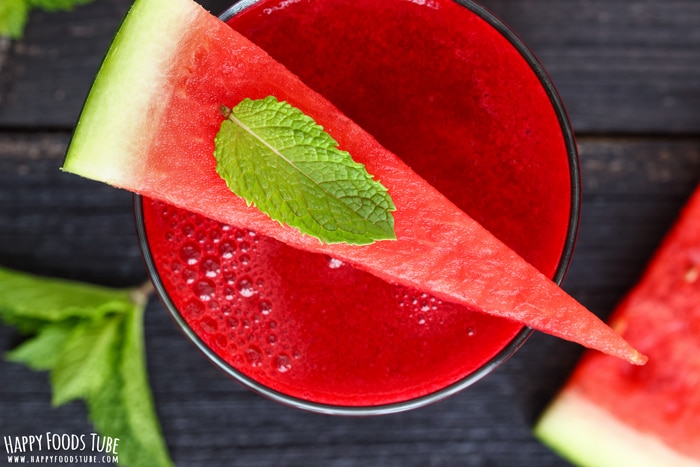 Did you know that beets are perfect for juicing? Believe it or not I was not a huge fan of them before I started juicing them. The key here is adding just the right amount so you don't find them overpowering. Also beets health benefits are worth mentioning here. Heart, liver, stamina …. Beets do wonders to our body.
Now pair beets with watermelon and you get a super juice! One of the watermelon health benefits is helping our bodies recover after a workout and reducing muscle soreness. Isn't that great?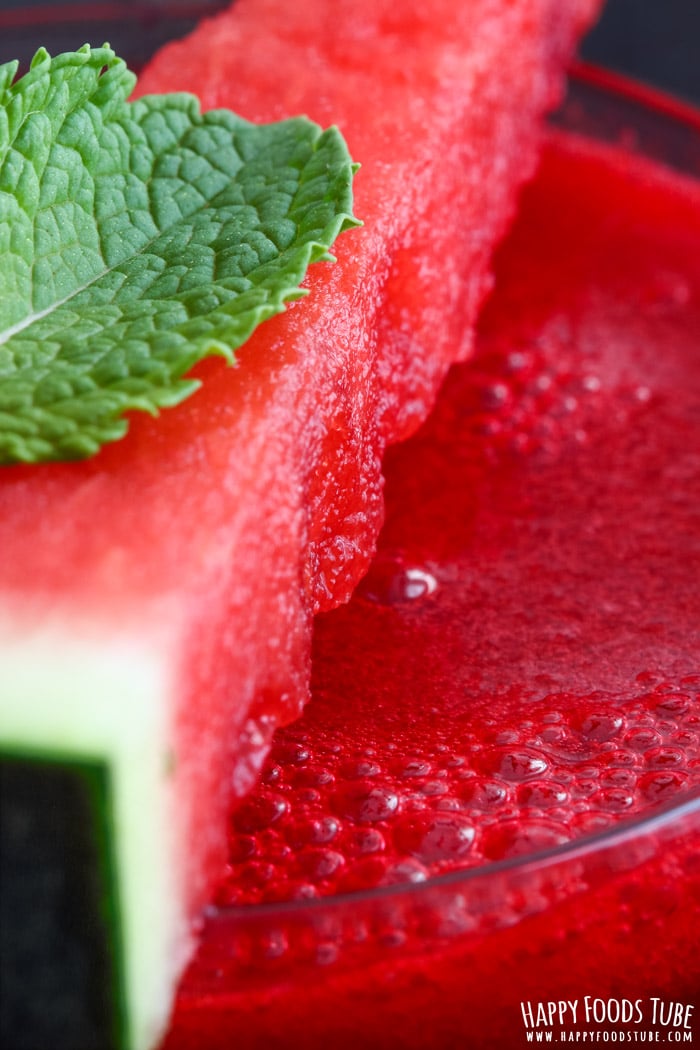 How to juice watermelon and beets:
Preparing watermelon for juicing can be done within minutes. I usually cut it in quarters first. Then I take one quarter and place it the flesh side down so that the green skin is away from me (I am facing the flesh). Now with a large knife I slice it so I get triangular shaped pieces.
When you have done the prep this way, now you just cut off the green parts. Easy-peasy.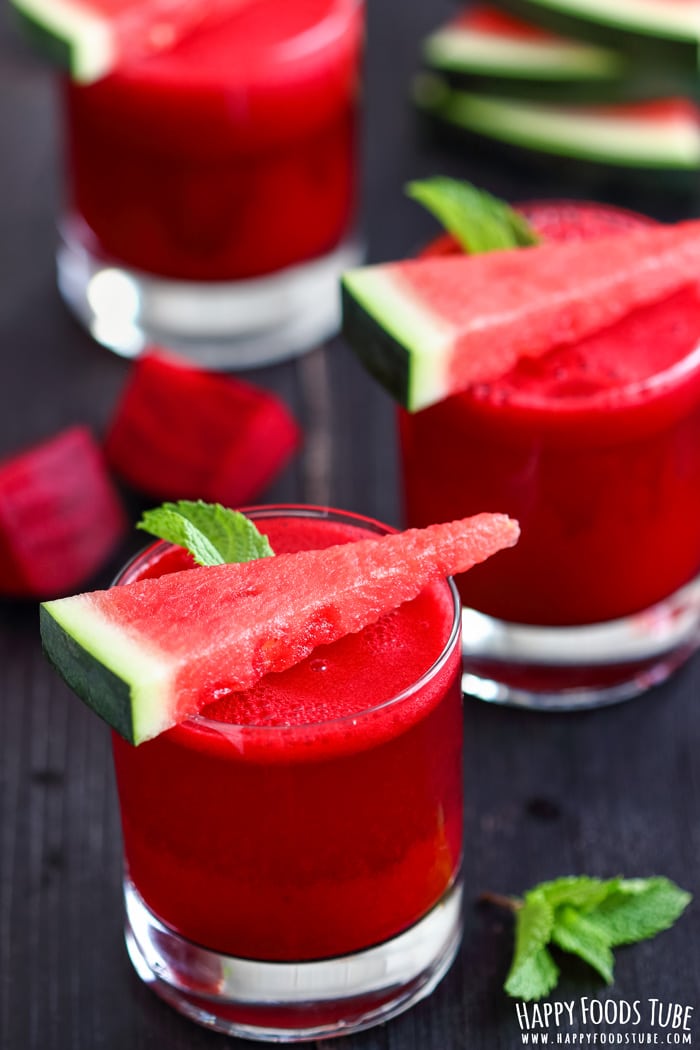 To prepare the beets for juicing I highly recommend using gloves. If you don't have gloves, use plastic bags instead (that's what I do when I run out of gloves). Otherwise you will end up with purple hands.
Once you have done your prep, throw everything in your juicer and in a few minutes you will be rewarded with a glass of this refreshing watermelon beet juice!
So you see juicing watermelon and beets is not difficult at all!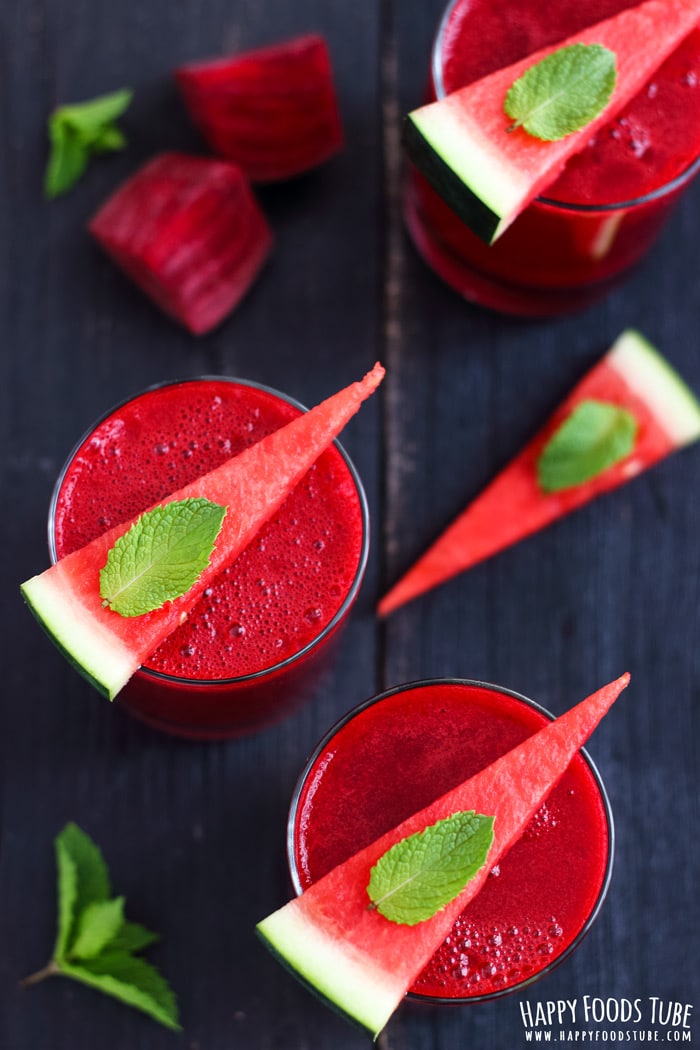 Good to know:
Use seasonal produce for the best flavors and prices (See this watermelon beet juice – both ingredients are in season now so you can enjoy a glass of delicious homemade juice and you won't spend fortune on the produce).
Juicing is not as time consuming as you think! I juice a lot in large quantities and to get about 4 cups of freshly made juice you need about 10-15 minutes of prep (this will depend on the type of fruits and veggies you use as each require different time to prep). Not bad at all!
Juicing means losing some of the nutrients so the best is drink juices right away or keep in closed jars in the fridge (max 48 hours).
There are also special slow juicers that are able to produce higher nutritional value juices.
If you don't have a juicer but want to make a drink using watermelon, check this Refreshing Watermelon Drink.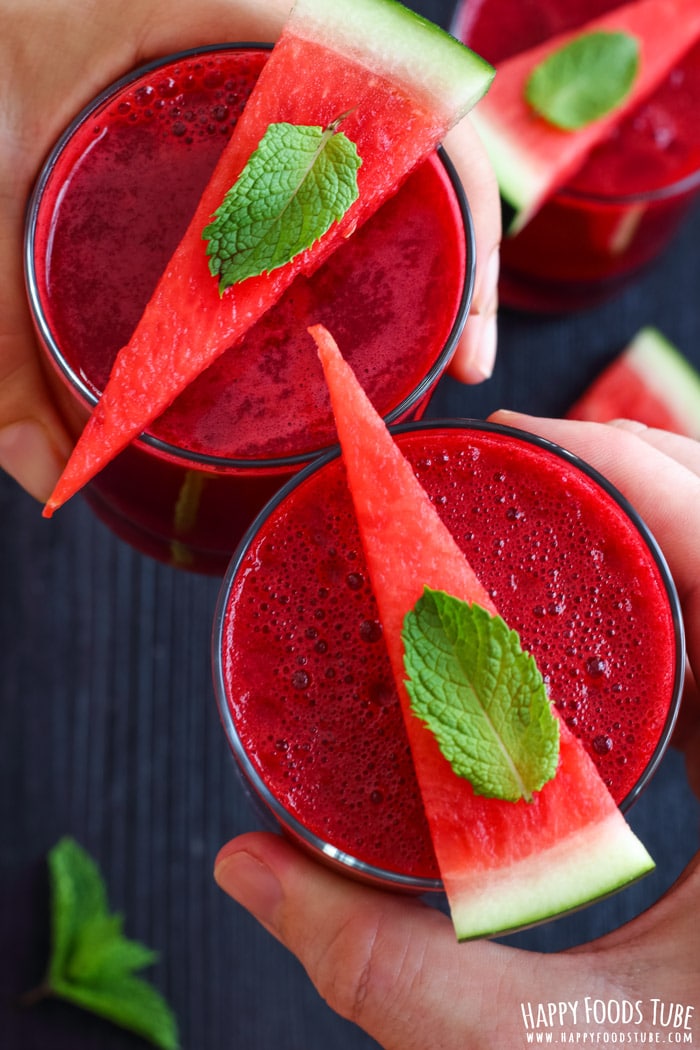 Watermelon Beet Juice
Try watermelon beet juice this summer! It's refreshing and full of nutrients. Naturally sweet and hydrating this ruby colored homemade juice is perfect for hot summer days!
Servings:
4
Cups (1 Liter)
Ingredients
2.5

pounds

Watermelon

(1.2 kilogram)

2

Medium

Beets

Lemon

(optional)
Garnish:
Mint + Thin Watermelon Wedges

(optional)
Instructions
Wash watermelon and beets. Peel the beets and remove the hard watermelon skin before juicing them.

Taste and add some freshly squeezed lemon juice (optional). Garnish with mint and watermelon wedge (optional).

Drink right away or store in a sealed jar in your fridge.
Nutrition Facts
Watermelon Beet Juice
Amount Per Serving
Calories 99
% Daily Value*
Sodium 34mg1%
Potassium 438mg13%
Carbohydrates 24g8%
Protein 2g4%
Vitamin A 1560IU31%
Vitamin C 24.1mg29%
Calcium 26mg3%
Iron 1mg6%
* Percent Daily Values are based on a 2000 calorie diet.
** As an Amazon Associate I earn from qualifying purchases.
LEAVE A COMMENT
RELATED POSTS