Pan con tomate, also known as pa amb tomàquet (in Catalan) is a Spanish garlic tomato toast that Spaniards eat for breakfast. You can enjoy it as is or top it with some dry-cured ham!
If you are thinking of reducing the amount of butter you eat on daily basis, this can be the way to go.
Spaniards enjoy pan con tomate with coffee or orange juice either as breakfast or a late morning snack, but you can make it as a side with soup or grilled meats as well. Using garlic is not mandatory, but it adds an extra flavor to the toast.
Speaking of Spanish breakfast – pan con tomate is not the only tasty breakfast you will get in Spain. If you have a sweet tooth, then you must try churros with chocolate!
You can find them in any decent cafeteria or look for small stalls on the street. Places that specialize in making them are called churrerias. But guys, you can also make Homemade Churros yourselves!
How to make pan con tomate
First, get all the ingredients – tomatoes, bread, salt, olive oil and garlic.
Choosing tomatoes – Pan con Tomate recipe contains only a few simple ingredients. For this reason, it is important to use the best quality ones, if possible.
Choose ripe tomatoes, possibly large in size (not the cherry variety). The riper the tomatoes, the tastier the toast.
Grating vs rubbing tomatoes
Pan con tomate can be made two ways. Either you rub the flesh of the tomato onto a slice of toasted bread or you grate the flesh first and scoop some of it onto the toast.
If using extra ripe (soft and juicy) tomatoes, then I'd choose the rubbing method. This way the toast soaks some of the juices that add even more tomato-ey flavor to the toast.
If you find out that the tomatoes you bought are not as ripe as you thought, you can still use them but rubbing would not really work here so you will have to grate them first. I tend to strain some of the juices, so the mixture is thicker. This is completely optional though.
Choosing and toasting bread
You can choose any bread you like. Artisan bread or a long baguette-like bread stick are my favorites.
Toasting bread for pan con tomato can be done in the oven, in a skillet or in a toaster. I like using a toaster as it is quicker. The only thing to remember when using the toaster is that the bread slices should be thin to fit inside the toaster.
Olive oil – I highly recommend using extra virgin olive oil to make pan con tomate. You only need a little drizzle for each toast, but a good quality oil makes a difference.
Salt – Feel free to use any kind of salt you like but make sure to use it as pan con tomate may taste bland without it. I usually prefer less salt rather than more but when it comes to this bread, I always add a generous pinch.
Garlic – Like I've already mentioned, it is not mandatory to use it, but it sure adds an extra flavor to otherwise simple pan con tomate!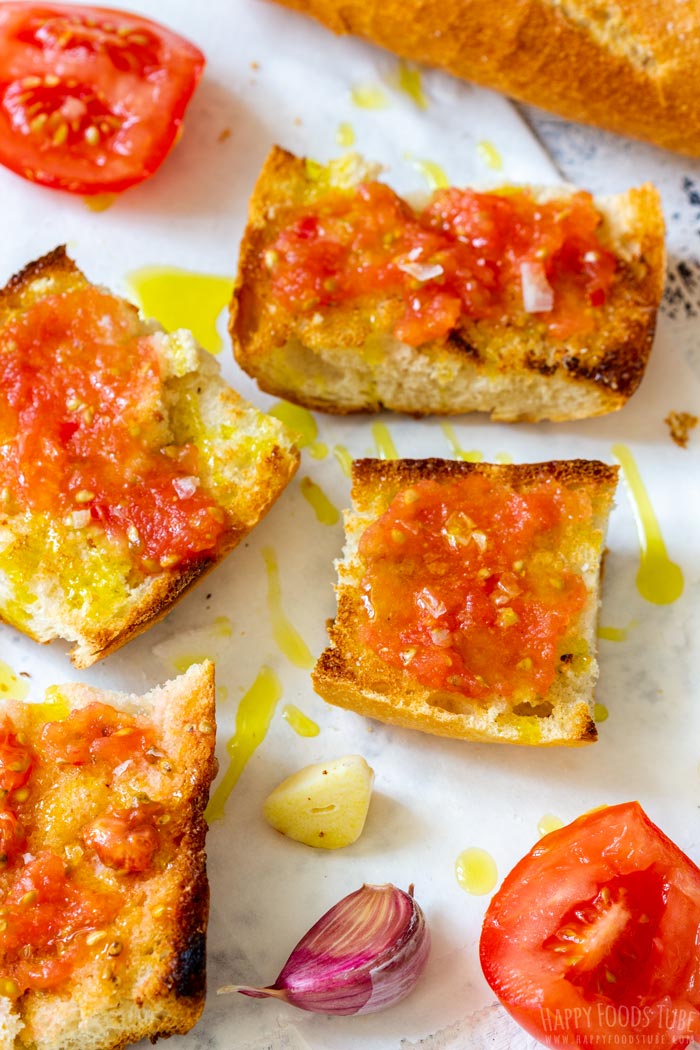 Other Spanish dishes that you have to taste when in Spain (or you can make them at home as well) are:
And let's not forget about typical Spanish sausage – chorizo that you can turn into tasty Chorizo Bites and serve them as appetizers.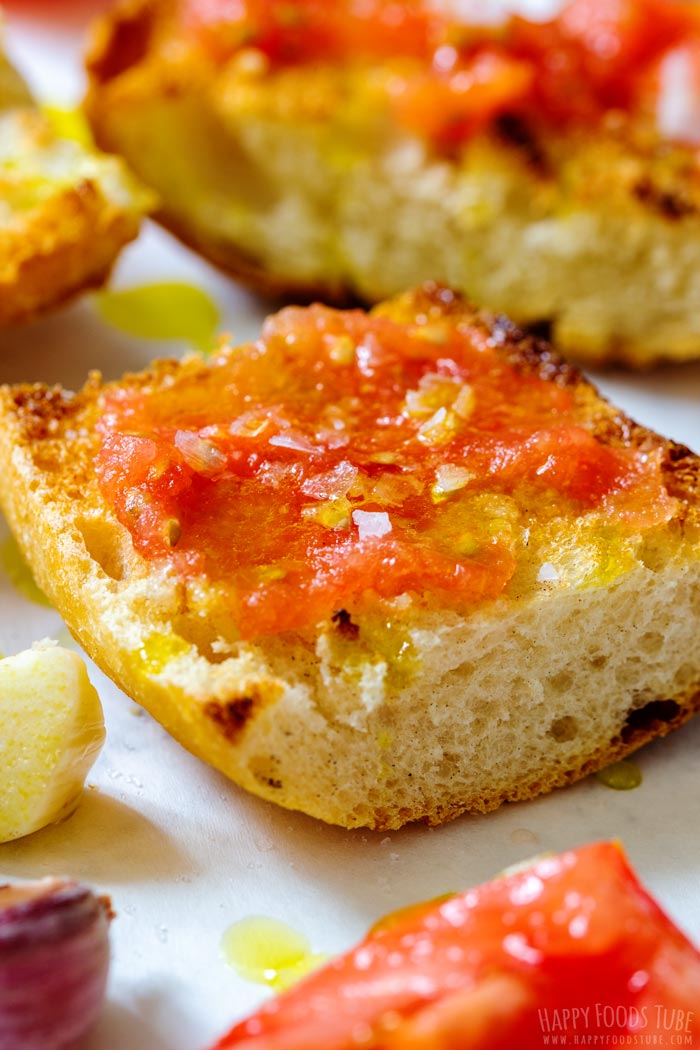 Pan con Tomate – Spanish Garlic Tomato Toast
Pan con tomate, also known as pa amb tomàquet (in Catalan) is a Spanish garlic tomato toast that Spaniards eat for breakfast. You can enjoy it as is or top it with some dry-cured ham!
Ingredients
2

slices

Artisan Bread

, see note 1

1

Large

Tomato

, ripe

1

Garlic Clove

Salt

to Taste

A Drizzle of

extra virgin olive oil
Instructions
Toast the bread (you can use oven, skillet or toaster).

Cut the tomato into quarters and remove any hard parts. Peel the garlic and cut it in half.

When the toast is ready, rub the garlic over it (you can do both sides, if you like). Then, rub with the tomato, flesh side down. Finally, season with salt and drizzle with olive oil.

Best served right away!
Notes
I recommend using artisan bread, sourdough bread, French baguette or ciabatta. It's even better when you use a day-old bread.
The serving size might vary. It will depend on size of each slice. When using smaller slices (like I have on the pictures, I suggest using 2 slices per person).
The preparation time includes toasting the bread in toaster. It takes about 2 minutes for my toaster.
For more tips and information, please read the whole post.
If you have tomatoes that are a little harder, you can grate the flesh instead of rubbing it onto the toast.
Nutrition Facts
Pan con Tomate – Spanish Garlic Tomato Toast
Amount per Serving
% Daily Value*
* Percent Daily Values are based on a 2000 calorie diet.
** As an Amazon Associate I earn from qualifying purchases.
LEAVE A COMMENT