These vegetable foil packets are perfect for oven, grill or campfire. A mix of vegetables is seasoned with a simple homemade spice mix and cooked in foil. Quick prep, fuss-free cooking, and easy clean-up!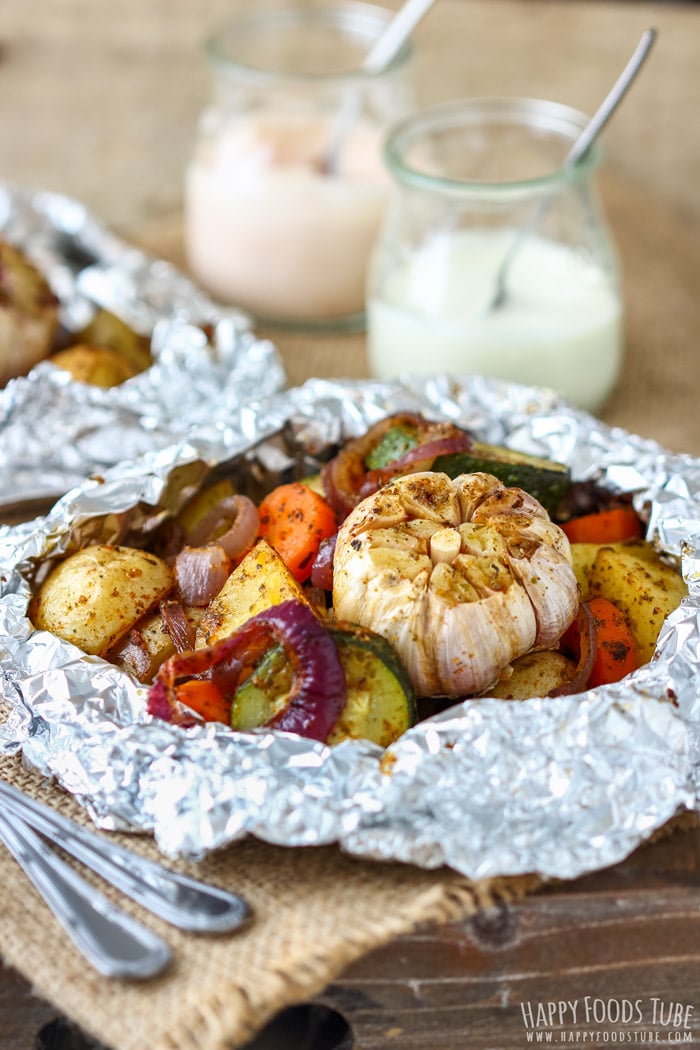 These vegetable foil packets are also suitable for vegetarians and vegans.
What we love about these vegetable foil packets
This side dish can be easily turned into a main dish by adding some meat or fish in or by doubling the amounts (for vegetarian/vegan dinner).
Great meal-prep option – Try these vegetable foil packets with orzo/rice or couscous for a meat-free lunches or add chicken breast as well for a complete meal.
Oven, grill, campfire – Choose the way you like the most.
Easy clean up – no dirty trays that need a lot of scrubbing!
Easy prep.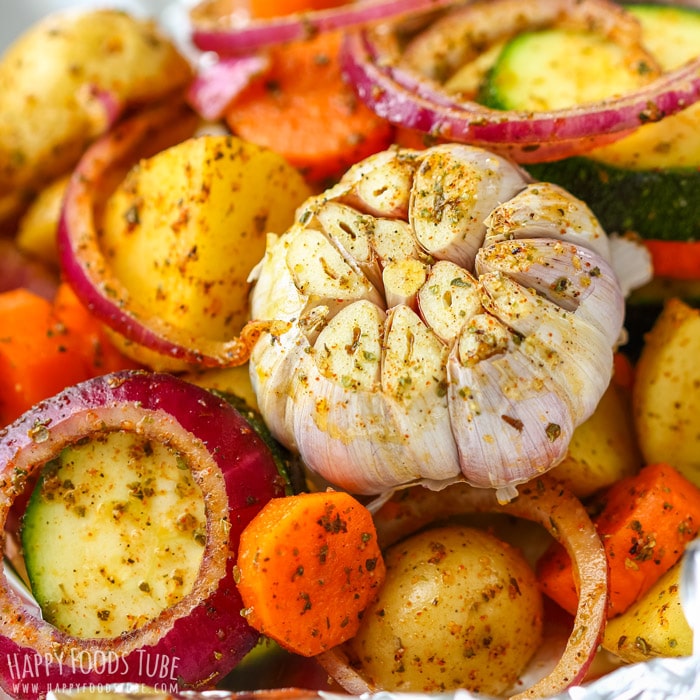 I like serving these with grilled meats (e.g. Honey Lemon Grilled Chicken, Grilled Boneless Chicken Thighs) or fish (see Grilled Whole Fish).
There are various sauces and dips that you can serve these vegetable foil packets with.
This time I made simple garlic dip (Check out my recipe for Oven Roasted Artichokes to see how to make that dip) and jalapeno sauce. Now you can serve it with any sauce/dip you like!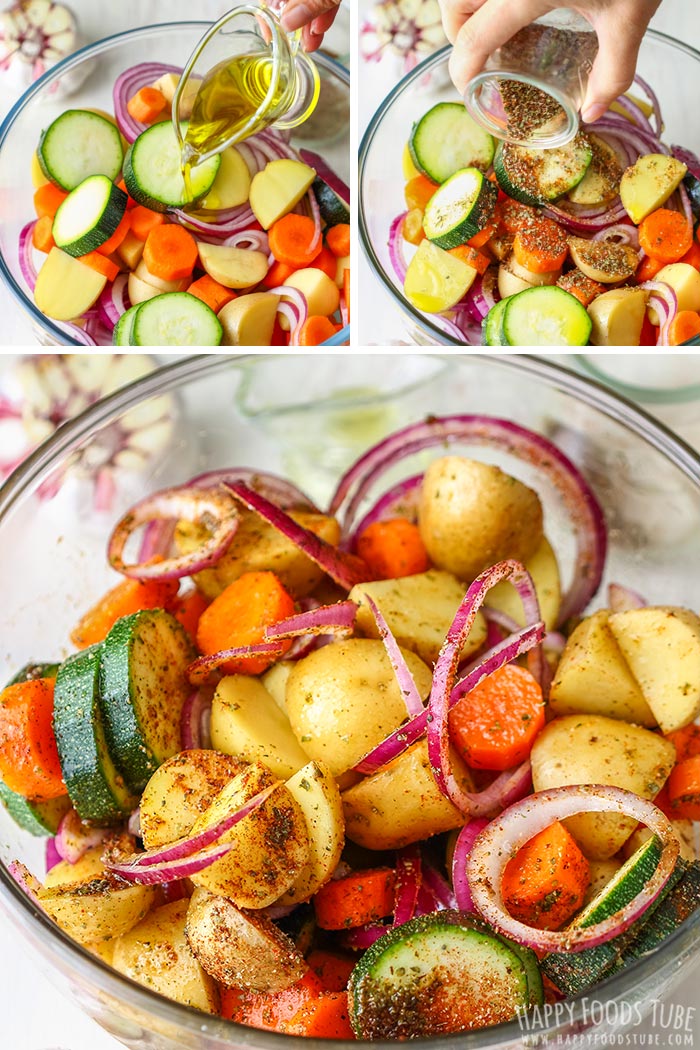 How to make vegetable foil packets in the oven
Because the preparation is pretty quick, first thing I do is turn on the oven. I cook these veggie foil packets at 400°F (200°C) for 30-35 minutes. This is plenty of time for all the veggies to cook.
Now because all of the vegetables have different textures the doneness of each type will also differ. This means that some of them will be softer than others.
To turn these vegetable foil packets into flavorful side dish you will need to season them well. To do so I combined dried garlic, marjoram, salt, black pepper and paprika in a small bowl. This blend seasons the veggies just enough without being over-powering.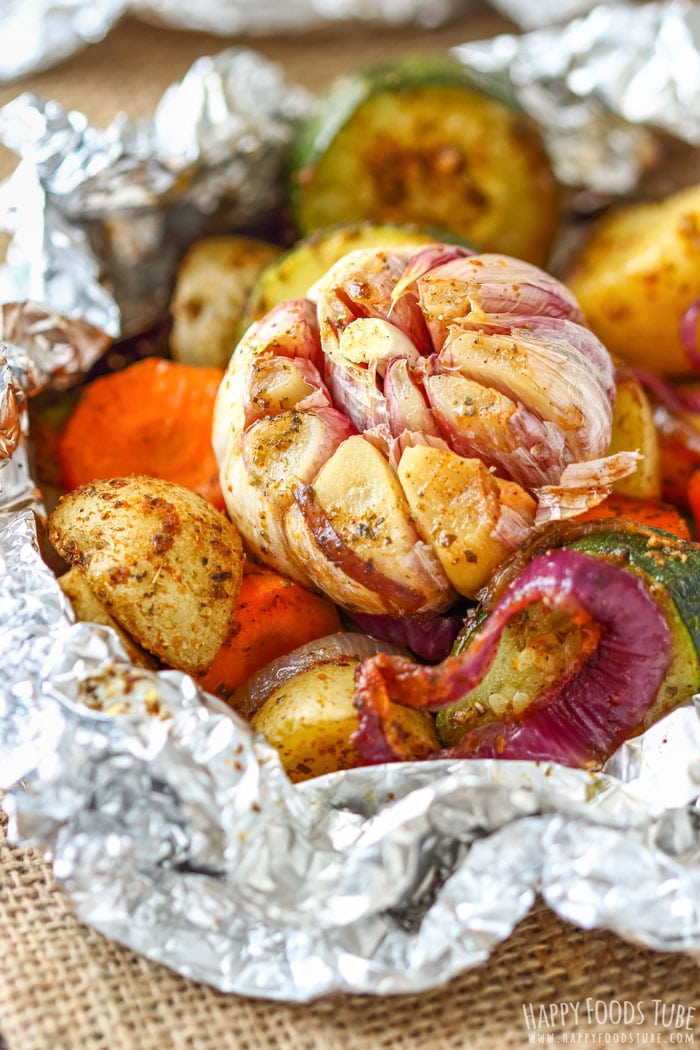 Cut the vegetables into chunks and place them into a large bowl. Pour over the olive oil and sprinkle with the seasoning. Give the veggies a good toss until they are evenly coated.
Spoon this onto a large sheet of tin foil and wrap making sure it is sealed well and there are no holes. You want to keep the steam inside the pockets.
This amount is enough for 4 generous portions (when eaten as a side dish).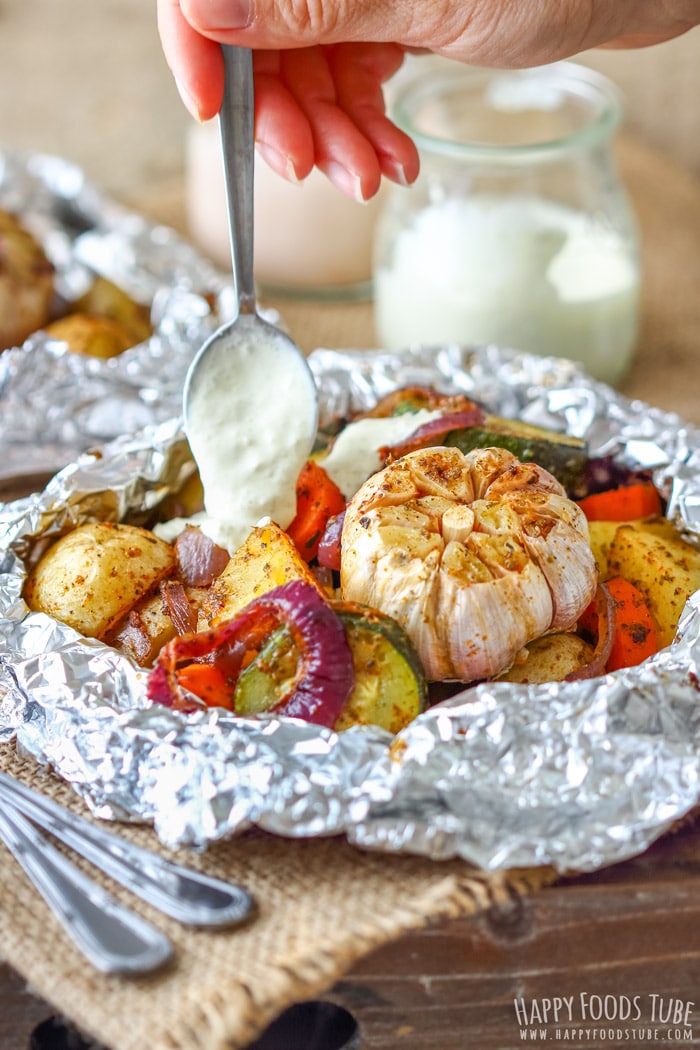 Useful tips
I use whole garlic heads for each vegetable foil packet. If you feel like it's way too much, simply reduce the amount or omit completely.
The garlic needs the longest time to cook so if you omit it bear in mind the cooking time might be shorter by 5-10 minutes.
Marjoram is herb similar to oregano so you can use either of those.
These vegetable foil packets are perfect for those who love to cook outdoors. Throw them on your grill or in campfire ashes – either way they will taste delicious!
I try not to use a moderate amount of salt when cooking. If you need more salt, simply add at the very end of cooking after you tasted the final result.
Vegetable Foil Packets
These vegetable foil packets are perfect for oven, grill or campfire. A mix of vegetables is seasoned with a simple homemade spice mix and cooked in foil. Quick prep, fuss-free cooking, and easy clean-up!
Ingredients
1

Medium

Zucchini

3

Medium

Carrots

12

ounces

Baby Potatoes

(350 grams)

1

Large

Red Onion

2-4

Garlic Heads

4

tablespoons

Extra Virgin Olive Oil
Instructions
Preheat the oven to 400°F (200°C).

Cut the zucchini into chunks. Peel and slice the carrots. Cut the baby potatoes into quarters. As for the onion – cut it either into rings or quarters. Trim the top of each garlic head (about ¼ to ⅓ – where the stem is) so that the cloves are exposed. The outer skin should easily come off at this stage. There is no need to remove everything, just the ones that go easily.

Now place all the veggies in a large bowl, except for the garlic heads. Drizzle the oil over.

Prepare the spice mix by combining all the ingredients in a small bowl. Now sprinkle the seasoning over the veggies and give them a good toss until they are all coated evenly.

Divide the veggies into 4 sheets of foil. Now take the garlic head and place it the open side down into the large bowl where the veggies were. Press down so the cloves suck the juices (oil + seasoning). Repeat with the rest of them. Place them in the middle of each packet.

Wrap each packet tight and place them onto a baking tray.

Bake them for 30-35 minutes or until the veggies are done.
Notes
Make sure to rinse all the vegetables thoroughly before you start the prep.
Sweet paprika can also be substituted with smoked paprika.
If you don't have marjoram, use oregano instead.
Zucchini (US) = courgette (UK).
If you don't want to use garlic head, you can reduce the cooking time by 5-10 minutes.
Nutrition Facts
Vegetable Foil Packets
Amount Per Serving
Calories 236
Calories from Fat 126
% Daily Value*
Fat 14g22%
Sodium 479mg21%
Potassium 706mg20%
Carbohydrates 25g8%
Protein 3g6%
Vitamin A 8055IU161%
Vitamin C 31.2mg38%
Calcium 59mg6%
Iron 1.9mg11%
* Percent Daily Values are based on a 2000 calorie diet.
** Happy Foods Tube is a participant in the Amazon Services LLC Associates Program, an affiliate advertising program designed to provide a means for sites to earn advertising fees by advertising and links to Amazon.com.
LEAVE A COMMENT
RELATED POSTS