Loaded hasselback potatoes are the ultimate starter or side! Packed with cheese, bacon and topped with sour cream they will definitely satisfy your taste buds.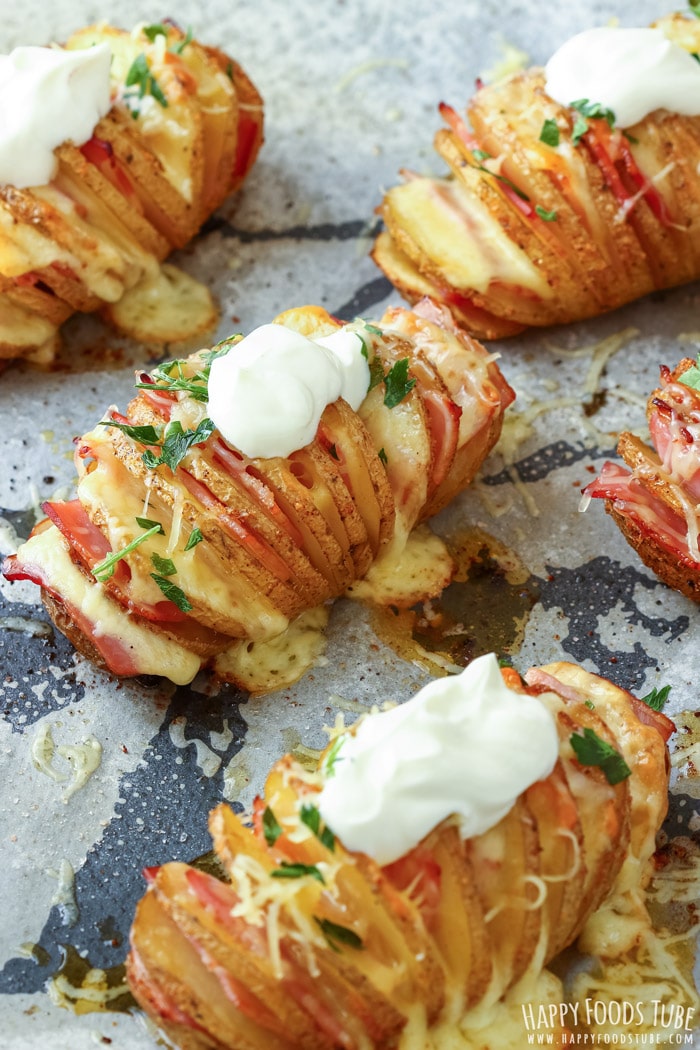 Guys, today I have for you this mouth-watering loaded hasselback potatoes recipe. I must admit I have been obsessed with potato recipes lately but I can't help myself. They are the best potato dished and I make them way too often.
I am addicted to Mashed Potato Flatbread (or lokše, lefse, tattie scones …) and make it almost every week. Parmesan Roasted Potatoes, Potatoes au Gratin, Twice Baked Potatoes or Pan Fried Breakfast Potatoes are also our favorites and they are perfect for this cold season!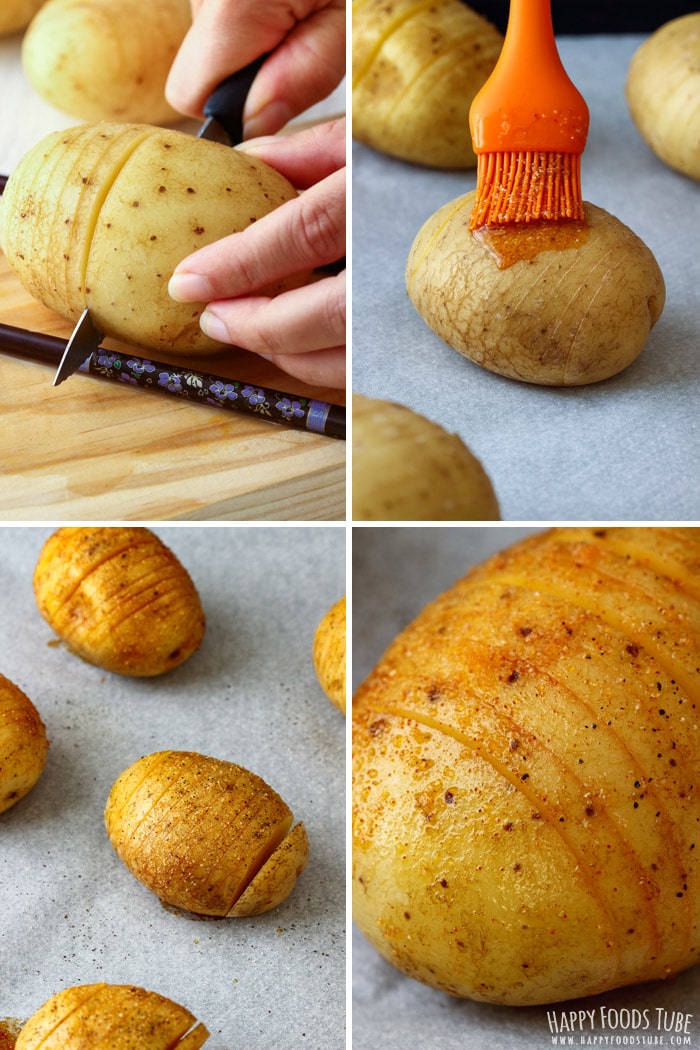 Step by Step – How to make hasselback potatoes:
The preparation is simple and pretty quick. Get your potatoes and give them a good wash. You don't want to end up tasting soil in your mouth. I try avoiding using very large potatoes for one simple reason: They take ages to bake!
I also dry them with paper kitchen towel. Then move onto cutting slits into each potato. You don't want to cull all the way through so the best thing is use chopsticks or wooden skewers. They will act as a "stopper" when slicing the potatoes.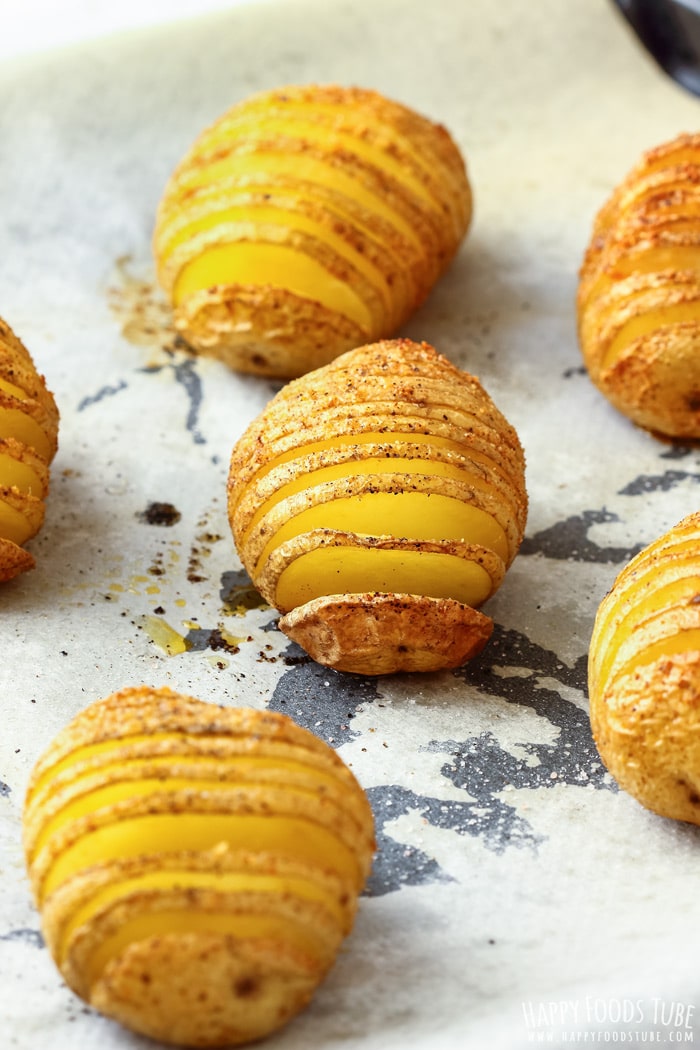 Place all the potatoes onto a baking tray. I recommend lining the tray with a sheet of parchment paper or silicone mat. It will save you some time cleaning the tray.
To make these loaded hasselback potatoes extra yummy I brush each with a mixture of oil, paprika and garlic powder. After, I season them with salt and pepper.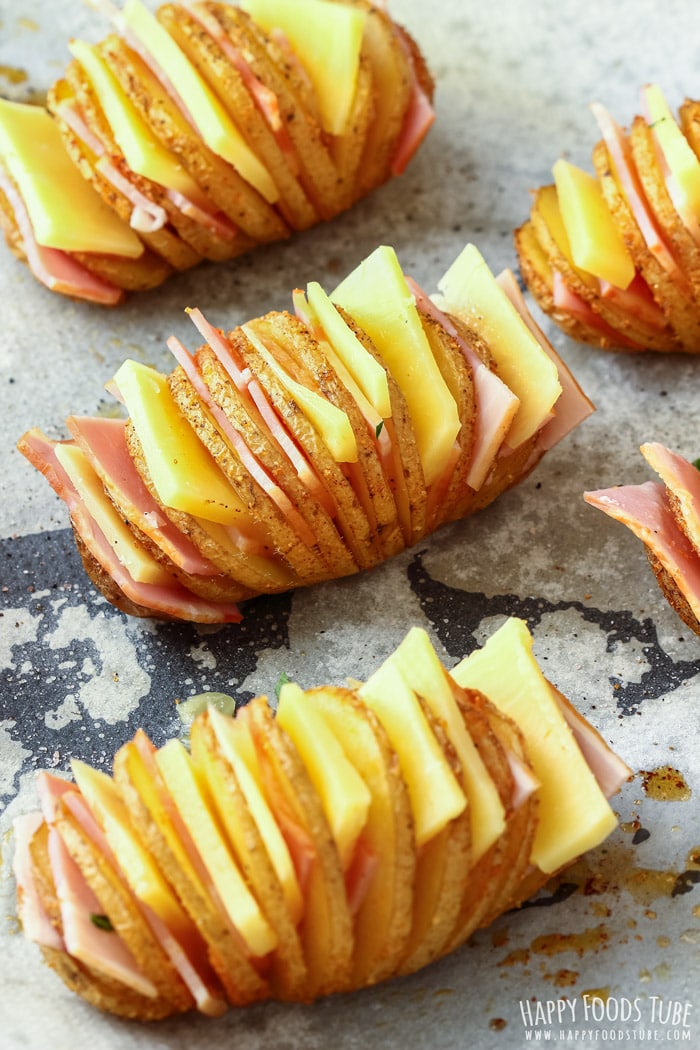 Now hasselback potatoes take some time to bake. The length of baking time will depend on the size of your potatoes and the width of the cuts. Count with at least 60-80 minutes.
Check them 50-55 minutes later to see if they are almost done. Just insert a toothpick inside the largest. If the toothpick is going in easily, add bacon and cheese. I fill each gap with a small piece of cheese and bacon.
The hasselback potatoes will need a further 10-15 minutes in the oven before you'll be able to enjoy them. Before taking them out from the oven, make sure the bacon is cooked through.
Serve them with anything you like – sour cream, parsley and some extra cheese and cooked bacon (if you like).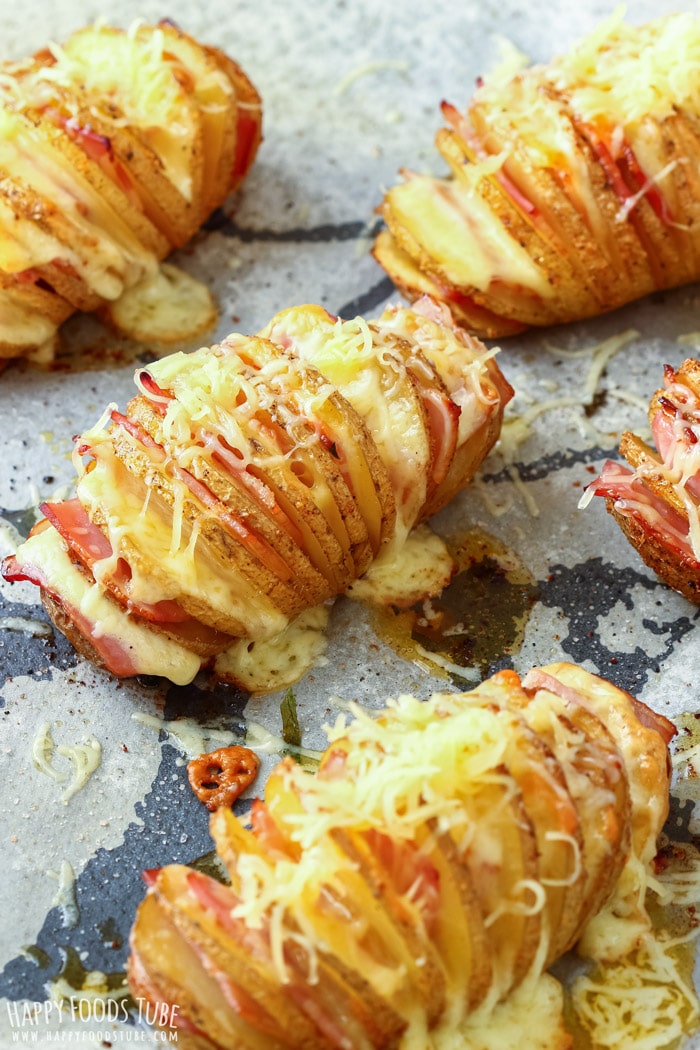 Ingredients needed to make loaded hasselback potatoes:
Potatoes
Cheddar Cheese
Sour Cream
Parsley
Bacon
Salt & Pepper
Olive Oil
Paprika
Garlic Powder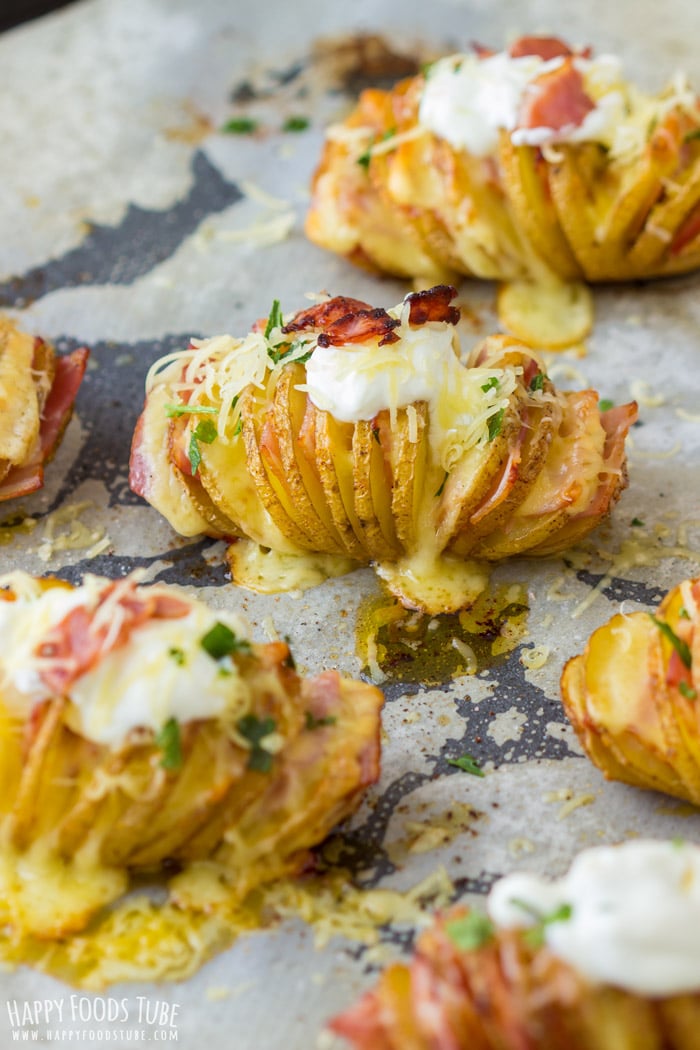 Good to know before making loaded hasselback potatoes
Small to medium potatoes are better to use as they will bake faster.
The baking time depends on the size of your potatoes.
Parsley can be omitted completely.
Cheddar cheese can be substituted with Gouda or other type of cheese that melts easily.
There are various types of potatoes on the market. I use any potatoes I have on hand but in general Yukon Gold are a great choice here.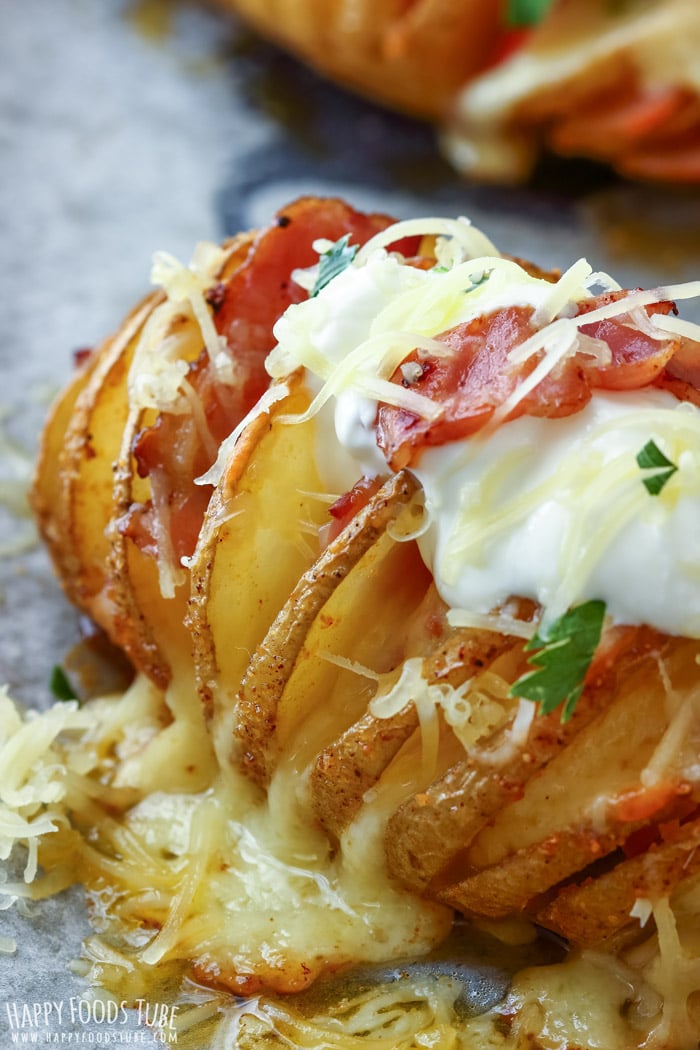 So guys, who is making these hasselback potatoes with bacon and cheese? If you give them a go, let me know in the comment section!
This post first appeared on Julie's Eats and Treats blog where I am a contributor.
Loaded Hasselback Potatoes
Loaded hasselback potatoes are the ultimate starter or side! Packed with cheese, bacon and topped with sour cream they will definitely satisfy your taste buds.
Ingredients
8

Potatoes

(small to medium)

2

tbsp

olive oil

1

tsp

paprika

1

tsp

Garlic Powder

Salt and Pepper

to taste

4

ounce

Cheddar Cheese

, sliced (120g)

3

ounce

Bacon Strips

(85g + extra for garnish, optional)

4

tbsp

Sour Cream

1

tbsp

Fresh Parsley

, finely chopped (optional)
Instructions
Wash the potatoes thoroughly. Use a food brush to remove any dirt.

Place 2 chopsticks on a chopping board, alongside a potato. Make several cuts into the potato – like if you wanted to slice it thinly, almost to the bottom (the chopsticks will prevent you from cutting all the way through).

Transfer them (the cut side up) onto a baking tray lined with baking paper. In a small bowl, combine olive oil, paprika and garlic powder. Brush each potato with this mixture and season with salt and pepper.

Bake in a preheated oven at 400°F/200°C for 55 minutes. The potatoes should be almost cooked at this stage. Take the tray out and fill the gaps with cheese and bacon slices. Bake for a further 10-15 minutes or until the bacon is done.

When ready, take them out and top with more cheese, fried bacon (optional) , sour cream and parsley.

Serve right away as a starter or side.
Nutrition Facts
Loaded Hasselback Potatoes
Amount per Serving
% Daily Value*
* Percent Daily Values are based on a 2000 calorie diet.
** As an Amazon Associate I earn from qualifying purchases.
LEAVE A COMMENT
RELATED POSTS