This homemade pizza sauce is the easiest sauce out there! You only need 5 basic ingredients, 3 minutes to make it + there is no cooking or blending involved!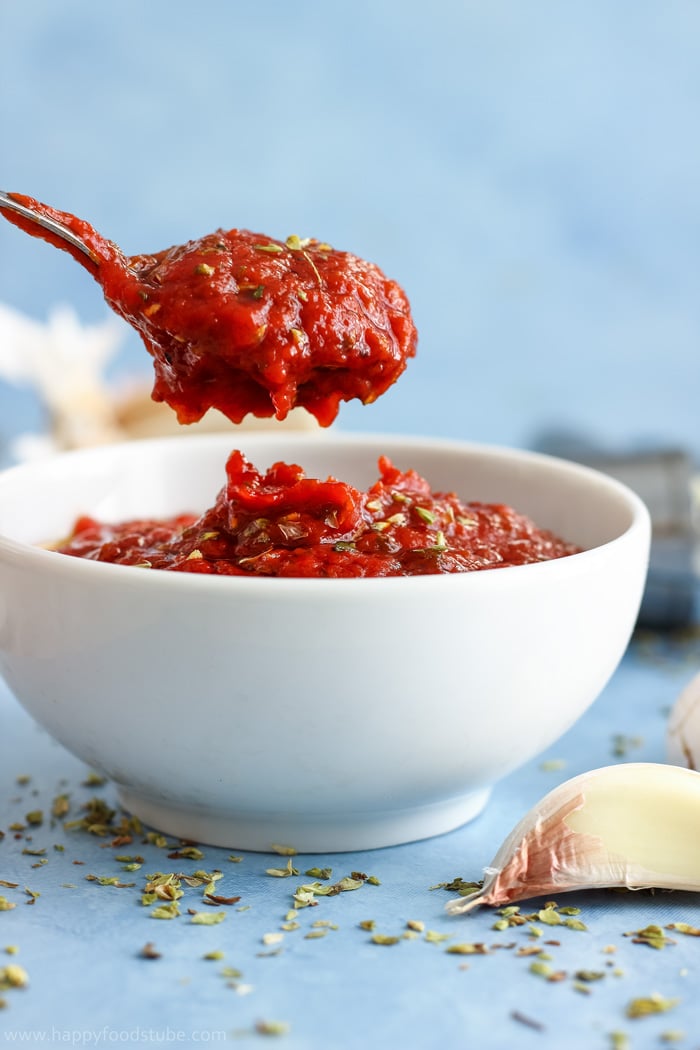 Pizza time! Well, I suppose I should say pizza sauce time, right? But the thing is if you are planning on making a pizza sauce that can only lead to one thing: making homemade pizza!
What is your favorite pizza? Do you make pizza often? Do you use homemade pizza dough to make it? What are your favorite toppings? I am not sure what pizza I love as I literally enjoy any pizza. Salami pizza with lots of cheese is yummy but I also love potato pizza.
Sometimes I make calzone pizza. It's a great dish and the best thing is you can eat it on the go as well without losing any filling as everything is packed in a pizza dough pocket! It's like a huge Italian empanada! Sooo delicious!
Today I am sharing with you this simple pizza sauce recipe. I've been making this homemade pizza sauce for years and everyone loves it.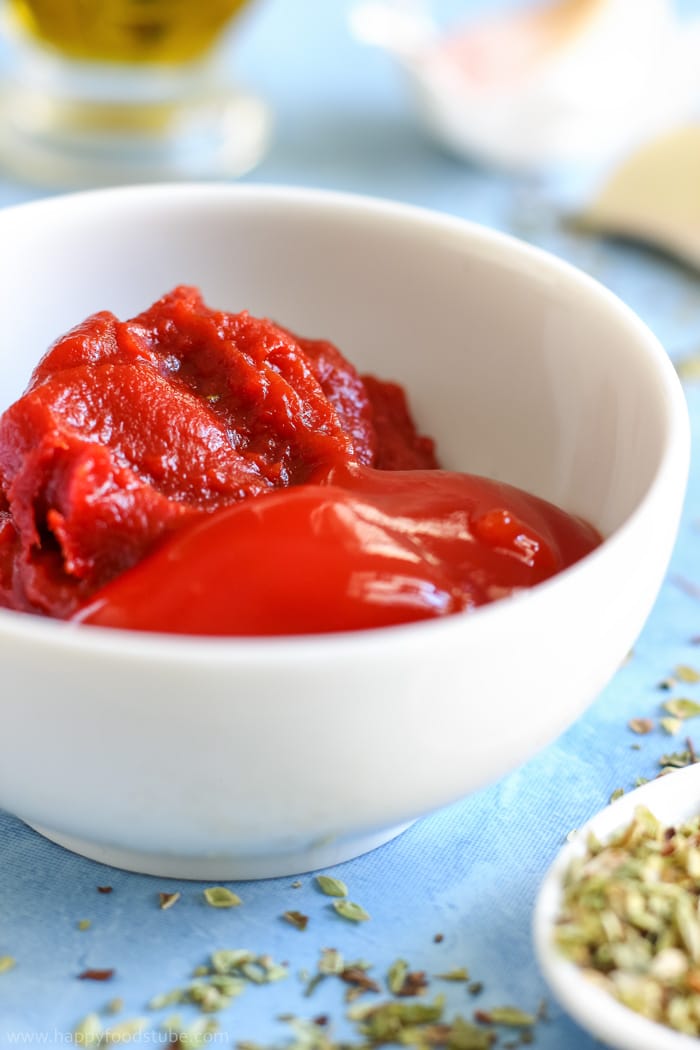 Why to make this homemade pizza sauce?
It's easy!
It's quicker than you think!
No cooking required!
No blender needed!
5 basic ingredients!
3 minutes to make it!
What else is there to say? It gives your pizza the perfect flavor without spending too much time cooking or blending.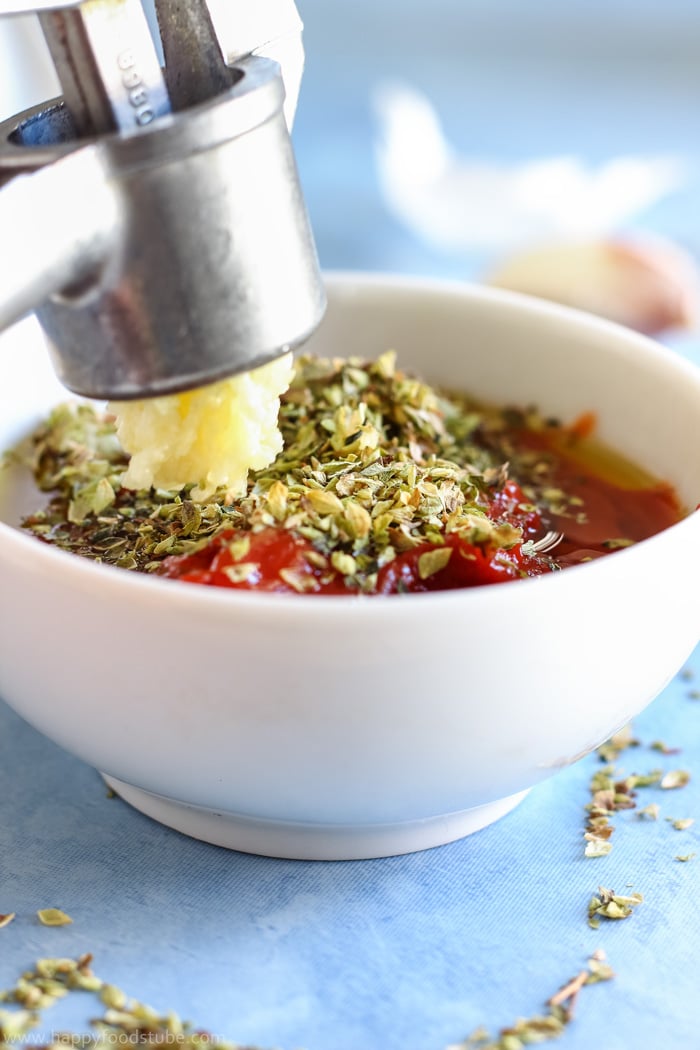 How to make a pizza sauce at home
Well the proper pizza sauce has tomatoes in it. Tinned tomatoes are widely used and the sauce is cooked with other ingredients.
This homemade pizza sauce has nothing to do with the real Italian pizza sauce but I think it does the trick and more importantly it saves you a lot of time & tastes delicious on your pizza!
All you need to do is peel the garlic and throw it in a garlic press. That's all the hard work there. Now you simply mix everything in a bowl or a jar and you are good to go. 3 minutes! Literally!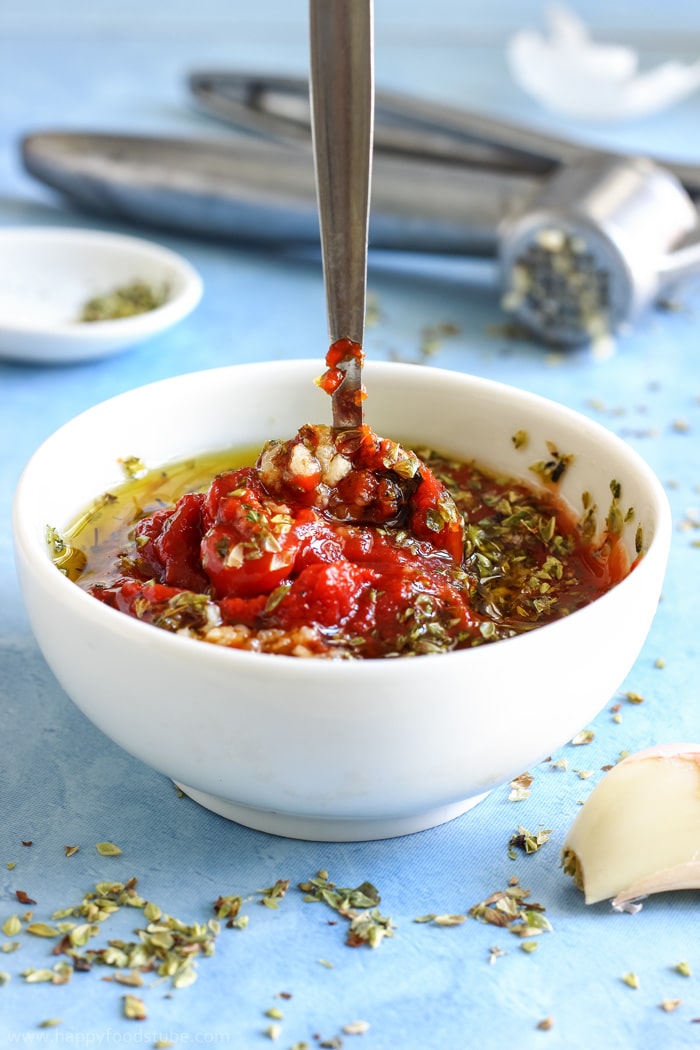 Ingredients substitutions/alternatives:
Oregano – this is a perfect herb for pizzas but if you don't have it, try using marjoram – its taste is pretty similar to oregano. Feel free to use
Basil – to get a step closer to Italian cuisine.
Extra Virgin Olive Oil – I don't recommend using any other oil. This one gives the sauce and your pizza a great flavor.
Garlic – this homemade pizza sauce needs garlic but if you can omit it if really necessary.
Ketchup/Tomato Paste – If you don't have ketchup substitute this for tomato paste or the other way round. I personally like mixing these two.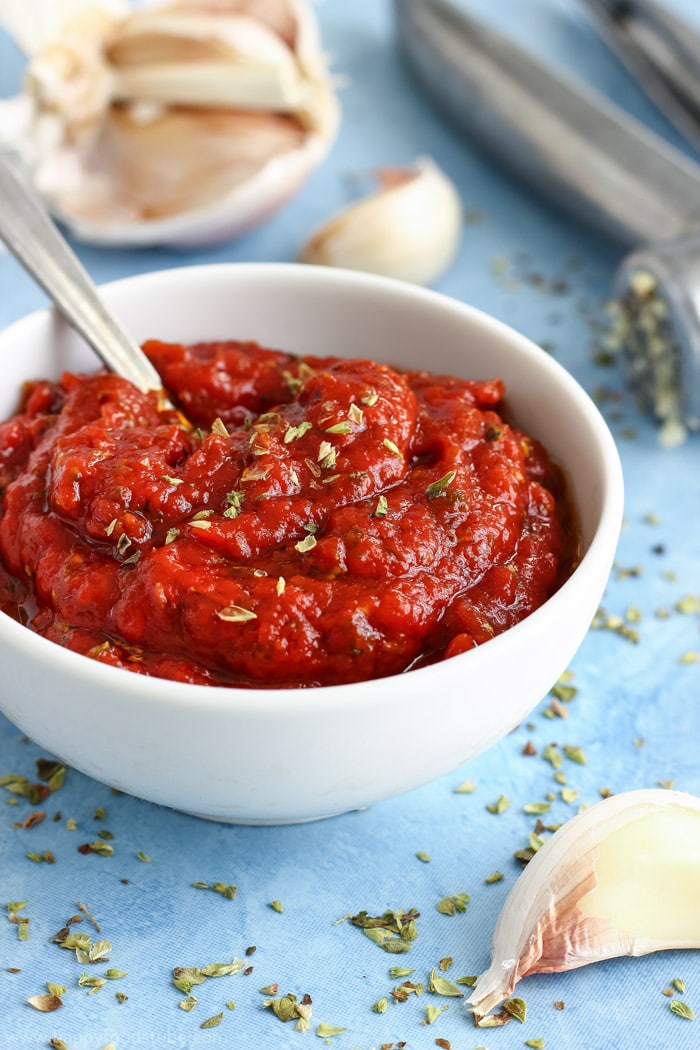 How to store this homemade pizza sauce:
Store it in a jar in your fridge. It will last several days. However, I prefer making fresh one each time. It only takes 3 minutes! Note that it will thicken in the fridge so don't be tempted to use too much of it. 2 Heaped teaspoons should be enough for a 10 inch/26 cm pizza. Otherwise you could end up with too oily a pizza.
So guys, what do you think about this homemade pizza sauce recipe? Would you give it a go? By the way, you can change the ratios. I just recommend using a good amount of dried herbs and garlic. The olive oil makes it more spreadable and keeps the pizza moist.
Check out our video for how to make Homemade Pizza Sauce:
Homemade Pizza Sauce
This homemade pizza sauce is the easiest sauce out there. You only need 5 basic ingredients, 3 minutes to make it + there is no cooking or blending involved.
Servings:
4
(enough for 2 pizzas – 10 inch/26 cm)
Instructions
In a bowl mix oregano, minced garlic, tomato paste, ketchup and olive oil until well combined.

Store in a jar in the fridge.
Nutrition Facts
Homemade Pizza Sauce
Amount per Serving
% Daily Value*
* Percent Daily Values are based on a 2000 calorie diet.
** As an Amazon Associate I earn from qualifying purchases.
LEAVE A COMMENT
RELATED POSTS