Pickled pumpkin is the perfect side dish for turkey dinner or any meat-based meals! It's sweet with a hint of sourness and tastes of cardamom, cinnamon and cloves.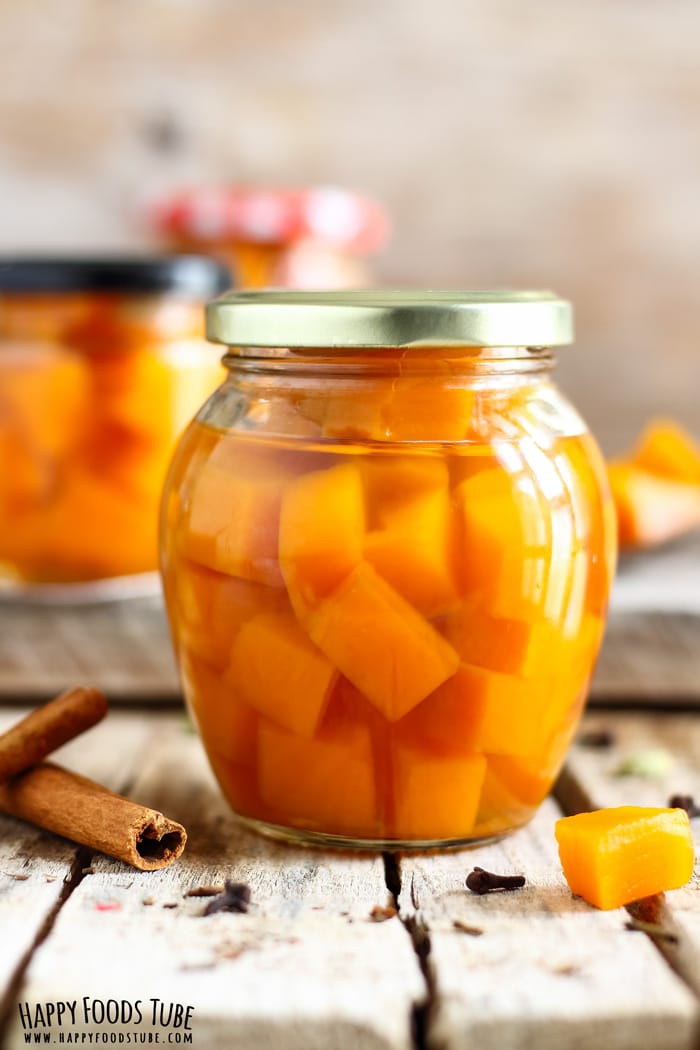 Do you guys grow pumpkins or squash in your garden? If you do and if you ever wonder what to do with pumpkin I have an idea for you: Make pickled pumpkin!
Actually you don't need to grow them, just grab one or two from a store and you are good to go!
By the way if you like preserving your home-grown produce check out these canning ideas:
Now as for the pickled pumpkin – Apparently pickling this vegetable is quite popular in Northern Europe.
It might me popular there but it was something totally new to me until about a year ago when I tried it for the first time. I liked its taste.
Pickled pumpkin pieces are sweet & sour. The texture can vary from crunchy to soft almost mushy – this depends on the length of time you cook it as well as your preference. You can smell and taste the cardamom/clove/cinnamon flavors right away.
I was pleasantly surprised how easy it was to make and how well it accompanied meats. I imagine this would go well with Thanksgiving turkey or a Christmas dinner!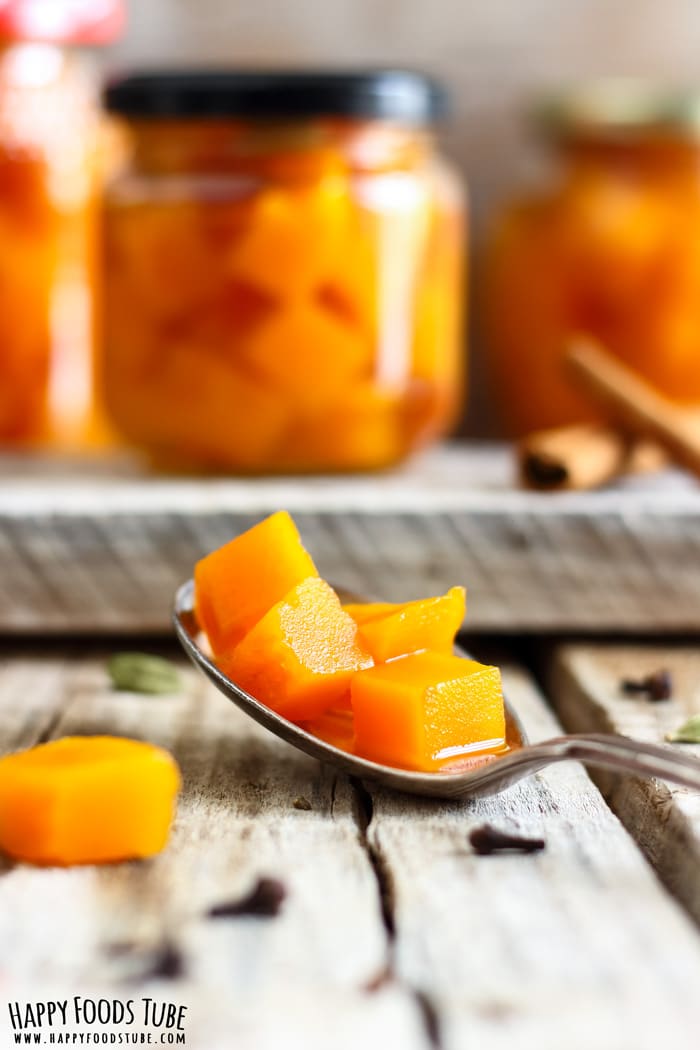 How to make pickled pumpkin?
Now it does not have to be just pumpkin. Go for butternut squash or any other squash with orange-colored flesh.
Remove all the seeds and strings from the cavity. Peel the thick skin off. I use a knife as it is easier for me. If you have another method that works well for you then use it. Cut the pumpkin into chunks.
If you prefer tender pickled pumpkin then all you have to do is throw all the ingredients in a pot and cook for 20-30 minutes. Once done, fill glass jars and seal each one with a lid.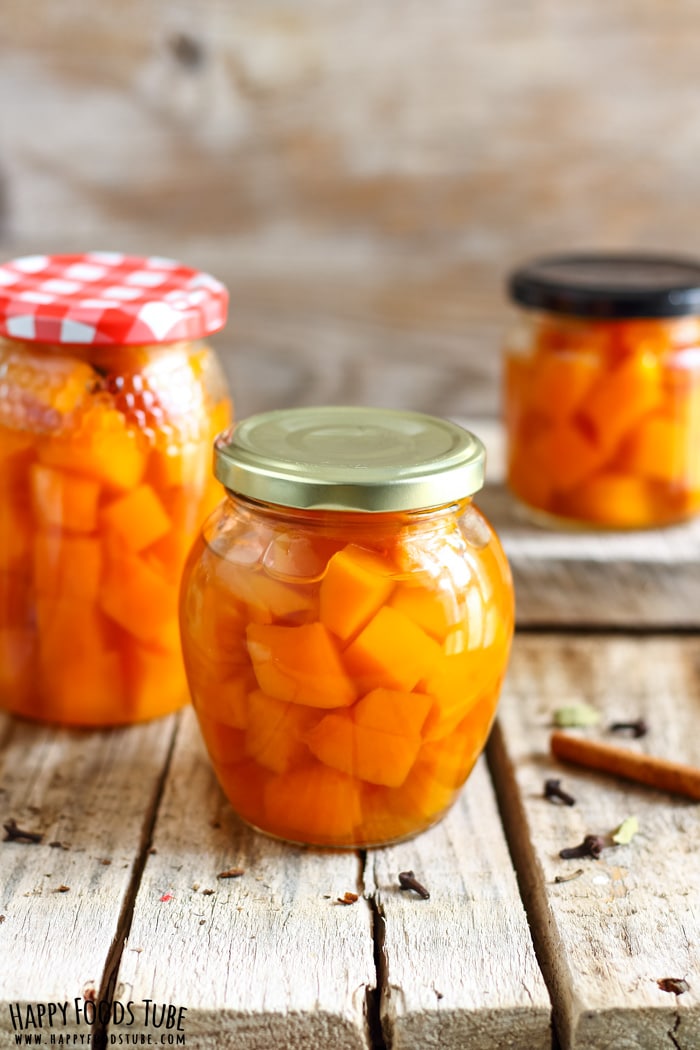 Good to know:
When canning pumpkin or any other veggies it is important to sterilize the jars as well as lids. I boil them for 10 minutes in water. You can sterilize your jars in the oven as well.
Because I make only small batch of these I do not use water bath after I seal each jar. I simply fill each jar, close tightly with a lid and turn them upside down. After they have cooled down, I turn them back up and check if they are sealed properly. You will know this when you tap/push down the lid. If it doesn't pop back up again it's sealed.
This recipe yields two 12oz (350ml) jars. If you use smaller jars, you will need more of them. By the way it's always better to sterilize more jars and lids, just in case.
Either preserve or serve right away (best served chilled)! Yes, you can eat this right away, but as with many canned goods, it's better when you wait a while so the flavors can develop more.
Pickles pumpkin can be enjoyed as a side with meats. It can also be part of an appetizer!
Pickled Pumpkin
Pickled pumpkin is the perfect side dish for turkey dinner or any meat-based meals! It's sweet with a hint of sourness and tastes of cardamom, cinnamon and cloves.
Servings:
2
Jars (12 oz/350 ml each)
Ingredients
4

cups

Pumpkin

, diced (500 grams/1.1 pounds)

2½

cups

Water

(500 ml)

8-10

tablespoons

Vinegar

(150 ml)

½

cup

granulated sugar

(100 grams)

6

Cloves
Instructions
Pour vinegar into a large sauce pan. Add water and diced pumpkin. If you want your pumpkin pieces to be softer, go to step 2. If you prefer crunchier texture, let them soak in water and vinegar for between 2 hours up to overnight (in the fridge).

Add sugar, cloves, cardamom and cinnamon stick and bring to a boil. Boil for 20-30 minutes or until soft.

Transfer the pumpkin into sterilized jars and pour the liquid over. Add one clove to each jar for stronger flavor. Seal with lids immediately.
Notes
Pre-Sanitizing Your Jars & Lids:
Sanitize your jars & lids by washing them in warm soapy water and subsequently boiling them in water bath for 15 minutes. Using tongs, transfer the jars and lids onto a clean kitchen towel turning them up-side down.
Important: Air-tight sealed jars should last for months. I suggest you follow current safety standards for canning (jar & lid sterilizing + 10 mins water bath in boiling water once the jars are filled and sealed) especially if you want to can large quantities. I don't use water bath simply because I only can in small quantities and we eat our products fast.
Nutrition Facts
Pickled Pumpkin
Amount per Serving
% Daily Value*
* Percent Daily Values are based on a 2000 calorie diet.
** As an Amazon Associate I earn from qualifying purchases.
LEAVE A COMMENT
You may also like: