An easy pork liver pate recipe with porcini mushrooms and red wine. Use it for entertaining at home as part of cheese boards or turn it into canapes!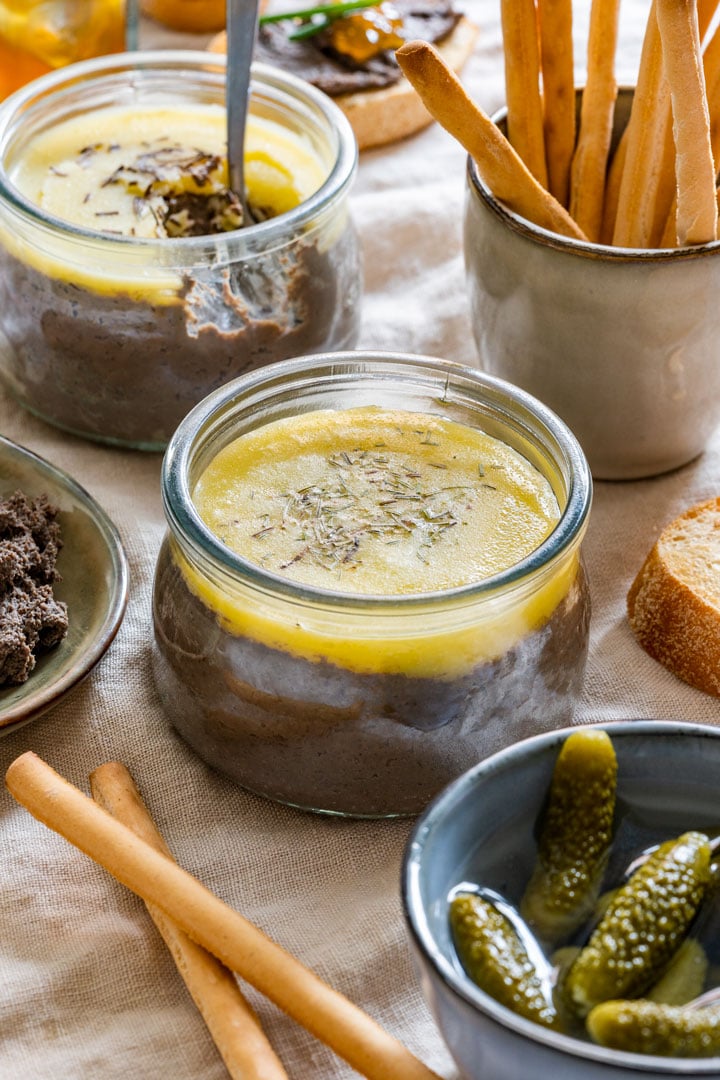 This recipe is quite forgiving and can be customized to everyone's liking.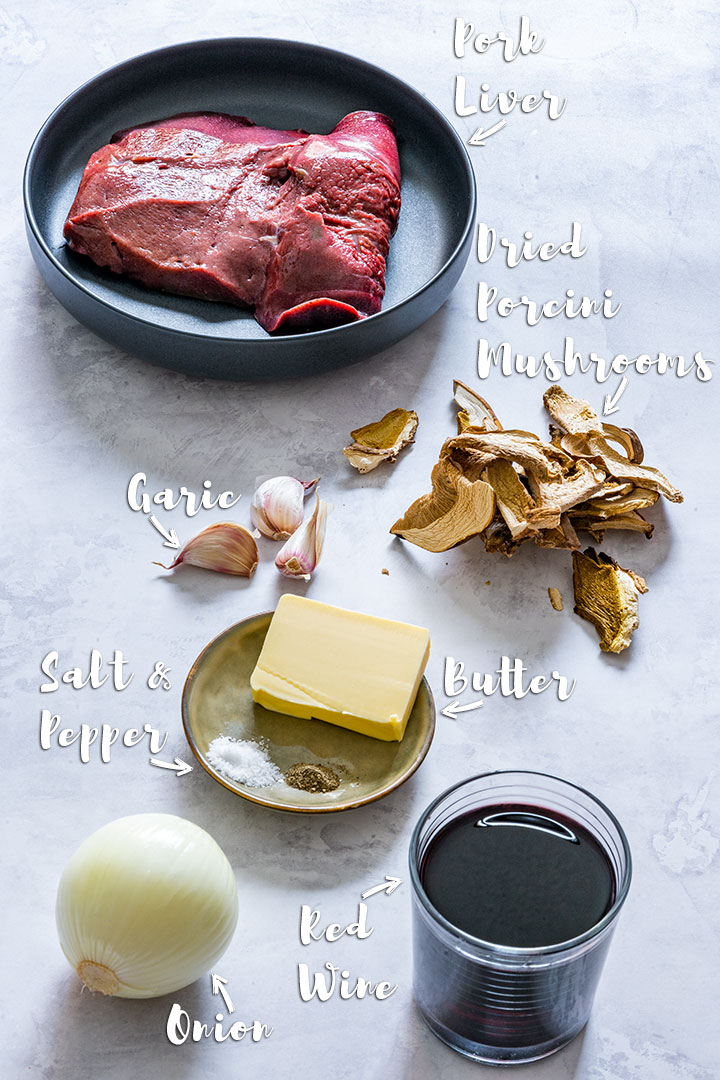 How to make pork liver pate
Tools needed for this recipe:
Chopping board & knife
Garlic press (fine cheese grater will also do the trick)
Measuring cups and spoons
Saucepan – to rehydrate the mushrooms
Food processor & spoon – for processing and testing
Glass jar(s) with lid – for storing
Pate Ingredients:
Pork liver
Dried porcini mushrooms
Onion
Garlic
Salt
Black pepper
Red wine
Quick overview of the recipe:
Saute onion and garlic in a good amount of butter. Add rehydrated mushrooms and liver pieces. Make sure to trim off any connective tissues so that you end up with nice smooth parts only.
Finally, pour wine in and cook until the pork livers are cooked throughout, and the wine is reduced by about 2/3. Let cool and process in a food processor until smooth. Once processed add salt and pepper to your taste, chill and serve!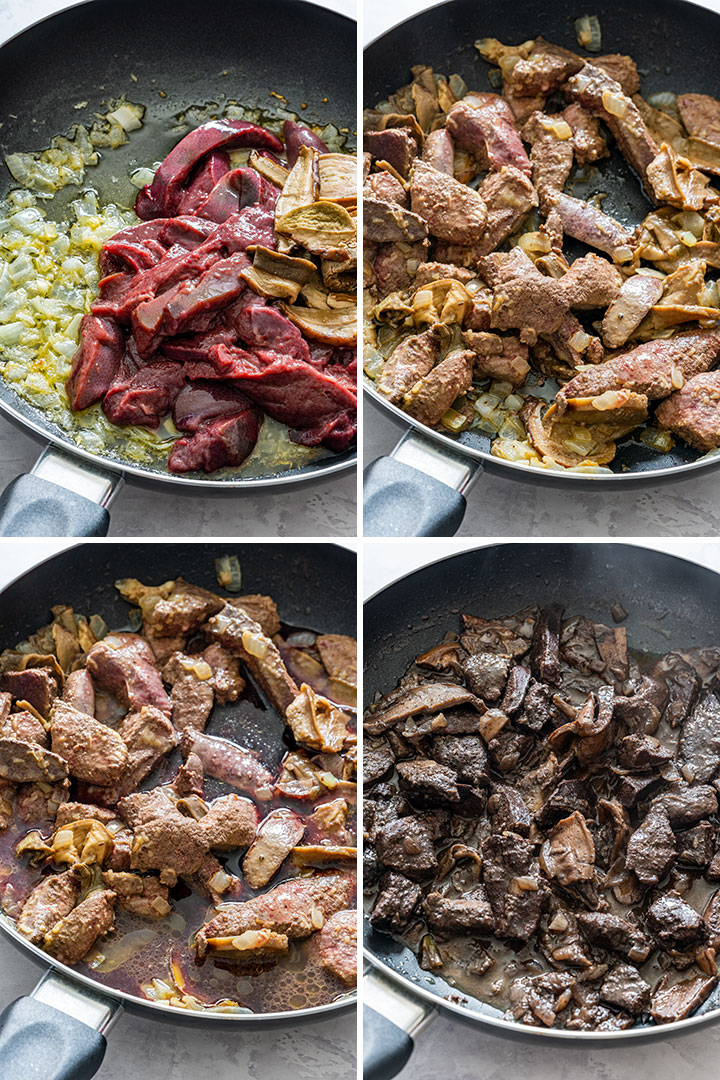 Frequently asked questions:
How long does liver pate last in the fridge?
Many people say that it will last 5 days, some say 7-8 days. I would personally not go over 5 days. In fact, I would suggest consuming it within 4 days.
You can freeze it for up to a month apparently, but I have never tried this. To seal it, you pour melted butter over (I would suggest clarified butter) and cover with plastic wrap.
Can I use chicken liver instead of pork liver?
Yes, you can. The pate will have a richer and smoother taste.
Can I eat it right away?
This homemade pate tastes best when it is chilled before you serve it, so it is important to let it set in the fridge for a minimum of 2 hours.
Now that being said, by all means, you can spread some on your toast or French baguette right after you made it. It just tastes better chilled!
Troubleshooting:
Some might end up with more liquid in the pan than others. If this is the case you can either increase the heat to reduce the liquid down or once the livers are cooked, simply taking it out with a slotted spoon will work (make sure to use up all the onions).
Then, if you run it through a food processor, add only as much of the sauce/liquid as you like. Or don't add any.
In general, pate made from pork livers is thicker in consistency and the taste of added ingredients (mushrooms and wine) is milder than if you made it with chicken livers.
Seasoning
Add as much/as little salt as you like. Just make sure you mix it well after each addition to avoid uneven distribution. The same goes for black pepper.
Storage
Once you let your liver pate spread cool down completely, you can transfer it into sterilized jars (I like using a few small jars rather than 1 large).
Note: It is important to use sterilized jars and lids to avoid any contamination. Also, remember that by re-using a spoon/fork/knife to get the pate out of the jar you can also introduce some pieces of breadcrumbs (if spreading on toasts or canapes) to the pate which can make it go off faster.
That is why I prefer using 2 or 3 smaller jars rather than 1 large.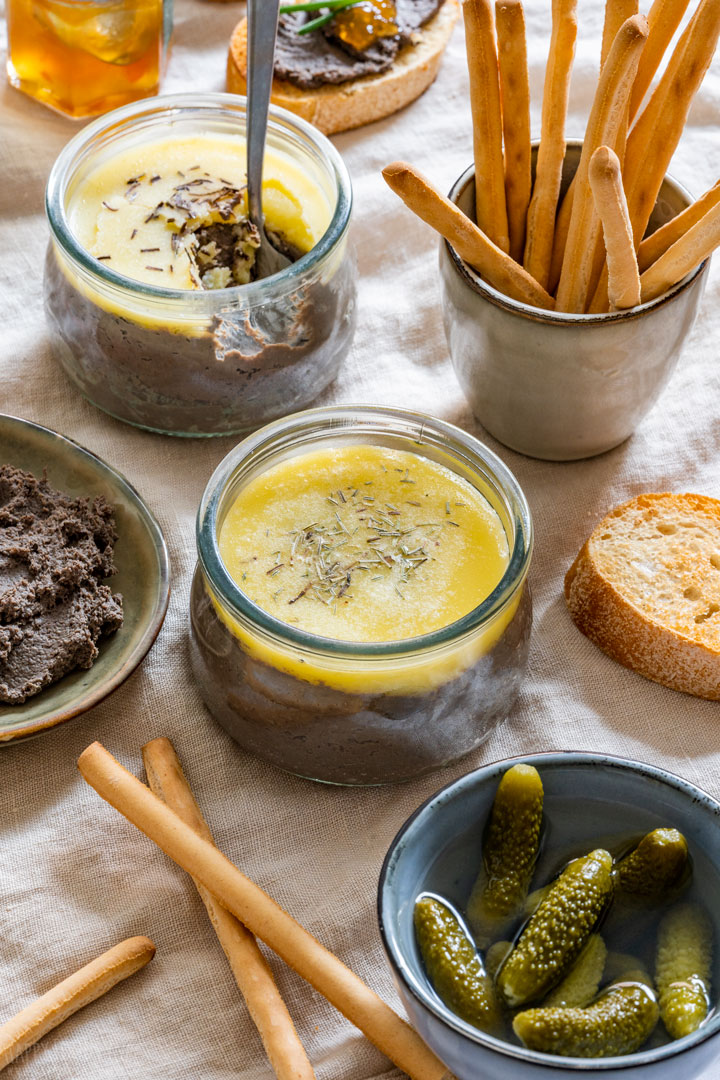 Where to use homemade pate?
For canapes – with a bit of cranberry sauce or other jams – either with fresh baguette or crostini.
As a spread – for toasts or freshly baked bread/artisan bread (we like to serve it with pickles or fresh peppers).
For platters or boards of all kinds – Add it to your cheese board! It goes well with breadsticks, or you can simply add a small knife and sliced baguette so that your guests can help themselves. Or use veggies as dippers.
Dietary information – What does this recipe contain?
Meat: Yes
Eggs: No
Dairy: Yes
Gluten: No
Nuts: No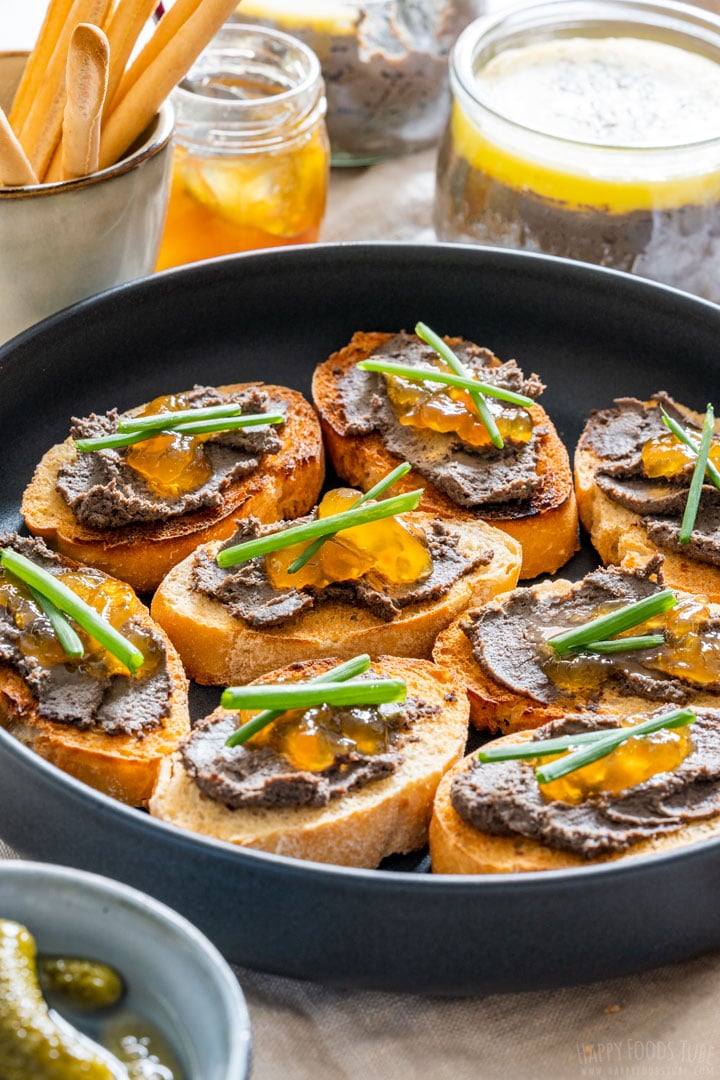 This post has been updated with better and clearer instructions (see recipe card) as well as a ton of useful information to help beginner cooks or anyone who is making this for the first time succeed right away.
More Holiday appetizers to try this season:
Pork Liver Pate
An easy pork liver pate recipe with porcini mushrooms and red wine. Use it for entertaining at home as part of cheese boards or turn it into canapes!
Servings:
1.5
cups, see note 6
Ingredients
½

ounce

porcini mushrooms

, dried (15 grams), see note 1

½

stick

unsalted butter

(55 grams), see note 2

1

onion

, small, chopped (about ½ cup packed), see note 3

3

garlic cloves

14

ounces

pork liver

(400 grams), see note 4

1

cup

red wine

(250 milliliters), see note 5

salt

, to taste

black pepper

, to taste
Instructions
Place dried mushrooms in a small saucepan and cover with water. Bring to a boil and let it cook for 5 minutes. When done, drain the water.

In a large skillet/frying pan, melt the butter and add chopped onion and minced garlic. Saute until the onion is translucent, about 5-7 minutes, stirring occasionally to avoid burning the garlic (use medium heat).

Rinse the liver, cut it in small pieces (remove any tough membrane) and add to the pan altogether with rehydrated mushrooms. Increase the heat and cook for about 2-3 minutes, stirring occasionally.

Pour the wine in and bring it to the boil. Reduce the heat and simmer for about 15-20 minutes. At this stage the livers should be cooked through but always make sure before you turn the heat off. The wine should have reduced quite a bit.

Let the mixture cool down before transferring into a food processor. At this stage you can either use all the mixture or if you feel you have too much liquid left, use only a little bit. Process until smooth.

Season with salt and pepper to your taste.

Cool completely before transferring into sterilized jars and covering with a lid or plastic wrap.

Chill in the fridge for 2 hours before serving!

Optional: To seal the top of the pate, you can pour melted butter over and sprinkle some dried herbs over.
Notes
You can use other dried wild mushrooms.
Make sure to use real butter. Not margarine or butter substitutes! You might need a full stick of butter if you want to seal the top like in the pictures.
Use either yellow or white onion.
Pork livers can be substituted with chicken livers. You can also use slightly less if you like. If you do, decrease the quantity of wine as well.
Any red wine will work just fine.
You will get about 1.5 cups of pate (about 14 ounces/400 milliliters). This is plenty to make about 50 canapes which would serve 10-12 people.
It is always best to enjoy this right away or within a few days, so I personally don't recommend doubling the batch. It will keep in the fridge for up to 5 days when stored properly.
Make sure to use sterilized jars to keep the pate in. You need to cover it otherwise it will dry out and go off faster.
A 1-pound of pork liver can be used as well without having to increase the number of mushrooms or wine.
I normally use about ½ teaspoon of salt and a very generous pinch of black pepper. I suggest you start with ¼ teaspoon to see if it is to your liking. If not, add more!
Nutrition Facts
Pork Liver Pate
Amount per Serving
% Daily Value*
* Percent Daily Values are based on a 2000 calorie diet.
** As an Amazon Associate I earn from qualifying purchases.
LEAVE A COMMENT