A complete guide to making the best cheese board. Wow your guests with this easy to make appetizer that is ready in no time. Includes tips and tricks!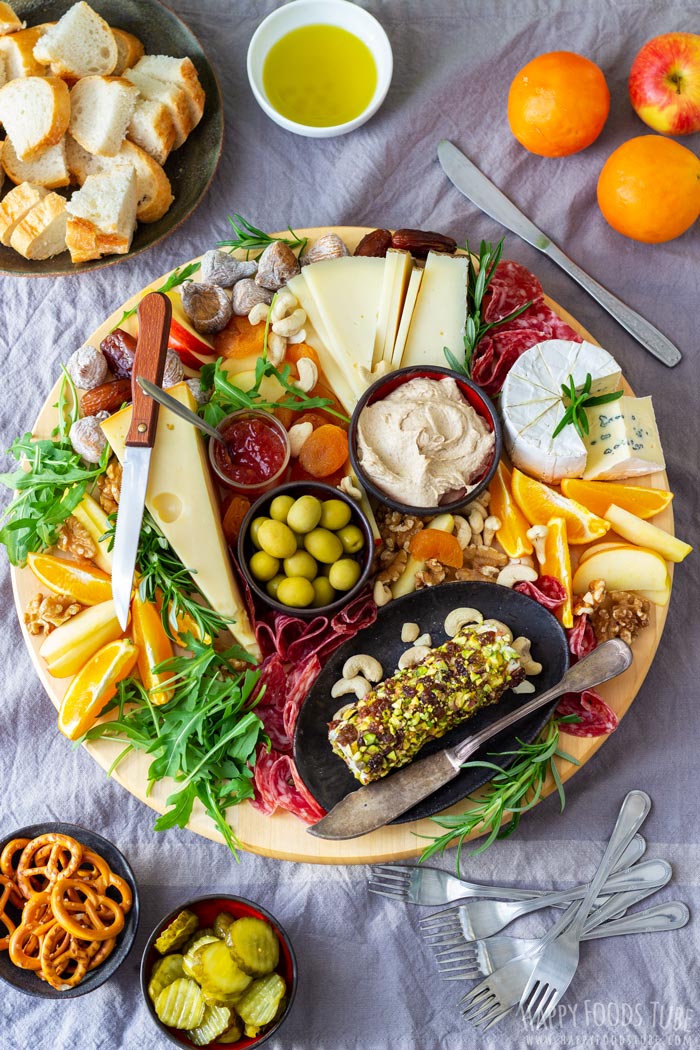 A great way to cater for various tastes is definitely preparing a cheese board. There is no cooking or baking required and it can be made any time of year!
How much cheese should you serve per person?
This will all depend on how long you are planning on entertaining, what other appetizers/snack you will be serving as well how rich your cheese board is. Also take into account your guests. Do they like cheese a lot?
I'd say 1-2 ounces of each type (30-60 grams) per person. If cheese board is the main appetizer I would go with 2 ounces of each cheese per person.
But this is completely up to you and you might need more/less depending on the circumstances.
What do I need to make a cheese board?
A large tray, wooden chopping board, plate, baking sheet, serving platter, slate .… Anything you can find at home and is large enough to hold everything. You can also divide the cheese board content into several small plates, if that's all you have on hand.
If you decide to serve various cheese types whole and not cut, then you will need knifes (if you have special knifes for cutting cheese, then go ahead and use them).
Small bowls are perfect for serving dips or spreads.
How to make a cheese board look attractive?
Use colorful items – make the board appealing to eyes by spreading the same-color items around so that they are not stuck together. Green, red, orange, white, …. Use as many colors as possible.
Fill empty spaces – nuts, berries or other small items are perfect for filling the empty areas.
Use your creativity when choosing a serving dish – it does not always have to be a special board.
Add fresh herbs – like rosemary sprigs, thyme .… I used leaves from olive tree to make Mediterranean Antipasti Platter. Make sure to wash/rinse and pat dry those sprigs or leaves.
How to assemble a cheese board
Assembling depends on what you will be serving. Like I have already mentioned, try to avoid having the same-color items next to each other and don't forget to fill any gaps. Also using small bowls adds a different look/texture.
There is no rule here. Try to use a good selection of flavors and textures:
Cheese – this is pretty obvious if it is a cheese board. What are the best cheeses for a cheese board you ask? Now the variety of cheeses is entirely up to you but the best is to choose at least 3 different types. This way your guests can choose what they like the most. Blue cheese, brie or hard cheese are all great options but it does not mean you have to have those. Be adventurous and buy something new too! Honey Pistachio Goat Cheese Log is also delicious.
Crackers – again, you choose what (and your guests) like. Plain, Flavored Crackers, breadsticks (have you tried Homemade Breadsticks?) pretzels, crostini or sliced baguette. All these will work well.
Fresh produce – any kind of fruits or veggies will do. I also like adding arugula. Its peppery flavor goes well with cheese. My favorite and easily available items are apples, carrots, celery, bell peppers,
Dips and spreads – I like hummus, Artichoke Heart Dip or Garlic Jalapeno Dip. Fig or apricot marmalade or chutneys are also great choices.
Olives – they are part of every cheese board I make. If you think you don't like olives then try the good stuff. Their taste is incomparable with the cheap options that are in many supermarkets.
Dried fruit – is a delicious addition to any cheese board. If you are not sure, cut the fruits in half or quarters so that people can get only a small bite at a time. Believe me, paired with cheese it is a must-have on your board. Figs, dates and apricots are the best choices in my opinion.
Nuts – don't be afraid to throw a few pecans or walnuts or cashews on your platter. People like to snack on them.
Olive oil – use it only when you decide to serve fresh baguette as a part of your cheese platter so your guests can dip it in the oil. Also, make sure you use a good quality olive oil. Don't substitute olive oil for any other oil.
Cured meats – salami, prosciutto, bresaola, …. Anything you like!
Tips for making cheese board
Cheese boards are perfect for vegans too as they can choose what they like and don't have to worry about the rest of the "ingredients". However, some might not like when meat and cheese is being served on the same plate. For this reason I would suggest using a separate plate/tray for them. Say you plate extra portions of fruits, nuts or veggies on a different plate.
The board can be easily adapted to any holidays or seasons – cranberries and oranges for Christmas, pears, cauliflower, apples for Fall, .… The choices are unlimited.
This cheese board recipe is not really a recipe. It's more like a guide to show you what you can do and how. It is entirely up to you what ingredients you use and how much of each you use.
To make cheese board affordable cut the cheese yourself. I prefer cutting most of the items thinner rather than thicker. You can do the same with dried fruits (especially if they are large in size). Also adding more affordable items (like apples, carrots …) on your cheese platter alongside the more expensive items will reduce your costs.
It's also a great way to get your guests to try new foods as they will be more likely to try some items when they are smaller rather than larger (in case they don't like them).
Make sure you have enough bread/crackers to go with cheese.
You can also serve butter as well for those who like to spread some on their crackers.
Cheese Board
A complete guide to making the best cheese board. Wow your guests with this easy to make appetizer that is ready in no time. Includes tips and tricks!
Ingredients
Cheese

of your choice

Fruits

of your choice

Vegetables

Dried Fruits

Nuts

Olives

Cured Meats

Dips

or Spreads

Crackers

(2-3 varieties)

extra virgin olive oil

(optional, see note 5)
Instructions
Choose your serving plate/tray/board.

Cut the meats (if necessary), cheese and some large items into bite-size pieces. You can serve the cheese as a whole but provide knives.

Arrange all the items on your platter to your liking. Use small bowls for dips or spreads or olives.
Notes
Take these ingredients as a guide only. You can add what you like or omit what you don't but make sure to take into consideration the taste of your guests.
I recommend reading the full post for detailed information on how to make the best cheese board.
Cheese – try using different textures – soft, hard, blue cheese. 3-4 types will be plenty!
Some fruits and veggies can be used as dippers as well (carrots, apples, celery, bell peppers).
If you decide to serve olive oil with your board, make sure to serve it alongside fresh French baguette.
Use toothpicks, party picks or forks so that the guests don't need to use fingers.
** As an Amazon Associate I earn from qualifying purchases.
LEAVE A COMMENT
RELATED POSTS