Mango chicken puffs are easy puff pastry appetizers ready in under 30 minutes. Imagine creamy mango chicken filling sandwiched between puff pastry!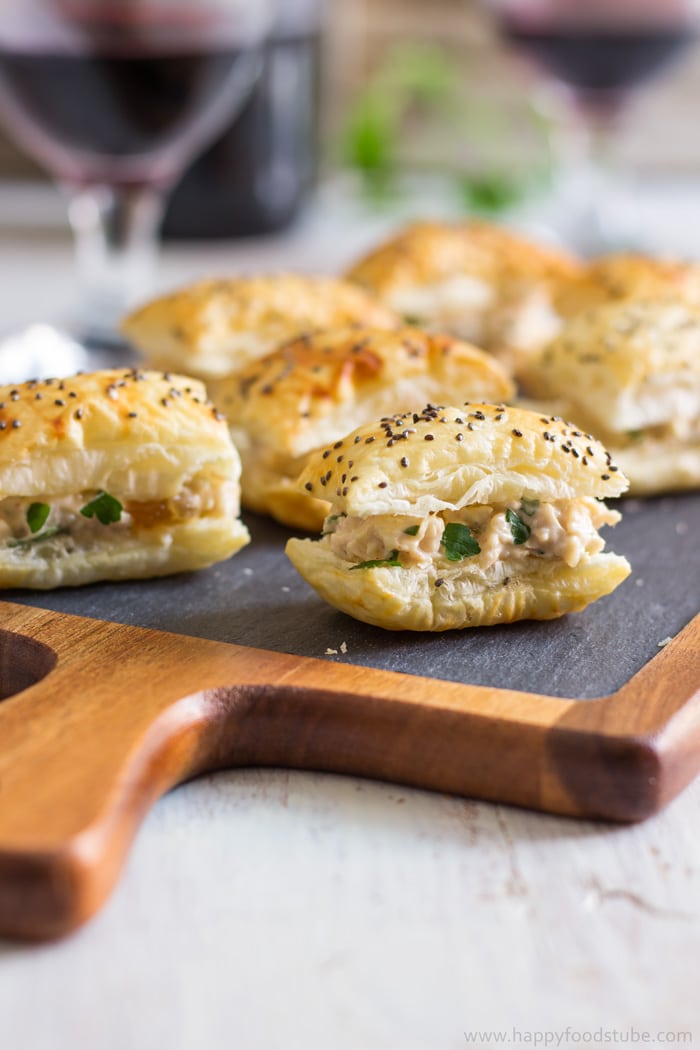 Guys, guys, guys! Do you like delicious AND easy finger food ideas? Are you a fan of entertaining at home? If yes, then you must try these mango chicken puffs! They were one of my favorite puff pastry appetizers when living in Ireland and I was delighted when I managed to source mango chutney here in Spain so I could make them!
They are a bit different from your typical bite size food recipes and they might not even look as pretty as other appetizers but their taste will win you over! It's not always about the looks, you know? However, if you are after the looks then these Anchovy Hors'd Oeuvres or these Blue Cheese Palmiers could be exactly what you are looking for!
But! Imagine a layer of puff pastry followed by a layer of mango chicken filling and finished off with another layer of puff pastry. This is a very easy party food recipe. It is also not time consuming and most of all these bites taste divine!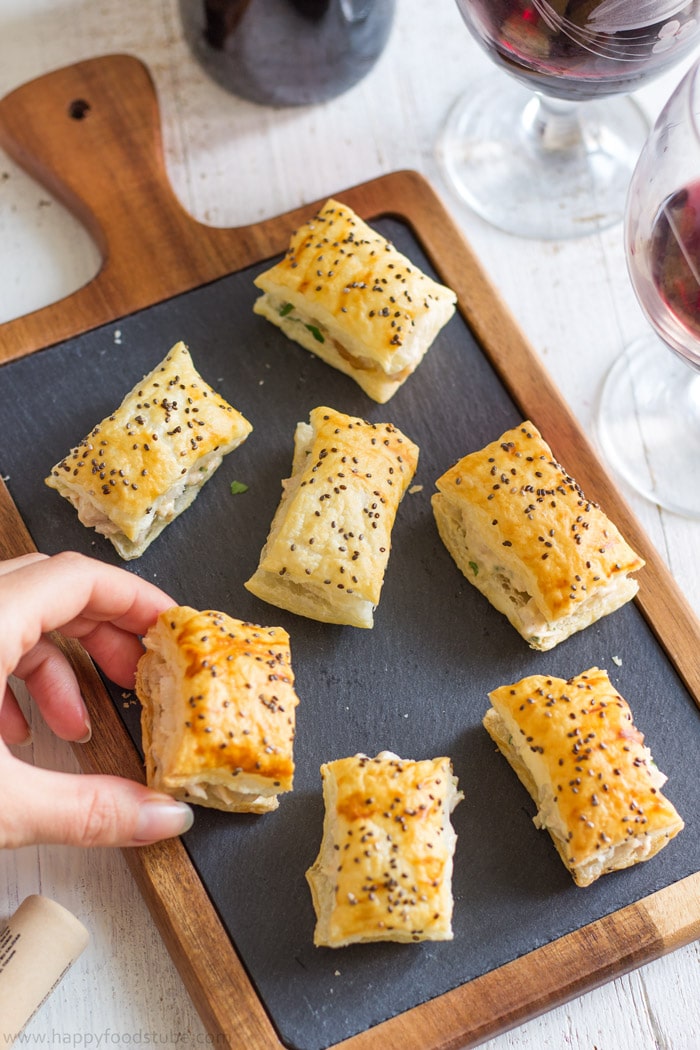 Mango Chicken Puffs recipe breakdown:
Chicken breasts:
I suggest you cook the chicken a day before and cut it into small pieces or you can shred it. In general, the smaller the pieces the better. In some countries you can also buy ready cooked chicken breasts and these work perfectly, if you are stuck for time.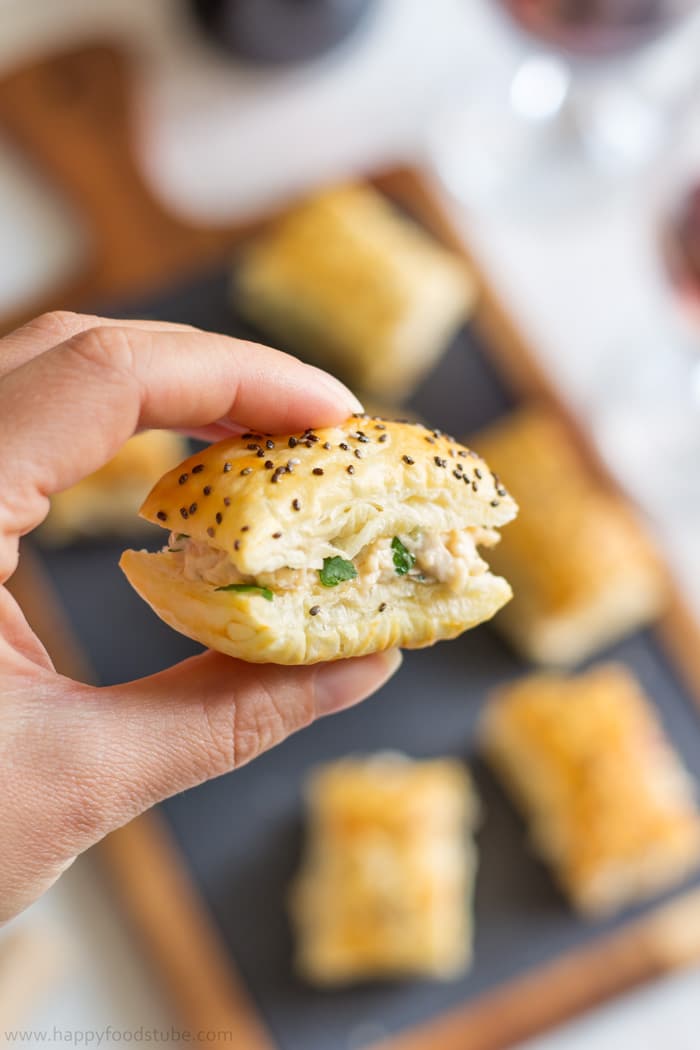 Puff pastry:
Get ready rolled rectangular puff pastry. Cut it into small rectangles. I suggest about 6×4-cm/2.4×1.5-inch each. Place them onto a baking tray lined with baking parchment paper. Now sprinkle these with chia seeds. If you don't have chia seeds, feel free to use poppy seeds. You can also omit this step if you wish.
Now all you need to do is throw the tray in the oven and take it out once they are done. Be careful not to burn them – usually you fill puff pastry with something so it takes longer to bake them.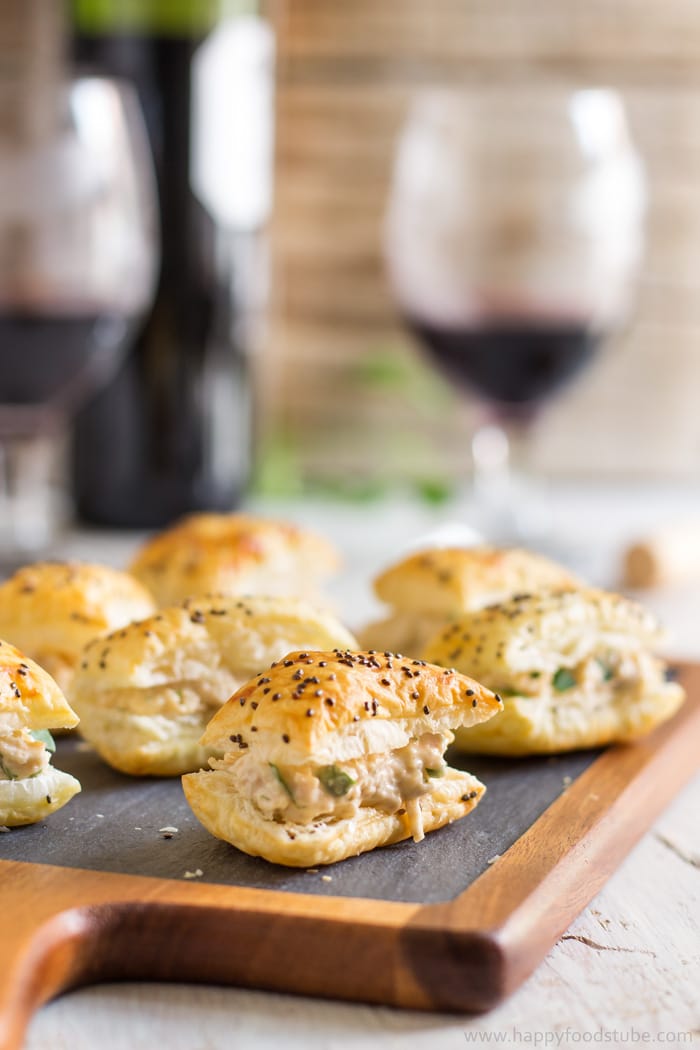 A word of advice:
I noticed that when baking puff pastry on its own (without any filling) it doesn't do well when baked at a high temperature. The sheets don't rise to their full potential for some reason.
They will still taste amazing but to get the most out of them it's best to bake them at 180C/356F (I followed the package instructions and baked the first batch at 200C/400F.
I ended up with puffs but they were not as puffed as the second batch baked at 180C/356F. You might be able to notice the difference when comparing the photos with the video).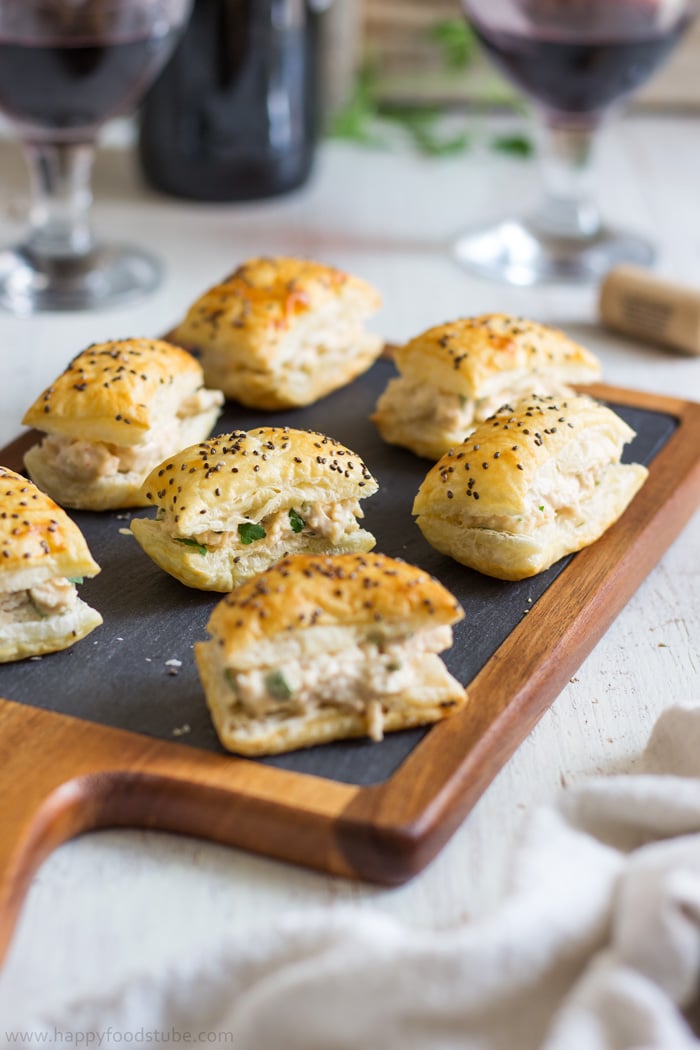 Assembling mango chicken puffs:
Puff pastry rectangle + mango chicken mixture + puff pastry rectangle = a perfect mango chicken puff pastry appetizer ready to be served!
So what do you think? Do you like what you read? I like easy snacks for parties and that is why I made these puff pastry appetizers. Guys, they are hard to resist! If you do a lot of entertaining at home then this is something you should have on your menu.
Check out our vide for how to make Mango Chicken Puffs:
Mango Chicken Puffs Appetizers
Mango chicken puffs are easy puff pastry appetizers ready in under 30 minutes. Imagine creamy mango chicken filling sandwiched between puff pastry!
Servings:
10
(35 – 40pcs)
Ingredients
1.1

pound

Chicken Breasts

(500 grams)

5

tablespoons

Mayonnaise

5

tablespoons

Mango Chutney

1

Ready-Rolled Rectangle Puff Pastry Sheet

(275 grams/9.7 ounces)

1

teaspoon

Chia Seeds

1/3

cup

Fresh Flat Leaf Parsley

(Chopped)

Egg Wash

(1 small egg, beaten)

Salt

(optional)
Instructions
Cook the chicken breasts the night before in boiling water for 20 minutes or until cooked through. Cut them into tiny pieces or shred them and keep in the fridge (in an air-tight container).

Using a knife or pizza cutter, slice puff pastry into rectangles (about 4x6cm/1.5×2.4inch) and transfer these onto a baking tray lined with baking paper. Brush them with egg wash and sprinkle with Chia seeds.

Bake the puff pastry in a preheated oven at 180°C/356°F for about 15 minutes or until puffed and golden brown. To make sure not to burn them – check them 10 minutes into baking.

Meanwhile: Cut the breasts into small cubes (you can also shred them or finely cut, if preferred).

In a bowl, mix mayonnaise, mango chutney, parsley and chicken. Taste it and add salt, if needed.

Once the puff pastry is ready, let it cool down before cutting each piece in half horizontally. Fill the bottom part with mango chicken mixture and cover with chia seed puff.

Arrange on a serving plate, tray or a chopping board and serve!
Nutrition Facts
Mango Chicken Puffs Appetizers
Amount per Serving
% Daily Value*
* Percent Daily Values are based on a 2000 calorie diet.
** As an Amazon Associate I earn from qualifying purchases.
LEAVE A COMMENT
RELATED POSTS