These roasted fall vegetables are an easy side dish that only has a 10-minute preparation. Perfect for any occasion including a Thanksgiving dinner!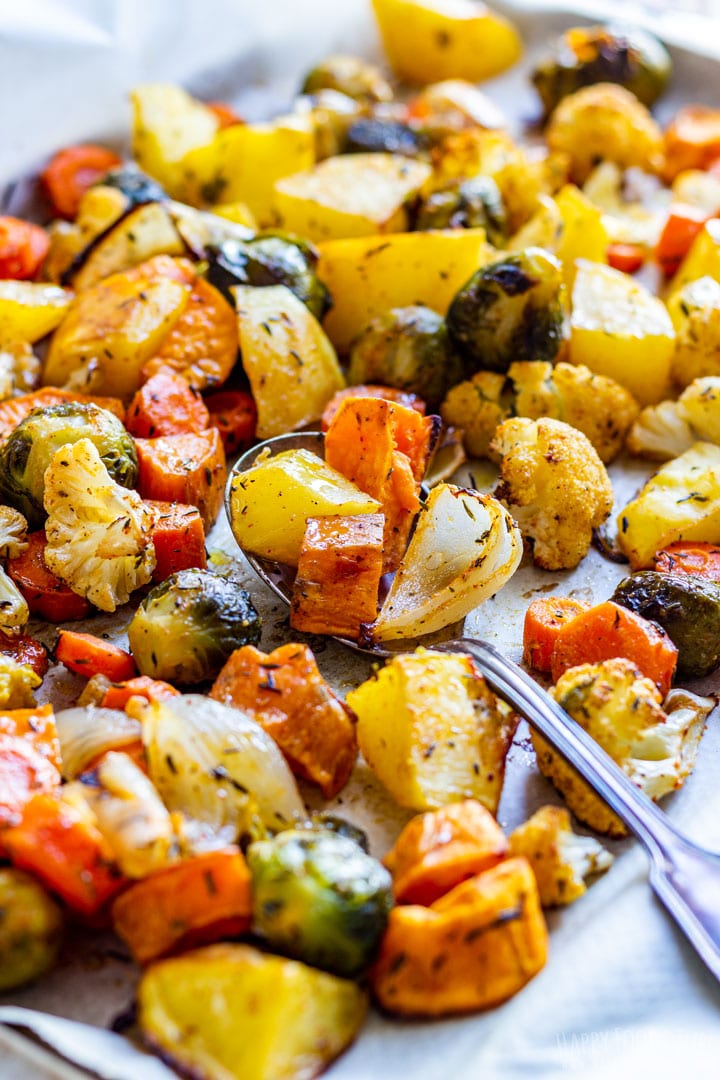 The recipe is customizable so you can use veggies you have on hand or those you prefer more.
Additional information for various diets:
Vegetarian: YES
Vegan: YES
Gluten-free: YES
Dairy-free: YES
Plus, these roasted vegetables are nutritious and good for you.
Serving suggestions
Roasted autumn vegetables go well with turkey, roast beef, meatloaf or steak.
If you serve mashed potatoes alongside these roasted vegetables, you can then omit the potatoes in this recipe or substitute with another ingredient.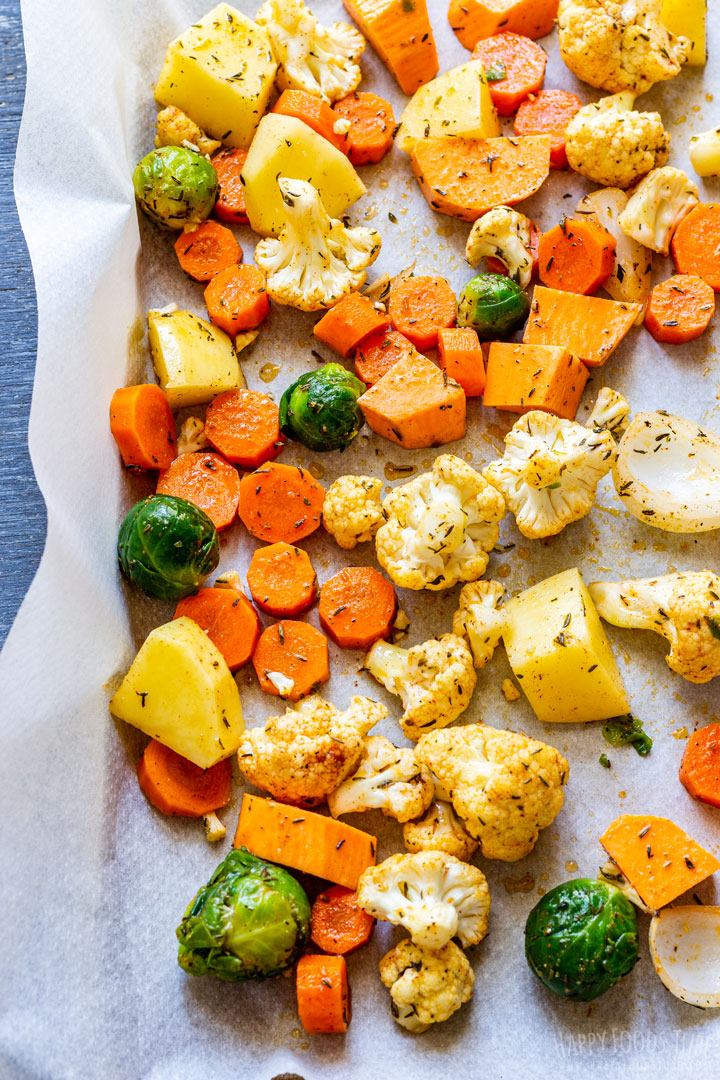 Tips for making roasted fall vegetables
This recipe works well with all kinds of veggies – turnips, beets, … You can easily omit some or use different quantities.
Some take longer to roast than others, so it's good to slice those thinner (when I roast vegetables I noticed that carrots always take ages to cook – in fact, the longest of all the vegetables and for that reason, I don't cut them into large chunks).
The seasoning used should be enough for 2.5 pounds (1.5 kilos) of veggies, but you might add more if you feel it's needed. However, it's important to make sure all the veggies are coated as evenly as possible to avoid over-seasoning some and under-seasoning others.
For an easy clean-up, line your baking tray with baking parchment. This will also make it easier for you to mix them throughout the roasting as they will not stick to the paper.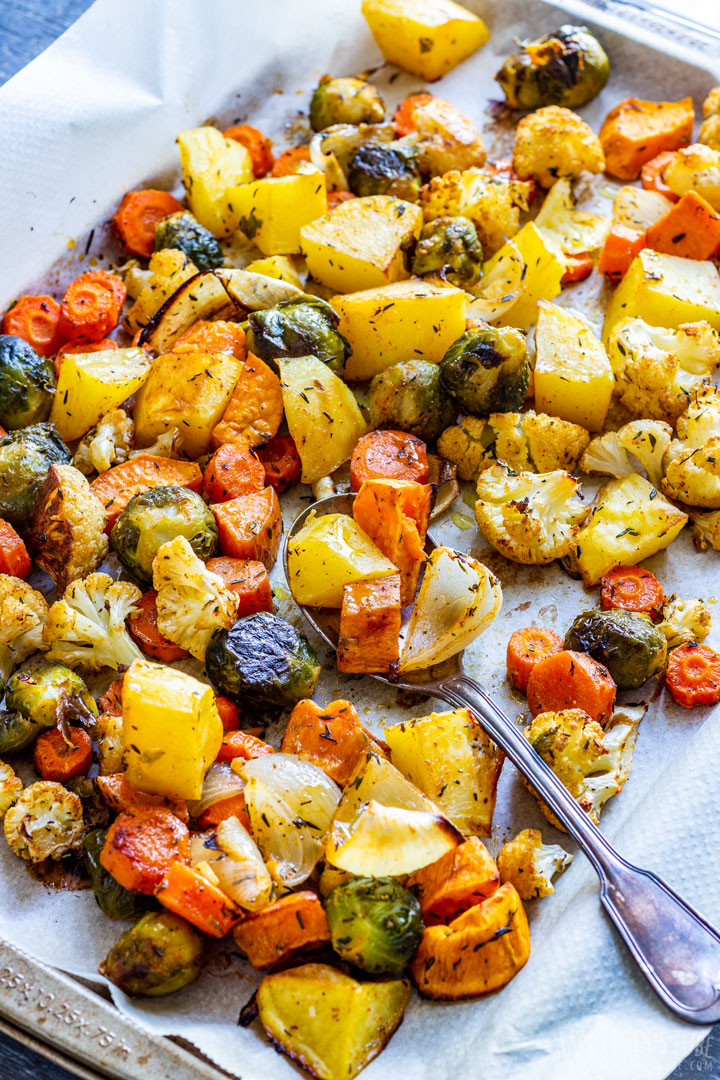 Other delicious side dish recipes and appetizers, perfect for Thanksgiving, Friendsgiving that you might like to try:
And, while waiting for your Thanksgiving dinner to be ready, here are some tasty appetizer ideas:
Roasted Fall Vegetables
These roasted fall vegetables are an easy side dish that only has a 10-minute preparation. Perfect for any occasion including a Thanksgiving dinner!
Ingredients
1

pound

cauliflower florets

(450 grams)

½

pound

carrots

, sliced (225 grams), see note 2

1

pound

potatoes

, cut into chunks (450 grams)

½

pound

sweet potatoes

, cut into chunks (225 grams)

12

ounces

brussels sprouts

(350 grams), see note 3

1

onion

, quartered

3

tablespoons

olive oil

1

teaspoon

garlic powder

1

teaspoon

paprika

1

teaspoon

salt

¼

teaspoon

black pepper

1

tablespoon

dried thyme
Instructions
Preheat oven to 400° Fahrenheit (200° Celsius).

Transfer the prepped vegetables – cauliflower, carrots, potatoes, and brussels sprouts into a large bowl (at least a 6-quart/6-liter). Separate the onion layers – leaving about 2-3 layers together to avoid drying out. Add them to the bowl.

Drizzle the veggies with olive oil and sprinkle the seasoning over (sprinkling helps distribute the seasoning more evenly).

With your hands, mix the veggies well. This way you will prevent having some pieces over-seasoned while others are under-seasoned.

Transfer the veggies onto a large baking tray (see note 5) lined with baking parchment.

Bake at 400° Fahrenheit (200° Celsius) for 35 minutes or until the veggies are cooked to your liking. 15 minutes into cooking time use a spoon to stir them around.

Enjoy warm!
Notes
You can use any vegetables you like or have on hand.
For me, carrots usually take the longest to cook from all of these vegetables so if you like them soft rather than crunchier, cut them into thin slices – about a ¼-inch thin (0.5-centimeter).
I used frozen brussels sprouts (about 12 ounces). You can use fresh sprouts if you have those on hand. I would probably cut them in half, if too large.
Cooking time may vary slightly. This depends on the veggies and your oven as well. I recommend checking/tasting them before taking them out. Also, you can taste a few and adjust the seasoning, if you feel it is not enough for you.
If you use a 9×13-inch (22×33-centimeter) baking tray, you might need to roast them in 2 batches. If you decide to use this size of a tray, I would recommend stirring the veggies more than once, to achieve an even cooking as they might be a bit over-crowded there. If you can, use a larger tray than this!
The post above this recipe card contains more tips, serving suggestions and other dietary information so please have a read through if in doubt.
Nutrition Facts
Roasted Fall Vegetables
Amount per Serving
% Daily Value*
* Percent Daily Values are based on a 2000 calorie diet.
** As an Amazon Associate I earn from qualifying purchases.
LEAVE A COMMENT
Similar recipes