This small batch low sugar apricot jam is made from scratch and is pectin free! Use it as apricot glaze on cakes or simply spread on toast.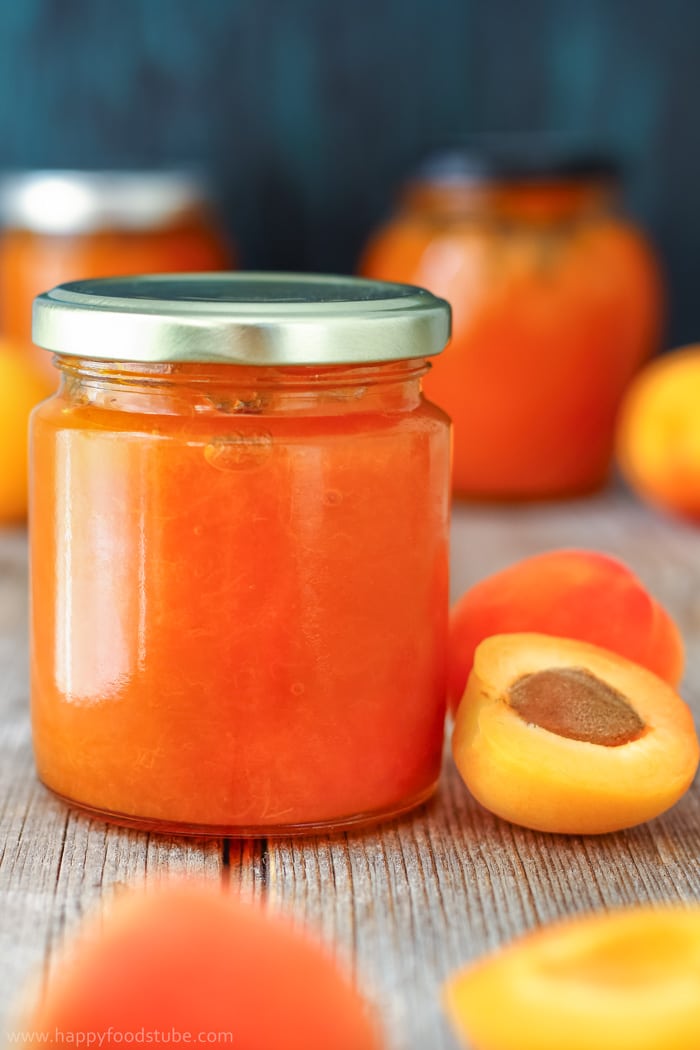 4 ingredients and less than an hour is all it takes to make this low sugar apricot jam. Actually, if we don't count the water it's only 3 ingredients! Plus there is no pectin added.
My mom, grandmother and aunt have been making homemade jams for years. Now they are all delicious but when I was about to make my first batch of jams I knew right then I would not be using their traditional recipe.
Pectin free preserves were on my mind and that was how this Strawberry Jam without Pectin was born. The jam tasted amazing and I was happy I succeeded. After that I couldn't stop thinking of making another batch of jams so I made Cinnamon Plum Jam. This jam was also pectin free and low in sugar.
I was super excited about my homemade jams and felt like I had to try canning as well. So I did. These Sweet and Sour Dill Pickles have been our family's favorites for ages! Guys, this is my mom's recipe and I haven't eaten better dill pickles than these so I hope you'll give them a try as well.
However, today I have for you this low sugar apricot jam recipe. Apricots are in season now so if you have an apricot tree in your garden or if you bought a larger amount of them on the market, making homemade apricot jam is the way to go! Actually, if you really have like a ton of apricots you could try making dried apricots. I will definitely give it a go myself!
By the way, this is a low sugar apricot jam so bear in mind that the sweetness might vary depending on the sweetness of your fruits. However, if you feel like you would prefer sweeter jam, you can add more sugar.
How to make low sugar apricot jam:
To make this jam, start off with rinsing apricots under running water. This step is quite important especially when buying apricots that are not organic. Because we use the skins as well, you want to make sure you clean them thoroughly.
Next thing is cutting them in halves and getting rid of the stones. Now they are ready for jam making.
I simply throw them in a large pot (make sure you choose a wide bottom pot) add water and cook them on medium-high until they are mushy. At this stage it's important to stir them almost constantly.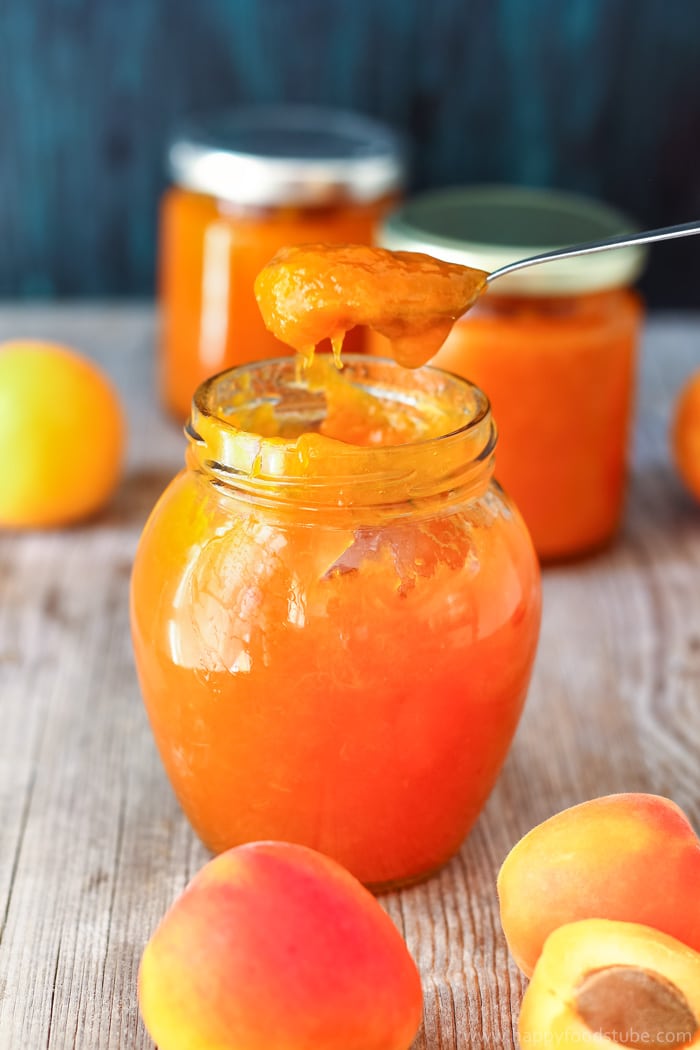 When the apricots turn into a mushy mixture, it's time to reduce the heat to medium – low and also add sugar and lemon juice. It will take about 35-40 minutes for the jam to thicken but you don't need to be stirring the apricot jam mixture constantly anymore.
I suggest stirring it from time to time. If you are not sure, then more often rather than less. Better be safe than sorry. It would be a waste ending up with burnt jam.
When ready, pour it into sterilized jars and cover with lids. Turn upside down and let them cool down completely.
To see if the jars are sealed properly you turn them back up and press down each lid. If the lid doesn't pop up or down, the jar is perfectly sealed.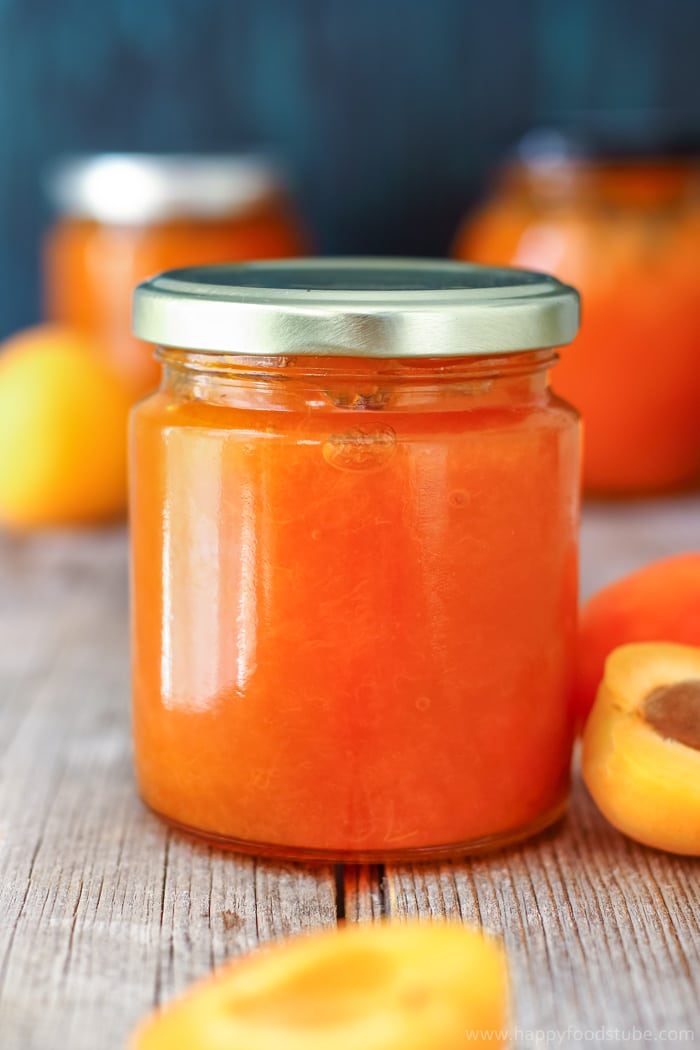 Good to know:
Apricots are low in pectin so it takes longer to cook the jam.
The longer you cook the jam the smaller amount of jam you get.
It is up to you how thick you like your jam so you can experiment here.
Making small batch jams are perfect for small families or those who want to give jam making a go for the first time.
This low sugar apricot jam makes a great apricot glaze for cakes as well.
Small Batch Low Sugar Apricot Jam
This small batch low sugar apricot jam is made from scratch and is pectin free! Use it as apricot glaze on cakes or simply spread on toast.
Servings:
3
Small Jars (2 cups/650 ml)
Ingredients
2

pounds

Apricots

(1 kilogram)

1

cup

granulated sugar

(200 grams)

¼

cup

Lemon Juice

, freshly squeezed (60 ml)

½

cup

Water

(125 ml)
Instructions
Wash, half and pit the apricots. Throw them in a pot with wide bottom. Add water and simmer for 10 minutes, stirring almost constantly.

After 10 minutes the apricots will turn into a mash. This is the time to add sugar and lemon juice. Stir and simmer on low heat for 40 minutes or until it thickens and the apricots are completely mushy. This way there is no need to run the mixture through a sieve at all.

To see if the jam has thickened pour some of it onto a small plate that has been previously in the freezer. Let it cool down a bit. Now make a line through the jam with your finger. If the jam fills the space (the drawn line) it's not quite thick yet so continue simmering. If it doesn't, you can start filling your jars.

Pour or spoon the jam into jars leaving about 0.4 inch (1 cm) free from the top. Seal with lids, turn up-side down and let them cool completely.

To check if the lids are properly sealed simply tap/push down each lid. If it doesn't pop up or down, it's sealed. If the lid does pop up or down it's not air-tight. Place those in the fridge and eat within a week. The rest of them should last for several months.
Notes
Important: Air-tight sealed jars will lasts for months. However, I suggest following current safety standards for canning fruits (jar and lid sterilizing as well as a 10 minute water bath once the jars are filled with jam and sealed with lids). The water bath is especially important when making large quantities.
Pre-Sanitizing Your Jars & Lids: Sanitize your jars & lids by washing them in warm soapy water and subsequently boiling them in water bath for 15 minutes. Use tongs to transfer the jars & lids onto a clean kitchen towel and them up-side down.
Nutrition Facts
Small Batch Low Sugar Apricot Jam
Amount per Serving
% Daily Value*
* Percent Daily Values are based on a 2000 calorie diet.
** As an Amazon Associate I earn from qualifying purchases.
LEAVE A COMMENT
RELATED POSTS