The perfect recipe for instant pot Spanish oxtail stew. Cooked in a pressure cooker to achieve the melt-in-your-mouth meat quicker than with the traditional slow cooking and served with fried potatoes and rich sauce.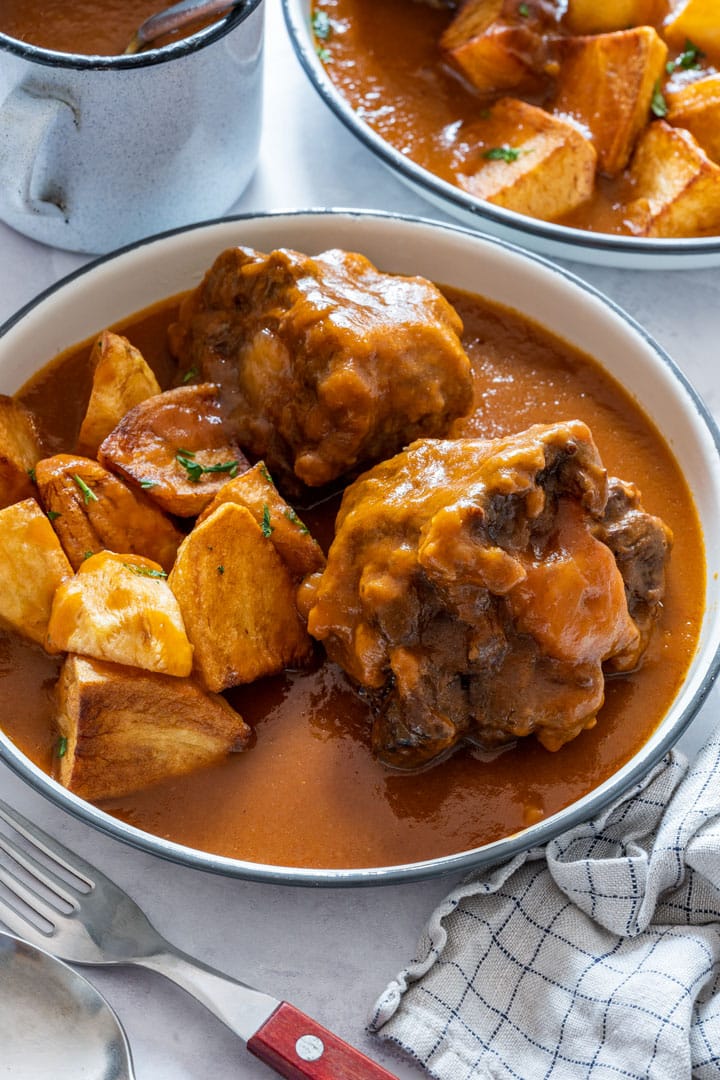 It is a must-try Spanish recipe!
A few years back we got a chance to visit Andalucía, one of the most beautiful areas of Spain. There somewhere, in a restaurant in the city of Cordoba, we tasted their traditional dish – Rabo de Toro a la Cordobesa.
This is its simplified version made in an instant pot to speed up the cooking process and omitting/substituting some of the ingredients to make it easier for anyone who would like to try this Spanish oxtail recipe.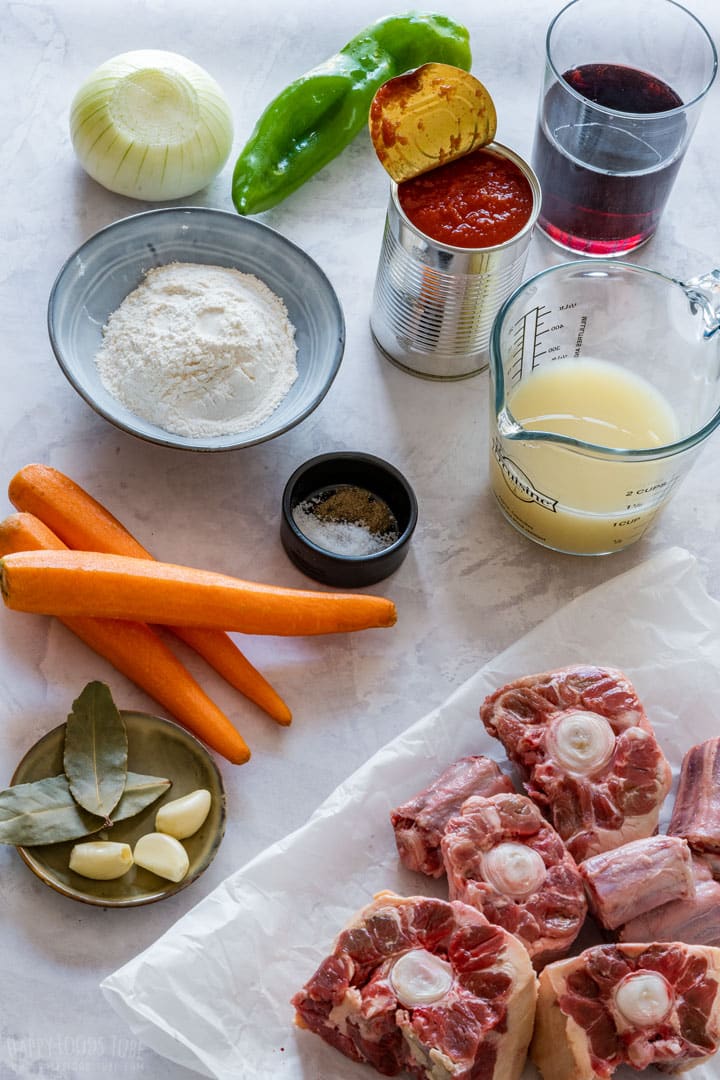 How to make oxtail stew in the instant pot
Tools
Pressure cooker
Knife and chopping board
Deep plate or bowl – to coat the meat in flour
Garlic press – technically, you could finely mince the garlic with a knife but I find that the press does the best job!
Measuring cups
Vegetable peeler
Immersion blender
Ingredients
Oxtail
Flour
Salt
Black pepper
Onion
Green pepper
Carrots
Beef stock
Red wine
Pureed tomatoes
Bay leaves
Cloves – optional but recommended
Garlic cloves
Olive oil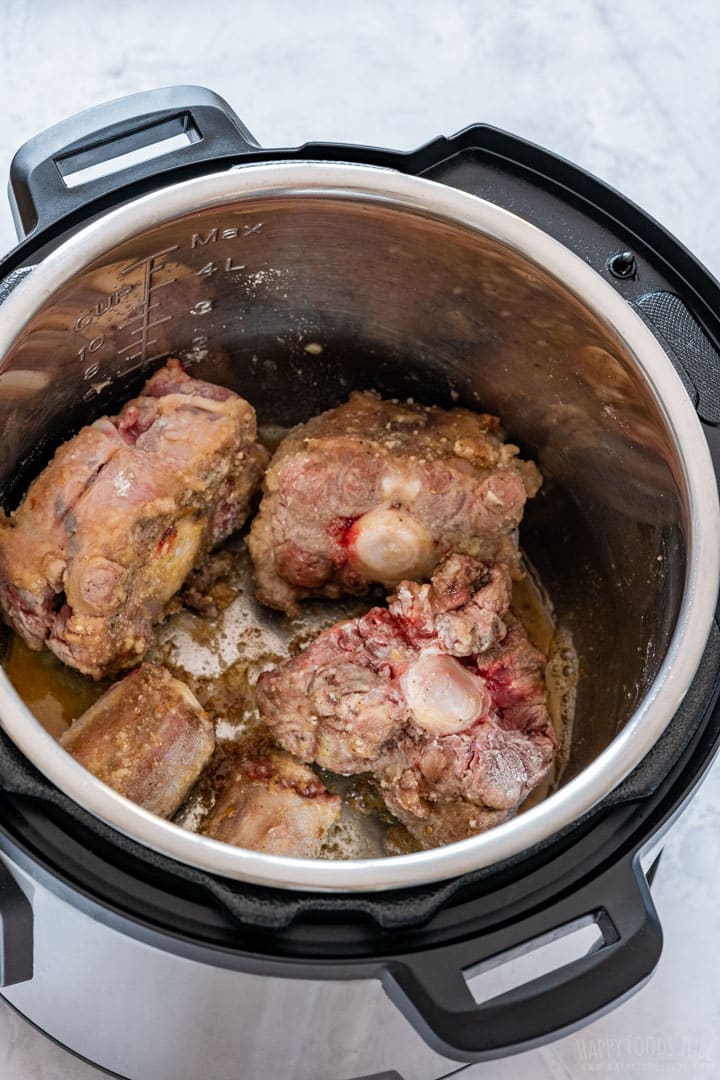 The process is very simple. The meat is seasoned with salt and pepper, covered in flour, and browned in the pot. When ready, take out the meat and sauté the vegetables. Add the rest of the ingredients and mix well. Put the oxtails back, cover with the lid and pressure cook for 1 hour.
When done, wait until the pot depressurizes itself first. Then, you only need to puree the sauce. For that, you need to take out the meat first.
Now, the sauce will thicken as it cools down, but you can thicken it with cornstarch if you want to have a thicker consistency right away.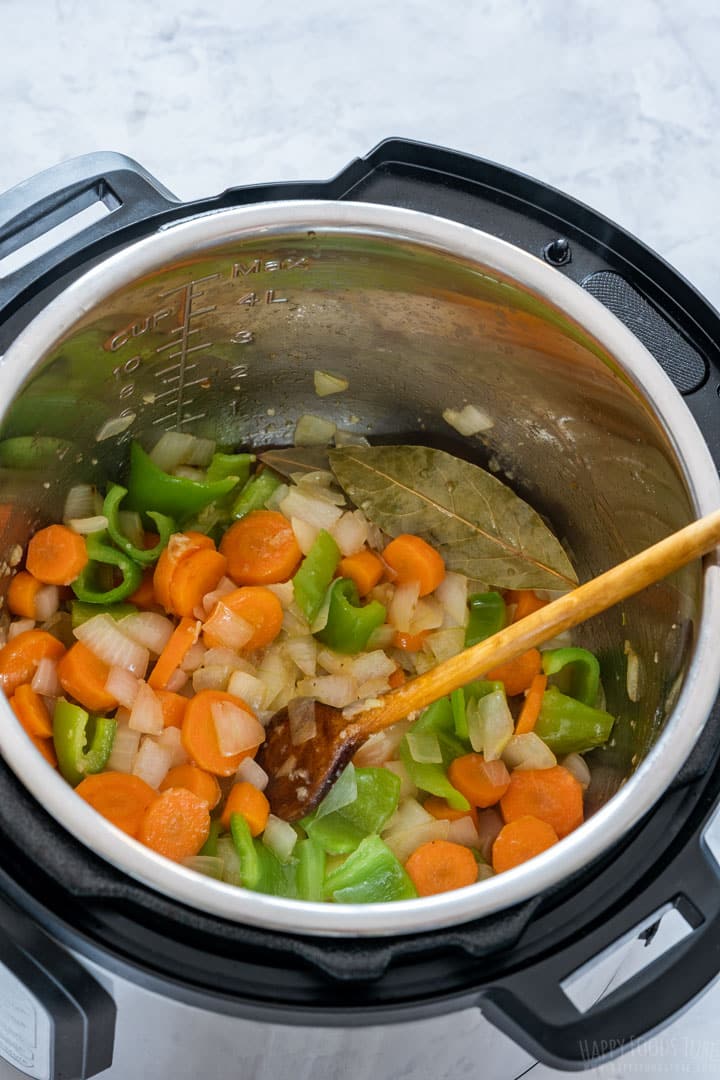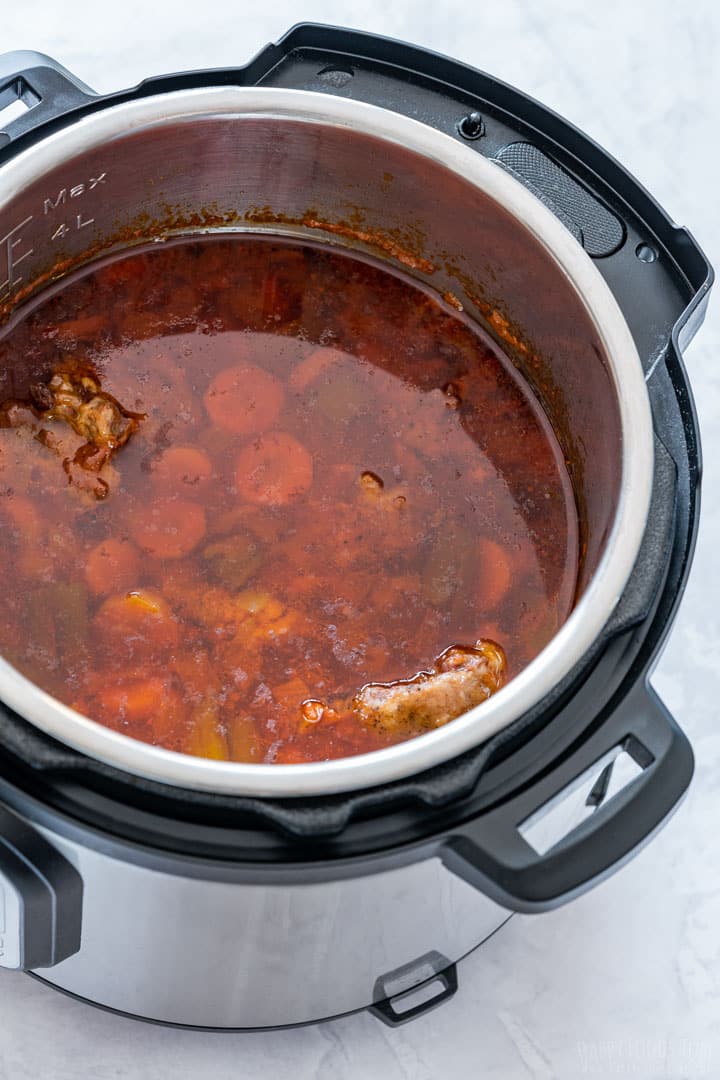 Frequently asked questions
How to cook oxtail?
It either needs to be cooked long and slow or under pressure. I prefer using the pressure cooker as it is easy and hassle-free. Plus, it is quicker!
How do I know the oxtail is cooked?
The meat should be soft and tender. It should come off easily with a fork. When you cook oxtail stew in the instant pot, you should not have a problem with this. After 1 hour under pressure, the meat will fall off easily of the bone.
Should you cut the fat off of oxtails?
Yes, you should but it will depend on how much fat the pieces contain. Some pieces can be trimmed well while others can have quite a large amount of fat still on. If you don't want to have your oxtail stew too fatty, remove as much as you can.
How much oxtail for 4 people?
Count with about a pound (450 grams) of oxtail per person. For 4 adults, you will need 3.5 to 4 pounds (1500 – 1800 grams) of meat including bones.
Possible substitutions
Stock – use anything you have on hand but preferably some meat version like chicken or beef. Stock cubes mixed with water are also fine to use.
Tomatoes – originally, fresh tomatoes are used, and the flesh is grated or processed. It is a lot of work, and any can of pureed tomatoes is a great alternative! Don't use tomato puree which in some countries is the name for the thick concentrated tomato paste. You are after the flesh so Italian passata is another good option. Or, buy a can of peeled whole tomatoes and run them in a food processor.
Optional add-ons
Leek – used in many recipes for Spanish oxtail, this can be used alongside onion. I personally don't buy it as it is similar to onion. I just add more onion.
Cloves – I make them with or without. Either will work. When using, make sure to take them out before you blend the sauce.
What to serve with oxtail stew
In Spain, rabo de toro is served with potatoes. They are usually deep-fried (Have you tried Patatas Bravas?) or roasted. French fries are the easiest option.
Because you end up with a lot of sauce, I like serving it with rice. Or, add crusty artisan bread so that you can soak it in the delicious sauce.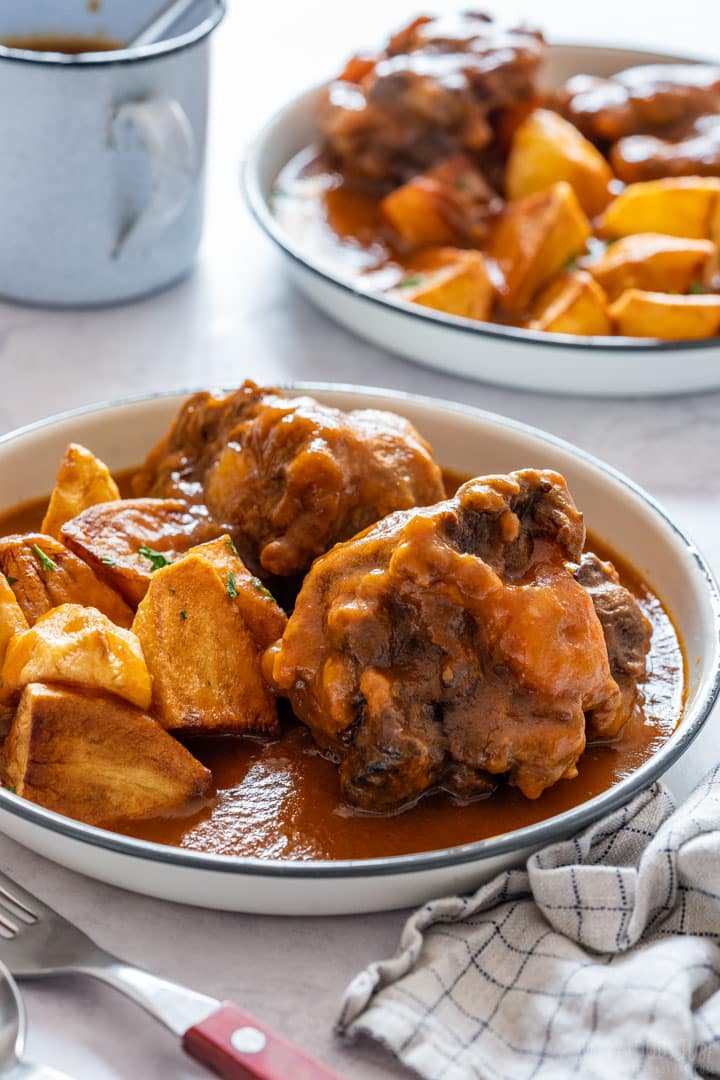 Throwing a Spanish-themed party?
Here are some traditional Spanish meals, appetizers, and drinks you might like to add to your menu:
Instant Pot Spanish Oxtail Stew
The perfect recipe for instant pot Spanish oxtail stew. Cooked in a pressure cooker to achieve the melt-in-your-mouth meat quicker than with the traditional slow cooking and served with fried potatoes and rich sauce.
Ingredients
4

pounds

oxtail

(1800 grams)

salt

½

cup

flour

, see note 1

¼

cup

olive oil

, see note 2

1

onion

, large, diced

2

carrots

, large or 3 medium ones, sliced

1

Italian pepper

, chopped, see note 3

3

garlic cloves

, pressed

1

cup

red wine

, see note 4

2

cloves

, see note 5

1

cup

beef stock

, see note 6

14

ounce

pureed tomatoes

(400-milliliters), see note 7
Instructions
First, trim off any excess fat from the meat. Season each piece with salt and pepper, and coat in flour.

Add oil to the Instant Pot and press "Saute". When hot, add the meat. You might need to do this in 2 batches. Brown on all sides. When ready, transfer the oxtail pieces onto a plate (or baking parchment).

To the pot, add onion, carrots and pepper and saute for about 4 minutes before adding the garlic. Stir until the garlic releases its aroma.

Pour in the wine and let it cook for about 5 minutes. Turn off the saute function by pressing "Cancel".

Add the rest of the ingredients and stir well. Place the oxtail pieces back. Close the lid and turn the steam release valve to "Sealing". Press "Pressure Cook" and adjust the time to 60 minutes.

When the time is up, wait for the pot to depressurize – until the pin drops down itself. Take the meat out and discard the bay leaves and cloves (if using).

Blend the sauce until smooth.

Put the oxtail back to the sauce and serve!
Notes
All-purpose (plain) or strong bread flour are great choices.
I always use extra virgin olive oil, but you can use regular cooking olive oil.
Use either Italian green pepper or bell pepper – preferably green.
I used cabernet sauvignon, but you can use any red wine you have on hand.
Cloves can be omitted.
Instead of beef stock, you can use chicken stock/broth or vegetable stock.
Pureed tomatoes can be substituted with tomato passata or diced/whole peeled tomatoes that you run through a food processor/blender. Do not use concentrated tomato paste.
The cooking time does not include the time that the pressure cooker needs to come to pressure nor the time you need to wait until it depressurized itself. This can vary but count with an extra 1 hour. I don't recommend manually releasing the pressure as the pot is quite full and the steam could contain oil or the sauce. The safest option is to wait until the pin comes down itself.
This recipe was developed for a 6-quart/6-liter instant pot pressure cooker.
Nutrition Facts
Instant Pot Spanish Oxtail Stew
Amount per Serving
% Daily Value*
* Percent Daily Values are based on a 2000 calorie diet.
** As an Amazon Associate I earn from qualifying purchases.
LEAVE A COMMENT