Bacon pinwheels with cheddar are perfect for parties and family gatherings! These quick puff pastry appetizers with bacon & cheese are hard to resist!
Guys, how many of you love bacon? I would say there is a lot of us! Well, I hope so because I made for us these puff pastry bacon pinwheels.
Do you like to entertain at home? These puff pastry snacks are perfect for it! They are delicious and you only need a few ingredients to make them. Blue Cheese Palmiers and Mango Chicken Appetizers are also great appetizers made with puff pastry.
I love those as much as I love these bacon pinwheels! However, if you are looking for other Appetizer Ideas with no puff pastry, then have a look at these Smoked Salmon Bites. They are ready in minutes!
By the way, these bacon wrapped dates are also great as an after-school snack. Mind you, you can make them any time and they will go down pretty fast so you might need to double the recipe!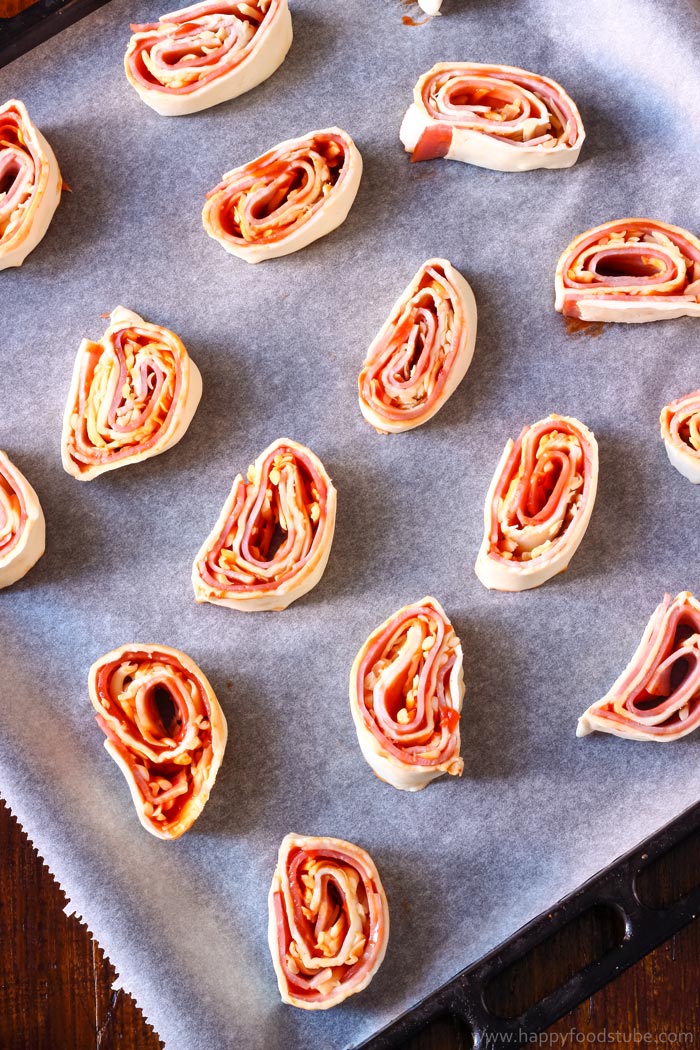 How to make these bacon pinwheels
The prep takes less than 5 minutes. I literally timed myself and was done in four minutes. Guys! 4 minutes is a pretty good time for prep, isn't it? Puff pastry sheet + ketchup + bacon + cheddar + sweet chili sauce rolled like a Swiss roll & sliced.
Then all you have to do is put them in the oven and wait. Wait until they look perfect. I highly recommend checking what your puff pastry packaging says about the baking time.
This may vary on what way you bake the pastry, how it's filled, how thick the individual pieces are or what oven you have. Yes, there are so many things to consider.
However, if you check the packaging instructions and follow them you should be fine. I usually check about 5 minutes before the recommended baking time just to be on the safe side.
They should be nicely puffed and bacon should be cooked through. It should take about 20 minutes for them to be ready.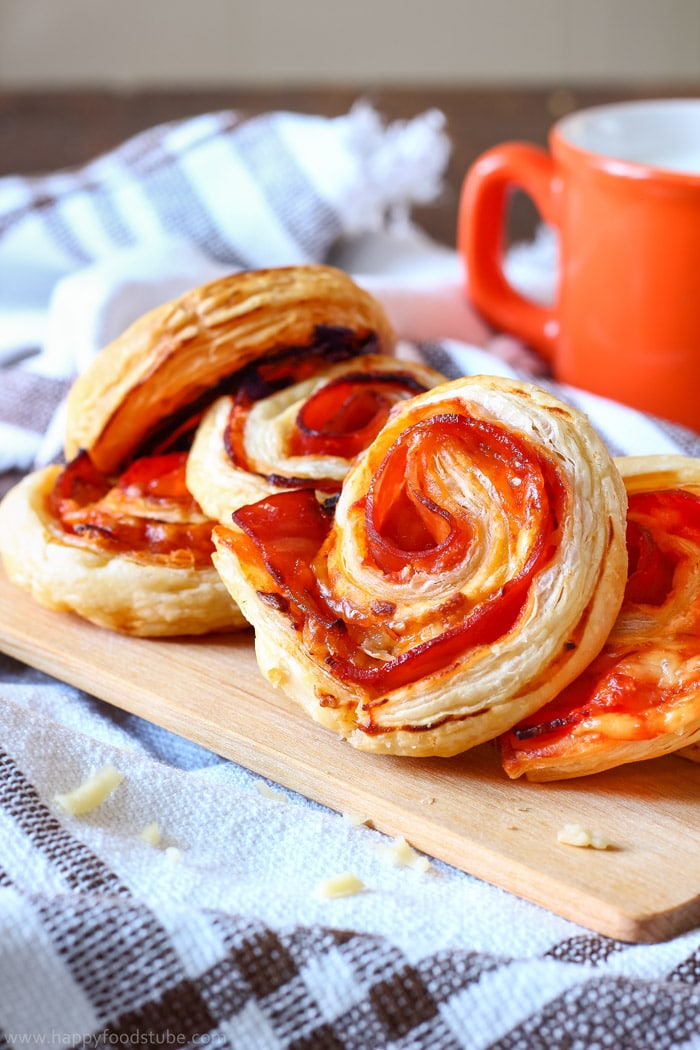 Out of one 10 ounces/ 275 grams puff pastry sheet I got 16 pieces which is pretty good. If you are planning to host a party and don't know how many pieces of appetizers to make per person, check out this Anchovy Bites post where I wrote about it in detail.
Happy entertaining!
This post first appeared on Julie's Eats and Treats blog where I am a contributor.
Want to see how to make bacon pinwheels? Watch the video!
Bacon Pinwheels with Cheddar
Bacon pinwheels with cheddar are perfect for parties and family gatherings. These quick puff pastry appetizers with bacon & cheese are hard to resist!
Ingredients
1

Ready Rolled Rectangle

Puff Pastry Sheet

(10 ounces/275 grams)

4

tbsp

Ketchup

7

ounces

Thin Bacon Slices

(200 grams)

Thai Sweet Chili Sauce

, a drizzle

1

ounce

Cheddar Cheese

, grated
Instructions
First preheat the oven to 400°F/200°C.

Meanwhile unfold puff pastry sheet & spread ketchup over it. Arrange bacon slices so they cover the whole pastry sheet.

Sprinkle cheese over and drizzle with sweet chili sauce.

Take the longer edge of the pastry and roll it (like a Swiss roll). Slice them into 0.5-inch/1½-cm.

Transfer them onto a baking tray lined with baking paper and bake for 20 minutes or until nice golden brown and the pastry has puffed (it will look crispy, brown and layered).
Nutrition Facts
Bacon Pinwheels with Cheddar
Amount per Serving
% Daily Value*
* Percent Daily Values are based on a 2000 calorie diet.
** As an Amazon Associate I earn from qualifying purchases.
LEAVE A COMMENT
RELATED POSTS