Impress your guests with these Waldorf cheese ball bites! A simple party snack idea that only takes 15 minutes to prepare and tastes like Waldorf salad!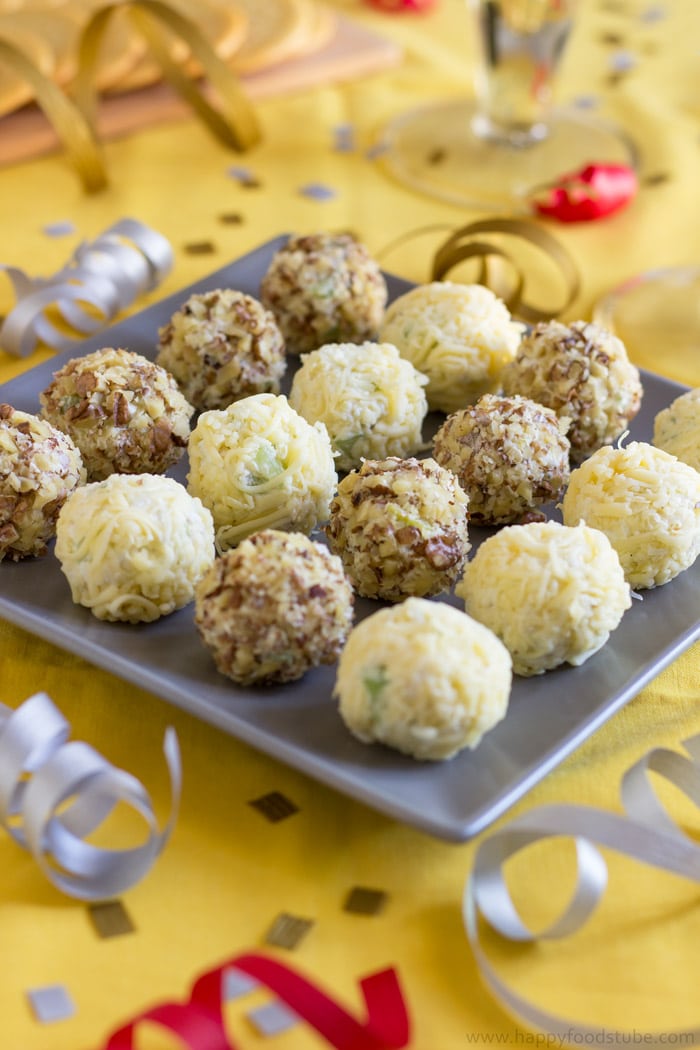 Ok, maybe not exactly like the Waldorf salad but pretty close! Walnuts, celery and apple are chopped into tiny pieces and mixed with cheese. Coated in some more walnuts and cheese and tadaaah! A delicious and easy appetizer recipe for your New Year's party is ready!
I cannot believe that this year has already come to an end! I mean, there still are a few days left but really… those few days seem like nothing.
I am sure many of us go back in memory and think about things we have done this year and things we haven't. Things we've achieved and those we haven't. It's the time of the year to set new resolutions or maybe re-set the old ones haha. I will definitely be re-setting some old ones and adding a lot of new ones. What about you? Do you usually set New Year's resolutions or you just don't bother? I think this was my first (or maybe second) year doing the whole resolution thing. And well, let's put it this way – I seriously hope I will have a higher success rate the next year! Haha!
Now I saw this quote from Missing Moments and I decided it will be my New Year's resolution!
This year I just wanna go on more adventures.
Be around good energy.
Connect with people.
Learn new things.
Grow.
As for the rest of the resolutions I am not sure yet but I will be writing them down for sure. It seems like that way you feel more motivated to fulfill them! Or is it just me?
Now to ring in the New Year properly we need to celebrate! Celebrate with fireworks, drinks of your choice and lots of food! Guys, how many of you are throwing a New Year's party? Are you still looking for some holiday party food ideas? Well then you must definitely check out these Finger Food Recipe Ideas!
By the way the best thing about New Year's celebration is the fact that everything is allowed on this day. There are no boundaries, right? Because it is New Year's Eve! Drink what you want, eat what you want (and as much as you want) and be happy! Celebrate!
To celebrate in style I have for you these Waldorf cheese ball bites! It's a great party food recipe! We love them and hope you will too!
How to make Waldorf cheese ball bites:
Step 1: Finely chop apple, celery and walnuts + grate cheese
Step 2: Combine all the ingredients and form bite-size balls
Step 3: Coat with finely chopped walnuts or/and grated cheese
Step 4: Chill for at least 30 minutes
Step 5: Serve!
Good to know:
When rolling the balls, it's better to make smaller ones rather than larger ones. Remember that they will get bigger after they have been coated in walnuts or cheese. I suggest making them tiny bit smaller than Raffaello balls.
Chilling – I left some of them in the fridge overnight and they tasted delicious. They will become way harder than the ones chilled for half an hour or so. However, bear in mind that the cheese coated ones shouldn't be left in the fridge overnight as the cheese will go dry.
Add more celery and apple, if preferred stronger taste (make sure they are finely chopped).
If you prefer cheddar cheese to gouda, use that one.
Guys, this is a very easy cheese ball recipe and soo delicious! I couldn't stop eating them! They are perfect with cheese crackers! Hope you'll give them a go!
Waldorf Cheese Ball Bites
Impress your guests with these Waldorf cheese ball bites. A simple party snack idea that only takes 15 minutes to prepare and tastes like Waldorf salad!
Ingredients
For the balls:
1

Celery Stick

, finely chopped

1

Large Apple

, finely chopped

1.4

oz

Walnuts

, finely chopped (40g)

1.7

oz

Gouda Cheese

, grated (50g)

7

oz

Philadelphia Cheese

, or equivalent (200g)
For coating the balls:
3.5

oz

Walnuts

, finely chopped (100g)

3.5

oz

Gouda Cheese

(100g)
Instructions
Throw all the ingredients in a bowl and mix using a spoon/fork.

Form into bite-size balls (preferably smaller than

Raffaello

balls) and place onto a tray that will fit in your fridge. Coat half of them in finely chopped walnuts and the other half in grated cheese.

Refrigerate for at least 30 minutes before serving.

Serve with cheese crackers.
Happy Cooking with HappyFoods Tube!
Nutrition Facts
Waldorf Cheese Ball Bites
Amount per Serving
% Daily Value*
* Percent Daily Values are based on a 2000 calorie diet.
** As an Amazon Associate I earn from qualifying purchases.
LEAVE A COMMENT
RELATED POSTS