Sweet chili pesto burger sliders. Pesto burger patties, sweet chili sauce, salad leaves, pesto & tomato are sandwiched between mini burger buns! Easy party food!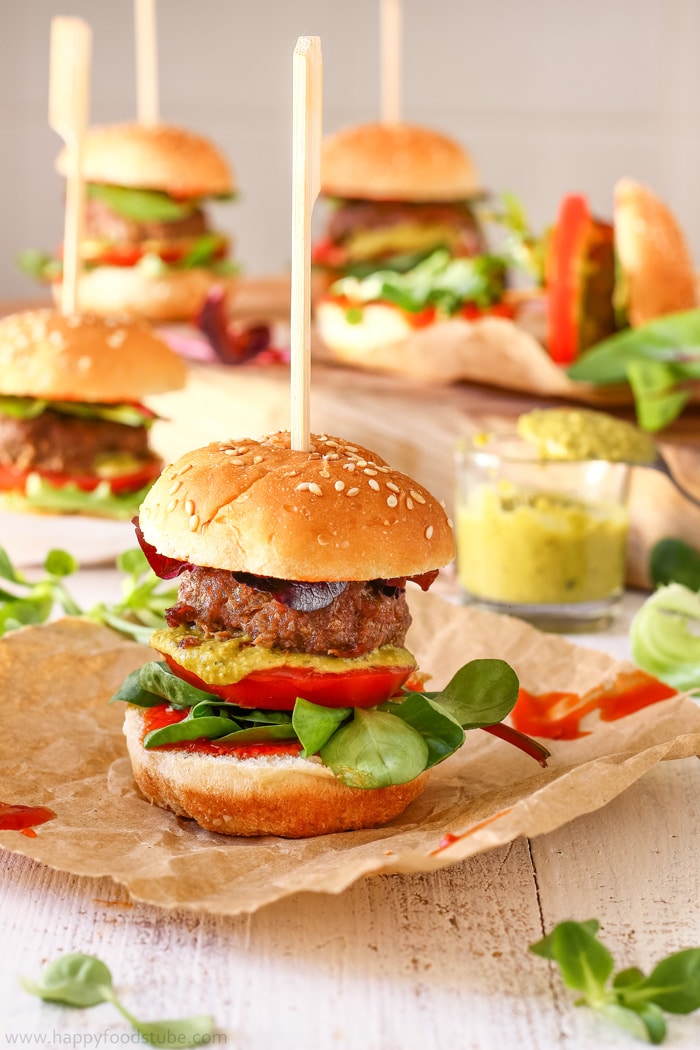 I am quite new to the whole burger slider thing but when I saw those cute looking mini burger buns in our local shop I had to buy them. I knew right then than a burger sliders recipe was coming.
Originally I was thinking of filling those tiny buns with meatballs and I tried that once. The thing with my meatballs was that they were way too small for those buns (I know what you are thinking – the buns are small).
I even made a video tutorial on how to make hamburger sliders. I knew right after they came out the oven that they just wouldn't look pretty on the pictures when assembled in between the buns.
So guess what? A few days later I was back in the kitchen making another batch of these. This time I made burger patties instead of meatballs. I recorded a video and it all turned out perfect! These pesto burger sliders tasted so good that they were gone within minutes. Seriously!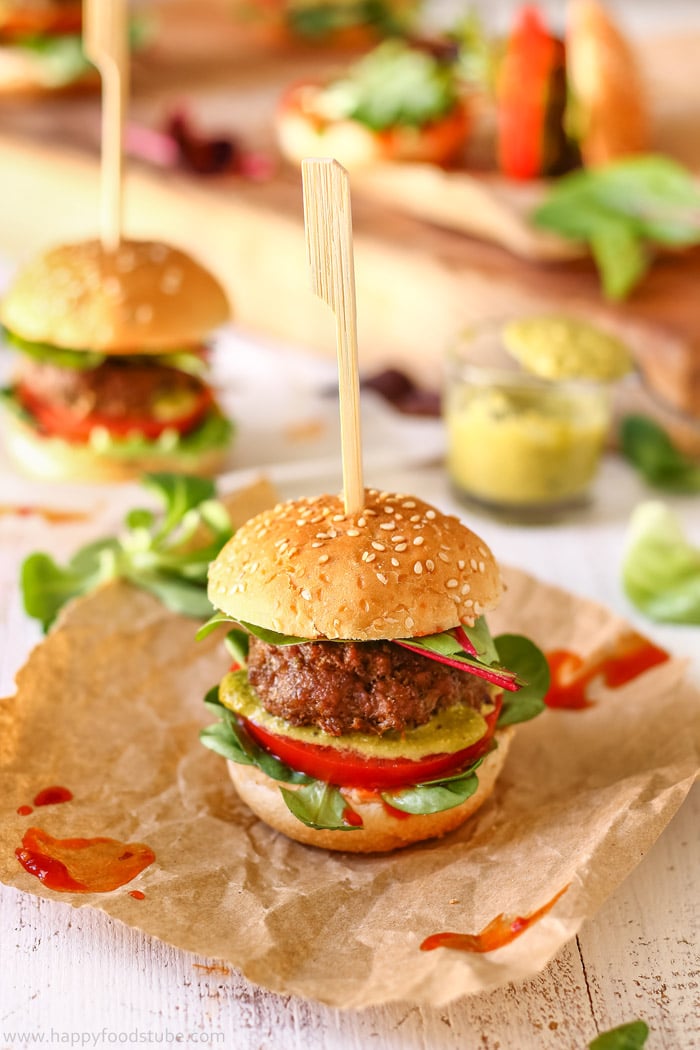 How to make burger sliders?
Now this is pretty easy. All you need is minced meat patties, burgers & fillings. The process of making these is simple. Oven-bake or shallow-fry your burger patties. I oven baked them.
Baked burgers are great especially when you are short for time and can't "babysit" the burgers in a pan. Throw them in the oven and take them out 20 minutes later.
So meanwhile you can get some vegetable cutting done. You can also make your own delicious sauce or beet mayo like I made for this Chicken Cheeseburger. Yes. You heard right! Beet mayo is pretty delicious and so juicy. It's like coleslaw but made with cooked beets. The mayo is definitely worth trying.
Now for these homemade burger sliders I used sweet chili sauce. Did I tell you I like this sauce a lot? Then let's not forget about tomatoes, lettuce (I used mixed leaves but lamb lettuce works well here) and pesto! That's it!
By the way, if you are looking for party food recipes then you are in the right place. I have so many of them on my blog. Check out Mango Chicken Puffs. They are totally different from these pesto burger sliders but equally delicious!
Or what about Sweet and Spicy Chicken Wings and Crispy Homemade Popcorn Chicken? These are all easy appetizer recipes so check them out whenever planning on any gathering!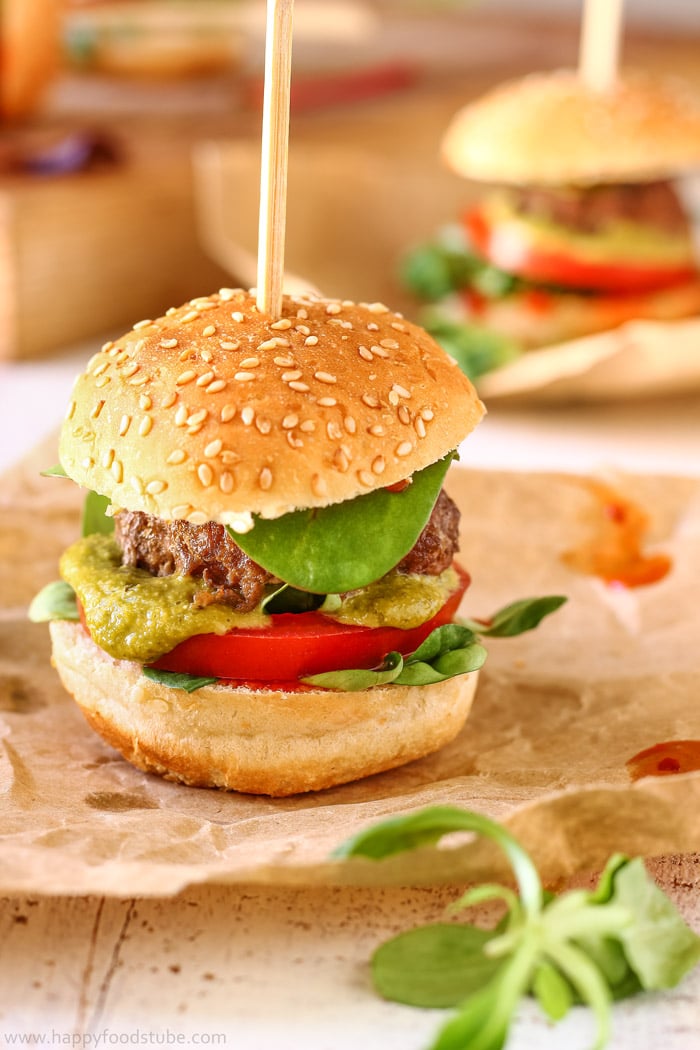 How do you make meat patties you ask?
This is also simple. Check out the video below and you will be surprised how easy it is. It takes like 5 minutes. Literally! And the secret ingredient in these patties is Green Basil Pesto.
I added it to the mixture. It gives the burgers lovely flavor. Some of it will come out when in the oven baking (it's mostly the oil but don't worry. Something will stay in).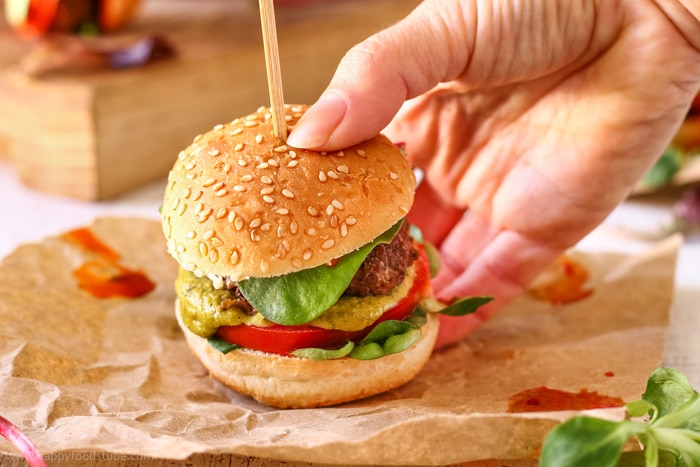 How do you cook hamburgers in the oven?
These mini hamburger patties take about 20 minute to cook. You simply throw them in. Well, not literally. Use a baking tray lined with baking paper. They will shrink a bit so make them larger than your buns that way they should (I repeat should) be a perfect size when ready.
Want to see how to make Sweet Chili Pesto Burger Sliders? Watch the video!
What do you think guys? Do you like these homemade burger sliders with sweet chili sauce and Homemade Pesto? I hope you do!
Sweet Chili Pesto Burger Sliders
Sweet Chili Pesto Burger Sliders. Pesto burger patties, sweet chili sauce, salad leaves, pesto & tomato are sandwiched between mini burger buns! Easy party food!
Ingredients
The toppings:
2

Tomatoes

2

tbsp

Pesto

Sweet Chili Sauce

to your taste

Mixed Salad Leaves

or Lamb Lettuce

9

Mini Burger Buns
Instructions
Burger patties:
In a bowl, mix minced beef, salt, pepper, pesto and egg until well combined. Form into patties by rolling the mixture into a bowl and then flattening it. You should get about 9-10 patties.

Place each patty on a baking tray lined with baking paper. Transfer in the oven and bake at 375°F/190°C for 20 minutes or until cooked through.
Burger Sliders assembling:
Cut each bun in half. Take the bottom piece. Spread sweet chili sauce over. Lamb lettuce goes on next. Tomato slice. About a teaspoon of pesto. Burger patty. More lettuce. Cover with bun.

Pierce with burger skewer and serve!
Nutrition Facts
Sweet Chili Pesto Burger Sliders
Amount per Serving
% Daily Value*
* Percent Daily Values are based on a 2000 calorie diet.
** As an Amazon Associate I earn from qualifying purchases.
LEAVE A COMMENT
RELATED POSTS