Spicy Shrimp Spaghetti is an easy and delicious dish ready in 20 minutes! Shrimp cooked in butter-y tomato sauce with garlic and served with pasta!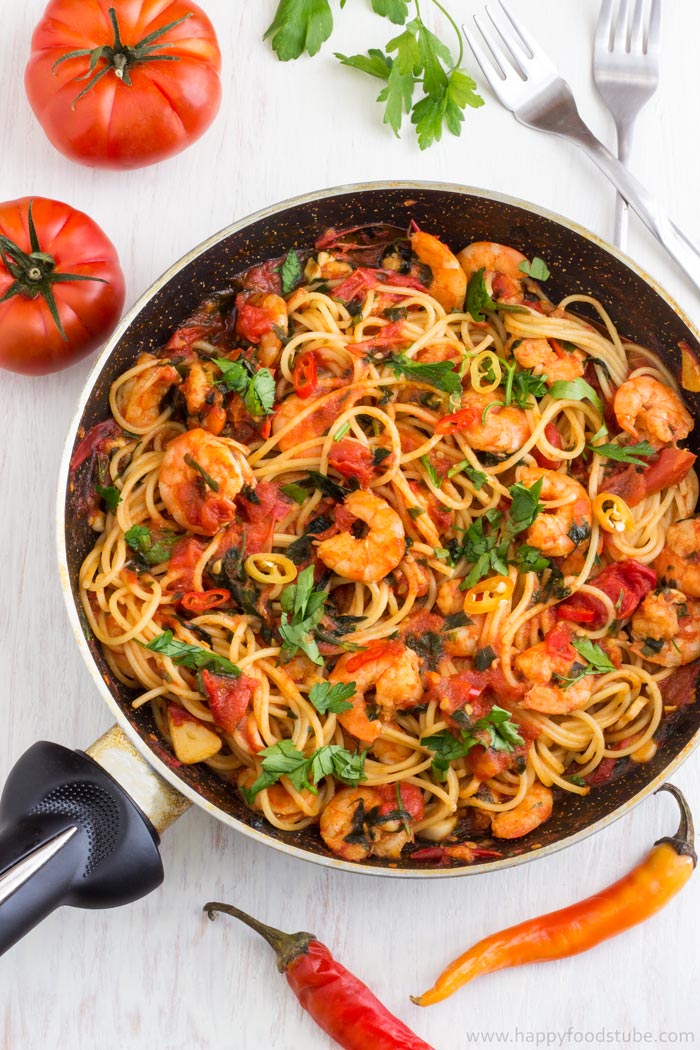 If I had to choose between tomato based sauce and cream based sauce I would always go for tomato based sauce! I simply love tomatoes! I put them on pizza, I make soups with them, I eat them fresh and make a lot of sauces with them! They are simply delicious no matter where or how you use them.
Now I realized that I only have one tomato based sauce recipe up on the blog: This vegetarian pasta sauce with caper berries. I couldn't believe it! Because this needed to be changed I am bringing you a very easy spicy shrimp spaghetti recipe!
Guys, this seafood pasta with tomato based sauce is a must try dish. If you like tomatoes and shrimp that is!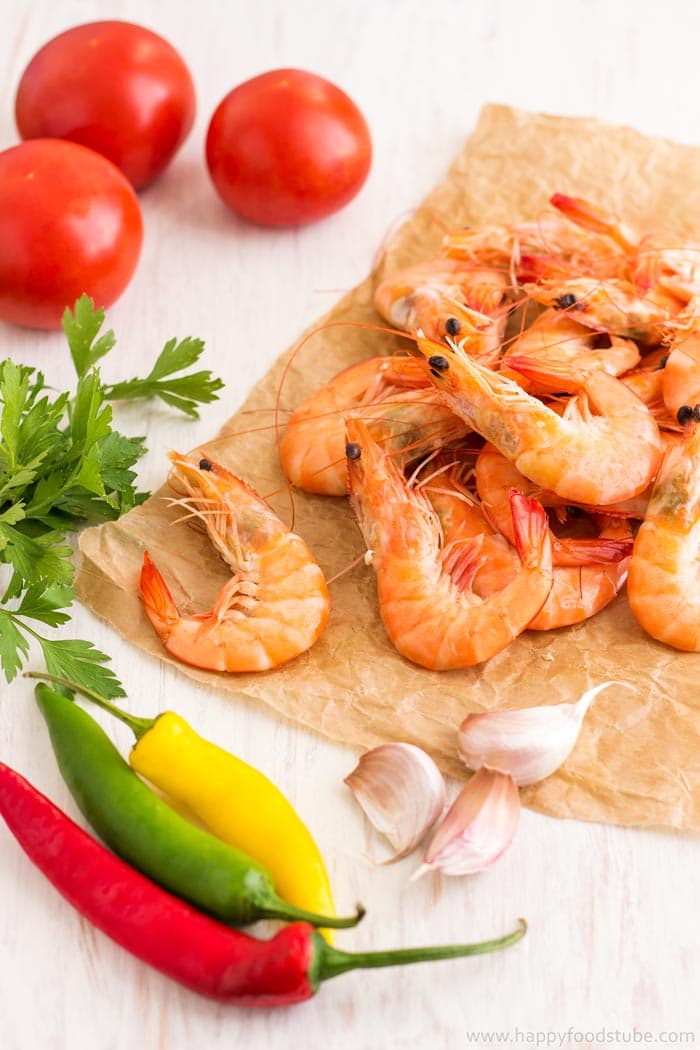 How to make spicy shrimp spaghetti
Spaghetti: The fastest way to make this dish is starting off with spaghetti. Get a pot and fill it with water. Check the package for instructions on time and water amount. 14oz/400g of spaghetti should feed 4 people.
It will take about 10 minutes for the water to boil and roughly the same time for spaghetti to be cooked. Now like I said check the package to confirm this as I once bought extra thin spaghetti that needed only 3 minutes to cook.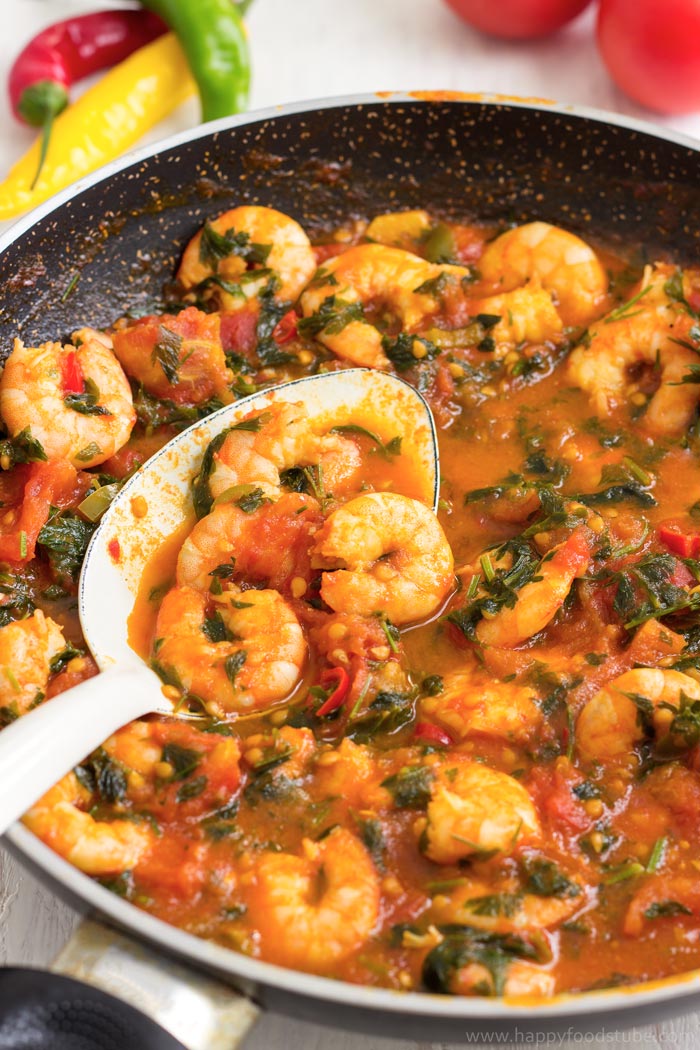 Shrimp: I bought medium shrimp. The shrimp was already pre-cooked so all I needed to do was heating it up. I was after fresh shrimp but there is no chance I can get my hands on those in our local supermarket.
If you prefer using fresh shrimp, then by no means go ahead and buy some. Just buy about 1.1 pound/500 grams instead of 0.8 pound/400 grams. If it is peeled and deveined you are good to go, if not you might need about 20 minutes to peel and devein these.
Also for cooking time – throw them in the sauce 2-3 minutes earlier so they cook through.
The sauce: This tomato based sauce is very easy to make. All you need is a large frying pan (or a wide bottom pot/sauce pan).
Butter, chopped tomatoes (possibly fresh ones), garlic, parsley, soy sauce, chili & shrimp!
Shrimp will go in at last. Bear in mind that you need to cook fresh shrimp while pre-cooked needs only reheating.
Seasoning: I did not use salt at all here. All I added was soy sauce which is quite salty so there was no need for extra salt. Butter, garlic and parsley do the trick here and "season" the sauce perfectly!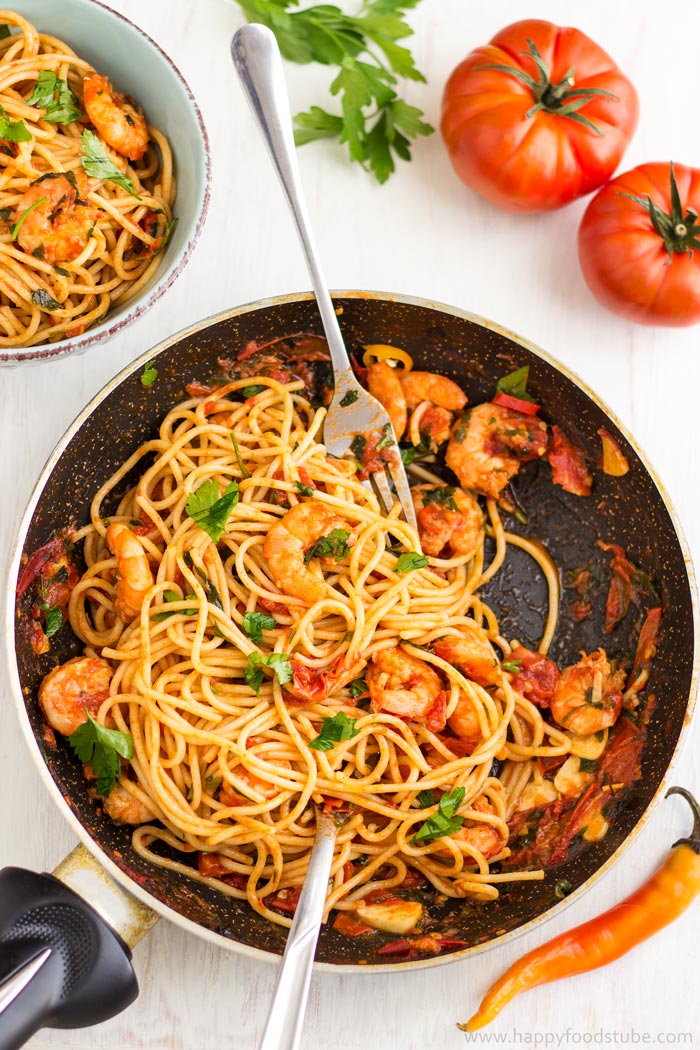 What I like about spicy shrimp spaghetti:
It's easy – It is indeed a very easy shrimp pasta recipe.
It's fast – The whole dish is ready in 20 minutes!
It's yummylicious – buttery tomato sauce full of flavor!
Spicy Shrimp Spaghetti
Spicy Shrimp Spaghetti is an easy and delicious dish ready in 20 minutes. Shrimp cooked in butter-y tomato sauce with garlic and served with pasta.
Ingredients
14

ounces

Spaghetti

(400 grams)

14

ounces

Pre-Cooked Shrimp

, peeled & deveined (400 grams)

2

tablespoons

Unsalted Butter

(30 grams)

6

Large

Fresh Tomatoes

3

cloves

Garlic

A handful of

Fresh Flat Leaf Parsley

1-2

tablespoons

Soy Sauce

1

Chili Pepper

of Your Choice

Salt

to Taste
Instructions
Start off with spaghetti. Cook them according to packet instructions. This is a quick recipe so they should be ready at the same time as the sauce.

In a large frying pan, melt the butter, add chopped tomatoes and cook on high temperature for 3-4 minutes. If needed, add a few tablespoons of water.

Meanwhile: Peel & thinly slice the garlic. Wash the chilies & slice them as well (I used 1 chili pepper – this was a very mild variety but you can add as much as you like – either less or more!

Add garlic + chili to the pan and cook for a further 5 minutes.

At last throw in the shrimp & finely chopped parsley, add soy sauce, mix well & cook for 4-5 minutes until the shrimp is heated through. Taste the sauce and season with salt, if needed.

Mix the sauce with drained spaghetti and serve!
Nutrition Facts
Spicy Shrimp Spaghetti
Amount per Serving
% Daily Value*
* Percent Daily Values are based on a 2000 calorie diet.
** As an Amazon Associate I earn from qualifying purchases.
LEAVE A COMMENT
RELATED POSTS