Easy 5-minute tiramisu dessert dip. This rich & creamy dip made with mascarpone, cream, cocoa & coffee tastes like real tiramisu! Best dessert dip ever!
Tiramisu is a great dessert and believe it or not it is very easy to make. However, if you feel like you would love to start with something easier then this 5 minute tiramisu dessert dip is right for you.
Truth be told it may take 6 minutes. This will depend on how powerful your mixer is.
Anyways, no matter how long it takes it tastes like the real deal. Like the Italian tiramisu! Just this is in a form of a dip. The only difference here is that I skipped the assembling part because why not, right? This way we cut down the prep time and didn't go into the "trouble" of dipping ladyfingers in coffee. Plus the layering was also omitted.
So if you like rich creamy dips, then you must try this one. It is perfect for any occasion. Speaking of occasions – it could be a great homemade dessert for Valentine's Day. Just saying.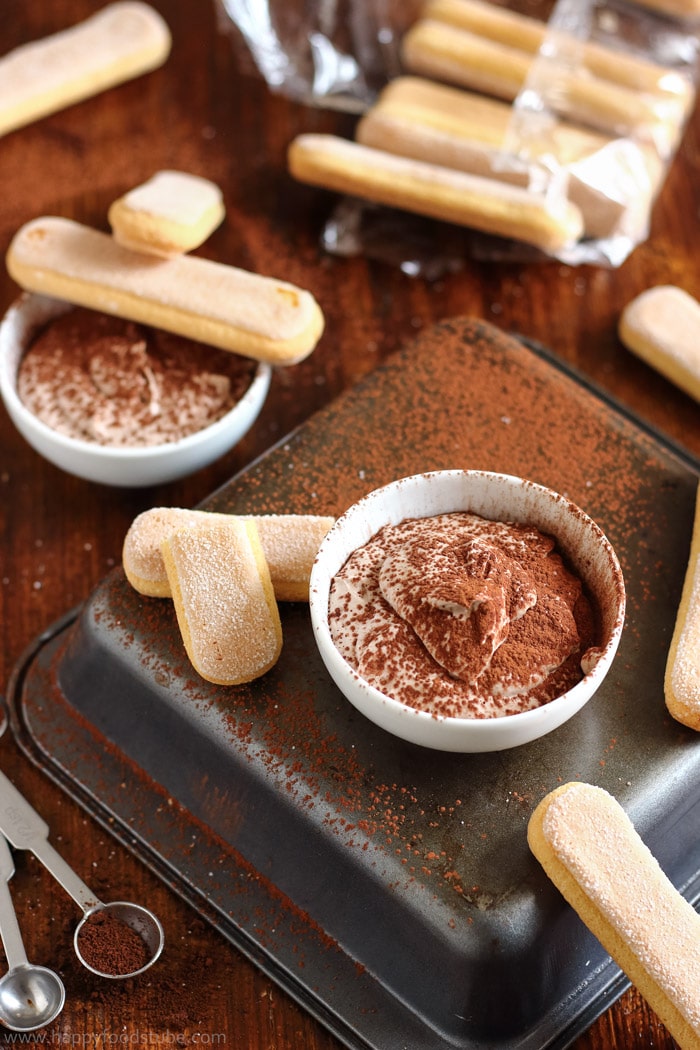 Oh, and speaking of Valentine's Day desserts: Are you planning on making something for your loved ones? Do you have an idea already? If you are looking for easy homemade desserts then look at this Mini Naked Chocolate Cake Hearts or Mixed Berry Charlotte Cake.
If this is not what you are after, check out my 20-Quick Homemade Desserts post. It's packed with amazing homemade dessert recipes.
By the way, originally this wasn't meant to be a dip. My plan was to make a Tiramisu. But our fridge was packed with other desserts that needed to be eaten so I figured it would be too much for the two of us. But I had mascarpone in my fridge…
So this is how this quick dessert dip was born. I soo love Easy to Make Desserts! What about you?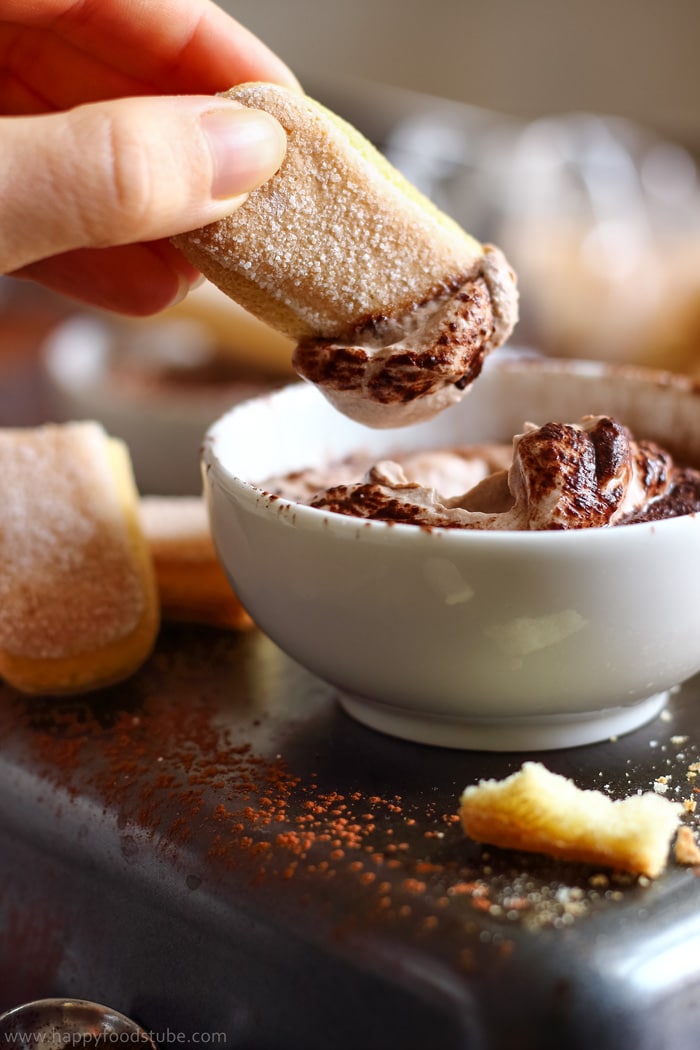 If you want to know how to make a tiramisu dip then read on: The thing is there is not much to say here. The whole process is so easy. Heavy cream is whipped with icing sugar. In goes mascarpone with cocoa powder and instant coffee granules.
Give it a whisk and you are done! Easy-peasy!
Are you asking what to serve with this dessert dip? Now you have one obvious option here: Ladyfingers! And guys, you know what? You can serve it with coffee which means you can dip the ladyfingers in it! That will bring you even closer to the real thing!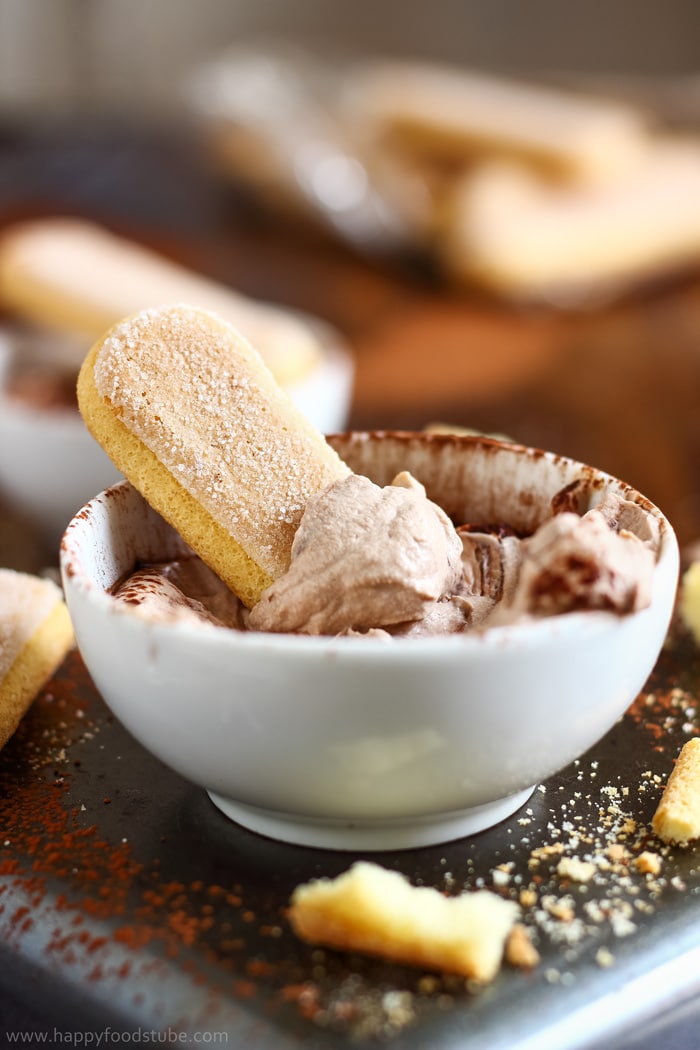 However, I tell you a secret: This easy sweet dip tastes divine with strawberries. That's for those who don't want to serve it with ladyfingers. But you didn't hear it from me!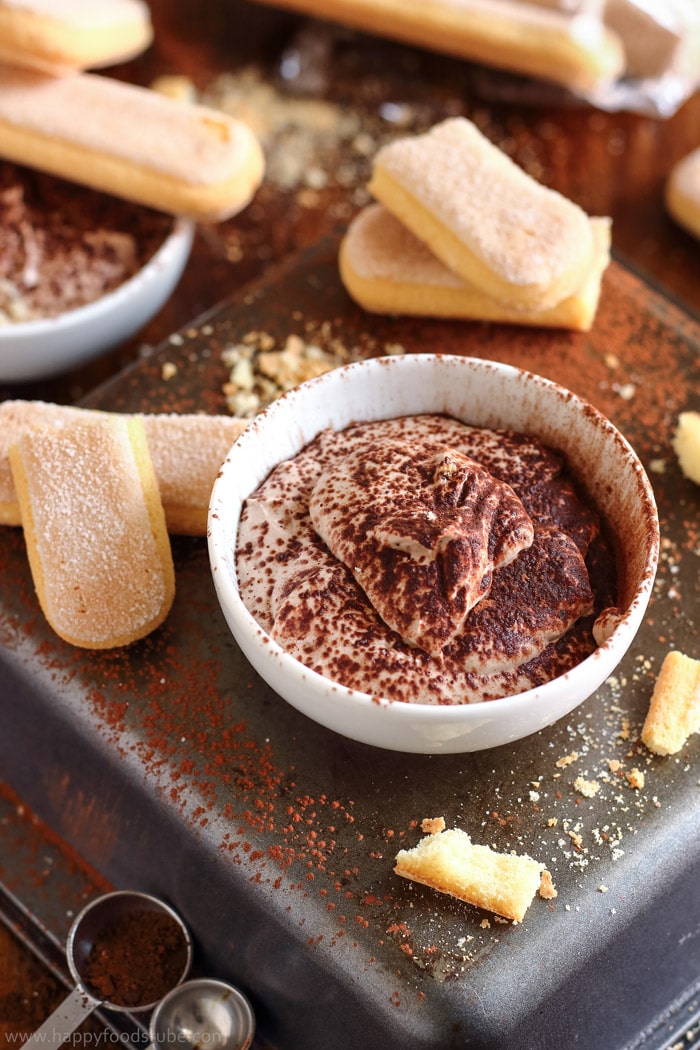 So what do you think about this dessert dip? Actually, what do you think about tiramisu? Do you like this dessert? Have you ever tried it? It is pretty yummy!
If you haven't tasted one I seriously recommend starting with this dessert dip and then moving onto making the tiramisu.
Check out my other dip recipes:
5-Minute Tiramisu Dessert Dip
This rich & creamy dip made with mascarpone, cream, cocoa & coffee tastes like real tiramisu. Best dessert dip ever!
Instructions
In a mixing bowl, whip the cream with icing sugar. Add mascarpone, cocoa powder and coffee granules (you can dissolve them in a teaspoon of water, if preferred) and mix with an electric whisk until well combined.

Transfer into individual bowls and dust with cocoa powder (optional). Serve with lady fingers.

Enjoy!
Nutrition Facts
5-Minute Tiramisu Dessert Dip
Amount per Serving
% Daily Value*
* Percent Daily Values are based on a 2000 calorie diet.
** As an Amazon Associate I earn from qualifying purchases.
LEAVE A COMMENT
RELATED POSTS