This is a recipe for red bean soup without sugar. This quick and easy soup is ready in 20 minutes and is a great source of nutrients and protein.
Please note that this is not the Asian sweet red bean soup you might be familiar with. In fact, this recipe has nothing to do with Asia.
This red bean soup recipe uses only a few simple ingredients, so if you are looking for easy recipes for a meal prep that are also cheap, this soup is one of them.
Is red bean soup healthy?
Yes. This savory bean soup is made from scratch and contains only vegetables. They are simmered on low heat in a short time which helps keep their nutritional values. Legumes are also a great source of protein, so if you are looking for protein-rich soups, then this is a great one to start with.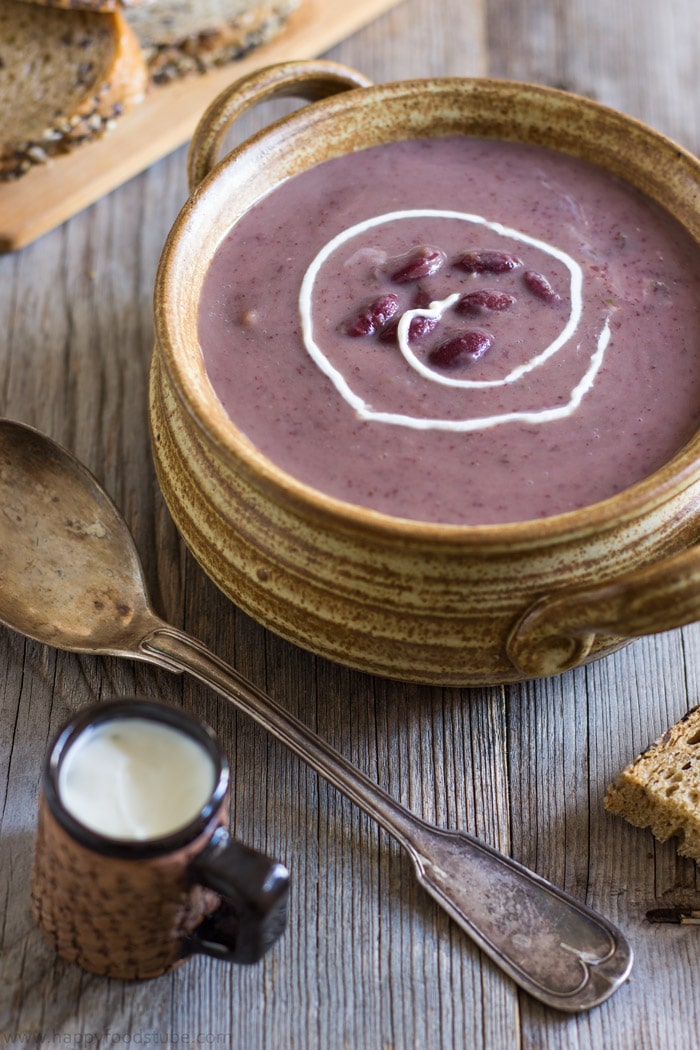 How to make red bean soup without sugar
Heat some oil in a pot and add onion. Sauté for a few minutes before you add garlic and caraway seeds. Stir for a while until the garlic releases its aroma. Then, add cooked red beans, stock and roughly chopped parsley.
Cover with lid and bring to a boil. Reduce the heat and simmer on low for 5 minutes. Puree using immersion blender and serve (sour cream on the top is completely optional).
Note: My immersion blender is not as good as powerful blenders (like Vitamix, see the link below) so I still find some pieces of bean skin in the soup. If you experience the same, don't worry. It will not affect its taste.
Is red bean soup vegetarian/vegan?
This soup is vegetarian and if you don't use sour cream as a garnish, vegans can enjoy it as well!
More vegetarian and vegan soups (or healthy diet soup recipes):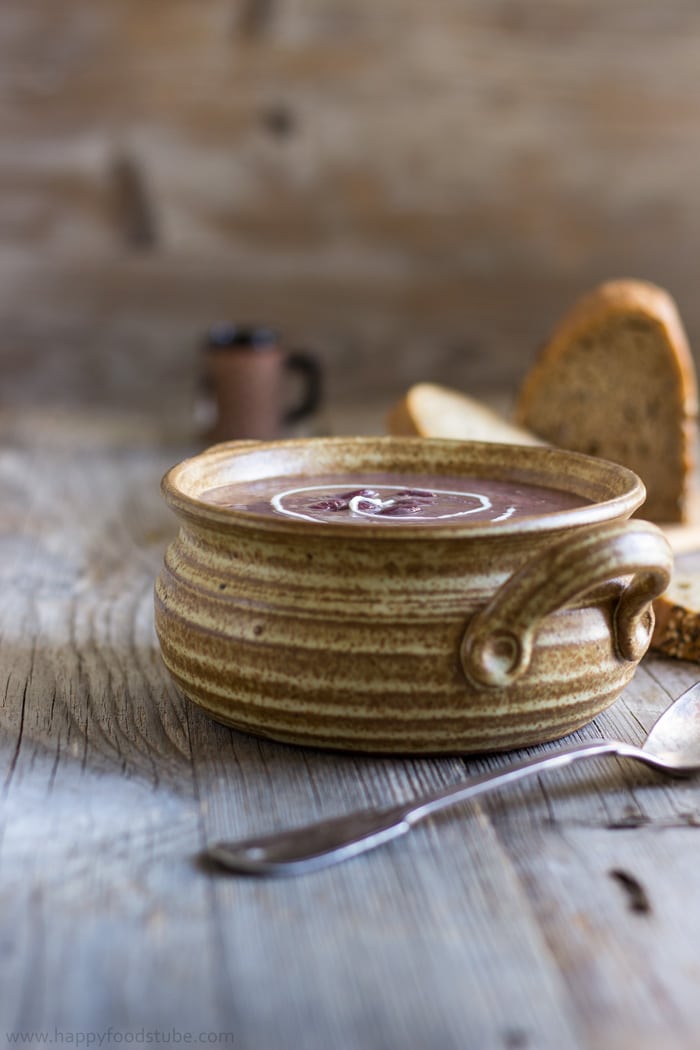 Tips for making red bean soup:
One of the key ingredients that give this quick red bean soup its taste are caraway seeds. They look like cumin seeds, but have completely different flavor. You can buy them whole or ground. I used them in cooking a lot. They go well with cabbage dishes – Braised Red Cabbage or Cabbage & Sausage Foil Packets. You can add some to stews or bread (whole seeds).
This soup is quite thin. If you prefer a thicker consistency, increase the quantity of cooked beans (I used 1 jar of cooked beans which was 14 ounces/400 grams. I suggest you add extra 7 ounces (200 grams) or more. Or you can add some whole beans to the pureed soup.
I did not use any salt whatsoever. I suggest you taste the soup after it has been pureed and see if it needs any seasoning.
Instead of vegetable stock you can use the same amount of water with bouillon (stock cubes). If you use a low-sodium stock, you will need to add salt a well – always taste the soup first and add seasoning afterwards!
Red Bean Soup
A bowl of this red bean soup is exactly what your body needs in cold weather. It's healthy, fast and easy to make. Once you try it you will love it!
Servings:
4
Portions, see note 6
Ingredients
1

tablespoon

olive oil

, see note 1

1

medium

Onion

2

Garlic Cloves

, see note 2

½

teaspoon

Whole Caraway Seeds

, see note 3

1

Jar

Cooked Red Beans

(14 ounces/400 grams), drained, see note 4

2

cups

Vegetable Stock

(500 milliliters), see note 5

¼

cup

Fresh Parsley

, roughly chopped

Sour Cream

for Serving, optional
Instructions
Heat oil in a medium pot. Add minced onion and saute until translucent (on low-medium heat). Add minced garlic and caraway seeds. Saute for a minute before adding drained beans.

Add red beans, stock, parsley and increase the heat. Cover with a lid and bring to a boil. Now, reduce the heat to low and simmer for 5 minutes.

Puree until smooth. Taste it and add more seasoning, if needed.

Enjoy!
Notes
Olive oil can be substituted with vegetable or sunflower oil.
I don't recommend substituted fresh garlic with dried garlic.
Caraway powder can also be used instead of whole caraway seeds.
To make this soup thicker you can add more beans to the soup (up to 14 ounces/400 grams, but I recommend around 7 ounces/200 grams).
Instead of vegetable stock, you can use stock cubes or chicken stock (if you are not vegetarian or vegan).
This soup should give you 4 portions (when counting with 1.5 cup per person or 5 portions when counting with 1 cup per person).
Nutrition Facts
Red Bean Soup
Amount per Serving
% Daily Value*
* Percent Daily Values are based on a 2000 calorie diet.
** As an Amazon Associate I earn from qualifying purchases.
LEAVE A COMMENT
RELATED POSTS