A bowl of this red bean soup is exactly what your body needs in cold weather. It's healthy, fast and easy to make. Once you try it you will love it!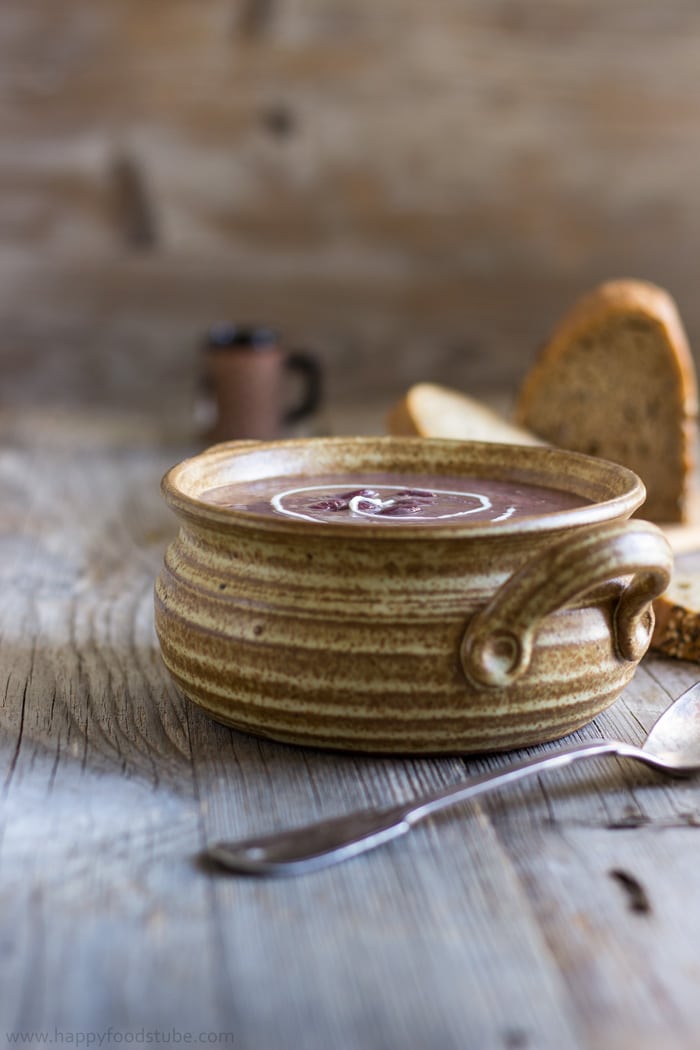 This soup is nothing like the sweet Asian soup you might know.
First of all, this is not a sweet soup.

It has an amazing taste thanks to caraway seeds & fresh parsley (and of course the beans!). Do you use caraway seeds in cooking? Do you know them?
They look like cumin seeds but their taste is totally different. I use them a lot. They can be added to bread before baking, to stews, soups or mixed with boiled potatoes & butter.
Now because January is a pretty cold month in many countries around the world, we tend to make soups a lot. Or well, at least I do! I simply love a good hot soup that heats up my body when the temperatures are quite low. I like to make this Healthy Carrot Soup, French Onion Soup or Easy Creamy Zucchini Soup.
However, lately our favorite one has become this red bean soup recipe! It ticks all the boxes: it's healthy, fast, easy and tasty. What else could you ask for?
Follow a few simple steps and you will be rewarded with a bowl of deliciousness. If you are looking for healthy diet soup recipes, this one is a perfect choice for you! There is no cream used and sour cream can be totally omitted as well. I used it for decoration only.
Red bean soup recipe break down:
Sautéing + Cooking + Puréeing. That is literally it!
The prep only takes about 5 minutes and the cooking might take less. This will depend on how fast you can bring the soup to a boil.
Puréeing: Now my blender is not powerful at all so my soup did not turn out as smooth as I wanted. I wished I had Vitamix or other powerful blender to see the difference! Well, maybe one day… By the way, it's not that it will change the taste of this soup. Just its texture! That's all.
Anyways, what about you? Do you have a good powerful blender? If you do and if you ever make this soup, send me a photo, I would love to see what magic those machines can do!
So because the beans are cooked, all you need to do is sauté the onion + garlic. Once this has been done, throw in red beans and pour the vegetable stock in.
Bring to a boil and simmer for a while. Puree it, taste it, season it (if you find it bland) and garnish with a dollop of sour cream (optional).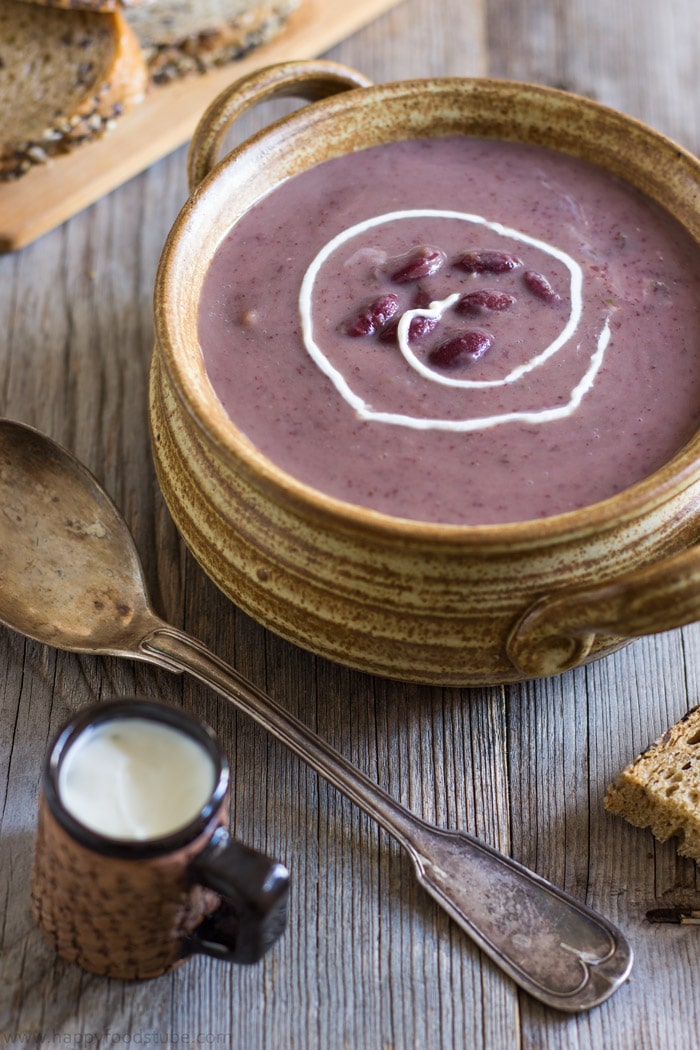 Good to know when making this healthy red bean soup:
I did not use any salt whatsoever. I suggest you taste the soup after it has been pureed and see if it needs any seasoning.
This soup will also taste delicious using half of the beans that I used. However it will be quite thin.
Instead of vegetable stock you can use the same amount of water with bouillon.
I used cooked beans as I didn't want to wait too long for it to cook. If you prefer using dried red beans then you can, however, I am not sure how much you will need to use. I haven't tested it with dried bean yet.
You can also mix in the sour cream (at the very end. After you have pureed the beans), it also tastes amazing (tried it and loved it as well).
You can also save some of the beans for later and add them after the soup has been pureed.
Is this soup suitable for vegetarians and vegans?
Yes and yes! It is an easy vegetarian soup and if you omit the sour cream it will be perfect for vegans as well!
Check out my other vegetarian soup recipes:
Print
20-Minute Red Bean Soup
A bowl of this red bean soup is exactly what your body needs in cold weather. It's healthy, fast and easy to make. Once you try it you will love it!
Instructions
Heat the oil in a large pot. Add finely diced onion and sauté until translucent (low – medium heat). Now add chopped garlic and caraway seeds. Sauté for a minute before adding drained beans.

Pour in the stock, add parsley and bring it to a boil. Reduce the heat and simmer for 5 minutes. Puree it until smooth.

Serve warm with a few slices of bread and sour cream (optional).

Enjoy!
Nutrition Facts
20-Minute Red Bean Soup
Amount Per Serving
Calories 347
Calories from Fat 72
% Daily Value*
Fat 8g12%
Carbohydrates 52g17%
Protein 18g36%
Vitamin A 520IU10%
Vitamin C 5.3mg6%
Calcium 66mg7%
Iron 6.1mg34%
* Percent Daily Values are based on a 2000 calorie diet.
** Happy Foods Tube is a participant in the Amazon Services LLC Associates Program, an affiliate advertising program designed to provide a means for sites to earn advertising fees by advertising and links to Amazon.com.
LEAVE A COMMENT
RELATED POSTS