Stay healthy with this Vitamin packed red cabbage salad! This salad is perfect for detox but also great with barbecue. It is light, crispy and yummy!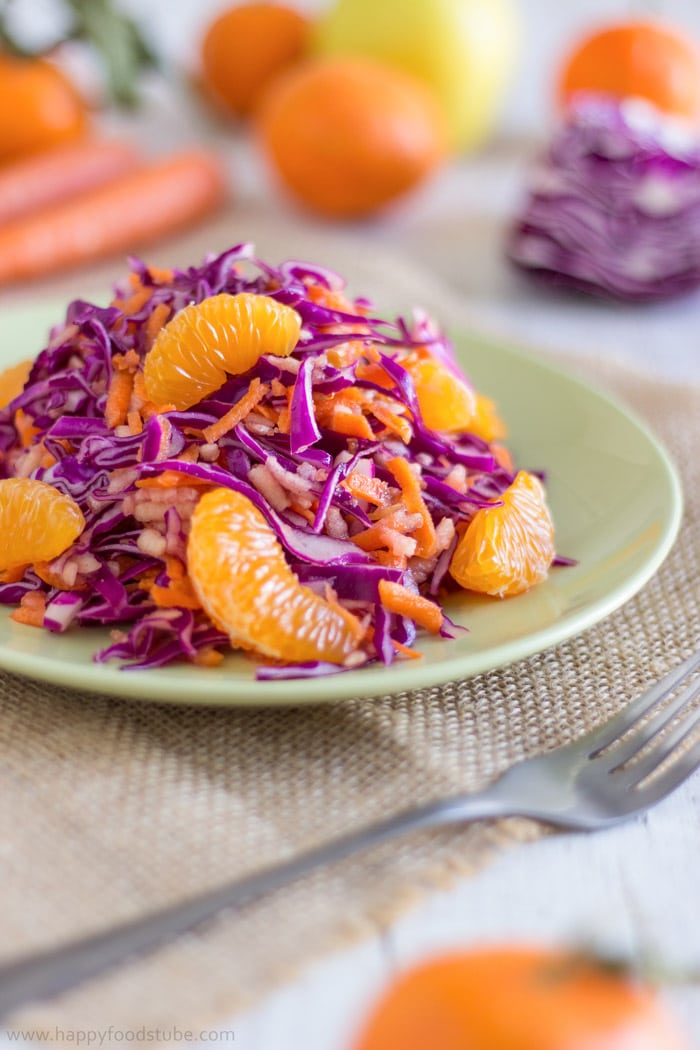 A few days before New Year's Eve, I bought red cabbage. I don't even know why I did that. I just liked its color! So on Sunday I see this cabbage in the fridge and I know I have to use it finally. But what to do with it? Well, I wanted to create a light red cabbage salad recipe that would be packed with Vitamins, be perfect for detox and will also taste amazing! So I put a few veggies and fruits together and this detox salad recipe was born!
I think this red cabbage salad has it all! It's light, tasty, rich in Vitamins and most of you will love it! You can enjoy it on its own or as a side! It's up to you!
Did you know? (I didn't…)
Some people call this cabbage purple cabbage but where I come from it always was, is and will be red cabbage. Now that I think of it, why do we actually call it a red cabbage when it is not red in color at all? Isn't it weird? It's purple so why not all of us call it purple cabbage? Who started with the whole "red" thing?
So I did some research and this is what I found out:
"The red cabbage is also known as purple cabbage, red kraut or blue kraut after preparation. Its leaves are colored dark red/purple. However, the plant changes its color according to the pH value of the soil." (source: Wikipedia)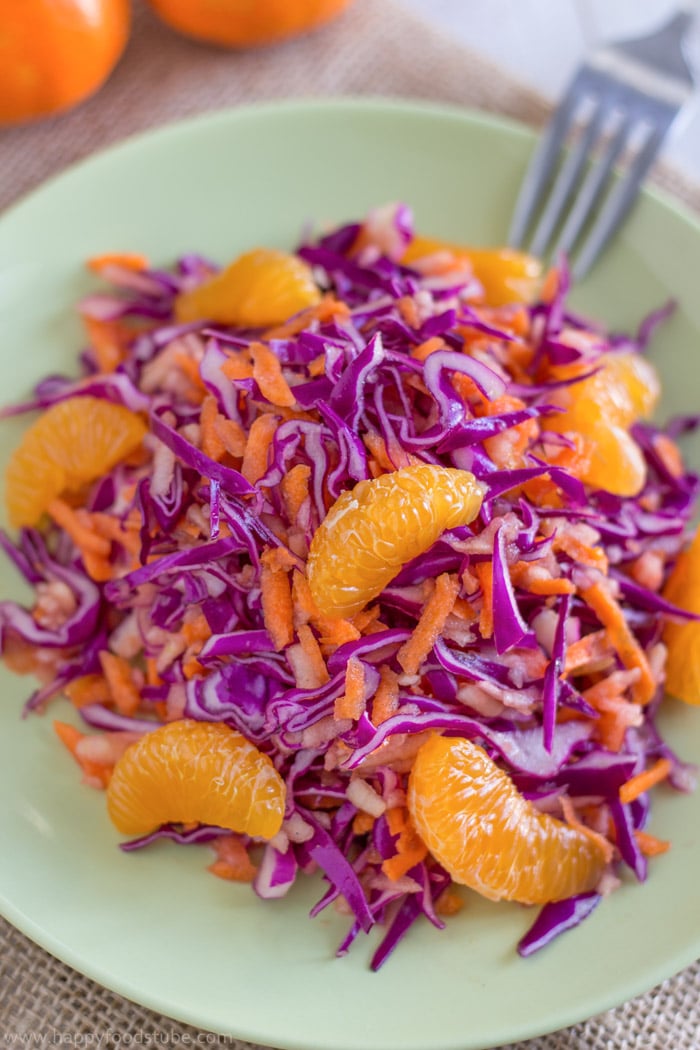 So this is how it goes:
Acidic soils = reddish leaves
Neutral soil = leaves will turn more purple
Alkaline soil = green-yellow colored cabbages
Isn't this interesting information? If you grow red cabbages you can actually figure out what the pH of your soil is.
Thank you for educating us, Wikipedia!
How to make red cabbage salad:
The prep is pretty straight forward. Rinse, peel, core, grate & slice! Nothing more nothing less!
Toss the ingredients around a bit, season and you are ready to go! This perfect red cabbage salad is ready in no time! Isn't that great?
I simply used a knife to thinly slice the cabbage but if you have a mandolin, go ahead and use it.
Mandarins, apples, carrots and red cabbage go really well together and with a splash of extra virgin olive oil and some seasoning you are in for a healthy treat!
By the way:
I removed the thin skin from each mandarin segment. It was a tedious work and I don't think I would be doing it in the future. However, if you want to impress your guests, then go ahead. Note that it took me 4 minutes to do one mandarin. So you will have to count with extra 20 minutes if you decide to peel all of them as well.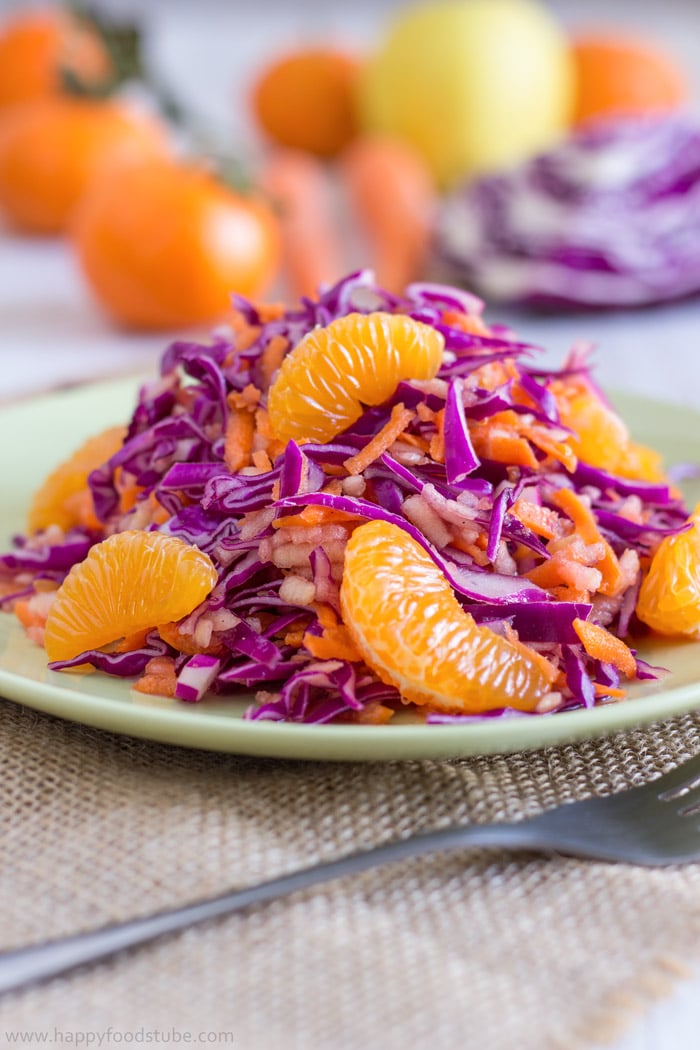 Why is this red cabbage carrot salad with mandarins good for us?
It is rich in Vitamins (particularly Vitamin C)
Boosts our immune system
Good for digestion
Rich in antioxidants & minerals
Detoxifies our body
All in all this is a great and light salad so if you are on a diet or trying to eat healthier I highly recommend this! Also if you are after vegetarian salad ideas, this is the recipe to try! It rocks!
Looking for more healthy ideas? Check out these recipes:
Yummylicious Detox Red Cabbage Salad
Stay healthy with this Vitamin packed red cabbage salad! This salad is perfect for detox but also great with barbecue. It is light, crispy and yummy!
Servings:
4
Portions as side dish (2 portion as a main)
Instructions
Wash the fruit & vegetables. Peel and grate carrots, peel, core and grate the apple. Grate or finely slice red cabbage.

Throw all the ingredients in a serving bowl including mandarin segments.

Pour over extra virgin olive oil and season with salt & black pepper.

Toss it around, taste for seasoning and when happy, serve!

This salad is perfect on its own or as a side dish especially with a heavy meal. It will also be great with barbeque in summer!
Nutrition Facts
Yummylicious Detox Red Cabbage Salad
Amount per Serving
% Daily Value*
* Percent Daily Values are based on a 2000 calorie diet.
** As an Amazon Associate I earn from qualifying purchases.
LEAVE A COMMENT
RELATED POSTS