This healthy carrot soup with ginger only calls for a few simple ingredients. Perfect for a meal prep, busy families and anyone who likes easy, light and nutritious soups.
Why make this easy carrot soup?
Improved recipe – This carrot soup recipe has been updated with useful tips, storing and reheating options as well as more photos for easy understanding.
Anyone can make it – perfect for beginner cooks, busy families, healthy lifestyle, …
Only a few ingredients – 6 basic ingredients is all you need!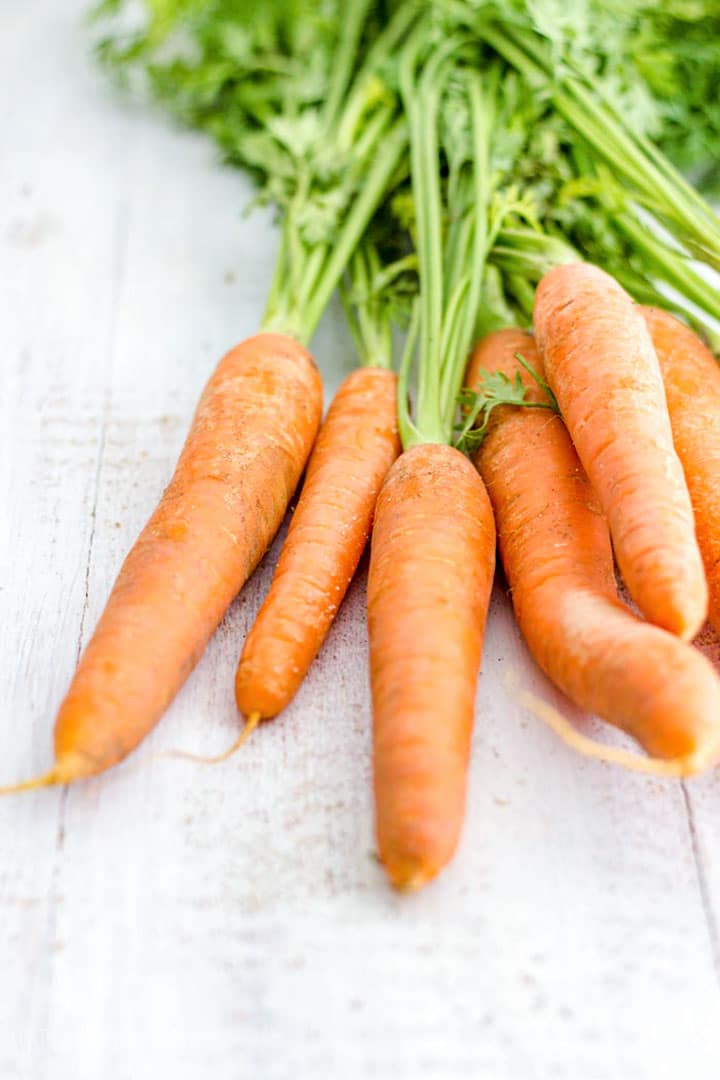 Suitable for various diets – vegetarian, vegan, dairy-free, gluten-free, Mediterranean diet.
It's good for you – It's packed with vitamins, minerals and boosts your immune system!
In the notes below, you can find tips on how to achieve different level of thickness.
How to make healthy carrot soup with ginger
In a pot, saute carrots and onion with little oil. Then, add grated ginger. Let it cook for a bit, while stirring constantly. You don't want to burn the ginger.
Next, pour in 2 cups of stock and add a pinch of salt. Stir everything well and bring to a boil. Once boiling, reduce the heat and simmer until the carrots soften. This takes about 20 minutes.
Then, pour in the remaining stock (this will reduce the temperature of this carrot soup so if you are using a stand blender, you can puree it faster as it is not too hot) and puree. When using an immersion blender, there is no need to wait.
Creamy carrot soup
This is one of the easy soups that taste good without cream. Omitting cream, makes this carrot soup not only healthy, but also light, which makes it great for many diets.
Using only a few simple ingredients makes it also very affordable. It can be easily doubled or tripled if needed.
However, to make this soup creamy, you can add a coconut milk (not the drink!). I'd say a ½ cup should be plenty.
If you would like to make more cream-free soups, try my Broccoli and Celery Soup recipe or Sweet Potato Soup (which has coconut milk in it).
Thickness
I like pureed soups that are not too thin nor too thick. So, this carrot soup recipe is in the medium category.
If you like your soups thick, then you can only use 2 cups of stock, puree it and see, if you like the thickness. If you like it, you are done. If it's too thick, add the remaining 1 cup of liquid, bring to a boil and turn off.
You could add even more liquid, but I would say the carrot soup would turn a bit too thin.
Storing and reheating
This simple carrot soup can be stored in an airtight container in the fridge for up to 3-4 days. It reheats well – either in the microwave or on a stove-top.
Tips for making this easy carrot soup
Because this carrot soup recipe uses only a few ingredients, they should be as fresh as possible to achieve the best flavor. Also, try using fresh ginger instead of ginger powder (for the same reason).
It does not matter if you use white or yellow onion here. Both work well!
Because ginger gives a ton of flavor to this simple carrot soup, you don't need to add any other seasoning. If you prefer milder ginger taste, use only ½ teaspoon of grated ginger.
For this recipe, I used a low sodium vegetable stock and only a little salt. You can use regular stock, but perhaps it will be a good idea to dilute it with water (2 cups stock and 1 cup water) to avoid over-seasoning.
Also, if you are not a vegan or vegetarian, feel free to use any kind of broth you have on hand.
Carrot is a simple vegetable, yet it's packed with nutrients and has a ton of health benefits. Turning it into carrot soup is the easiest way to get some of the nutrients into our body. Plus, it tastes amazing!
Guys, I have a good selection of easy soup recipes on the blog and in case you are looking for more inspiration, here are a few of them:
Healthy Carrot Soup
This healthy carrot soup with ginger only calls for a few simple ingredients. Perfect for a meal prep, busy families and anyone who likes easy, light and nutritious soups.
Ingredients
1

tablespoon

olive oil

, see note 1

1

Medium

Onion

, minced, see note 2

1

pound

Carrots

, thinly sliced (450 grams)

1

teaspoon

Fresh Ginger

, grated, see note 3

3

cups

Low Sodium Vegetable Stock

, see note 4

Salt

, to taste
Instructions
In a 3-quart (3-liter) pot, heat the oil. Add minced onion, sliced carrots and grated ginger and saute this for about 3 minutes, stirring so that the ginger does not get burnt.

Pour in vegetable stock, season with a pinch of salt and cover with lid. Bring to a boil. Reduce the heat to low and simmer covered until the carrots are tender (about 20 minutes).

When ready, puree the soup and taste. Add more seasoning, if you feel it is needed.

Enjoy!
Notes
I highly recommend using extra virgin olive oil, but if you don't have it on hand, use cooking olive oil instead. Real butter is also a great substitute.
Either white or yellow onion will work great.
For a milder ginger taste use only ½ teaspoon of grated ginger. The ginger flavor will also intensify when you keep the soup in the fridge overnight.
I used a low sodium vegetable stock and added only a pinch of salt at the end. If you use regular vegetable stock, perhaps a good option is diluting it with water (e.g. use 2 cups of stock and 1 cup of water).
This recipe yields 4 healthy portions or 3 very generous portions.
This is a light soup low in calories. For that reason it is not suitable as a main only.
For more tips and useful information, I recommend reading the full post above this recipe card.
Nutrition Facts
Healthy Carrot Soup
Amount per Serving
% Daily Value*
* Percent Daily Values are based on a 2000 calorie diet.
** As an Amazon Associate I earn from qualifying purchases.
LEAVE A COMMENT
RELATED POSTS