This green juice recipe is an easy way to give your skin the glow you are after. No preservatives, only 3 ingredients and 5 minutes to make!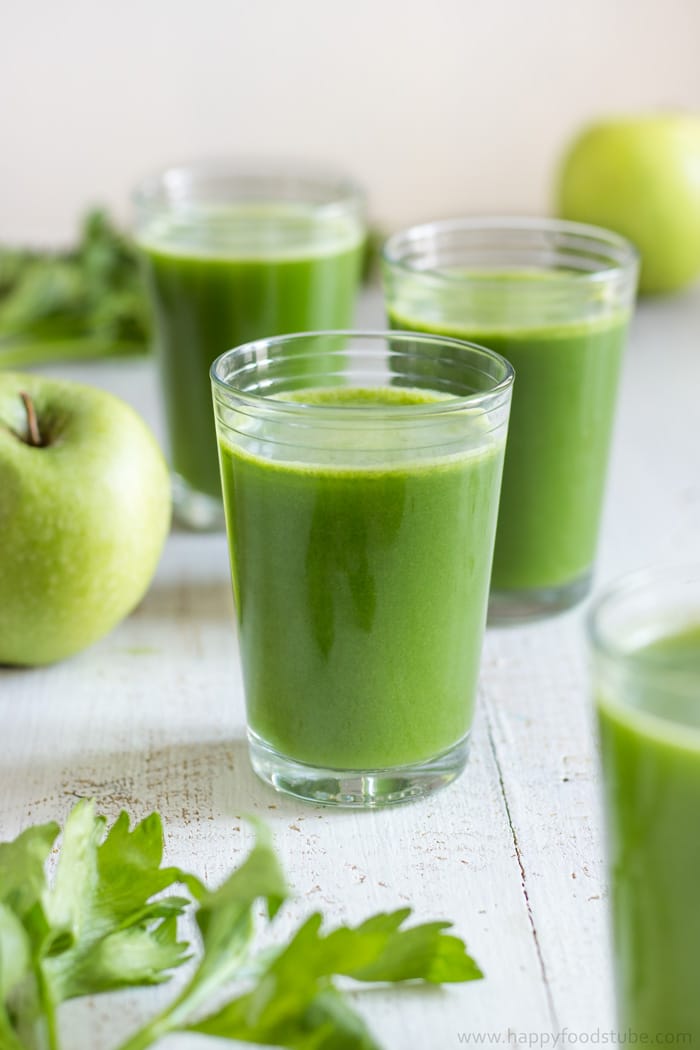 So I was again doing some juicing and this is what I made: A very easy juice for glowing skin! Seriously, guys, this homemade green juice recipe is not only for glowing skin but also helps us fight off the viruses that are around us, especially in winter!
By the way, if for some reason you feel apprehensive about drinking kale and celery I suggest you increase the amount of apples and reduce the amount of celery I used. This way you will see whether you liked it or not and then you can slowly increase the vegetables.
If you are still not sure about making this green juice, you might wanna check out this Vitamin Boosting Juice or this Immune Booster Juice. Now if you are looking for a detox drink recipe, have a look at my Body Cleansing Lemon Ginger Water recipe!
BUT! If you want a radiant and healthy skin, this healthy green juice recipe with give you what you are after! So let's talk about this fresh juice a bit more!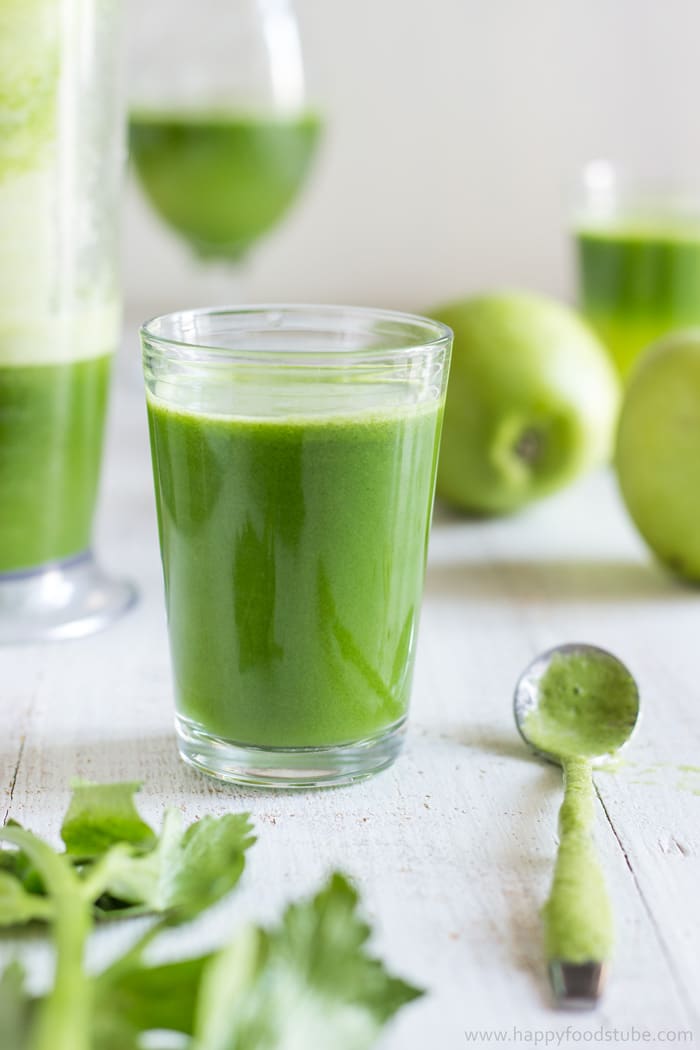 Good to know when making this apple, celery and kale juice:
As you might have already guessed, this healthy green juice recipe contains 3 ingredients:
Apples + Celery + Kale Leaves
They help your skin stay healthy, hydrated and give it the healthy glow you are after! Vitamin C helps keep your skin firm + gives it an inner radiance. Vitamin K helps reduce stress level which has a positive effect on your skin (stress can cause bad skin, so the less stress, the better skin), lots of water helps the body stay hydrated. Hydrated body = hydrated skin = no dryness, less wrinkles, and flaking = healthy looking skin!
Storage:
This juice is best enjoyed right away but if you want to drink it later, store in the fridge at all times! It should last for up to 48 hours from juicing (shake the bottle/jar just before drinking) but I recommend drinking it within 24 hours.
Good to remember:
The juice that is not stored in the fridge goes off pretty fast. The warmer the room the faster it goes off. In summer it can go off within an hour, if not in the fridge!
By juicing you lose fiber that each fruit and vegetable contains but what I do is this: I simply take some of the pulp (that usually goes to bin) and mix it back into the juice! You don't have to do it though.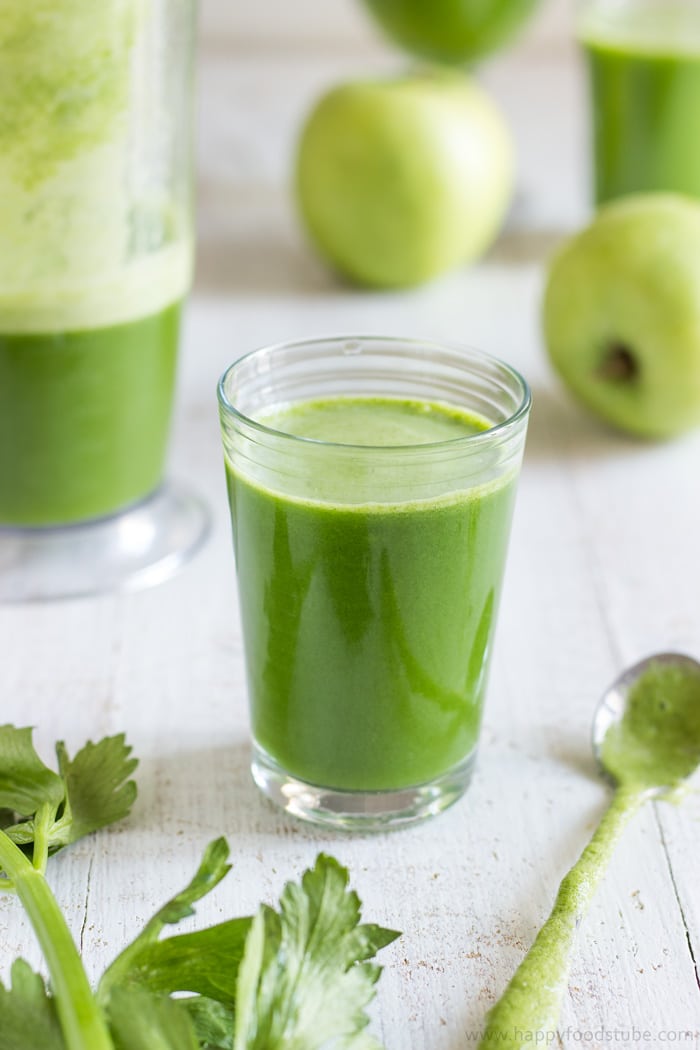 Health benefits of green juice:
Green juice is a great way to get into our body greens that we wouldn't normally eat much. What I like about juicing is that even when you use vegetables that you don't like much, adding your favorite fruits like apples to the mix will turn your juice into a delicious drink! You will barely taste the vegetables! And most importantly it can't get any fresher and healthier than this!
The health benefits will depend on the ratio of your ingredients but most green juices are packed with Vitamins, are high in antioxidants and rich in chlorophyll which helps your body detoxify.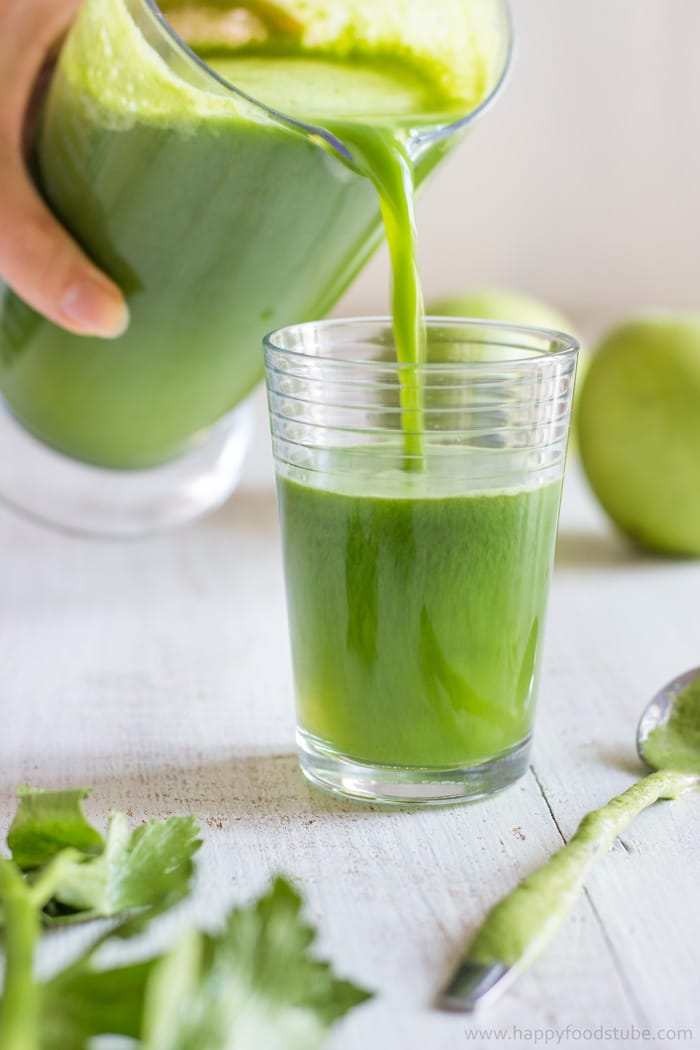 Why drink homemade fruit and veggie juices?
They are packed with nutrients!
Your body is able to absorb the nutrients right away thanks to its liquid form. This means that our digestive system has time to rest (no need to break down any solid foods)!
You are more likely to drink a mix of veggies/fruits that you wouldn't eat raw = more good stuff for your body!
Juicing at home is a great way to control what you get in your body (no preservatives, no added artificial flavors or sugars)!
So guys, I highly recommend this glowing skin green juice. It is tasty, healthy, fresh, nutritious and your skin will thank you for drinking it! Actually, your whole body will!
Glowing Skin Green Juice
This green juice recipe is an easy way to give your skin the glow you are after. No preservatives, only 3 ingredients and 5 minutes to make!
Servings:
3
cups (800ml/27fl oz)
Ingredients
4

Large Apples

6

Celery Stalks

2

Kale Leaves
Instructions
Wash the ingredients under running water.

Core the apples. De-stem kale leaves. Throw them in a juicer altogether with celery stalks, that have been cut into smaller pieces.

The juicing takes literally a minute or two.

Once juiced, pour into glasses and serve right away!
Nutrition Facts
Glowing Skin Green Juice
Amount per Serving
% Daily Value*
* Percent Daily Values are based on a 2000 calorie diet.
** As an Amazon Associate I earn from qualifying purchases.
LEAVE A COMMENT
RELATED POSTS