These mini naked chocolate cake hearts are perfect for Valentine's Day. Red wine chocolate cake with berry mascarpone filling & decorated with fondant hearts!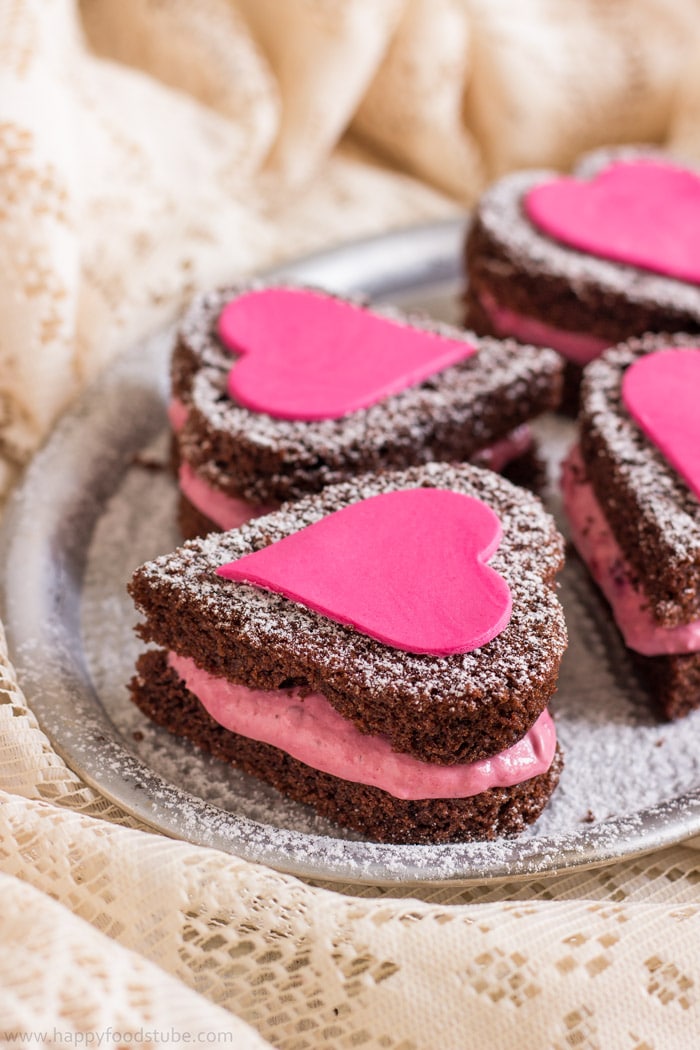 Show your loved ones you care by making these easy homemade desserts! If you have a heart shaped cake tin, you could actually make one large cake. However, if you prefer small individual cakes then this is it.
Valentine's Day is behind the corner so I was thinking what dessert would be great to make for this special day. I didn't want to bake anything complicated because Valentine's Day falls on a Tuesday which means many of you will be working.
So this is what came to my mind. I made this Red Wine Raspberry Cake last year for my fiancé's birthday and he loved it. It's rich, moist and chocolate-y with raspberry filling. Now making this cake is not difficult but it is a bit time consuming. So I figured why not making something using the same chocolate cake recipe but reducing the prep time.
And this is what I came up with: Mini Naked Chocolate Cake Hearts with Berry Filling!
Naked Chocolate Cake Recipe breakdown:
The cake: The recipe is pretty straight-forward. All you need is a mixing bowl + wooden spoon.
Start off with dry ingredients and make sure you sift the flour, baking powder and cocoa powder. Now you may wonder why sifting the cocoa powder but some powders may contain lumps that could be hard to break.
You don't want any lumps in your mix. Once you have all the ingredients in the bowl make sure to mix it until well combined. Now you can add wet ingredients – oil, milk and eggs. Mix. Pour in some of the wine, stir again pour some more, stir, etc… until you get smooth batter.
Baking: I suggest dividing the batter equally in two 20cm tins. This way it will take about 30 minutes to bake. If you only have one cake tin the baking time will increase to another 30 minutes. I used two round sandwich tins and they were perfect for it.
Don't forget to line the cake tins with baking paper or grease with oil!
Making the filling: The filling is soooo easy to make. You will need a frying pan or sauce pan. Throw in sugar + berries and cook for about 5-7 minutes. Let it cool down before pureeing this in a food processor. And now all you need to do is whisk mascarpone and the berry mixture together to get mousse like filling. Keep it in the fridge until ready to use.
Tip: if you are really stuck for time make the filling only and serve it as a mousse in dessert cups! Your loved ones will love them!
Assembling hearts: Cut 4 hearts out of each cake. Spread the berry filling over 4 hearts. Cover with the remaining 4 cake hearts. Sprinkle generously with icing sugar. Cut 4 smaller hearts out of fondant and place each one on the top of the mini cake.
Tip: Leave the cut offs for later (refrigerate them or freeze for a later use) – they are great in so many recipes. I am making one more recipe where I am using them so stay tuned.
Homemade dessert recipes rock and they are always better than the shop-bought ones. Especially because you know what you put in, there are no preservatives and they are fresh. So guys, make someone happy by making these mini naked chocolate cake hearts this Valentine's Day!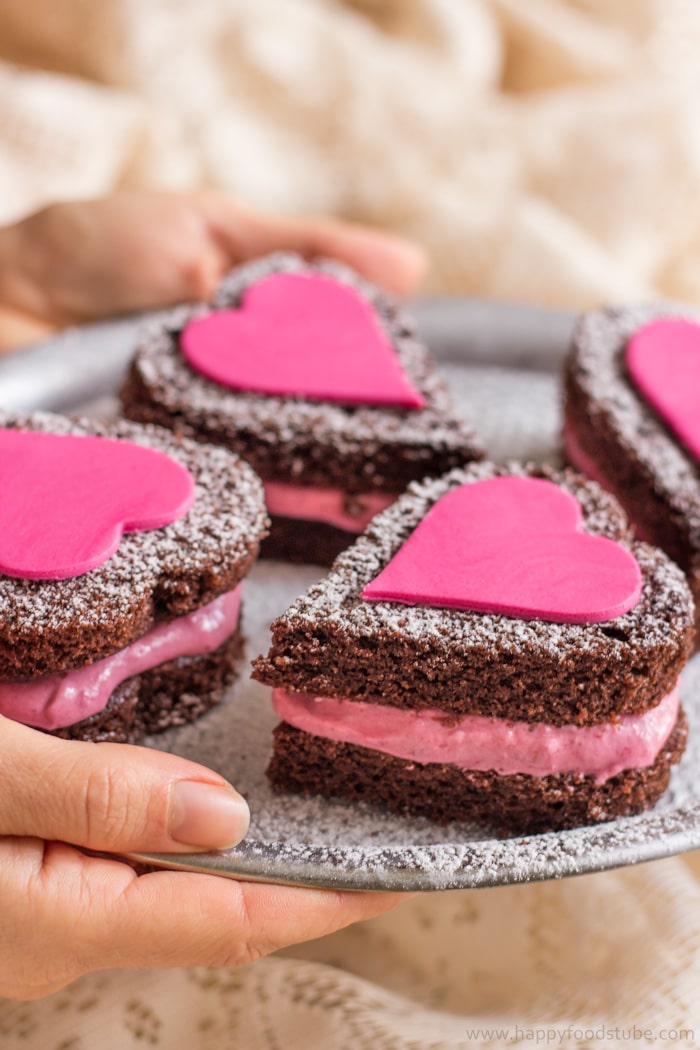 Valentine's Day dessert recipes:

Mixed Berry Charlotte Cake is a great cake if you are looking for a cake with wow factor.
If you are after mini Valentine cake recipes then check out these Chocolate Caramel Cups.
They are very easy to make. If your loved ones are not into lemon curd then why not try these Mini Chocolate Strawberry Mousse Desserts? Luxurious Peanut Butter Stuffed Chocolate Covered Dates make the perfect gift for your friends or loved ones.
Mini Naked Chocolate Cake Hearts
These mini naked chocolate cake hearts are perfect for Valentine's Day. Red wine chocolate cake with berry mascarpone filling & decorated with fondant hearts!
Servings:
4
Mini Heart Cakes
Ingredients
For the Cake:
6

ounces

Caster Sugar

(165 grams)

5

ounces

Plain Flour

(140 grams)

1.2

ounces

Dutch Processed Cocoa Powder

(35 grams)

½

cup

Sunflower Oil

(120 ml)

⅓

cup

Red Wine

(90 ml)

¼

cup

Milk

(60 ml)

2

small

Eggs

1

tablespoon

Baking Powder

½

teaspoon

Salt
Important Note:
If using Dutch processed cocoa powder in this recipe use baking powder.

If using natural unsweetened cocoa powder use baking soda.
For the Filling:
4.2

ounces

Mascarpone Cheese

(120 grams)

3

ounces

Frozen Berries

(90 grams)

1

ounce

brown Sugar

(30 grams)
Instructions
Cake:
Sift the flour, cocoa powder and baking powder in a large bowl. Add sugar & salt. Mix until all ingredients are well combined.

Pour in the oil, milk and add eggs. Using a wooden spoon, combine all the ingredients until you get nice smooth batter. Pour in wine – a small amount at a time. After each addition, mix well. Line 2 round cake tins with baking paper (The tins should be 8 inch/20 cm wide. If using one 8 inch/20 cm cake tin, then this has to be at least 6 inch/15 cm high).

Pour in the mixture and place in a preheated oven. Bake at 350° Fahrenheit/180° Celsius for 30 minutes or until an inserted skewer comes out clean.

Cool completely. Trim off the top part if necessary.
Filling:
In a frying pan (or sauce pan) simmer berries with sugar for about 5 minutes. Turn off the heat and let it cool down.

In a bowl whisk together mascarpone, icing sugar and cooled berry mix until smooth.
Fondant Hearts:
Roll out the fondant and cut out 4 hearts that are smaller than the cake hearts.
Heart Assembling:
Cut 4 hearts out of each cake. Take 4 of them and spread/pipe the filling over. Cover with another cake heart. Dust with icing sugar. Place a fondant heart on top and you are done!
Nutrition Facts
Mini Naked Chocolate Cake Hearts
Amount per Serving
% Daily Value*
* Percent Daily Values are based on a 2000 calorie diet.
** As an Amazon Associate I earn from qualifying purchases.
LEAVE A COMMENT
RELATED POSTS