Reduce wrinkles with this anti-aging citrus juice. This Vitamin C rich juice helps reduce aging signs and maintain healthy skin. It's natural & homemade!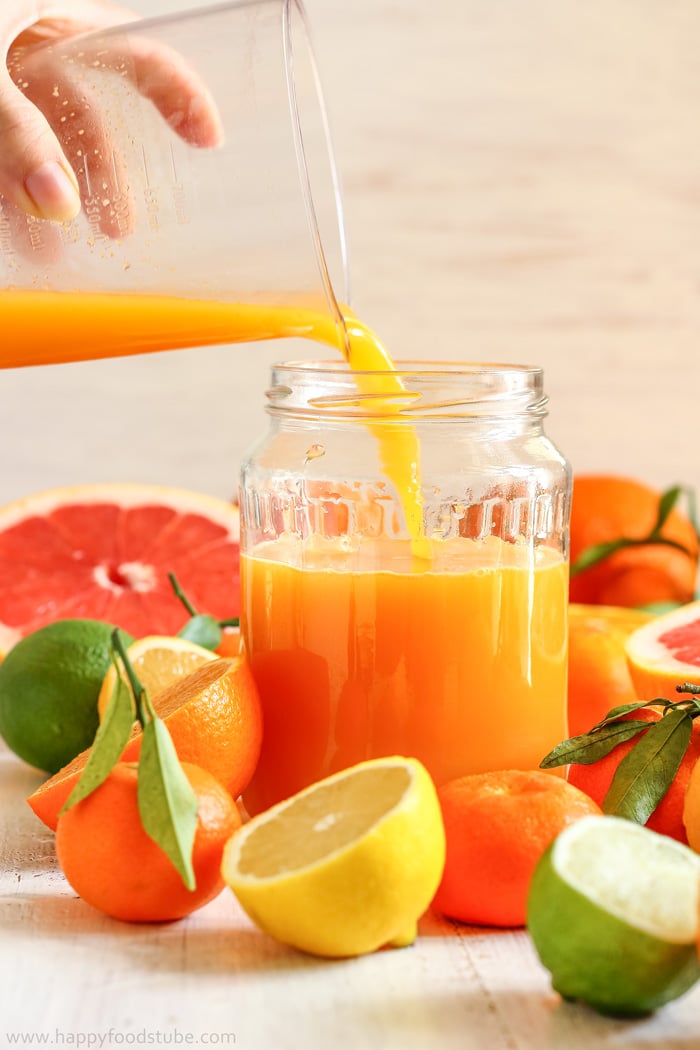 This citrus juice is exactly what you need to fight the wrinkles! However, if you think that wrinkles are the only thing it fights you will be surprised.

So do you wanna know why this citrus juice is good for you? Ok. Let's talk more about its health benefits:
An excellent source of Vitamin C (which also helps reduce skin aging).
Detox juice – Yes! This juice is also great for detox.
A great source of minerals – important for blood, skin, hair, building strong bones, teeth.
Regulates blood pressure (thanks to its potassium content).
Protects vision (thanks to its Vitamin A content).
Alkalizes the body – even though its acidic, after this healthy juice enters your body, it becomes alkaline.
Immune booster (thanks to its high Vitamin C content this juice helps you fight the viruses).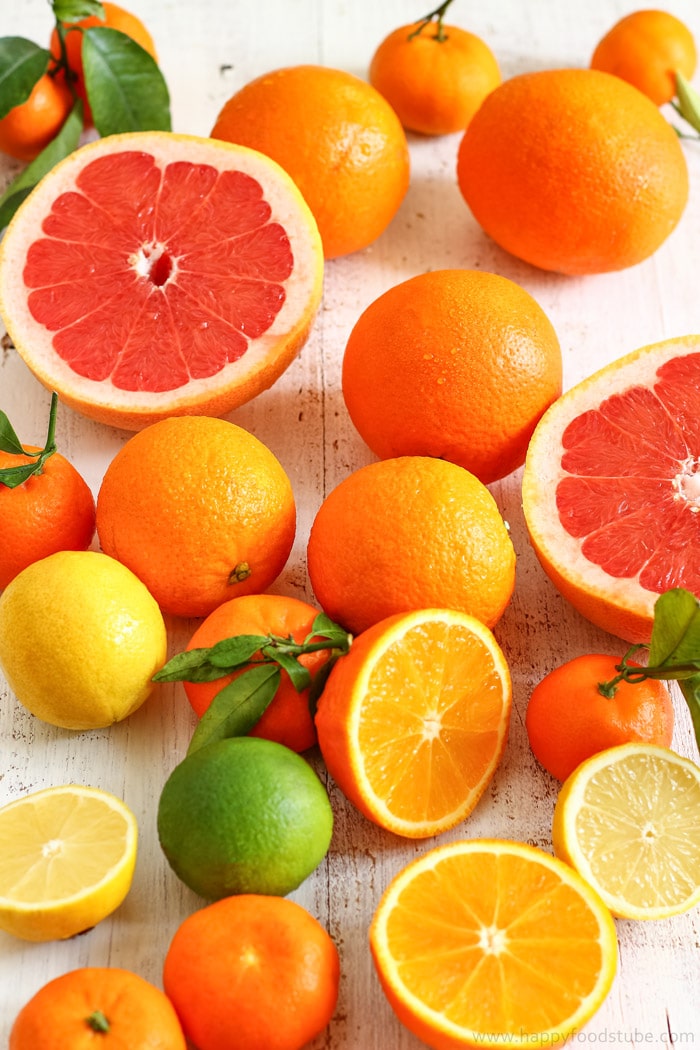 Guys, homemade fresh juices are very valuable for us. Drinking freshly made juices is a great way to include more fruits and vegetables in your diet. More importantly they will help us stay healthy AND their taste can't beat the shop-bought ones.
If you are looking for more fresh juice ideas then try this Glowing Skin Green Juice or Winter Vitamin Boosting Juice. The best way to fight the viruses is with this Immune Booster Beet, Carrot & Orange Juice. Those who don't like beets can simply omit this part but truth be told it gives the juice an extra sweetness so it's worth giving it a try.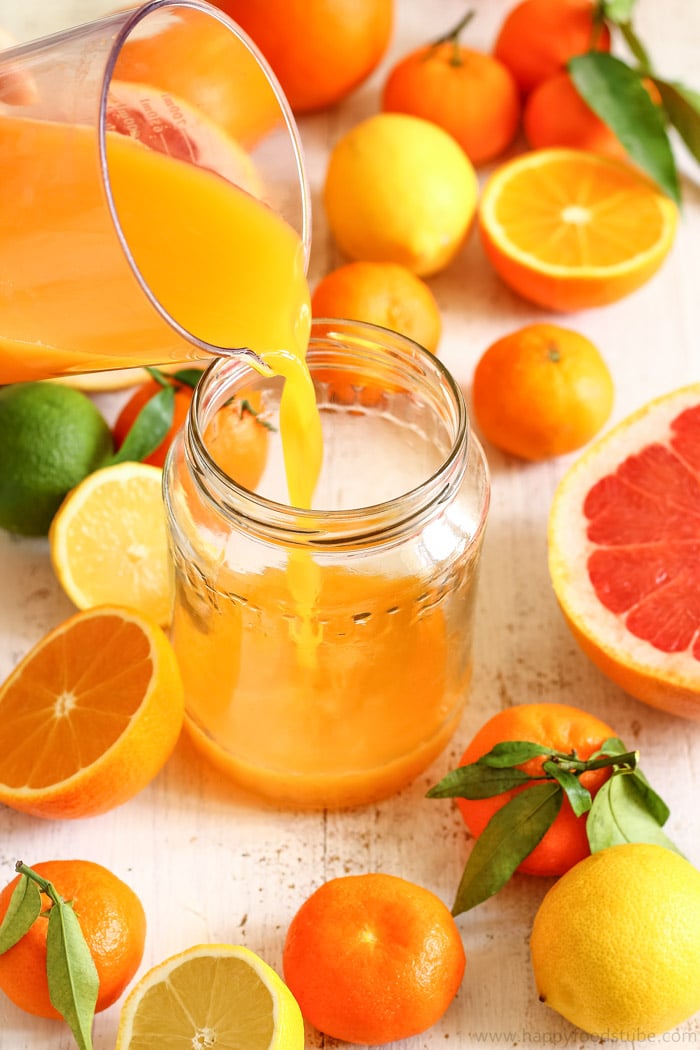 How to make citrus juice at home:
Now you can make this fresh juice without using a juicer, if you really wanted to. Simply cut each fruit in half and squeeze out juice the old-fashioned way. However, this will take a bit longer than 5 minutes.
If you have a juicer, then your life is easy:
Peel mandarins, oranges and grapefruit and throw them in your juicer. Within seconds you will be rewarded with this healthy citrus juice. Squeeze in lemon and lime. Taste it. If you find it too sour (this will depend on the sweetness of the citrus fruits you have used) add some sweetener. I recommend using agave syrup which melts easily in cold drinks.
One more thing: Always rinse the fruits under running water before using them.
How long can I keep fresh juice?
Fresh juices are best consumed right after juicing to get the most out of them. However, if stored in a glass jar/jug and covered with a lid you can keep them in your fridge for 48 hours.
So guys, what do you think about this homemade juice recipe? I think that this citrus juice is pretty powerful and healthy. It's loaded with Vitamin C which boosts our immunity + apart from other health benefits it helps maintain youthful looking skin. Isn't it great?
Yields 3 cups (750ml/25fl oz)
Homemade Anti-Aging Citrus Juice Recipe
Ingredients
10 Mandarins
5 Oranges
1 Grapefruit
½ Lemon
¼ Lime
Agave Syrup to taste (optional)
Instructions
Rinse all the fruits under running water. Peel mandarins, oranges and grapefruit. Juice them. Squeeze in lemon and lime.
Taste it and sweeten with agave syrup if you feel like it is needed!
Enjoy!
6.8
https://www.happyfoodstube.com/homemade-anti-aging-citrus-juice-recipe/
Browse more Juice Recipes or visit our
channel to see the videos.
This post may contain affiliate links. For more information on my Affiliate Policy, please click
here
.