These apricot coconut popsicles are the perfect frozen treat! They are rich, refreshing and quick to make! 4 ingredients, 10 minutes and dairy-free!
I am sure we all agree that summer and frozen desserts go hand in hand. I don't think there is a person out there that does not enjoy ice creams, popsicles, nice creams, icebox cakes or any other frozen treats during summer!
Frozen treats like these apricot coconut popsicles help us stay cool and "sane" at least for a while, right? But guys, while I can easily manage staying cool during those hot days, hot nights are a bit too much for me! I always look for tricks to survive hot summer nights because nothing is worse than not being able to fall asleep due to the temperature in your room …. Do you guys know some great tricks how to keep cool yourselves at nights? If you do, let me know!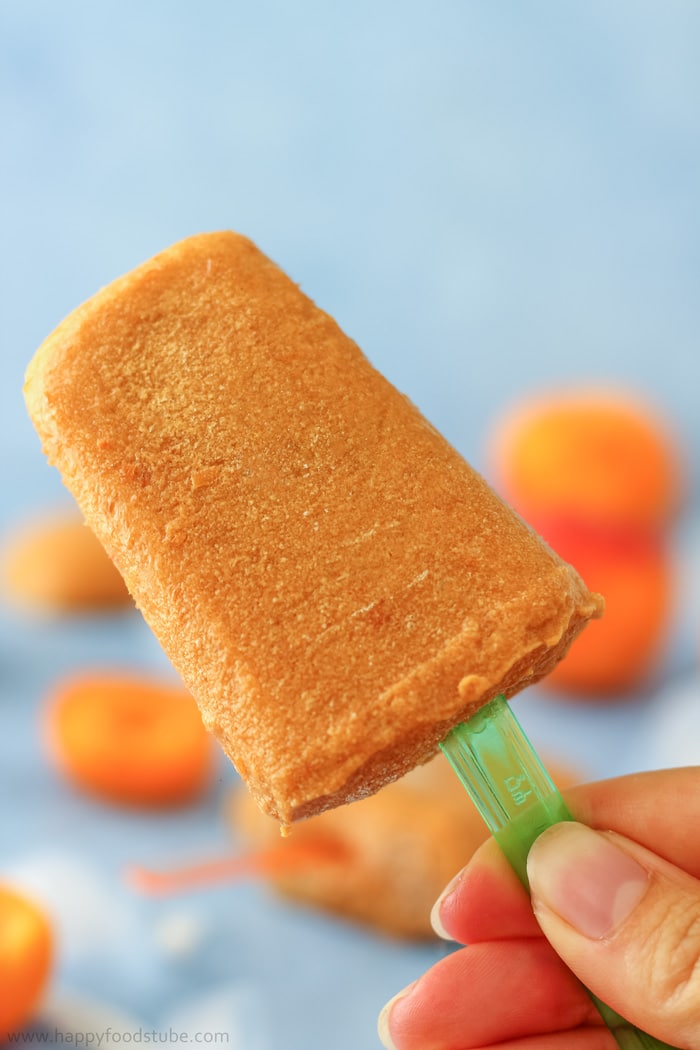 Meanwhile, let's talk popsicles! In case you don't know I am a huge fan of homemade popsicles and ice creams. They are fun and easy to make and you can experiment with various flavors until you find what you love!
Take these apricot coconut popsicles. The combination of these two simple flavors is just right. Perfect, in fact. They are rich because of the high fruit content yet refreshing. Coconut milk and oil add flavor and creamy texture. This is what I call a perfect summer treat!
What about you guys? Have you ever tried making homemade popsicles? Or other frozen treats?
We also like Strawberry Banana Frozen Yogurt, Mint & Pistachio Ice Cream and Chocolate Cherry Ice Cream. They are all quick and easy to make!
Apricot coconut popsicles recipe breakdown:
The prep takes about 10 minutes. You mix all the ingredients in a food processor and pour into popsicle molds. Insert sticks and freeze. It will take about 4 hours for the popsicles to freeze. That's it.
All you have to do now is take them out of the mold and enjoy. Trying to get the popsicles out of a mold can be a real challenge sometimes.
There are several tricks you can use:
Leave them sit on a kitchen counter for several minutes or submerge them in warm water for about 30 seconds. You can wrap them in a damp kitchen towel as well.
Tip: Use small yogurt containers if you don't have popsicle molds. You don't even have to insert a stick inside. Simply use a spoon to eat them!
Turn these apricot coconut popsicles into vegan popsicles by simply omitting the honey!
Popsicles always melt pretty fast so don't be surprised if these apricot coconut popsicles will do the same. What I like to do is unmold them and throw them back in the freezer for a few minutes. They hold their shape better.
By the way, this apricot coconut popsicle mixture makes a great smoothie. Simply pour in glasses instead of freezing and you are good to go!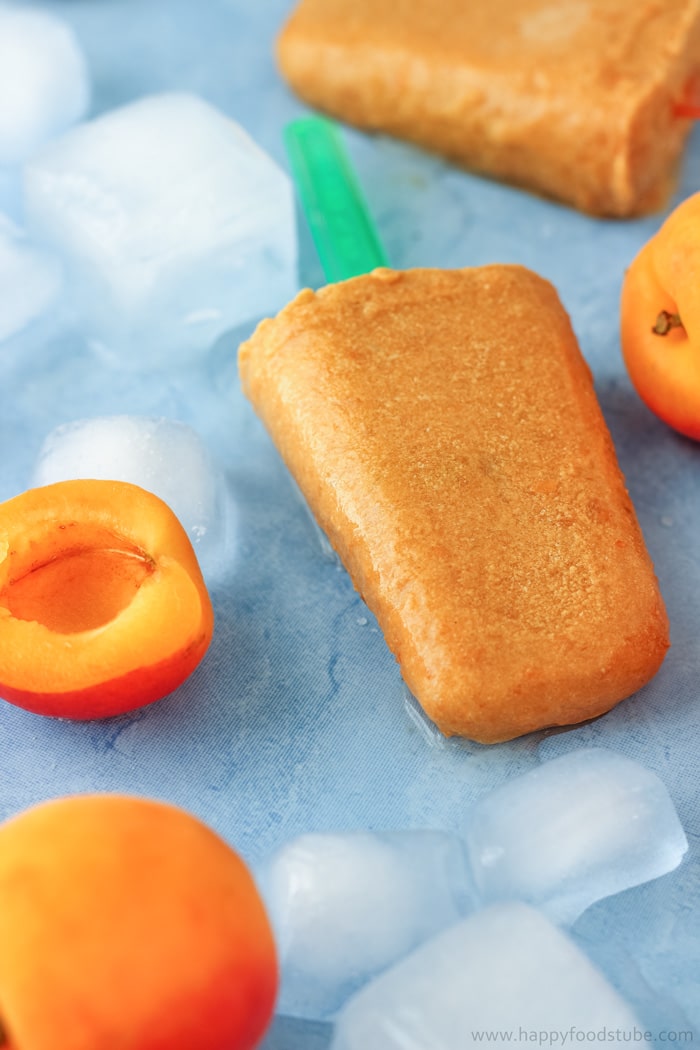 Ingredient Alternatives:
Coconut oil – you can omit this if you don't have it or don't want to use it.
Apricots – peaches, nectarines would work great here.
Honey – this can be omitted or substituted for agave syrup or maple syrup.
Coconut milk – you probably could use coconut drink instead but I haven't tried it myself.
Now are you ready to make your own popsicles?
Check out our video for how to make Apricot Coconut Popsicles:
Apricot Coconut Popsicles
These apricot coconut popsicles are the perfect frozen treat. They are rich, refreshing and quick to make. 4 ingredients, 10 minutes and dairy-free!
Ingredients
2

cups

Apricots

, pitted & halved (280 grams)

¼

cup

Coconut Milk

(60 ml)

3

tablespoons

honey

3

tablespoons

Coconut Oil
Instructions
In a food processor, process all the ingredients until smooth.

Pour into popsicle molds and insert sticks inside.

Freeze for at least 4 hours before serving.
Nutrition Facts
Apricot Coconut Popsicles
Amount per Serving
% Daily Value*
* Percent Daily Values are based on a 2000 calorie diet.
** As an Amazon Associate I earn from qualifying purchases.
LEAVE A COMMENT
RELATED POSTS