This strawberry banana frozen yogurt is a healthy alternative to ice cream! If you are after something light yet delicious then you must try this frozen dessert!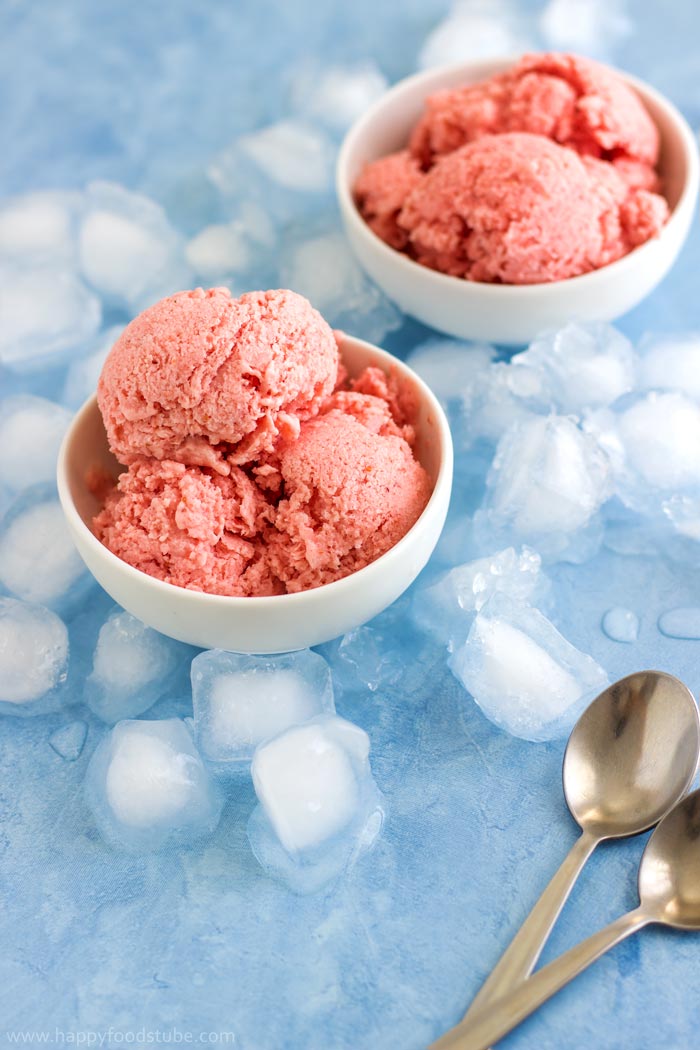 Summer is going to an end but I somehow don't want to admit it to myself! I have still been making various summer treats! Summer treats like this strawberry banana frozen yogurt! Because why not? It's not like you can't eat in any time of the year, right? And there are only goodies in it: strawberries, yogurt, honey, bananas –  it's frozen yumminess!
I actually can't believe that it's basically the end of August! How? When? Why? So many things planned and yet too little actually ticked off of the list! Isn't it funny how now the time flies but when I was at school I remember very well that the time was pretty much moving slower than a snail! Especially during subject I didn't like!!!
So how come summer is gone so fast? What did you do? Did you do many things? Did you go fishing, swimming, kayaking (on my list), windsurfing, sightseeing, surfing, rafting, rock climbing, hiking? Did you read any new books? Yes? How many? Which ones? I think I read one! One… I thought I would go like through the whole library selection of holiday reading. But I didn't! Well, maybe next summer so!
The highlight of this summer was my trip home! I had not been home in summer for almost 10 years and I loved every bit of it! My dad's 60th birthday party was another highlight. I made him this Fondant Cake in a shape of a guitar! After this I said to Siim that I would not be making any fondant cakes any time soon (well, what I meant was never ever)! Any amateur cake decorators out there? Do you have similar feelings when you work on big projects?
What was your summer highlight?
Now what do you think we get back to my frozen yogurt? Would that be all right? Hope so!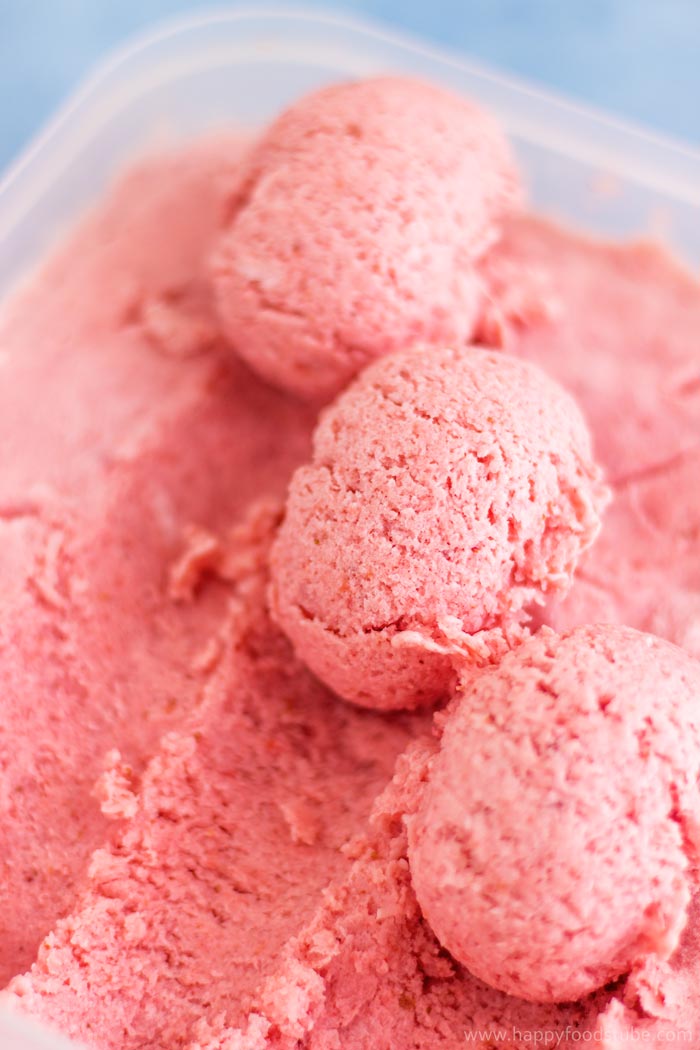 So last year I made quite a few no churn ice creams using Greek yogurt. I called it ice cream but this year I learned people call this frozen yogurt. So here we go… Strawberry banana frozen yogurt! Do you know what the best thing about this recipe is? Well, it's the fact that you can actually add more strawberries, less yogurt and vice versa! Isn't it great? No boundaries, no rules here! You make it to your liking!
Do you find your strawberries lack sweetness? Then a few tablespoons of honey is your solution here!
Simple, tasty, refreshing and … frozen!
Check out my other frozen dessert recipes:
Strawberry Banana Frozen Yogurt
This strawberry banana frozen yogurt is a healthy alternative to ice cream. If you are after something light yet delicious then you must try this frozen dessert.
Ingredients
1.5

lb

Frozen Strawberries

(700g)

2

Ripe Bananas

5.1

fl oz

Greek Yogurt

(150ml)

2

tbsp

honey

(optional)
Instructions
Let the strawberries thaw a bit (especially if your processor is not powerful enough) before pureeing them in the food processor.

Throw in peeled and sliced bananas. Add the yogurt and process until smooth.

Taste it! You might want to add a few tablespoons of honey if your strawberries are not sweet enough. Mix it and once happy with its taste transfer into a plastic container. Cover with lid and freeze.

After 1.5 hour take the container out of the freezer. Mix the mixture with a spoon to break up the ice crystals. You might wanna do this at least 3 times (every 1.5 hour).

If you want your frozen yogurt to be frozen completely, leave it in the fridge overnight. If not, then check several times and serve whenever you are happy with its consistency.
Happy Summer with Happy Foods Tube!
Nutrition Facts
Strawberry Banana Frozen Yogurt
Amount per Serving
% Daily Value*
* Percent Daily Values are based on a 2000 calorie diet.
** As an Amazon Associate I earn from qualifying purchases.
LEAVE A COMMENT
RELATED POSTS