Delicious Dark Chocolate Crepes. This easy recipe for homemade crepes uses dark chocolate batter for the extra chocolate flavor. Great for breakfast or dessert!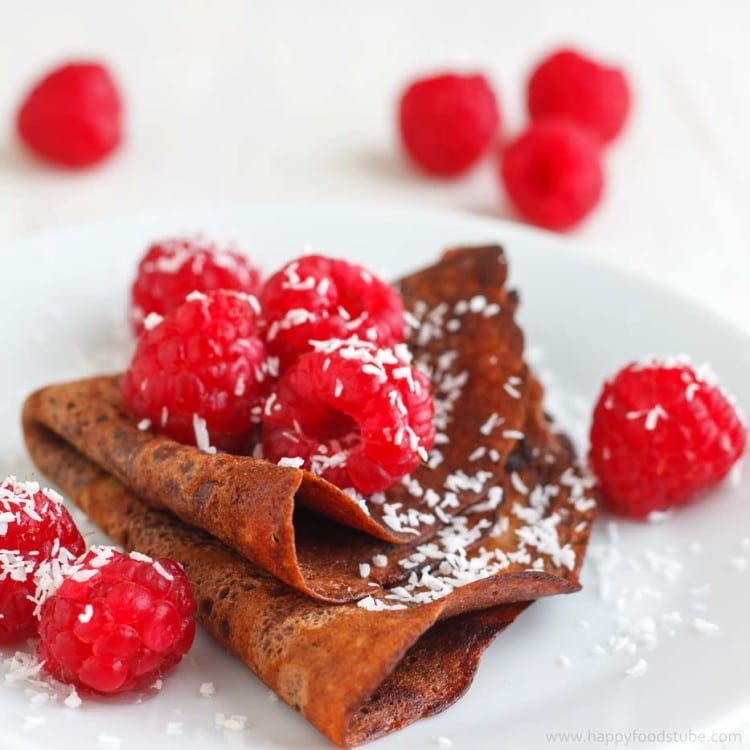 Guys are you a pancake or crepe person? If you ask me I tell you I prefer crepes. I remember when I was a kid we were on a family vacation in Italy. We would spend the evenings browsing the quaint streets of this small Italian town, buying souvenirs and enjoying the Mediterranean atmosphere. One night we passed this tiny place selling crepes. The air was filled with sweet aroma coming from the shop. It was a mixture of chocolate and baked crepes! I was mesmerized by this amazing aroma and I sooo wanted to try one.
But you know how it goes when you are a kid. You don't get everything you want so I did not get any pancakes that night. However, I still remember the narrow street with the crepe shop and even though I did not taste one back then I am 100 percent positive those were the best chocolate crepes ever!
Funnily enough, I don't know why I was mesmerized by the whole crepe thing as I was not much into crepes at all! Ha! I am telling you there was something magical about the shop! Something that made you wanna go in and get one!
I have to admit that I don't make crepes that often. Maybe 2–3 times per year! In Ireland pancakes/crepes are hugely popular on Pancake Day so we too would make them around that time of year!
Those who don't know much about Pancake Day here is an explanation:
Pancake Day is also called Pancake Tuesday, Shrove Tuesday, Fat Tuesday or Mardi Gras. It is a day before Ash Wednesday (which marks the first day of Lent). In many countries pancakes are eaten on this day, in others it's the last day when people eat rich, fatty foods before the Lent.
Do you have such day where you live? We don't have it in Slovakia. In Ireland shops would be filled with crepes or crepe/pancake batter in case you wanted to make them yourselves. I prefer making my own crepes with homemade crepe batter because they taste best. Like these dark chocolate crepes!
Now I don't know about you but I like eating crepes after main meal. For dessert! I just think they are one of the easy homemade desserts to make and the best part is that you can top them with literally anything!
Guys, let me know what your favorite pancake/crepe is! Let me know what you think about this easy recipe for chocolate crepes!
Dark Chocolate Crêpes
Delicious Dark Chocolate Crepes. This easy recipe for homemade crepes uses dark chocolate batter for the extra chocolate flavor. Great for breakfast or dessert.
Servings:
10
Crepes (depends on their size and thickness)
Instructions
Melt the chocolate over a pan of simmering water (bain marie) & let it cool down a bit.

Mix the rest of the ingredients in a bowl until well blended. Pour in the chocolate and mix again. Make sure there are no lumps.

Heat up your frying pan, add a small piece of butter and pour the chocolate batter over – use a ladle or a measuring cup. Spread around evenly by lifting the pan and turning it allowing the batter spread.

Once set, turn it over and cook for a further 1/2 minute to a minute (or until cooked).

Serve with any toppings you love!
Happy Cooking with Happy Foods Tube!
Notes
If you find the batter too thick, add some milk. If it's too liquid, add more flour. Also always taste the first one to see if you are happy with its taste.
Nutrition Facts
Dark Chocolate Crêpes
Amount per Serving
% Daily Value*
* Percent Daily Values are based on a 2000 calorie diet.
** As an Amazon Associate I earn from qualifying purchases.
LEAVE A COMMENT
RELATED POSTS