This easy calamari stew recipe can be a delicious main or appetizer. It is slowly simmered with olives on a stove top until tender.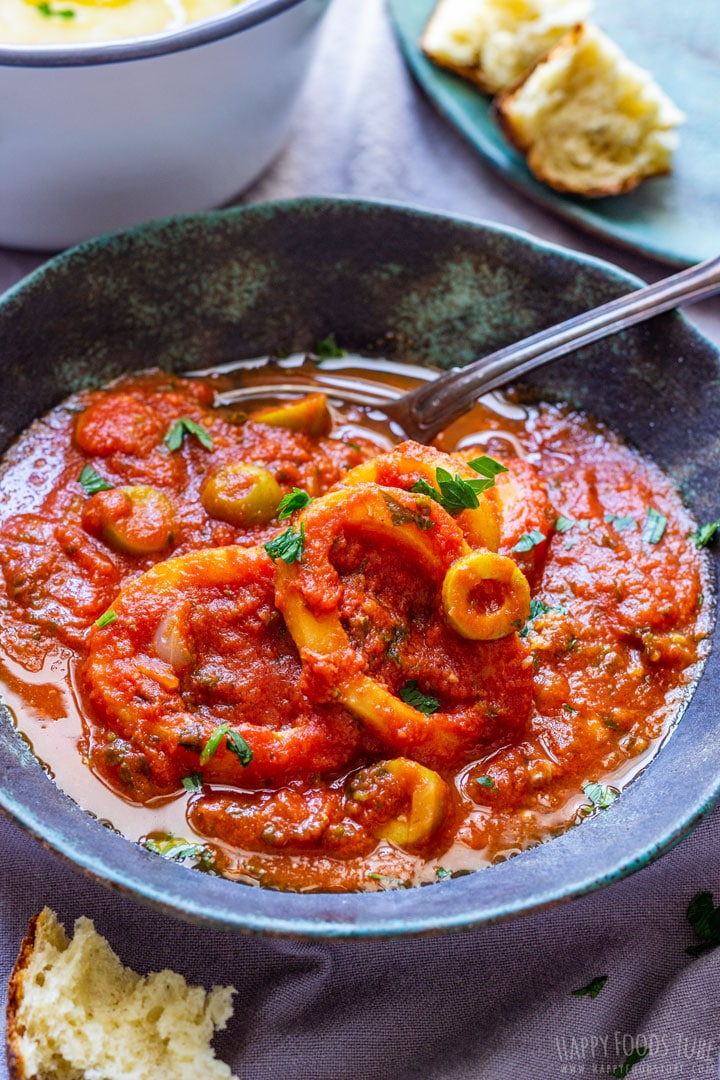 Calamari stew in tomato sauce is my favorite way of cooking calamari. Add seasoning and olives and you have a delicious meal, perfect for special occasion or any time you like.
Below, in this post you will find useful tips and serving suggestions, as well as more seafood recipes you might like. Detailed instructions on how to make calamari stew are in the recipe card at the bottom of this post.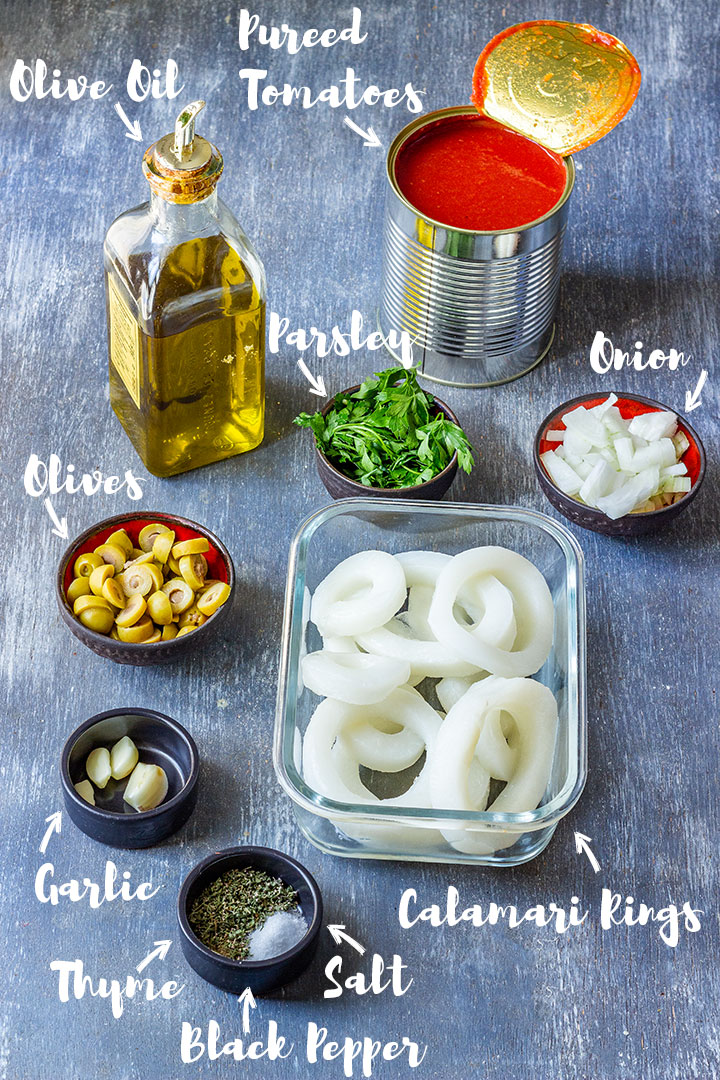 Serving suggestions:
If you are wondering what to serve with this simple calamari stew, I have a few ideas for you. The truth is that I love my bread, so these suggestions will be based around this.
Any artisan bread or Potato Bread will work wonders – just dip it into a sauce and you'll be in for a treat. Now, I would also suggest having bread as a side when you are serving this as an entrée or appetizer. The portions will be smaller and you won't eat a whole loaf to make you feel full. Crostini, toasted bread or even grilled bread are also delicious options.
For a main, my absolutely favorite side dish to go with calamari stew is Homemade Polenta. It is so easy to make and can be seasoned to your liking. Rosemary, parsley, butter, parmesan – the options are endless.
Polenta fries also go well with calamari stew, but they do take a bit longer to prepare.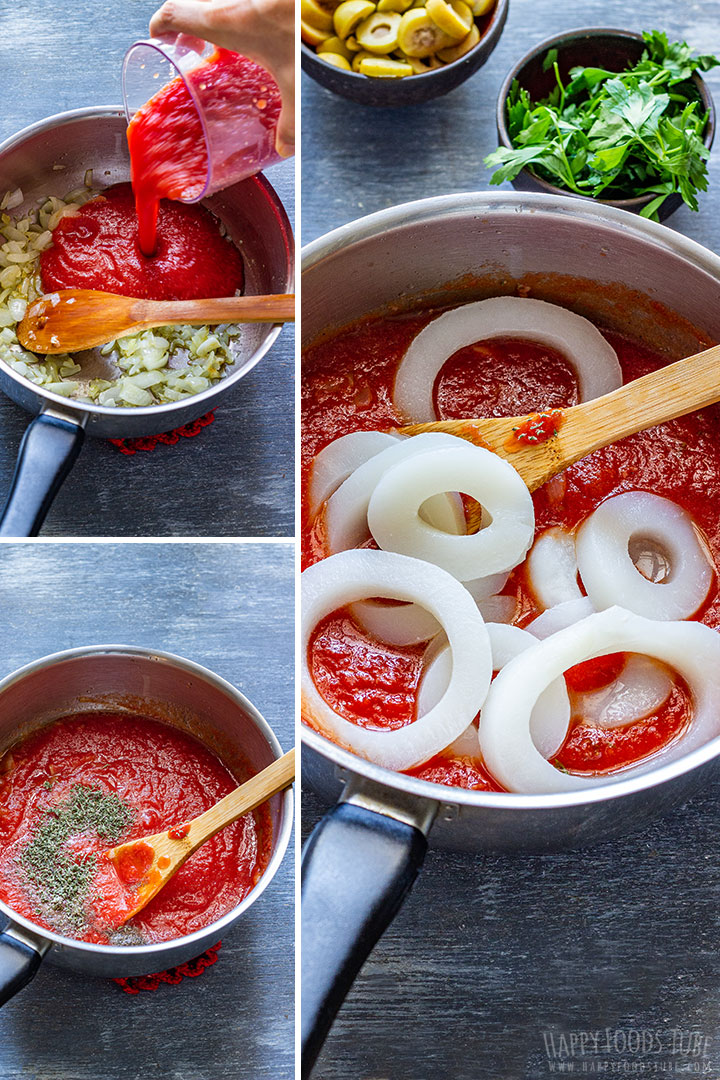 Defrosting calamari rings
You can either place the bag onto a plate and keep it in the fridge overnight, or you can place the bag in a cold water and let it thaw. It will take about 30 minutes. The larger the bag, the longer it can take to defrost as they might be stuck to each other. For that reason, I would recommend trying to break the clusters, if possible.
For best possible results or if you can, buy fresh calamari.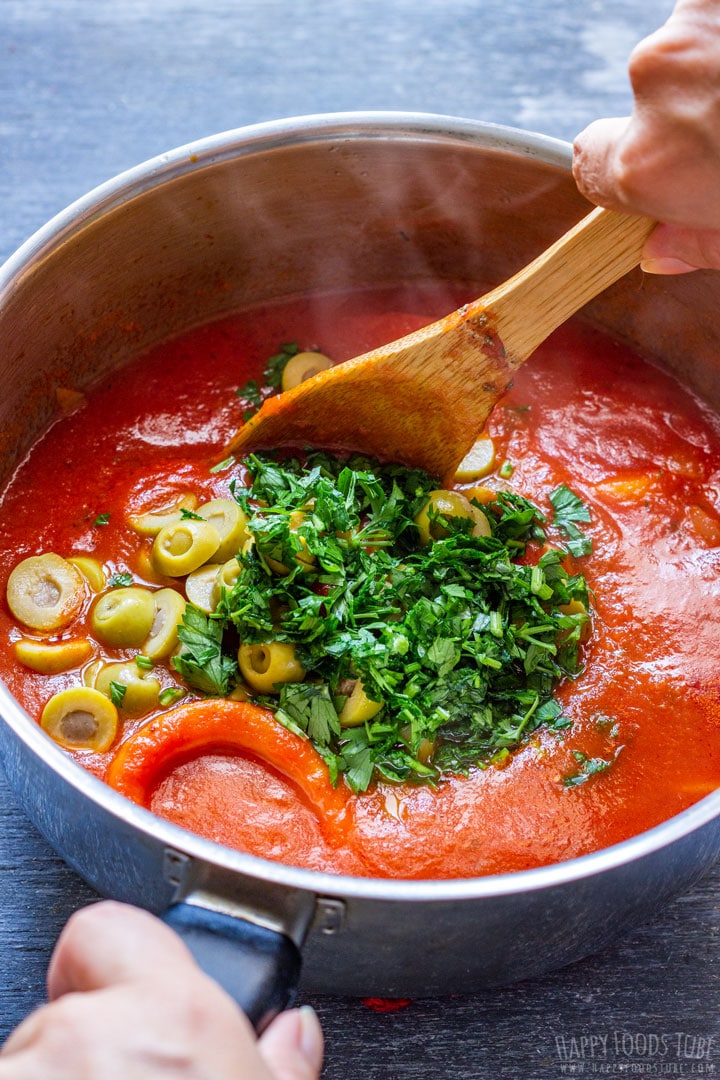 Squid or calamari?
To make this calamari stew, feel free to use either of those. But if you don't care about your budget and if you have a chance, I would suggest getting calamari. While it is more expensive than squid, it is more tender, hence tastier.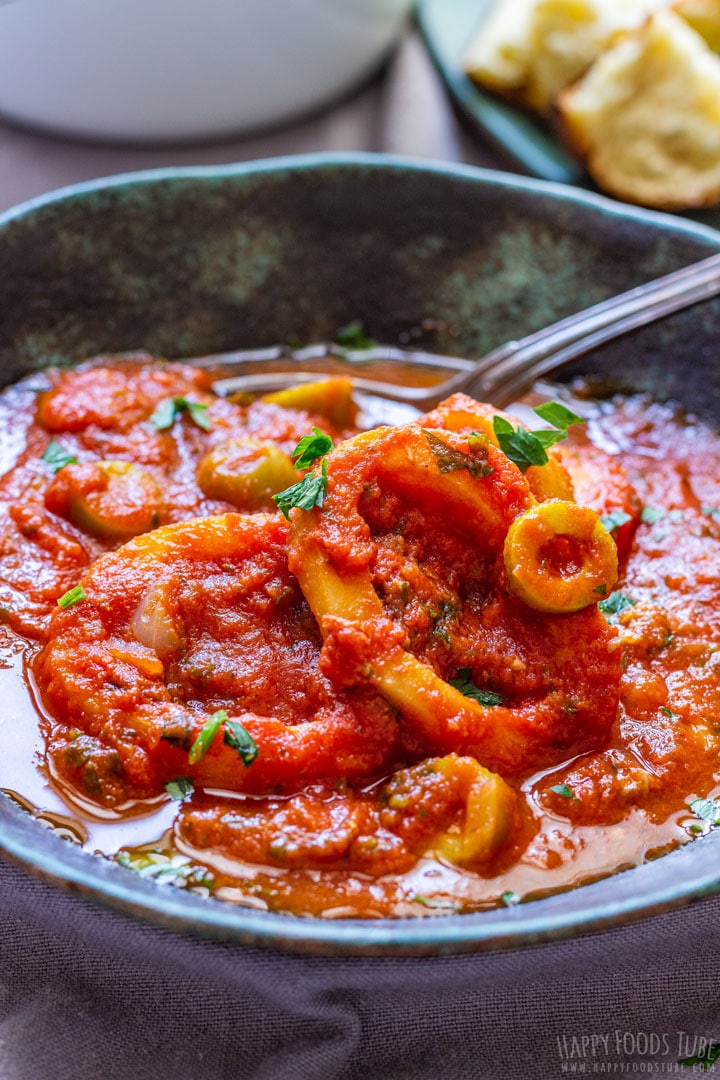 Tips for making calamari stew:
Please take the cooking time stated in my recipe as a guide. You might need more/less time cooking calamari stew. This will depend on the size and thickness of the rings you used. I could only find frozen squid rings that were quite thick, so my calamari stew definitely needed about 50 minutes to be cooked.
I used slightly more than a ¼ cup of olives and even though I would prefer more, it's better not to add more. The reason is simple – they are quite salty on their own and when you add them to this simple seafood stew, they will flavor it. Adding way too many can easily over-season your stew.
For best results, don't substitute garlic cloves with garlic powder.
Calamari stew can be thickened with concentrated tomato puree, if you like.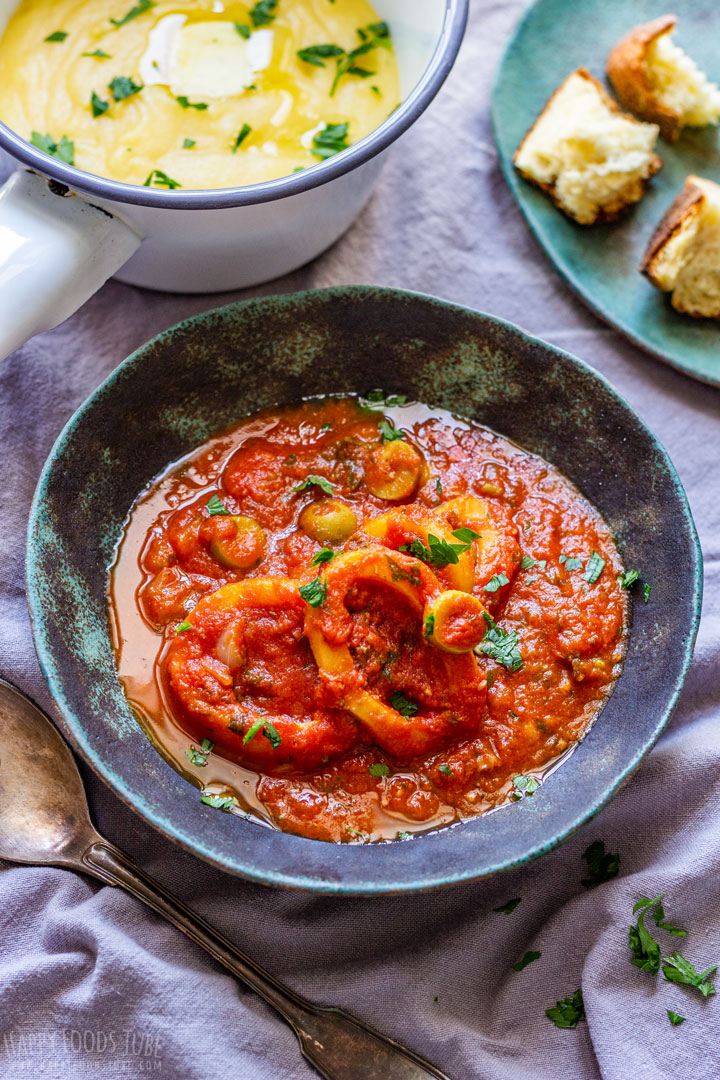 More seafood recipes for you to try:
Calamari Stew
This easy calamari stew recipe can be a delicious main or appetizer. It is slowly simmered with olives on a stove top until tender.
Servings:
2
Portions (as Main) or 3-4 as Appetizer
Ingredients
2

tablespoons

olive oil

1

Small Onion

, minced

3

Garlic Cloves

, crushed, see note 1

14

ounces

Frozen Calamari Rings

, thawed (390 grams)

2

cups

Pureed Tomatoes

, see note 2

1

teaspoon

dried thyme

1/2

teaspoon

Salt

, see note 3

1/8

teaspoon

black pepper

1/4

cup

Green Olives

, without stones (45 grams)

1/4

cup

Fresh Parsley

, finely chopped
Instructions
In a saucepan, heat the oil. Add minced onion and saute for 6-8 minutes, stirring from time to time. Add crushed garlic cloves and saute for about 2 minutes or until the garlic releases its aroma.

Add 2 cups of pureed tomatoes, salt, pepper and calamari rings. Simmer covered on medium-low for 20 minutes. After 20 minutes, stir in olives and chopped parsley and simmer for a further 30 minutes or until the calamari is soft.

Enjoy as an appetizer or main!
Notes
3 garlic cloves should yield at least 1 teaspoon of pressed garlic
Using a good quality pureed tomatoes will make your stew extra delicious. Crushed tomatoes or tomato passata can also be used as substitution.
I don't recommend using more than ½ teaspoon of salt at the beginning as you will be adding olives at a later stage. Olives will add extra saltiness to this stew so please do add more salt only if it is needed – after you have tasted it at the end of cooking.
Nutrition Facts
Calamari Stew
Amount per Serving
% Daily Value*
* Percent Daily Values are based on a 2000 calorie diet.
** As an Amazon Associate I earn from qualifying purchases.
LEAVE A COMMENT