This whole oven baked sea bass is a delicious fish dinner with a 10-minute prep and quick cooking time. The sea bass recipe calls for only a few simple ingredients!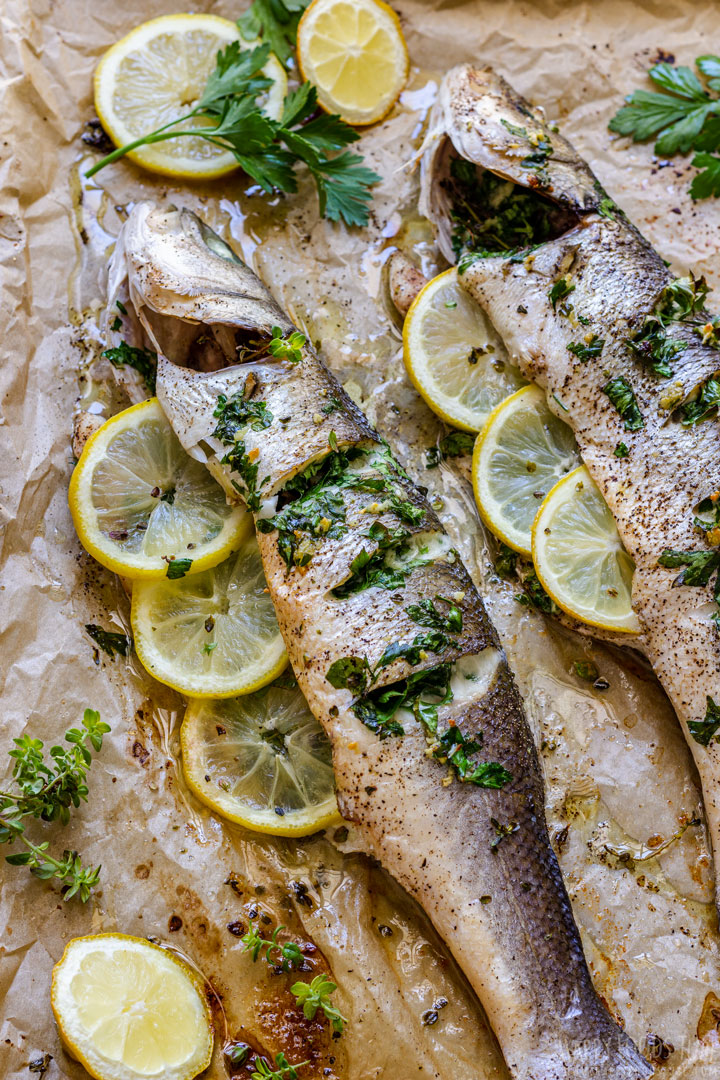 This oven-baked sea bass post includes useful tips and FAQs about cooking a whole fish as well as a video.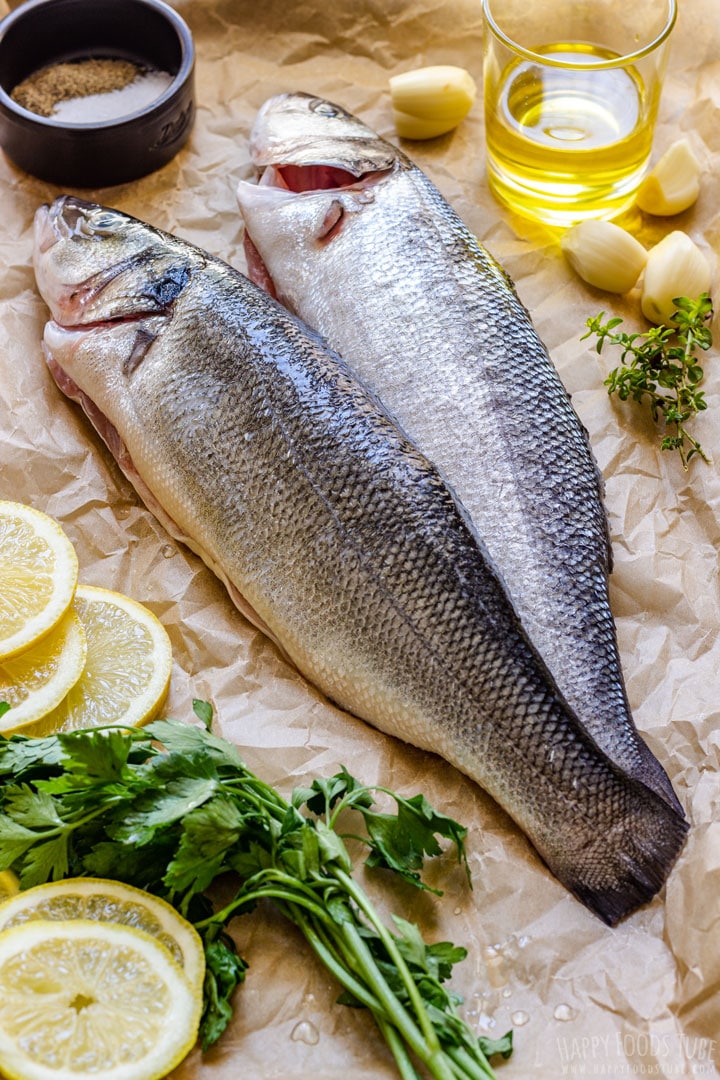 How to prep whole sea bass for cooking?
Once the whole sea bass is gutted and de-scaled (a fishmonger will do this for you), I like to cut it open a little bit more by cutting through the bones into the flesh.
This way, you can season the fish better on the inside (check the video if in doubt).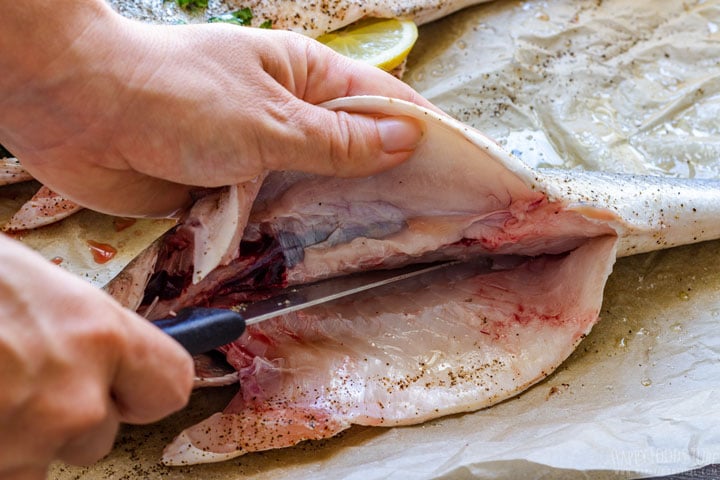 Next, make a few slits on the skin.
Now, season the skin generously with salt and pepper (both sides), then the cavity – moderately as you don't want to over-season it. Then, you spread a mixture of chopped parsley, garlic and oil inside the cavity and into the slits.
Repeat the whole process with the other sea bass. Finally, stick a few slices of lemon into each fish and your whole sea bass is ready for cooking!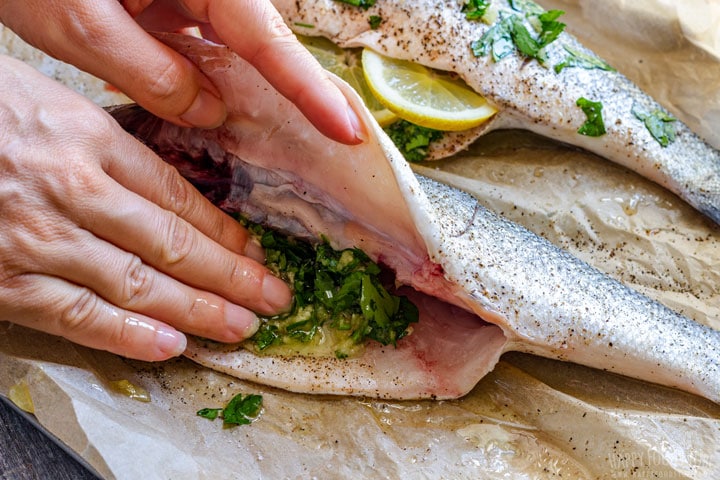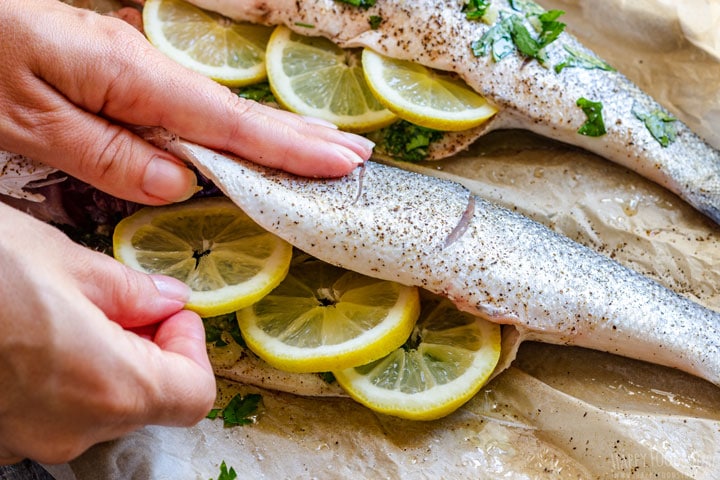 What temperature should fish be cooked to?
The internal temperature should reach 145 Fahrenheit (63 Celsius).
The flesh should be fork-tender, meaning that it should be flaky and separate easily. If still not sure, please use a food thermometer and make sure to insert it into the thickest part of the fish.
How long to cook whole fish?
The time will depend on the size of your fish and on your oven.
I cook mine at 400 Fahrenheit for 10-15 minutes in the middle of the oven. This oven baked sea bass was ready in 10 minutes (it weighed 12 ounces/350 grams).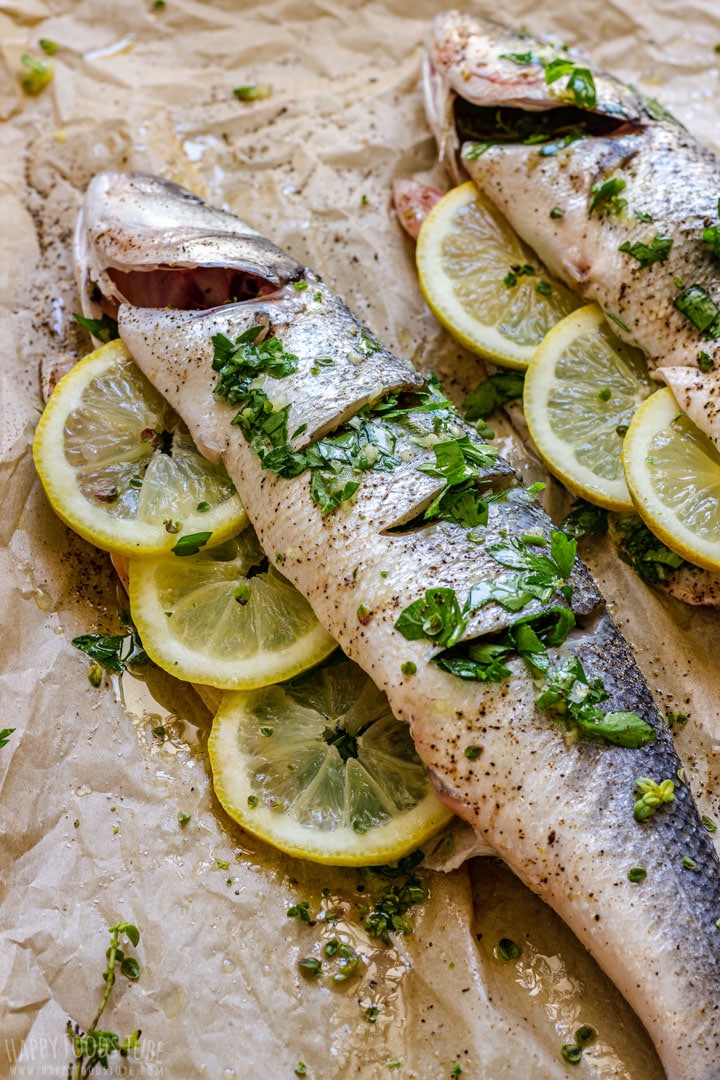 Best seasoning for fish
Fresh fish does not need much seasoning as it is flavorful enough as is. The best way to season fish is with salt and pepper, some herbs like parsley or dill and lemon.
Lemon dill compound butter is another great choice. You can simply top the seabass or any fish fillet with a slice, wrap it in a foil and bake until ready.
Homemade fish seasoning is perfect for fish fillets but can be used for whole sea bass, bream, halibut or salmon, if you like.
Serving suggestions:
Oven baked sea bass goes well with fresh salads (Greek salad or cucumber tomato salad are delicious options, but you can also just serve it with simple tossed salad).
Pan fried asparagus or pan roasted vegetables are other tasty choices and so are potato side dishes (Parmesan roasted potatoes).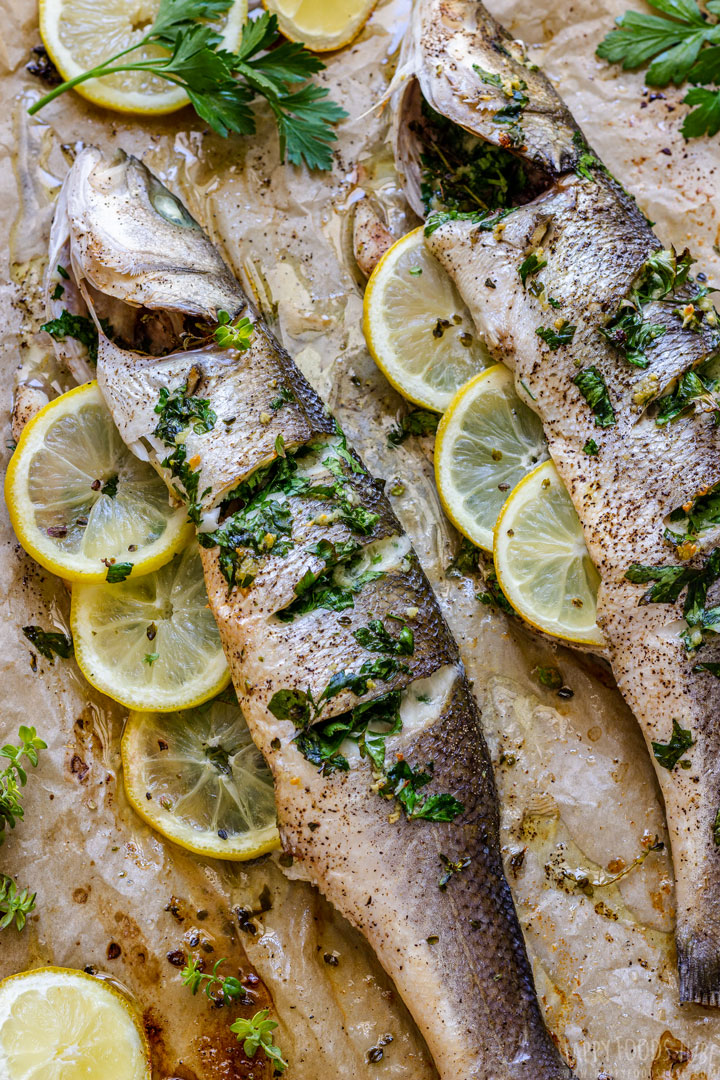 Tips for making the best whole sea bass
In summer, you can just throw the fish on your grill instead of cooking it in the oven. I have another recipe for grilled whole fish on the blog, if interested!
Try avoiding over-cooking the sea bass. If you do, its flesh will become very dry. You know that the fish is ready when the flesh can be easily separated with forks (without hardly any effort).
There are not many ingredients needed to make this whole sea bass recipe, so I don't recommend any substitutions (i.e. using dried parsley instead of fresh or using other than olive oil).
As for the fish, sea bass can be substituted with sea bream!
Whole sea bass as well as many other fish contain bones so be careful when eating.
Here are some more fish recipes that you might like:
Check out our video for how to make oven baked sea bass:
Oven Baked Sea Bass
This whole oven baked sea bass is a delicious fish dinner with a 10-minute prep and quick cooking time. The sea bass recipe calls for only a few simple ingredients!
Ingredients
2

sea bass

(whole, gutted), see note 1

1

teaspoon

salt

, see note 2

½

teaspoon

black pepper

, see note 2

4

garlic cloves

(peeled & crushed)

4

tablespoons

extra virgin olive oil

, see note 3

½

cup

fresh parsley

(flat leaf, finely chopped )

1

lemon

(sliced)
Instructions
Preheat oven to 400° Fahrenheit (200° Celsius).

Make sure the fish is gutted and de-scaled before you start. Make the cavity larger by cutting with a knife through the bones towards the tail (not all the way just enough to enlarge the cavity). Then, make a few (3-4) slits on one of the sides of the fish.

Season its skin generously on both sides with salt and pepper. Open up the cavity and sprinkle salt and pepper inside (don't over-season the inside).

In a small bowl, mix crushed garlic, olive oil and chopped parsley. Spread some of this mixture inside of the cavity and fill the slits with it. Finally, place some lemon slices inside and repeat the whole process with the other fish.

Place both fish onto a baking tray lined with baking parchment and cook in a preheated oven at 400° Fahrenheit (200° Celsius) for 10 minutes or until cooked through.

Enjoy with salad, potatoes, grilled or pan-fried vegetables.
Notes
One oven-baked sea bass can serve 1 or 2 people, depending on its size. Count with about 1 pound (450 grams) of whole fish per adult or ½ pound (225 grams) when using fillets only.
The quantity of salt you use will depend on the size of your fish as well as on your taste. The same goes for black pepper. Also note, that black pepper can vary in its level of spiciness from brand to brand, so use as much as you like.
Use either extra virgin olive oil or classic cooking olive oil. Don't substitute with other types of oil.
Cooking time may vary. This will depend on your oven and on the size of the fish. If not sure, use a food thermometer to check its internal temperature (this should read at least 145 Fahrenheit/63 Celsius). Cooking should not take long. A 12-ounce sea bass should be ready in 10 -15 minutes. Note that after this time, the flesh should come apart easily, but the skin will not be extra crispy. For a crispy skin, I recommend grilling the fish.
For more tips and FAQs or if in doubt, please read the post above this recipe card or watch the video.
Nutrition Facts
Oven Baked Sea Bass
Amount per Serving
% Daily Value*
* Percent Daily Values are based on a 2000 calorie diet.
** As an Amazon Associate I earn from qualifying purchases.
LEAVE A COMMENT