This simple campfire stew is the best and simplest feed-a-crowd recipe! Imagine meaty stew cooked slowly over fire. It can't get any better than this!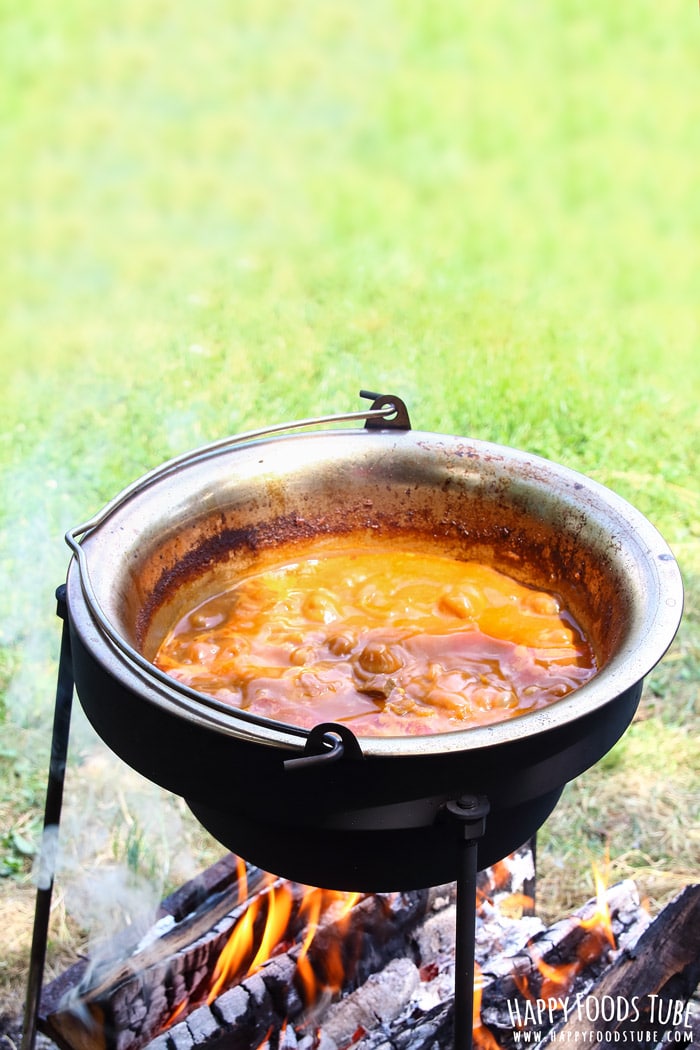 If you are looking for camping lunch ideas for large groups then this is it! This feed-a-crowd recipe will definitely turn your hungry eaters into happy campers who will definitely ask for seconds!
Ok guys. Normally I am all about quick recipes but this one is an exception. You see, this simple campfire stew is my favorite and I felt like I have to share it with you. I hope I am not the only one who loves cooking over a campfire!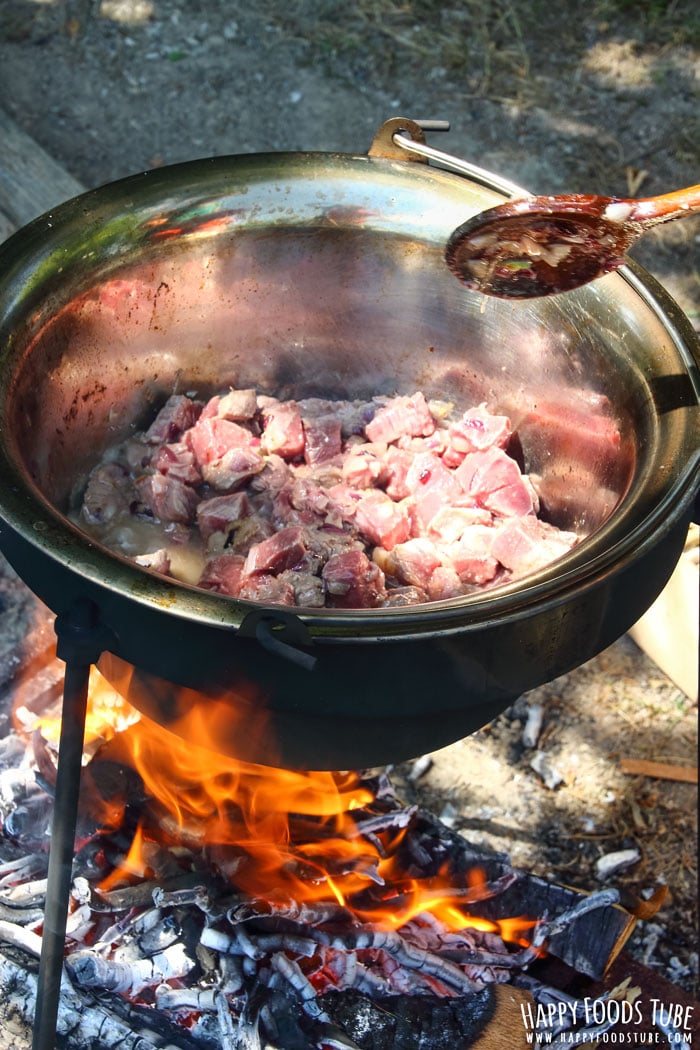 Sooo. Yes. It takes time to make it. Like 2+ hours to be perfectly correct. But don't freak out here! If you are planning on going camping this summer I tell you this is it! This is the recipe you need to try!
It is a very simple campfire stew recipe BUT so popular where I come from. I could easily call it a summer stew as EVERYONE loves making it this time of year. It's something like get-together stew that we cook for a crowd. You know like friends or family – the more the better.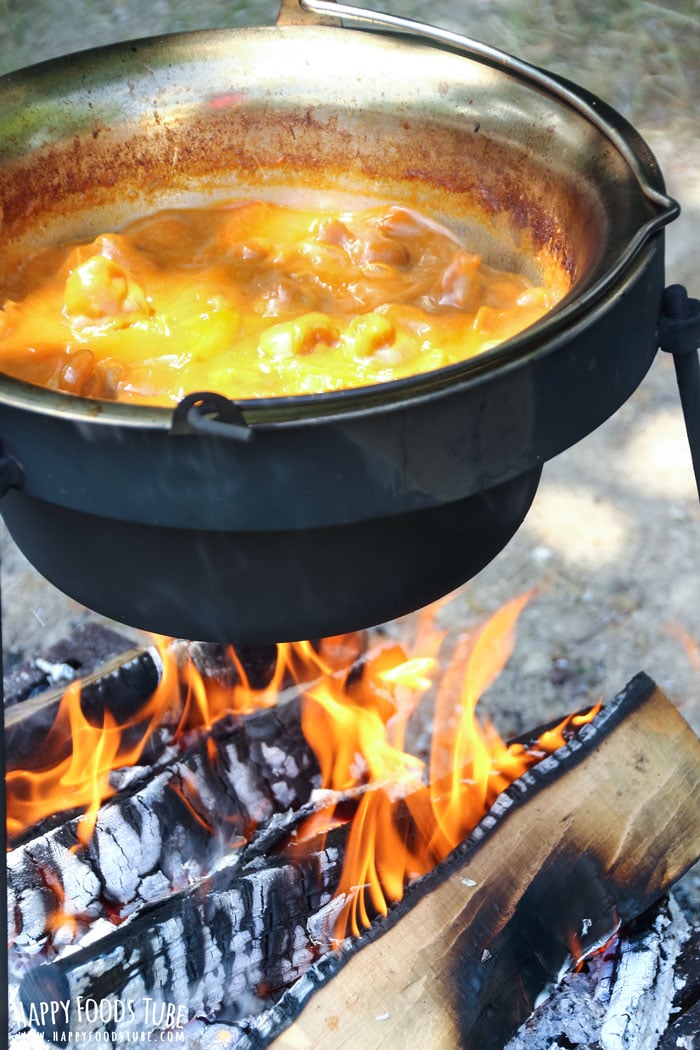 How to make campfire stew
Now it does not really matter what way you make it (although I am sure many would disagree with me). It's the company that is important. Call your friends or family members and get out for a day (or two or three).
Get a cauldron (ideally) or anything you can use to make this simple campfire stew. The most important thing here is its size – the bigger the better. Because you will be feeding a crowd!
A cast iron Dutch oven would be perfect but this cast aluminium cauldron looks pretty good to me as well.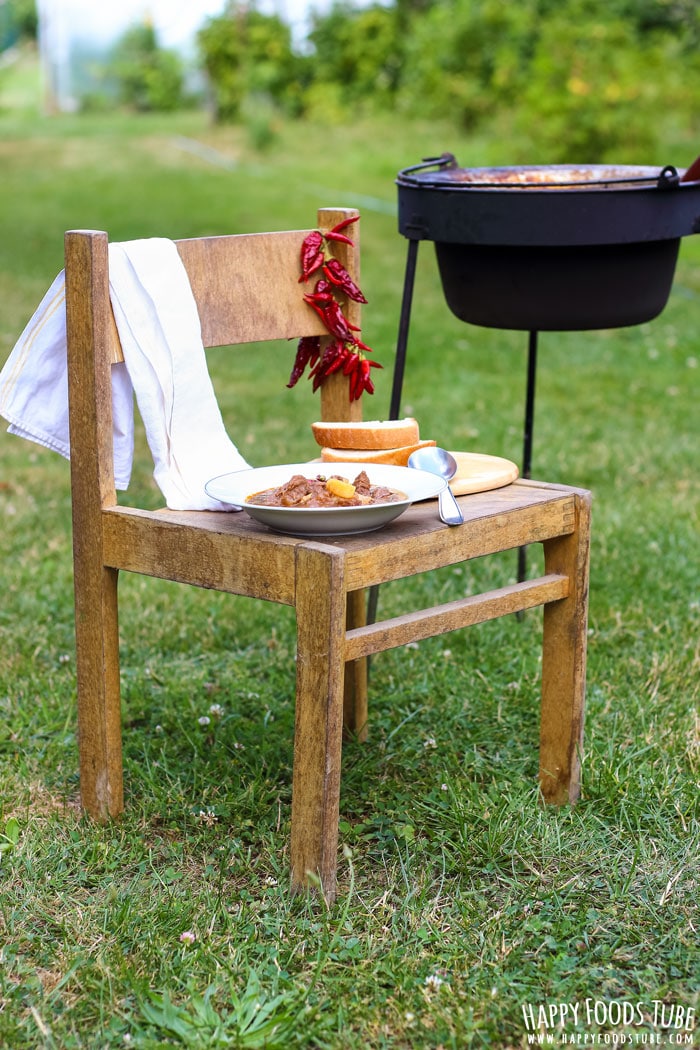 10 quarts/10 liters would be perfect. It should feed at least 12 people. If you think that is way too big, you could go for a smaller one. However, we used similar when cooking for 5 of us.
In this video you will see how my family makes this simple campfire stew. We have been making it this way for ages. There are not many ingredients which makes it relatively cheap as well.
The important ones are the meat – ideally it would be a mix of beef and pork (game is also great but pretty dear here. If you can get your hands on game meat, go ahead and add this as well) AND potatoes. See lots of potatoes because they will thicken the stew. Oh and let's not forget onions. A lot of onions as well.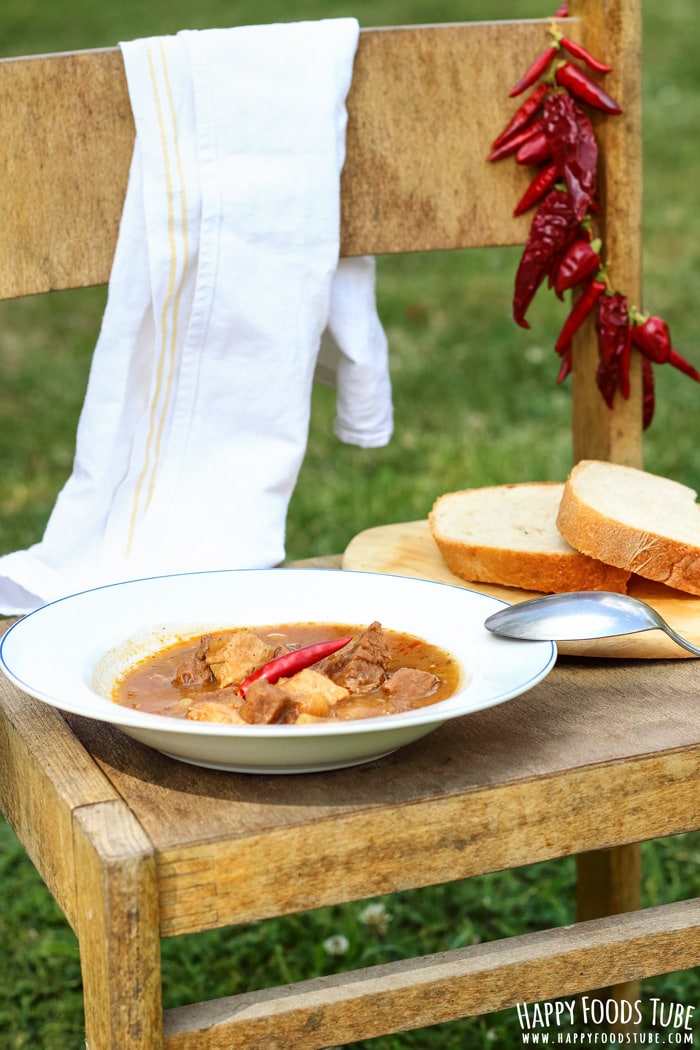 Then there are those small things – seasonings and other small pantry items that make this simple campfire stew delicious.
Garlic, salt, pepper, marjoram, tomato paste, beer and …. now don't get freaked out but lard is one of the ingredients as well. Yes. Lard! You see, you can use vegetable or sunflower oil instead but lard would be a great choice here (Leaf lard in particular. Check out why lard is good in cooking and baking)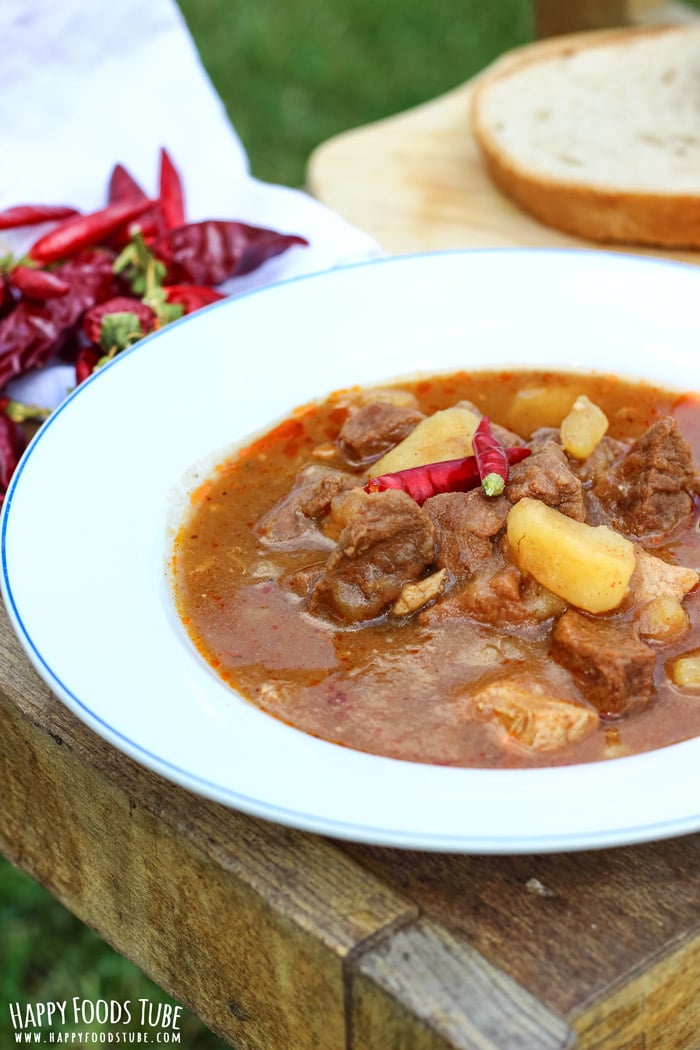 Ingredients substitutions:
The meat – the best is to use a combination of beef and pork. You could use beef only, pork only or game meat only or a combination of these. By the way game campfire stew tastes amazing!
Potatoes – these are a must so there is no substitution for those.
Onion – also a must – you can choose between red or white or you can combine those two types.
Garlic – I highly recommend using garlic to make this simple campfire stew.
Lard – vegetable or sunflower oil will work too.
Beer – this can be omitted if you can't or don't feel like adding it to this stew.
Marjoram – oregano can be used as well.
Easy camping food ideas:
Grilled Whole Fish and Baked Bean Pasta Sauce for those who need quick camping cooking ideas.
Want to see how to make Campfire Stew? Watch the video!
Simple Campfire Stew
This simple campfire stew is the best and simplest feed-a-crowd recipe! Imagine meaty stew cooked slowly over fire. It can't get any better than this!
Ingredients
4.5

lbs

Beef Round Steak

(2kg)

1.1

lbs

Boston Butt

or Pork Shoulder (0.5kg)

3

lbs

Potatoes

(1.4kg)

1½

lbs

Onion

(700g)

4

Garlic Cloves

½

cup

Lard

(230g)

4

tbsp

Caraway Seeds

(20g)

3

tbsp

Salt

2½

tbsp

Sweet Paprika

(12g)

1

tbsp

Tomato Paste

3

tbsp

Dried Marjoram

Dried of Fresh Chili Pepper

, optional

1

can

Beer

, of your Choice (lager)

10+

cups

Water

(2.5 liters+/0.6 gallon+)
Instructions
In a cauldron (or a large pot) melt the lard. Add diced onion and sauté for about 5 minutes. Now add the meats that have been diced into bite size pieces. Let them brown while stirring occasionally.

Add sweet paprika, mix & let it cook for about a minute before adding water (about 4 cups/1 liter), ½ of diced potatoes, caraway seeds, salt and 1 can of beer.

Cover with lid and let it cook (check occasionally, if it is cooking – simmering is better than boiling). From time to time check if there is enough water. If not, add more. Continue simmering.

About 1½ hour into cooking add the rest of the potatoes and more water (if needed). Bring to a boil and cook until the meat is soft.

5-10 minutes before the end add minced garlic, tomato paste, marjoram and dried whole chili (optional). Taste it and season more if required.

Serve warm with a few slices of bread or over rice.

Happy Camping!
Nutrition Facts
Simple Campfire Stew
Amount per Serving
% Daily Value*
* Percent Daily Values are based on a 2000 calorie diet.
** As an Amazon Associate I earn from qualifying purchases.
LEAVE A COMMENT
RELATED POSTS