Chocolate Nutella Mousse with Strawberries is a delicious dessert for any occasion! It's rich in flavor, quick to make and tastes delicious!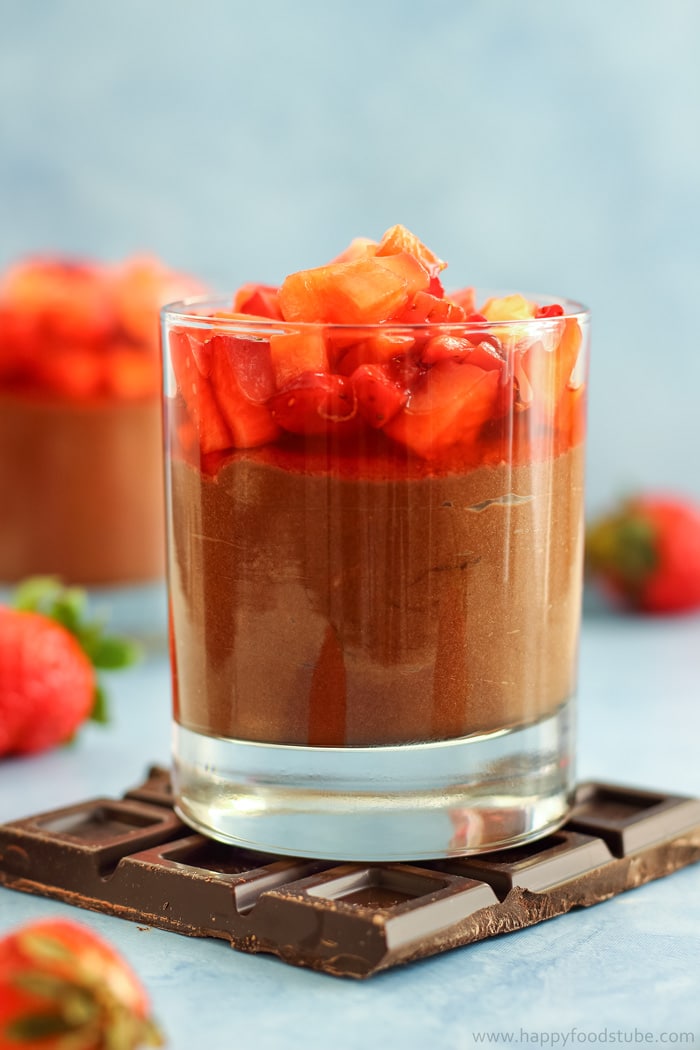 Chocolate. Nutella. Strawberries. Aren't these the best foods out there? Each of them tastes delicious but when you combine all three together you are in for an extra special treat!
Now I did exactly that – I combined all three together to create this divine no bake dessert. Chocolate Nutella mousse with strawberries! Doesn't it sound delicious?
I have to confess that I had pretty difficult time keeping my hands off of the Nutella jar so I could try making this chocolate dessert. Hope I am not the only one!
To make this chocolate Nutella mousse is pretty easy. It's easy because it's a no bake dessert. I like making desserts that don't require any baking, especially in summer. If you do too, you might also like this Chocolate Pudding Dessert, Strawberry Mousse Dessert Cups or Raspberry Icebox Cake.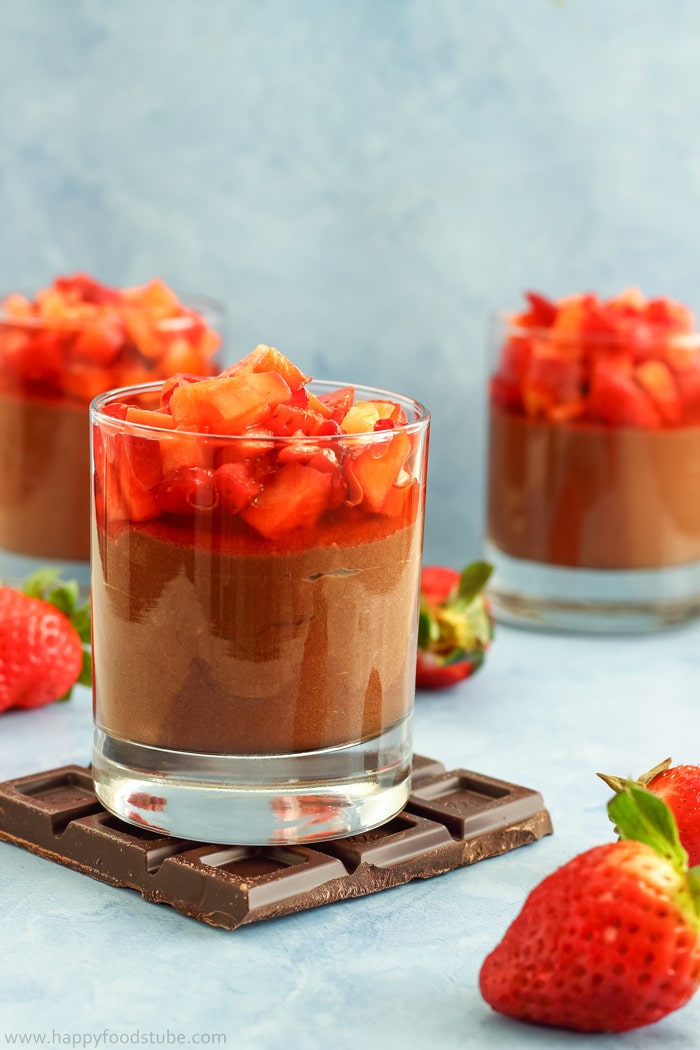 How to make this chocolate mousse with Nutella & strawberries:
Chocolate is melted altogether with a splash of whipping cream. The rest of the cream is whipped with some powdered sugar. Be careful not to over-whip it. The whipping itself will only take a few minutes (about 2-3 minutes). Whip it on a medium speed.
If you over-whip the cream a bit you can still use it. It will taste good but its texture will be a bit grainy. You could try saving it by pouring in some more whipping cream and whisk again. This will not work when you have whipped far too long and your mixture now looks way too solid.
Now add Nutella to the whipped cream and whip again. Fold in the melted chocolate.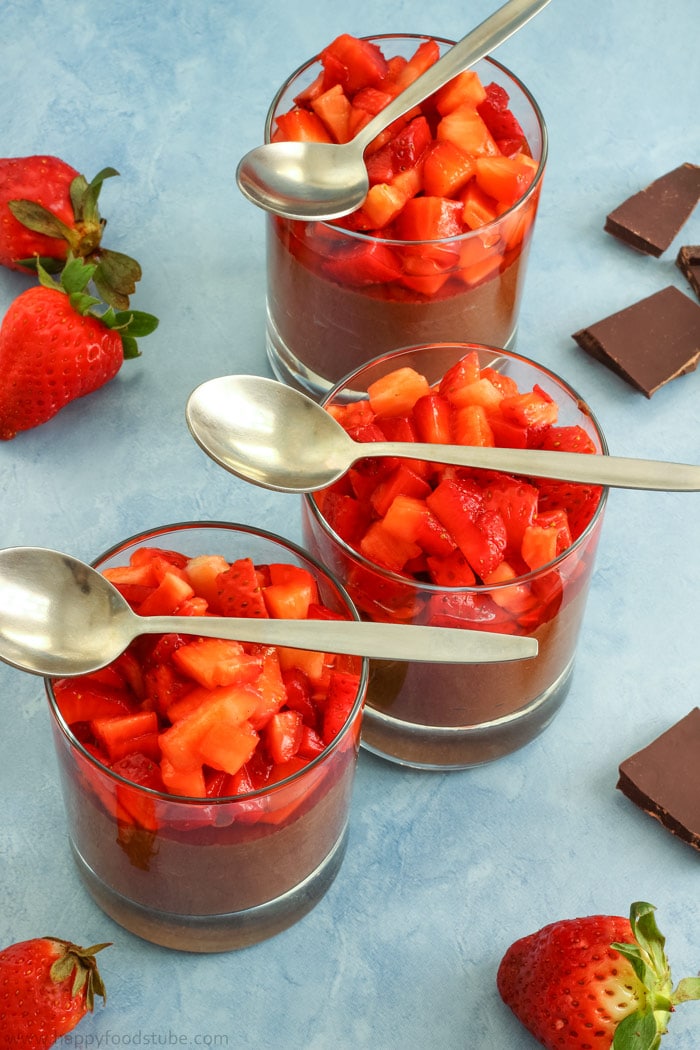 Pour this chocolate Nutella mousse into 5-6 glasses and refrigerate for 30-60 minutes. Meanwhile, get the strawberries ready. Cut them into small pieces, mix with sugar and lemon juice and let them sit in the fridge for about 30 minutes before using.
This is called macerating. The strawberries will release their juices thanks to the added sugar and lemon juice. This will help them soften and they will also taste sweeter.
By the way, you can simply top the glasses with fresh strawberries if you don't feel like macerating them.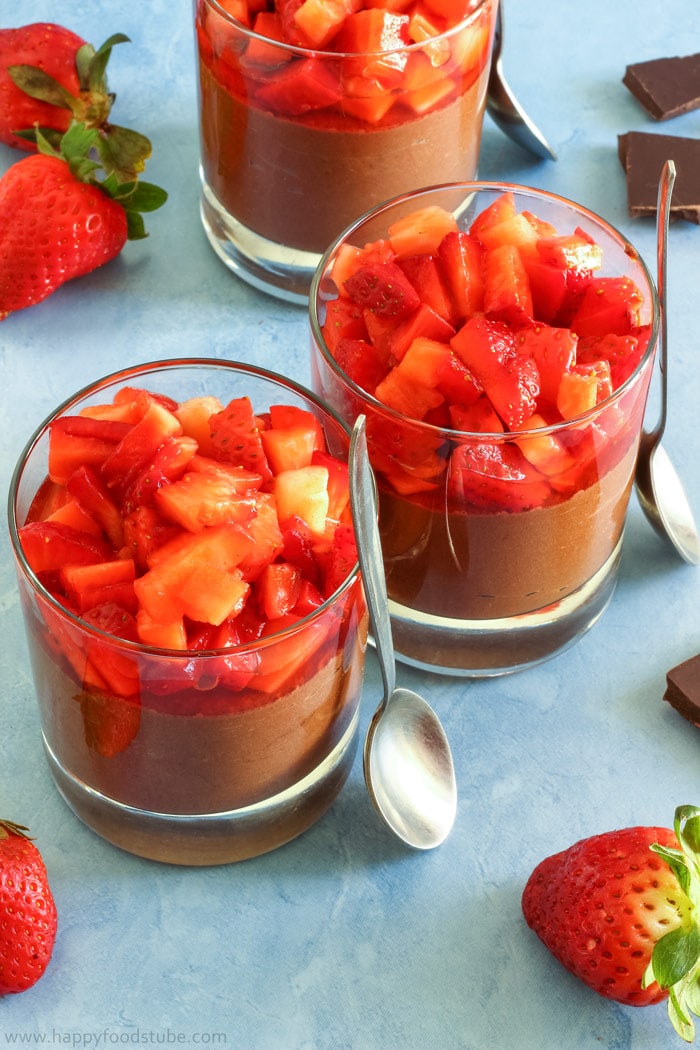 Good to know:
The longer you keep the mousse in the fridge the harder it gets. Some of you might like it thicker, some thinner so just watch the time.
You can make the mousse ahead but make sure to add the strawberries right before serving to get the freshest look possible.
The consistency of Nutella can vary. If you feel like it's too hard, pop it in the microwave for a few seconds. Just to soften it a bit.
Guys, this is one of the easy chocolate treats that are always popular no matter what occasion you make them for.
If you give it a try, let me know!
This post first appeared on Julie's Eats and Treats blog where I am a contributor.
Chocolate Nutella Mousse with Strawberries
Chocolate Nutella Mousse with Strawberries is a delicious dessert for any occasion! It's rich in flavor, quick to make and tastes delicious!
Instructions
Cut chocolate into small pieces. Melt it over double boiler with about a ½ cup of whipping cream. Once done, let it cool down.

Meanwhile: Whip the cream & powdered sugar until soft peaks form. Don't over-whip.

In a large bowl, whisk Nutella with a few tablespoons of whipped cream. Now fold the whipped cream into Nutella mixture. At last, stir in cooled chocolate.

Divide the mousse into 5 glasses, making sure not to fill them up to the top. Refrigerate for 30-60 minutes before serving.

Meanwhile: Rinse the strawberries under running water. Remove any green parts and cut into small pieces. Transfer them into a bowl. Add caster sugar and lemon juice. Leave them in the fridge for 30 minutes before topping each glass with strawberries & their juice.
Nutrition Facts
Chocolate Nutella Mousse with Strawberries
Amount per Serving
% Daily Value*
* Percent Daily Values are based on a 2000 calorie diet.
** As an Amazon Associate I earn from qualifying purchases.
LEAVE A COMMENT
RELATED POSTS