Guys, today I am bringing you a list of the most popular recipes of 2018. These are the recipes you searched, made, loved and commented on the most.
Thank you so much for all your feedback and suggestions. I really appreciate that you found time to do so.
So here they are – the most popular recipes of 2018!
18. Simple Lemon Tart – is one of my favorite citrus desserts. This tasty tart requires no special techniques or skills to make so I hope you give it a go!
17. Mashed Potato Flatbread – This tasty flatbread is popular in many European countries and there's no wonder why. It's a tasty side dish to curry dishes, roasted meats but can be enjoyed on its own as well.
16. Homemade Coconut Raffaellos – are a cheaper alternative to the original almond truffles.
15. Vegetable Foil Packets – The perfect side dish for grill, oven or campfire! Veggies are seasoned with homemade spice mix and cooked in foil.
14. Spinach Cucumber Smoothie – This refreshing and nutrient-rich drink is definitely worth giving a go, especially when you are looking for healthy recipe ideas.
13. Instant Pot Chicken Piccata – Full of flavor this pressure cooker chicken recipe is a must try. Also perfect for week-night dinners!
12. Instant Iced Coffee – This refreshing drink is perfect for the summer months. And it only takes a minute to make!
11. Turmeric Hot Chocolate – Will not only keep you warm during the cold winter months but it is also good for you. It boosts your immune system and has anti-inflammatory properties.
10. Garlic Stuffed Mushrooms – Well, let me tell you – these are addictive. It's an easy appetizer that won't last long on your table!
9. No Bake Chocolate Biscuit Cake – Also known as chocolate fridge cake is a tasty no bake sweet treat and apparently the Queen's Elisabeth's II most favorite treat.
The top of the list of the most popular recipes of 2018 is flooded with electric pressure cooker recipes. I am happy that you like them as much as we do.
8. Instant Pot Chicken Paprikash – This comfort food is rich in flavors and crowds love it.
7. Glowing Skin Green Juice – This juice is packed with vitamins and antioxidants and helps maintain healthy skin. Plus it has no added sugars or preservatives. It's all natural and good for you!
6. Instant Pot Creamy Tortellini Soup – This is my most favorite soup to make in Instant Pot! If you own this cool kitchen gadget, I highly recommend making this soup. The flavors are unreal.
5. Instant Pot Chicken Risotto – This recipe is definitely a keeper. Easy prep, quick cooking time and no stirring required! Doesn't it sound great? There is no wonder it is at the top of the most popular recipes of 2018. Thank you all for the positive feedback!
4. Instant Pot Stuffed Bell Peppers – Pressure cooker makes cooking stuffed peppers so easy!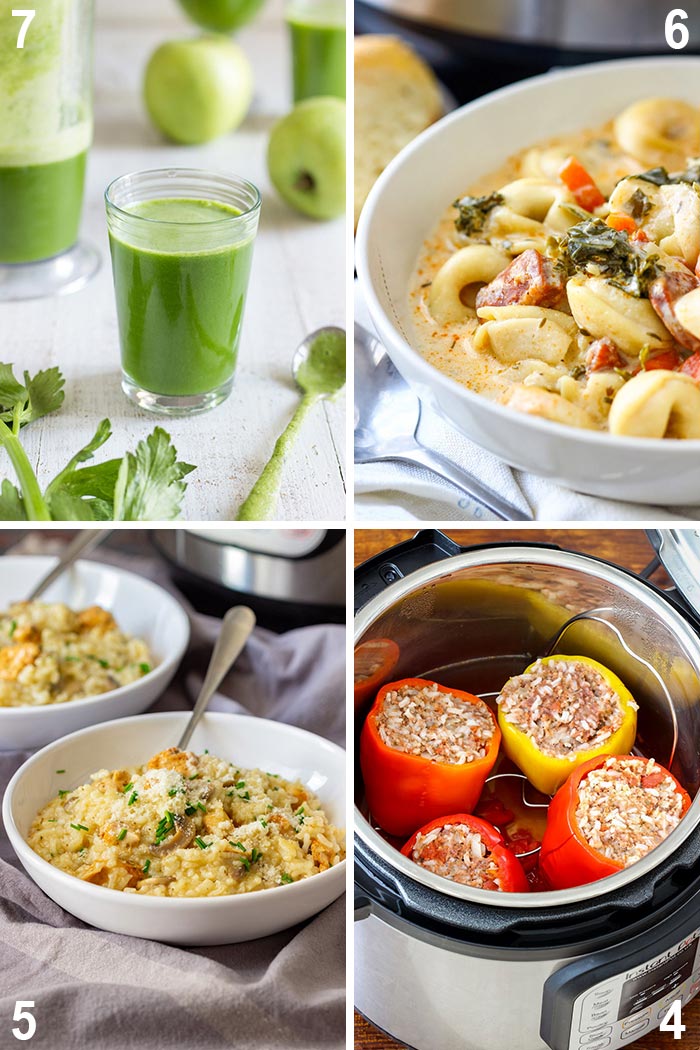 3. Lemon Ginger Water – This water helps your body get rid of toxins and boosts your immune system. Drink a glass first thing in the morning for better health and an easy inner cleanse.
2. Instant Pot Fried Rice – Easy-peasy recipe for a tasty side dish!
1. Homemade Churros – This popular Spanish treat that you can enjoy for breakfast or at fiestas is pretty addictive. Serve it with a cup of thick chocolate for the best foodie experience.
I am looking forward to New Year and can't wait to share with you new recipes! I hope that they will inspire you to try new flavors and cook more in 2019.
Happy New Year 2019!
RELATED POSTS